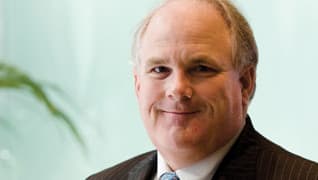 Photo by: Will Crocker
Fundamental Fairness
Trey McCowan of Kean Miller in Baton Rouge speaks on the role of the judicial system after natural disasters, the quality of Louisiana's environmental litigators and working to improve the quality of representation for post-conviction cases.
Published in 2013 Louisiana Super Lawyers magazine
By Ross Pfund on January 2, 2013
Q: Your firm and Liskow & Lewis recently won an award for teaming up to represent death row inmate Jimmy Ray Williams. How did you get involved?
A: There was a gap in the law with respect to funding capital post-conviction cases—funding for lawyers, funding for experts. Another issue was just a lack of lawyers [taking these cases]. A lot of them were being handled by public defenders and an entity called the Capital Post-Conviction Project of Louisiana. We were approached in conjunction with our colleagues at Liskow & Lewis in New Orleans by federal Judge Ginger Berrigan. At the time, there was a push by members of the court to have private law firms assist with capital post-conviction cases.
Q: This was back in 2001.
A: That's right. The solution was that the private firms would carry the representation on a pro bono basis with respect to providing attorneys to assist on the case. But because some criminal defendants were receiving funding from the state and others were not, one of the things that we did was to file motions to obtain funds from the state to pay for experts, investigation costs and that sort of thing. Of course, the initial response was, "There's no money." So we filed pleadings attacking the method by which funding was allocated, saying there's an equal protection issue here.
The funding issues went to the [state] Supreme Court twice. On the second time, the Supreme Court didn't reach the constitutional questions that we raised but reached a decision in terms of the way the state was funding under the statutory scheme. The following legislative session, some changes were made with relation to the statutes. We were able to obtain funding in our case, but because of these changes, we were able to apply for funding for other cases, too.
Q: Once you got past the funding issues, what were the challenges of the case?
A: Two people at Liskow had criminal experience, but the majority of us are civil litigators primarily practicing in the oil and gas arena. It was totally new and totally a challenge. The reason that we all agreed to undertake the representation was as a service to the judicial system. The system can't function unless criminal defendants have representation. The public funding was spread too thin. Both firms put significant time into the case and into making this team. It was unquestionably a team effort.
Q: Personally, what was the case like for you?
A: The defendant, Mr. Williams, was from Baton Rouge. The location of the incident and the area where Mr. Williams grew up were not too far from where I grew up. They were totally different environments. It really is eye-opening with respect to the consequences of poverty and how people can be brought up in different environments and yet be located so closely.
What I learned is that as corporate lawyers, there were times that we probably spent more time preparing a corporate client for a deposition than, in some instances, criminal defense attorneys are able to spend preparing a case for trial. A lot of times we have more resources at our disposal than criminal defense counsel have at their disposal when someone's life is on the line. That's due to the funding crisis.
Q: How did the case end up?
A: Ultimately, the case was resolved with an agreement that would commute Mr. Williams' sentence from death to life in prison. That's how we ended the case, but for all of us, I think it was about the fundamental fairness that people who are facing such significant consequences shouldn't have to go through it without a lawyer. However you feel about the death penalty, whether you're pro or con—even people who are pro-death penalty, I think, accept the premise that a defendant should be entitled to a lawyer throughout that process.
Q: It sounds like the improvements to funding will be the legacy of the case.
A: Although the Williams case improved funding issues for indigent defendants in post-conviction proceedings, there is still a funding crisis within the indigent defense system in Louisiana. There are many fine attorneys who are working with the indigent defender boards throughout the state who are still trying to work through this funding crisis. I [don't] want to leave you with the impression that the Williams case solved this issue. Funding for indigent defendants is still at a crisis level throughout the Louisiana system.
Q: Your master's thesis was about the impact of the hurricanes on the state's judicial system.
A: I went back to LSU part time more or less as a recreational activity so that I could learn environmental management and environmental planning while earning a Master of Science degree. As part of that, you have to write a thesis. My time at LSU coincided with when Hurricane Katrina hit and when Hurricane Rita hit. Those events exposed some of the weaknesses in the system. You had situations where people were arrested and were in jail for days on end without ever talking to a lawyer. That's because those natural disasters impacted an already fragile criminal defense system.
It occurred to me that the judicial system is an integral part of a community's ability to recover from a natural disaster. It's incumbent upon all of the stakeholders in that system—the courts, the attorneys, everyone—to do enough planning to be prepared to deal with situations.
What I looked at was how the courts have responded to other natural and man-made disasters in the past. There was a significant body of work that was done with respect to the New York courts after 9/11. There were also courts that have been faced with disasters like floods and fires and that sort of thing. So my thesis was essentially looking at how the Louisiana courts responded to the Katrina and Rita disasters.
Q: And you've since earned your master's?
A: I did. I'm very interested in the Louisiana wetland loss and restoration issue; how the state and federal government are going to deal with that. And in thinking about that, I said, "How are they going to implement these restoration plans without taking into consideration the legal issues associated with it?" For a diversion project, for example, you have to have the right of ways and you may impact people's private property in adverse ways. So that's kind of what I was thinking about when going [for my masters].
Q: In your everyday practice, would you consider yourself an environmental litigator?
A: I do primarily litigation and most of my cases involve claims by landowners that their property has been contaminated by historic oil and gas operations.
Q: How did you come to that practice area?
A: I was a young associate doing a lot of personal injury defense and representing an oil and gas company. One of the partners at my firm had an environmental claim for this same client, and a lot of times, I was walking down the hall and was the nearest person that he grabbed. [Laughs] And I've been doing that type of case for about 20 years since then.
Q: You must enjoy it.
A: I enjoy the people the most—working with my clients, getting to meet people. I've been fortunate. That kind of work has afforded me to work with and against some of the finest lawyers in the country, and because of that, it's probably made me a better lawyer. There's no question in my mind that we have a very creative and smart group of lawyers in the state on both sides of the fence.
Search attorney feature articles