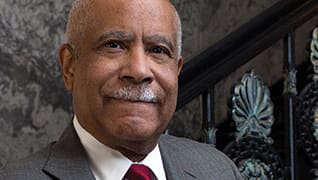 Photo by: Romero & Romero
'Happy to Hear From Mr. Lee'
Business and insurance lawyer Wayne Lee is professional and humble
Published in 2016 Louisiana Super Lawyers magazine
By Jessica Frank on December 22, 2015
Wayne Lee doesn't like to reminisce about past cases. He doesn't see much point in discussing his various accolades. In short, Lee, who has spent more than 40 years practicing business litigation, anti-trust, insurance and class action/mass torts at Stone Pigman Walther Wittmann in New Orleans, doesn't see himself as that big of a deal.
"My focus has always been providing professional and high-quality work for the client," he says.
If he did want to brag, he'd have plenty to say. Lee is a three-time recipient of the Louisiana State Bar Association President's Award, a member of the inaugural class of the Tulane Law School Hall of Fame and the recipient of the New Orleans Bar Association's John R. "Jack" Martzell Professionalism Award.
In Contogouris v. WestPac Resources, Lee successfully defended Kevin Costner in a federal jury trial involving $18 million in claims of securities law violations and fraud brought by investors, including actor Stephen Baldwin. In Louisiana Caldwell v. Allstate Insurance Co., Lee successfully defended State Farm Insurance, which was accused with other insurers of conspiring to lowball payments to Louisiana claimants during and after Hurricane Katrina. A federal judge dismissed the lawsuit. He likewise served as counsel for State Farm in the class action cases that became part of Katrina Canal Breaches Consolidated Litigation, for which damage exclusions were upheld and class certification denied.
But Lee doesn't spend much time talking about past wins. Client confidentiality is part of it, as is personality, but it's mostly pragmatic.
"Really, when you're looking back at old cases, it's a matter of: For what purpose?" he says. "The most important cases that you're working on are those that come in the future. You have to be prepared. Maybe it's a bit like an athlete being asked to look at what they did last game, and then answer for what they're going to do with this next game or the one after that. That last game is gone; you can't simply get by with what was done in the prior case. … There's always a different challenge today, and because you did a good job on [a case] 10 years ago, or even last year, doesn't give you a free ride on what you have to do on the case right now."
However, Lee's peers aren't afraid to give credit where it's due.
"Wayne is the embodiment of the adage that success is 95 percent preparation and 5 percent performance," says Phil Wittmann, who hired Lee back in the '70s and has worked with him on several cases. "He's the real deal."
Cynthia Shoss, a friend and former classmate at Tulane University Law School, adds, "He's very steady. He takes his clients seriously without taking himself too seriously. I tell people, 'If Wayne can take your case, you're in luck.' … He's a very humble man with a great sense of humor, despite his success."
Lee grew up in New Orleans, the son of educators. His mother taught second grade; his father was a teacher and coach, who eventually became a principal. Unsurprisingly, education was taken seriously in the household. As such, Lee went to St. Augustine High School, a parochial school for African-American boys that hadn't yet integrated when Lee attended.
Saint Aug was known for its "warm but strict" atmosphere and for high expectations, as Ivy League admissions officials noted in a Time piece from 1965, Lee's sophomore year.
"There was a very strong emphasis on discipline and on getting kids ready for college and the world," Lee says. "The idea was that, 'You're young men, you're expected to do well—and we believe you can do well—but the fact is you might have to work twice as hard because that's how the world is. But you can do it, and we're going to get you prepared to do that.'"
Lee says Saint Aug forced him to work hard and become the man he is today. "For one of our history courses, I had to read The Rise and Fall of the Third Reich to prepare for the final exam, and it was like 1,500 pages," he says. "It was a very focused, and supportive, educational experience."
He has remained involved with his high school alma mater over the years, having just left its board of directors, and he is still on the board at Tulane University. Lee's recollection is that he was one of 18 African-American freshmen admitted in his class at Tulane in 1967. "On a campus of several thousand, the numbers were fairly small," he says.
In Lee's junior year he married Pamella Dunn. The couple has been married for 45 years and have two children: Wayne Jr., who has one child, and Jennifer, who has three children. It was around this time that Lee started looking at what he could do with a political science degree and history minor, and ended up in law school at Tulane.
"It was largely a bit of luck, I have to say, because I had no idea what law school would be like," he says. "I understood, in concept, what lawyers did—you'd watch movies on TV and see lawyers going to court—but certainly had no exposure to the other things lawyers do like tax law, real estate, finance issues, and all the different types of litigation that are out there. But I got to law school and quickly found that I enjoyed the legal process, the analysis and ways of analyzing issues, studying the law and problem solving and applying legal principles to complex issues. I found that, for me, it was a good match."
"Even back in law school, Wayne was super smart," says Shoss, a former Stone Pigman colleague who's now a partner at Sutherland Asbill & Brennan in New York. "He cut right through discussion with crystal clarity."
But when it came time for Lee to look for a summer job, he encountered a few obstacles. He sent out applications and went on one unfruitful interview after another. No one ever said anything about race, but he had his suspicions. However, he says, "I can't waste a lot of energy on angst. You can't get up every day and let it drive your day."
So he took the advice of his law review editor in chief and applied to clerk at Stone Pigman. Forty-one years later, he's still there.
The firm now has two offices with nearly 60 attorneys, but when Lee started there were just over a dozen. This helped him find his niche, since he got to work in many areas of the law, including real estate, tax law and estate planning.
"It gave me a chance to find out what I liked, where I felt my skills were most well-suited, and gravitated to what I do now," he says. "I really had no clue what a lawyer did until I came here. When you're taking courses you read a lot of cases, but they don't tell you what the lawyers do in their offices. You don't hear about the pleadings, and how you take discovery."
Wittmann says, "He is the ultimate professional. We had a good pool of applicants to choose from, and Wayne was such a standout applicant. It was a no-brainer."
Lee's first federal jury trial was also his second federal jury trial. In the middle of the case, a maritime collision suit in which he was an associate on the defense side, the partner Lee worked with on the case argued a motion for a new trial based on an evidentiary issue and potential prejudicial error that could have affected the jury's decision. "The judge said, 'You know, you brought up an interesting issue about this. I need to think about it.' And then he died before rendering a decision," Lee says.
The case was reassigned to a new judge, who heard the argument, agreed and restarted the trial. The plaintiff still received an award, Lee says, though a much smaller amount than the first time around. "It was no longer my first jury trial. I learned some lessons on what you should and shouldn't do, and got a better sense of what you need to do to prepare," Lee says. "So we were certainly pleased we got to do it again and got a good result."
His reputation has grown ever since. "He genuinely likes servicing clients," Shoss says. "He has always had grace under pressure, even as a very junior lawyer."
In 2003, Lee was elected president of the Louisiana Bar Association, making him the first African-American bar president in state history. He describes his year-long term as challenging, but he's proud of the diversity task force and committee he helped develop.
"It's great to see new, younger faces taking over leadership and some of the responsibilities, coming up with new ideas," Lee says. When he came in, Lee says, the focus of the LSBA Diversity Committee was on race, ethnicity and gender. Now LGBT, age and disability issues are also in the forefront.
"The law is always changing," he says. "Lawyers are about problem-solving. That's what we do. We have to learn the law and try to find ways to reach solutions."
Lee has no immediate plans to retire anytime soon. "I still like what I do. I like the fact that I've gotten to do a lot of quality work. Interesting cases, lots of opportunities to work with the courts," he says. "I'd like to think that, somewhere along the line, I've developed some credibility with opposing parties and the courts. Your reputation in the legal community is important. And that's one of the things some people don't think about in dealing with each other, and how they deal with the courts."
Indeed. In a 2006 hearing regarding a motion to de-consolidate policyholder suits, presiding Judge Stanwood R. Duval Jr. introduced Lee by stating simply: "We're always happy to hear from Mr. Lee."
Search attorney feature articles