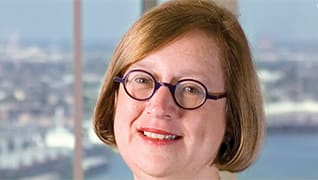 Photo by: Lee Celano
Louisiana's Media Maven
Mary Ellen Roy's lifelong love of the media has made her the state's pre-eminent First Amendment lawyer
Published in 2007 Louisiana Super Lawyers magazine
By Karin Beuerlein on December 27, 2006
If you were watching Mary Ellen Roy growing up in Lafayette, La., you might have put money on her future career as a defender of free speech. "I was on the debate team in high school," Roy says, "and I was always interested in politics and government and history." But like one of her heroes, Nellie Bly, Roy was also drawn to the adrenaline rush of investigative journalism. "I liked the idea of using journalism to make a difference in the world," she says.
She got her first taste of hard news as the editor of a newspaper during a middle school summer program, and then in college she took the helm of the The Vermilion, the student newspaper of the University of Louisiana at Lafayette. There, like any reporter worth her salt, she occasionally became a burr in the side of the university administration.
"Before I was editor, a federal government agency was doing an investigation into sex discrimination, and I had conducted an interview with the academic vice president," Roy says. "He said that if the women professors made less than the men, it was because they didn't work as hard, or because they would go home and take care of their families. That I almost got in trouble for, because he was really mad. He said I misquoted him." Fortunately, Roy says, she had good notes to back up her story, as well as a solid group of supporters.
"You have to maintain your own integrity," she says. "People will support you."
Her editorial experiences whetted a long-standing appetite for juicy media issues and a passion for the freedom of speech. They also made her hungry to expand her horizons, specifically as a law student. "I wanted to go to a school in a city on the East Coast," she says, "so when I got into Harvard, that was a pretty easy decision."
Roy participated actively in the Harvard Legal Aid Bureau and served as president of the Harvard Women's Law Association. One summer during law school she worked for Covington & Burling in Washington, D.C. But immediately after graduation, her Cajun roots and her passion for activism called her back to Louisiana, where she was hired by New Orleans Legal Assistance Corporation (NOLAC).
For the next year, she appeared two to three times a week in juvenile court, in neglect, abuse and delinquency cases; she then moved on to public benefits work. Roy remembers, for example, helping a mentally ill mother obtain the medical care necessary to regain custody of her child. "That was very rewarding," she says.
Working in legal aid also offered another attractive benefit to Roy: It's how she met her husband, John Harkins. Harkins was a longtime friend of Roy's supervisor, who introduced them. Harkins now owns a floral shop on Magazine Street, and he and Roy have two children, Madeleine, 14, and David, 12. Both kids, perhaps taking a cue from Mom, show an interest in broadcast news as a career.
After three years with NOLAC, Roy joined Phelps Dunbar in New Orleans and was immediately intrigued by the prospect of tackling business litigation and media cases involving free speech. "The constitutional law was challenging," she says, "and substantively, I liked defending the First Amendment."
Soon, a local scandal with national implications sparked a landmark case in her career. Dino Cinel, a Roman Catholic priest and a professor at Tulane University, videotaped himself having sex with a number of teenage boys; the tape was discovered amid a cache of child pornography in Cinel's home. Cinel was indicted on criminal charges, and two of the boys he allegedly abused filed civil suits against him. In the middle of the commotion, newsman and controversial TV personality Geraldo Rivera got ahold of the videotape evidence and aired part of it on his national show Now It Can Be Told. Cinel sued Rivera and several others for invasion of privacy.
Roy, who represented Rivera and his producer, Tribune Entertainment, stopped Cinel's suit cold. The plaintiff 's side anticipated a lengthy case, but Roy successfully filed to dismiss before any depositions were taken. When Cinel appealed, Roy demonstrated that showing the tape amounted to a public service that trumped Cinel's right to privacy, and the decision was upheld.
"It set an important precedent in Louisiana that when news organizations run a story that's a matter of important public interest, there's no invasion of privacy," Roy says. That Roy was able to convince a judge of this is especially impressive when you consider that the lawsuit was filed 15 years ago, well before the media turned the floodlights on the Catholic Church's crisis with pedophile priests. "It was not as obvious back then that it was an important public issue," Roy says. Her success with this case garnered her a slate of media clients, eventually including all the local television news stations and several in other parts of the state.
Now a partner at Phelps Dunbar, Roy enjoys a thriving, busy career. "I just like being involved with news people," she says. "They're fun and irreverent." She has helped her clients gain access to important case evidence (for example, in 2000, a notorious bit of videotape featuring former Louisiana Gov. Edwin Edwards engaged in a questionable financial transaction) and defend themselves against charges arising from broadcast stories.
If there's one thing such a successful law practice generates, it's paper. "My desk is very messy," Roy chuckles. "It's a disaster. It's been so long since I had a clean desk I don't even know what that would be like." Her 19th-floor Canal Street office looks out over the broad Mississippi River and the Greater New Orleans Bridge, a grand view that offers few remaining glimpses of the destruction of Hurricane Katrina.
Asked about Katrina, Roy's tone grows serious. "New Orleans really is divided into two cities, the part that flooded and the part that didn't," she says softly. "Where I live and work, it did not flood; you could go through your day and not notice many differences from before Katrina. But in the parts of the city where it did flood, they're still devastated, and it casts a pall on the whole city." Roy and her family weathered the onslaught of Katrina back home with family in Lafayette; she was able to return to work the following November.
The storm's messy aftermath brought some high-profile media clients to Roy's doorstep. A national newspaper and a cable news network both wanted access to the autopsy reports of Katrina victims, but the city coroner stonewalled them, citing concerns of family privacy. Roy agreed to represent both media companies, and in both cases she was able to demonstrate that the public's legal right to know the truth about Katrina outweighed individual privacy concerns. "They wanted to do stories about the people who died," she says of the media outlets. "They wanted accurate statistics, and more than that, they wanted names of people so that they could talk to their relatives and show that they were real people, instead of just statistics."
The news network went to trial; the newspaper case took "lots of negotiation" with the coroner's attorney. "I thought the law was pretty clear that autopsy reports were public record," Roy says, "and although I understood [the coroner's] feelings about family privacy, what he was doing was not legal."
Roy gets excited when talking about new cases that expand her legal horizons––specifically into the arena of intellectual property. She has won cases for prominent clients charged with idea theft. One recent witness was none other than NBA legend Magic Johnson. "I thought that was pretty cool," Roy says. Johnson had business ties to Roy's client, Miller Brewing Company, which stood accused of stealing a musical idea for a commercial. The case was settled out of court, but not before Roy did a favor for a co-worker. "There was this other lawyer here who's a young guy and a big basketball fan and I knew it was more important to him than to me, so I told him he could go [to depose Johnson in California]," Roy says, laughing.
Roy's current caseload is an exciting mixed bag. She's representing a national civil liberties group in a defamation suit brought by a school teacher who sent a child to the principal's office for mentioning his gay parent; defending CNN against a man who claims the network didn't do enough to warn him about Hurricane Katrina; and settling a rather festive patent infringement case involving two party confetti companies. Just another day at the office for Roy, who doesn't see herself slowing down anytime soon. "I've worked very hard to get here," she says, "and I love my clients." 
Search attorney feature articles