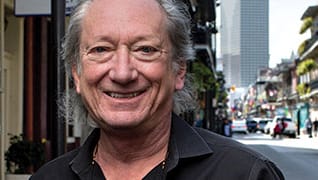 Photo by: Romero & Romero
Quit or Get Better
James Boren has dedicated his life to tough cases in which clients' lives are often on the line
Published in 2017 Louisiana Super Lawyers magazine
By Paige Bowers on December 23, 2016
For all the highs of James Boren's career, there was one moment when he almost gave up the profession for good. 
It was 1996 and his client, Feltus Taylor, had been tried and sentenced to death. 
Attorneys who handled Taylor's post-conviction work were able to get his execution stayed for a year as they attempted to prove their client had an unfair trial. After the judge ruled the courtroom proceedings had been fair, Taylor was executed on June 6, 2000, and Boren started to wonder whether he should continue to practice law.
"The feeling of representing someone where you lose and they die—I didn't know if I could handle that anymore," he says. "I thought long and hard about it. I moped around for a while and engaged in a lot of self-pity, and then I decided I could quit or get better."
He got better.
In the years following Taylor's execution, Boren has focused on mastering the penalty phase of a trial. Most lawyers focused on the conviction phase, he says—that is, until 1977, when the death penalty was reinstated. "From then until the early 1980s, no defense lawyer knew how to tell the story about why a particular person is not the worst of the people who have committed first-degree murder and here are the reasons why you should spare their life," Boren says.
Taylor's case also led Boren to build richer social and family histories for his clients, to explain why they committed the crime. He involves an extensive team of social workers, doctors, investigators and other professionals who help him build his case. The efforts have paid off. Since Taylor, none of Boren's clients have received a death sentence.
"You can put Jim in the elite of criminal defense lawyers that have practiced in Baton Rouge," says Hillar Moore, district attorney for East Baton Rouge Parish. "He's a hard worker; he's extremely intelligent, very precise and also very cunning. He's a guy who fights hard and represents his clients to the end."
Attorney Rachel Conner turned to Boren in 2007 when she needed a new lead counsel to help her represent David Mathis, one of five Angola Prison inmates accused of killing a guard during a botched escape attempt in 1999. Mathis was already serving a life sentence for killing his adoptive grandmother as a teenager, and prosecutors were planning to use that conviction to seek the death penalty. Conner was the junior attorney on the team representing Mathis, and when the lead counsel passed away unexpectedly, she cold-called Boren.
"Remarkably, he agreed to do it, and what he brought was a tremendous amount of leadership and a tremendous amount of experience," she says. "The case was barreling forward to trial, and things were really chaotic, but he brought a sense of calm to things and slowed it down."
Mathis pled guilty to first-degree murder and received a consecutive life sentence that kept him from the death penalty prosecutors sought. 
In this kind of work, it helps to have a sense of humor.
"When I first started practicing, I worked for a lawyer who said, 'Do you hunt?' and I said, 'No.' 'Do you fish?' 'No.' 'Are you a sports fan?' 'No.' Then he said, 'Well you're not going to have anything to do when you're not practicing law, because if you don't hunt or fish or talk LSU sports, then you're just not a real man,'" Boren recalls. "So I bought a subscription to Sports Illustrated and I learned something about LSU and the Saints. I became a sports fan so I would have something in common with the 20,000 or so other lawyers in Louisiana. So there you go. The secret to success: Buy a Sports Illustrated subscription."
Sitting in his fifth-floor office at Jones Walker in Baton Rouge, Boren laughs. He needs to every now and then. One of the state's most renowned criminal defense lawyers, Boren is known for immersing himself in hard, intense cases with his clients' lives often on the line. After a career spanning more than 40 years, most of it as a solo practitioner, Boren joined Jones Walker in 2016. The jump has been a bit of a culture shock for both sides.
"One of my secretaries said that they don't think they've ever seen a lawyer with Jones Walker that works in blue jeans and tennis shoes and a T-shirt and ponytail," he says.
The move allows Boren to focus on "just being a lawyer." He has brought over 60 criminal defense clients from his previous firm and continues to work on their cases.
Born in new Orleans, Boren grew up the son of an Air Force counter-intelligence agent and a teacher, and never lived anywhere for more than three years until he returned for law school at Louisiana State University in 1972. By the time he was 11 years old, Boren knew he wanted to be a lawyer, and honed his speaking skills on his high school debate team. He attended college on a debate scholarship and earned a history degree as an undergrad.
"I thought I would be a criminal defense lawyer because I felt I lived in a state with rich roots in racism, and that poor people who found themselves in trouble were in serious trouble because they were disproportionately prosecuted and sentenced," Boren says. "I just had a calling of some sort to represent the underdog."
In 1975, Boren was hired by East Baton Rouge Parish district attorney Ossie Brown to handle appeals cases. There he learned a lot about the law and trial practices but, over time, found the work conflicted with his sense of justice. He began recommending new trials when he felt defendants weren't adequately represented, an unpopular position with his coworkers, who, he says, typically assumed guilt.
"It came to a head one day, when … I was summoned in to the boss, who did not like my hair length or my mustache, and he said I was going to either have to do this, or he would fire me," Boren says. "I told him he couldn't fire me because I quit."
When he walked out that day in 1976, Boren had no job, no car, no office and no clients. So he started a firm with law school friend Frank Holthaus. The duo built up their criminal defense practice into the 1980s, then amicably split so they could handle more cases.
In 1986, Boren represented LSU athletic director Bob Brodhead, who was charged with conspiring to eavesdrop using voice-activated microphones and tape recorders hidden in his office. The equipment was found a day before NCAA investigators were due to use his office to interview players about possible recruitment violations. Boren brokered a plea deal that characterized Brodhead's actions as a petty offense with a maximum sentence of six months in prison and a $1,000 fine. 
In 1988, Boren represented actor Howard Rollins (of TV's In the Heat of the Night), who pleaded guilty to cocaine possession. These sorts of media-scrutinized cases are Boren's bread and butter.
In 2015, he represented La'el Collins, an LSU standout who now plays for the Dallas Cowboys, when local police wanted to question him after his ex-girlfriend was murdered in Baton Rouge. At the time, Collins was in Chicago for the NFL draft, and the investigation threatened to hurt his status with distraction-averse teams.
"The office was surrounded by cameras and people who wanted to take statements, so we set up an alternate spot to meet with the client," Boren says. "We limited the amount of contact we had with the media until the last day, after we met with the police department and they said he was no longer a suspect. In the meantime, I spent a lot of time talking to football teams and investigators who wanted to know what his story was. The media makes things more complicated, and I don't like it."
He's also not a fan of the death penalty, and not just for moral reasons. 
"Over the past 12 years, we've executed one person and released more than 10 people from death row who were innocent or had defective cases. In that time, we've spent $150 to $200 million prosecuting and defending death penalty cases where one person has been killed. When [your accuracy rate for capital punishment] is 10 percent, you need to eliminate it. It's cheaper to keep people in prison."
Boren hopes the capital punishment course he teaches at LSU will someday be a history course and not a skills practice course. In the meantime, students and young attorneys seek him out as a mentor.
"[When you're with him], it's almost like when Luke Skywalker met Yoda," says Harry Daniels III, who clerked for Boren as a student at Southern University Law Center and later worked with him on the Jena 6 trial. "You learn a lot just from listening to him, and he helps attorneys work through problems by making them realize they already knew the answer."
"He's just a good guy," adds Rebecca Hudsmith, federal public defender in Lafayette. "I could be president of his fan club if he had one."
---
D.N. Eh?
James Boren wasn't always on the right side of legal history
In the mid-1980s, Boren was working with the National Association of Criminal Defense Lawyers' indigent-defense committee and got to know Barry Scheck. Scheck was excited about the new science surrounding DNA and its potential to exonerate innocent people who were convicted of crimes. He shared that enthusiasm with Boren.
"I said, 'Barry, I don't know anything about science,'" Boren recalls. "'I made a C in high school chemistry, and that's the last time I really paid attention to it. I'll do indigent defense; you do DNA. Besides, it's probably a flash in the pan and nothing will ever come of it.' 
"Now I always tell him not to come to me for business advice."
Search attorney feature articles