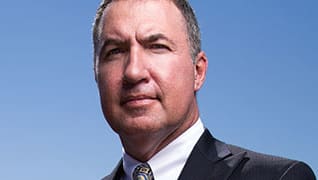 Photo by: Romero & Romero
Rock Solid
Coastal litigation, airplane rescues and J. Rock Palermo III
Published in 2015 Louisiana Super Lawyers magazine
By Paige Bowers on December 26, 2014
In a deposition last February, J. Rock Palermo III stood before Louisiana Oil & Gas Association president Don Briggs and asked him about a U.S. Geological Survey map indicating that oil and gas companies were responsible for
36 percent of the state's coastal land loss.
Briggs said he hadn't seen it and didn't need to see it. He had seen other maps.
"What other maps have you seen?" Palermo asked him.
"I don't know," Briggs replied.
In July 2013, the Southeast Louisiana Flood Protection Authority-East, which operates the levees, seawalls and other protective measures in the greater New Orleans area, filed a lawsuit against 97 oil and gas companies. It claimed 10,000 miles of canals and pipelines had contributed to coastal land loss, and the companies were obligated to restore the wetlands. In an attempt to derail the lawsuit, LOGA filed against the state attorney general, alleging the office had improperly approved SLFPA-E's contract to hire outside counsel—which included Palermo's firm—for the land loss suit. 
From Briggs' perspective, the threat of lawsuits like the one filed by SLFPA-E was scaring off potential oil and gas company business. But Palermo, a partner at Lake Charles-based Veron, Bice, Palermo & Wilson, methodically demonstrated that Briggs had no facts or data to back up his theory that companies were avoiding drilling in Louisiana. He also demonstrated why SLFPA-E had every right to hold the industry accountable. Palermo cited fact after damning fact, many of which Briggs said he also hadn't seen or didn't need to see, even though the findings had been gathered by universities, the government and even the oil and gas industry.
It was a performance, one Baton Rouge Advocate columnist wrote, that forced Briggs to "concede a stupendous ignorance of his purported area of expertise." Legal experts said it elevated Palermo's profile at a time when Louisiana is trying to reconcile saving its fragile coastline with courting businesses whose practices are hastening its demise.
"Rock has a reputation as an outstanding trial lawyer who is always prepared and straightforward to work with," says Connie Koury, executive director of the Louisiana Association for Justice. "It's always gratifying to watch someone who believes in the causes they pursue and the cases they represent."
Palermo grew up the oldest of four children in Sulphur, a western suburb of Lake Charles. He developed his toughness while playing on his high school football team's offensive line for coach Shannon Suarez, who modeled himself after the legendary Bear Bryant.
"[Suarez] believed in building character foremost," Palermo recalls. "There's probably nothing I faced later in life that seemed to be as difficult as playing for Shannon Suarez. If you could endure playing for him, then you could endure anything."
However, the baseball diamond was where Palermo developed his legal temperament. As a youngster, he umpired games and found the job to be "a great laboratory for rules and issues and adjudicating things," he says. By the time he went to college, he knew he'd become a lawyer.
Palermo earned a bachelor's degree in finance from Louisiana State University in 1987 before entering its law school. As a law student, he worked for the university's sea grant legal program, editing a publication that tracked federal and state laws dealing with the environment. Working there helped him understand how important the law was to protect his state's fragile coast. Outside of class, he earned money teaching scuba lessons, which is how he met his wife, Kim. It also reinforced the notion that the environment was in dire need of protection.
When Palermo finished law school in 1992, he learned to fly airplanes, and later helicopters, before getting a plaintiff's attorney job with Raleigh Newman in Lake Charles, where he cut his teeth handling catastrophic injury and products liability cases.
One of his first cases was a tragedy involving a lemon meringue pie.
"[My client] was using lemon extract, which contains a large amount of alcohol," Palermo says. "She was making the pie filling on the stove, the filling caught fire and the flame got onto her child's pajamas." The child, who had disabilities, was badly burned and died a year later." Although the company that made the extract made new packaging that warned it was flammable, it did not take the extra step of removing the old bottles without that warning from store shelves," he says. "My client had purchased one of the old bottles."
Palermo eventually secured a favorable settlement for his client.
"All of my life, I thought that attorneys ripped off most people," says Jerry Jones, a Baton Rouge man who Palermo successfully represented in a medical malpractice case. "What I realized after working with Rock is that I wouldn't have gotten $25 if it hadn't been for him. He's someone who makes an effort to understand what you've gone through, and who can communicate it and who has the resources to find individuals who can back up what he says. I have enormous respect for him as an attorney and a human being."
For his part, Palermo feels the weight of responsibility for those he represents. "The client oftentimes comes to you with nothing," he says. "Their only means of balancing the playing field is your skills and resources. We're not paid by the hour most of the time. We have to take the case based on our belief that we will be successful."
After nine years with Newman, Palermo joined colleagues Jay and Jamie Bice to found their own firm, eventually adding partners J. Michael Veron and Alonzo Wilson, and focusing on environmental litigation since 2005.
While many of the firm's cases involve large landowners dealing with contamination, they also have "ones where there's a small landowner with a three-acre property that has been contaminated by an oil company," Palermo says. In a smaller case, "it's not difficult for an oil company to admit to what they did and get it cleaned up. It's easier for them to do that than it is to litigate it for years."
Michael P. Cash of Liskow & Lewis in Houston has been Palermo's courtroom opponent in many cases. "The highest compliment you can pay to your opposing counsel is that you trust him," Cash says. "And I trust Rock. Maybe it's an unfortunate commentary that it's so rare to trust your opposing attorney, but it's real. Rock is smart, he's tough, but he's always professional. I enjoy working with him—except for the part [where] it makes your job harder."
Cash recalls once going back and forth with Palermo on a hotly contested matter in a hearing. At some point, Cash made an offhand comment about his daughter being a student at LSU. Palermo, who is active in fundraising at the school, approached Cash after the hearing and said that if his daughter ever needed help, to please let him know.
"That's Rock Palermo in a nutshell right there," Cash says. "He can go to war with you in the courtroom and then turn around and offer to help your kid at school. He's just a class act."
In his spare time, Palermo goes on scuba trips with his wife and three teenage children. He serves on the Lake Charles Airport Authority and is a board member of the Louisiana National Guard Youth Challenge Program, which helps at-risk youth learn discipline and earn a general equivalency diploma.
He also puts his flying skills to good use with his local sheriff's aviation unit and with the Civil Air Patrol. In the wake of Hurricane Katrina, Palermo gained a bit of renown when he sent the Coast Guard latitude and longitude coordinates so it could save a family who was stranded on the roof of their home. When Hurricane Rita barreled toward Lake Charles, Palermo was drafted into the operations team for that part of the state, evacuating areas as needed, assessing the damage and providing a plan to get people back to their homes safely.
Then there's his ongoing legal battle on behalf of Louisiana's coast.
"We've all been under the belief that you have to choose between a clean environment and a great economy," Palermo says. "There shouldn't be a choice. In fact, a robust economy and clean environment should be truly aligned. In South Louisiana, we have an interest in protecting the oil and gas industry's infrastructure from storms, and the industry has an interest in having a population that can live here and work in their facilities. One of the things that coastal litigation has shown to the public is that this is a real problem and it needs to be addressed. I think oil and gas companies should be held accountable if they fail to restore the wetlands. If you break it, you fix it."
Search attorney feature articles