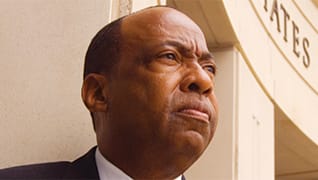 Photo by: Neil Johnson
The Born Communicator
From picking cotton to tackling some of the nation's toughest class action suits, W. James Singleton isn't afraid of hard work. And he's never at a loss for words
Published in 2008 Louisiana Super Lawyers magazine
By Nancy Henderson on December 27, 2007
For W. James Singleton, the challenge was just too tempting to pass up. In 1994, at the invitation of New Orleans trial lawyer Wendell Gauthier, he joined the 60-firm trial team that brought the nation's first class action suit against Big Tobacco. "One of [Gauthier's] close friends died as a result of cigarette smoking. That friend was named [Peter] Castano," says Singleton, 58, the managing partner of The Singleton Law Firm in Shreveport. "I bought into it because I knew it was something we needed to do. We could save lives and raise awareness of something that could cause death or serious, serious injuries."
Two years later, when a judge reversed the decision to certify the case as a class action, the "Castano Group" filed similar lawsuits in state courts across the country. In 1998, under the Tobacco Master Settlement Agreement, five tobacco companies agreed to pay 46 states a total of $206 billion to resolve Medicaid and state health claims for the treatment of smoking-related illnesses. By then, Singleton had established his reputation as a sought-after class action litigator. He has since used his instincts, preparation skills and ability to communicate with a jury in a number of groundbreaking cases involving product liability and asbestos contamination. After more than a decade, some are still pending or under appeal. But the delays don't bother Singleton. "Sometimes you just have to wait till a case is mature," he says. "If you try to run a class action case in a year, two years, it just ain't gonna work."
Hard labor and perseverance are nothing new for the man still known as "Willie James" in his hometown of Frierson, La., which had 200 residents, one school for grades 1-12, and a reputation for hard work––children were expected to work in the afternoon. Singleton's job was picking cotton. "I told my God and a few faithful people," he recalls, "that if He ever let me get out of this cotton patch, I'd never be back." He spent high school summer breaks on construction sites with his uncle in Houston, earning $1.25 an hour pouring sewer and water lines. The 5-foot-8-inch teenager was so skinny he had to balance himself carrying two heavy, five-gallon buckets of wet cement. "If I weighed 100 pounds," he recalls, "I had to be soaked."
Even as a child, "I was always outgoing and talked too much. I've never had a loss for words. They always said, 'That boy's gonna be a preacher or something because he can talk.'
"I also remember very well. Because of my [memory] and my ability to speak, people notice what I'm saying." Early on, Singleton told his great-grandmother Sally, who raised him, that someday he'd be just like Dr. Kildare or Perry Mason. "Yeah, I hear you," she told him. "You're very ambitious. I don't have the money to send you to college, but God'll make a way." Her advice—"You can pray till your knees fall off but you gotta work too"—has become Singleton's lifelong motto.
His decision to practice law came in 10th grade, when one day he hitched a ride to Shreveport in the back of a pickup truck and witnessed the courtroom oratory of the late civil rights lawyer Jesse Stone Jr., the first African American to serve on the Louisiana Supreme Court. "I went downtown to the courthouse and peeped in the door and watched him with his hands on the table, presenting a case in front of this court. And I said, 'Lord, this is exactly what I want to be.' Jesse Stone was a great inspiration to me––very talented, very educated, very smart and tenacious." Stone's example, he says, "gave me the wherewithal to say, 'Yes, I can. Somebody else that looks like me did it. Now why can't I?'"
After finishing college and law school at Southern University in Baton Rouge, Singleton bypassed associate positions at established firms and set up a solo practice. "I never was interested in anything but personal injury law, class action law, product liability law," he says. "I looked at the whole gamut of what was going on out there, and I said, 'Let me find something that I think I can involve myself in that's going to yield the best benefit for me and put me in the presence of groups of people as opposed to one individual.'" In 1976, the convivial 27-year-old was elected to the Caddo Parish Police Trial Jury, where he served until 1982. The next year he began an eight-year stint in the Louisiana State Legislature, chairing the committees on civil law and the judiciary. For a time he worked as assistant state attorney general. "I love politics," he says. "It's akin to a marriage—being a lawyer, and in politics. If you're honest, people will respect you. If you win some cases, they'll respect and love you a little bit."
Despite his passion for public office, in 1996 the Castano tobacco case propelled Singleton back into a full-time law practice. The day after the Castano certification was overturned, Singleton and other members of the legal team filed Gloria Scott et al. v. American Tobacco Co. et al. on behalf of hundreds of thousands of Louisiana residents who started smoking between 1954 and 1996. (Due to corporate mergers, the case was later called Gloria Scott et al. v. Philip Morris Company et al.) The jury found the cigarette makers guilty of fraud, conspiring to distort information about the dangers of smoking, and targeting Louisiana school children in their marketing and advertising campaigns. In an unprecedented damages verdict in New Orleans in 2004, a jury ordered the tobacco industry to pay $590 million to help the state's smokers kick the habit. The current phase of the suit, addressing how the cessation programs will operate, is pending appeal.
Singleton says he is particularly proud that the Scott team was nominated for the 2005 Trial Lawyer of the Year award by the Trial Lawyers for Public Justice Foundation. "I think what lawyers did with that case—probably one of the most monumental things that could happen to our country in health care—was bring forth awareness that gives people an understanding that smoking cigarettes will kill you," he says. "It is a death knell."
Over the years, Singleton has maneuvered ample, and often confidential, settlements and jury verdicts in a number of injury cases. Last November, just as jury selection was about to begin in a case in which 15 employees were killed and 170 injured in an explosion at the British Petroleum refinery in Texas City, Texas, he and his colleagues settled with BP. Singleton is representing hundreds of clients, with settlement figures in the millions of dollars. His firm, which now includes three more lawyers, is currently involved in class action litigation against the makers of Vioxx, Baycol, Meridia, Serzone, Oxycontin and other prescription drugs.
Like his former neighbors in Frierson—"You don't have to wonder whether or not they love you because it's in their eyes and the way they touch your hand," he says—Singleton comes across as genuine, especially in the courtroom. "I've been able to prevail because people see that I'm honest and straight up. If my client has some negatives and some faults, I want to bring them out early because I want the jury to believe me. I'm not trying to hide anything from them."
"He's a very good trial lawyer," says Shreveport attorney Sam L. Jenkins Jr., who has worked closely with Singleton on class action cases since 1993. "He comes across very personably to a judge or a jury, and he has a way of communicating the issues where the average person can really understand him and not get caught up in a lot of the legal lingo that sometimes confuses people."
In 2006, Singleton's alma mater inducted him into the Excellence in Law and Leadership Alumni Hall of Fame, in part for his role as a mentor to young lawyers. He also funds scholarships for local youth who can't afford college tuition. "I've just been extremely blessed to make some of these things I've worked on come true. I just want to pass my blessing on to others," he says.
"I know how it feels to be the underdog," Singleton adds. "When you know people have no place to go and no one to go to, then there comes Willie. I'm gonna put my arms around you and see where I can help you.
"At the end of the day, we'll be blessed and we're gonna prevail."
Search attorney feature articles
Helpful links
Other featured articles
Judy Simmons Henry has battled cults and Ponzi schemes, and now reps NCAA players and coaches, too
Streaming has replaced theatrical but what will replace streaming? Schuyler Moore on the state of film financing
Karl Tilleman is as sure a shot in court as he was on the court
View more articles featuring lawyers
Find top lawyers with confidence
The Super Lawyers patented selection process is peer influenced and research driven, selecting the top 5% of attorneys to the Super Lawyers lists each year. We know lawyers and make it easy to connect with them.
Find a lawyer near you