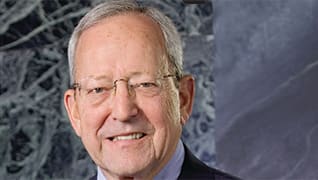 Photo by: Frank Tapia
The Lawyer as Surgeon
Phillip Wittmann's unshakeable poise and precise trial moves win cases for his big-business clients
Published in 2008 Louisiana Super Lawyers magazine
By Gretchen Roberts on December 27, 2007
When Phillip Wittmann recalls some of his favorite cases during his 47-year career, he uses unexpected adjectives for work others would consider boring or, even worse, heinous. That's because the majority of Wittmann's time is spent winning cases for companies such as R.J. Reynolds Tobacco, Exxon Mobil, Merck and more.
"Working with [R.J. Reynolds] and with top-quality law firms all over America has been a great experience," says Wittmann, a partner at Stone Pigman Walther Wittmann in New Orleans. "We've had a lot of litigation in Louisiana."
In an age where big business is sometimes blamed for everything from obesity to cancer, Wittmann stands by his career decision. "I've been criticized frequently for supporting the tobacco industry," he says. "My answer is that for many years now, tobacco companies have disclosed that cigarettes can cause health problems. The warnings have been on the package since 1964. To me, it's a question of freedom of choice."
A native of Mobile, Ala., Wittmann attended college and law school at Tulane University in New Orleans. His career path was clear to him at an early age. In high school, he excelled on the debate team and admired the assistant district attorney who lived across the street. "He was a smart guy and someone to look up to. I thought I'd like to get into that business myself," Wittmann says.
After finishing all but a semester of law school in 1957, Wittmann honored a three-year commitment to the Marine Corps, then returned to Tulane in 1960. He'd already received a job offer from Stone Pigman while in the service. "I finished my last semester while working for them."
Though his specialty is now trial work, Wittmann began his career as a tax lawyer. "I liked tax law, and I did a lot of accounting work in undergraduate school. But after three or four years of practicing it I gravitated into the litigation side as our senior partners got older and there wasn't anyone to do it. I realized how much I enjoyed litigation, so I ended up staying with it."
In October, Wittmann argued United States v. Lucas, one of many cases following 2006's Rapanos v. United States, which challenges the reach of the Clean Water Act. The Rapanos case had been in court since the late 1980s, when John Rapanos developed wetlands in Michigan without a permit. He argued that since his land was 20 miles from navigable waterways, it wasn't under jurisdiction of the Clean Water Act, which regulates the nation's waterways and wetlands. Owners may not dredge or fill wetlands without a permit.
Like in Rapanos, Wittmann's client developed wetlands that the government says are protected by the Clean Water Act. "I think this will be one of the more important cases down the pike," Wittmann says. "The Supreme Court decided to void rulings against the plaintiffs in Rapanos v. United States by a five-to-four margin, and when the nine brightest legal minds in America can't agree on whether a man has a crime on his hands, you know it's going to be an interesting case."
The high-stakes cases he argues may be tense, but Wittmann describes himself as relaxed. "I have a very even temperament, even when things are going terribly bad in court, which happens from time to time," he says. "I try not to get upset, because when you're upset you can't function. You have to learn to control your emotions."
Wittmann keeps the stress at bay with thrice-weekly workouts and deep-sea fishing on the weekends. He loves going to work each day in the firm's downtown office, which is an annex of the former City Hall. But after Hurricane Katrina, Wittmann was forced to orchestrate an overnight move of the entire firm from New Orleans to Baton Rouge, where the firm has since established a permanent office. "That was the most challenging point of my career, in terms of the long hours and all the details … you have no idea how many details are involved in the legal profession until you lose your whole office in one fell swoop.
"The good news is that the courts were affected as well, and our cases were put on hold for a while," he says. "But toward the end of 2005, litigation sparked by the hurricane just exploded."
Wittmann was impressed with Baton Rouge during his time there after the hurricane. "Baton Rouge is centrally located, and we do a lot of work around the state. I might even retire there some day, if I ever do retire," the 72-year-old says.
After almost a half century on the job, Wittmann says some of the biggest differences in the practice of law have come about thanks to the digital revolution. "I represent Merck in Louisiana, and the number of documents available electronically in New Orleans alone is almost impossible to comprehend," he says. "Millions of documents from records of prescribers to drug development––you can't imagine the volume of paper involved. You have to be very focused and know what you're looking for, or it's easy to get overwhelmed with detail. You have to zero in on which is the wheat and which is the chaff."
If he weren't a lawyer, Wittmann would have been a surgeon. "Surgeons are the trial lawyers of the medical profession," he says. "It's a challenging, difficult profession." But all things considered, he wouldn't change a thing. Of course, being married to a fellow trial lawyer helps. Wittmann says he and his wife, Anne, complement each other. "We aren't too competitive. We bounce things off of each other."
Wittmann's roster of complicated cases keeps him on his toes and motivated. "I really enjoy what I do, and it's different every day," he says. "I might be working on a federal case one day and an appeal the next. My work never gets boring."
---
Phillip Wittmann's Greatest Hits
Wittmann received the most points in the 2008 Louisiana Super Lawyers selection process. Here are a few reasons why Wittmann topped our list.
Chaired the Louisiana State Board of Legal Specialization
Chaired the Louisiana State Bar Association's CLE Committee
Chaired the Louisiana State Bar Association's Antitrust Section
Served on the Louisiana State Bar Association's Minority Involvement Committee
Serves on the Louisiana State Bar Association's House of Delegates
Past President of the New Orleans Bar Association
Received the American Inns of Court's 2005 Professionalism Award for the Fifth Circuit
Fellow of the American College of Trial Lawyers, the American Academy of Appellate Lawyers and the International Society of Barristers
Charter member of the Thomas More American Inn of Court
Search attorney feature articles