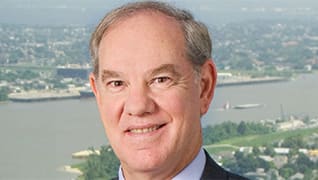 Photo by: Frank Tapia
The Life Aquatic
Is your oil rig on its way to Davy Jones' locker? Call Donald Abaunza
Published in 2008 Louisiana Super Lawyers magazine
By Karin Beuerlein on December 27, 2007
Donald Abaunza, a lifelong resident of New Orleans, has developed one of Louisiana's most prominent maritime law practices. He has handled huge cases from Europe to Canada to the Philippines. Forty years ago, though, he was one good meal away from becoming an engineer in Tennessee.
As an undergraduate civil engineering student at Vanderbilt University in 1963, he was waylaid one evening by a group of his buddies in the law school. They bought him dinner and convinced him—as lawyers will—to switch majors. "I always did enjoy debate and that kind of thing, and it sounded intriguing, so that was the beginning of my career," Abaunza says. He went on to receive his law degree from Tulane in 1969.
Choosing a specialty came easy for Abaunza, who grew up close to the Gulf of Mexico. "Although admiralty law may sound like a really unusual specialty outside of Louisiana, here it's different because New Orleans is a port city," Abaunza says. "In fact, the federal Circuit Court of Appeals here, the 5th Circuit, is one of the most important of all for admiralty law. It's quite a significant bar. I clerked with some firms in the summer and had some exposure to maritime law, and I really did like it."
Abaunza began his career with the New Orleans firm of Lemle & Kelleher, then moved to Liskow & Lewis in 1977, where he headed up the firm's booming maritime division. Abaunza eventually became Liskow's president and managing partner, from 1996 to 2003. In that time, he litigated some of the world's most newsworthy maritime disasters while exploring the deep and murky waters where maritime law intersects with international jurisdiction.
In 1982, Abaunza represented defendant Mobil Oil in the famous Ocean Ranger case, which sprung up after a massive storm off the coast of Newfoundland sank one of the world's largest oil rigs, killing all 84 crew members. Investigations by the Canadian government and the U.S. Coast Guard found that poor training and inadequate safety equipment were to blame for the deaths. The litigation that followed was extremely complex––the Ocean Ranger was an American vessel operating in Canadian waters. "It was an interesting and important case because it involved the application of several countries' laws to one accident," says Abaunza, who guided the settlement process from New Orleans to Canada over the course of several years.
Abaunza's next landmark case was the notorious accident involving Occidental Petroleum's Piper Alpha oil platform, which exploded in the North Sea in 1988 because of a natural gas leak, killing 167 of the 229 workers on board. Abaunza represented the defendants, Occidental and three other oil companies, and helped negotiate a $183 million settlement. "After many, many years of litigation in the U.K. and the U.S.," Abaunza says, "the case was settled to the satisfaction of all parties, using a settlement formula that involved the laws of both countries."
It seems the litigation surrounding international disasters at sea follows a pattern. Abaunza's current case, now in its 20th year––Abaunza himself has been on board since 1994––stems from one of the worst maritime disasters in history, in which approximately 4,000 people were killed. In December 1987, a crowded passenger ferry and an oil tanker collided off the coast of the Philippines; the tanker was carrying petroleum products belonging to Caltex, a brand controlled by Chevron. Abaunza was tapped to represent the company, which––because it merely owned the cargo on the vessel––denied liability for the accident. As of late 2007, the case was still pending in both the U.S. and the Philippines, held up over questions of jurisdiction.
Abaunza enjoys the intrigue of thorny maritime cases and the opportunities they afford for exposure to other cultures; if he didn't, he would have given up the practice a long time ago, considering the stamina needed to get through cases that can drag on for more than a decade. "I've handled a number of multinational cases that have gone on for many years," he says. "There are spurts of excitement and then a lot of tedious moments in between. But I really enjoy it."
Despite the public disdain some of his clients have experienced, Abaunza takes a practical view of his role defending energy companies. "We're simply looking for a just result in the legal system," he says.
Abaunza says Liskow is doing quite well, with offices in Lafayette and Houston in addition to New Orleans. "That's good news whenever you hear about a firm growing post-Katrina," he says. "The city is making many signs of improvement, and I'm very happy to see that our lawyers are, almost without exception, staying here."
Someone who spends so much time involved in maritime law might be expected to enjoy the sea––and Abaunza does. "I like fishing and I really enjoy going to the Caribbean and Hawaii on vacation," he says. "But not enough to leave my farm."
That's right—although Abaunza is a maritime specialist, his real passion is firmly landlocked. "We have a little hobby farm about an hour from here in Mississippi," he says, "and we go there when we can on the weekends and enjoy the outdoor work. It's our stress relief. Our getaway to the farm and the work we do there is something we never want to give up." Abaunza does much of the farm work on his 40 acres with his own tractor and chainsaw, and his wife, Carolyn, puts her skills as a master gardener to work on the grounds.
It's a fine antidote to the pressures of international litigation. After all, when you've been working on one complicated case for decades, a little pastoral simplicity can do wonders. "From our deck you can see no other house," Abaunza says. "We have a few cows, and their only job in life is to eat the grass so I don't have to mow."
Search attorney feature articles