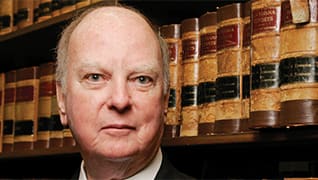 Photo by: Lee Celano
The Perfect Gentleman
For Henry Alsobrook Jr., imagination is everything. That, and fine wine
Published in 2007 Louisiana Super Lawyers magazine
By Nancy Henderson on December 27, 2006
It was the kind of big break most young attorneys only dream about.
New Orleans native Henry B. Alsobrook Jr. had been practicing for less than a year when one day St. Clair Adams Jr., his boss at Adams & Reese, introduced him to a new client. The man told of how he and his sister had inherited their father's tobacco company stock, which over the years had split several times and grown into a sizable sum. There was only one problem: The stock certificates were missing, and so was the sister.
After working the case for three months, the enterprising 27-year-old lawyer tracked down the stock—the sister's whereabouts remained a mystery—and was faced with the question of how much to charge. "So I looked in the minimum fee schedule [for the New Orleans Bar Association] and found a fee for the 'partition of succession' and that's what I charged him. And the fee was $75,000.
"Now you have to remember that this was back in 1958," he adds with a laugh. "Mr. Adams and Mr. Reese, the year before, had made about $30,000. So my one half of that $75,000 was more than they had made the whole year before." Even more rewarding was the following atta-boy meeting with Adams and firm cofounder W. Ford Reese. "They said, 'Alsobrook, we want to make you a partner,'" he recalls. "I said, 'Well, may I keep this fee?' … So I used that money to build my first house." He also began building a reputation as one of the state's most respected attorneys.
After five decades, the gentleman lawyer who has specialized in medical malpractice, pharmaceutical and products liability law since the 1970s is still going strong. The epitome of style, he is an impeccable dresser who looks decades younger than his 76 years. "I wish I could say it was the joie de vivre, but actually it's my mother's genes," he says. His sharp wit and attention to detail have remained youthful as well; each week he meticulously compiles a summary of pertinent Daubert Tracker cases––which deal with expert witnesses allowable in court––for his colleagues at Adams & Reese. And although he describes his personality as "somewhere between" driven and laid-back, Bernie (as his friends know him) expects nothing short of excellence from the young associates he mentors—a standard he set for himself long ago. At the New Orleans Academy, an all-boys military school for grades 1-12, Alsobrook excelled in history and writing, but his spelling was so atrocious that his fifth-grade teacher informed his parents he was the worst in the class. "You know what he told me, Mrs. Alsobrook?" the teacher asked. "He said, 'Don't worry, I'll have a secretary.'"
At the insistence of his physician father, Alsobrook enrolled in pre-med courses at Tulane University. But he "hated sciences" and one year later switched his major to English literature, with a minor in history. After a stint in the Korean War and one semester at Tulane Law School, he realized he "couldn't spark many Newcomb [College] girls on $27.50 a month" from his GI Bill stipend and started scouring the New Orleans firms for any job he could find, without any luck. In 1954, however, the local telephone company hired him during an operator strike, which "allowed me to call and keep bugging Adams & Reese about whether they'd made a decision. Eventually they said, 'Yes, if you don't call us again, come on.'"
Alsobrook initially worked as a law clerk before passing the bar, then became an associate (and the group's sixth attorney) in 1957. For the next two years, until Adams & Reese moved to a roomier floor of the National Bank of Commerce Building, Alsobrook's office was simply a desk in the library. (The firm has since relocated to the Shell Building.)
From the beginning, while still cutting his teeth on subrogation work for insurance companies and charming his way into the good graces of the city's elder statesmen, he demanded perfection, from himself and everyone else. "I used to tease that the only reason I made it around here was that I didn't have to work under Bernie's tutelage. He would have never put up with my lackadaisical attitude," says Edward Rice Jr., who joined Adams & Reese in 1966. "Bernie was, and is, a task master. He required that whatever was done was done absolutely perfectly and correctly."
In 1959, not long after handling the $75,000 stock certificate matter that catapulted him to an early partnership, Alsobrook tackled his first case in the Louisiana Supreme Court. A prominent older attorney who fell on the sidewalk and broke his arm on the way home from a Mardi Gras parade sued the city of New Orleans and the adjoining property owner. In court, Alsobrook successfully argued that the uneven pavement was caused not by the property owner's negligence but by the natural growth of oak trees, whose thick roots had buckled the sidewalk.
Alsobrook has even had a case involving the famous Long family. In 1959, Louisiana's flamboyant governor, Earl K. Long, was committed to the state mental hospital in Mandeville after an outburst seemingly caused by schizophrenia. Furious with the state troopers who had kept him confined against his will, Long fired them all upon his release. So when Dr. Richard Patterson, the psychiatrist who had examined Long at the hospital, received a subpoena to testify at a civil service hearing to reinstate the troopers, he called Adams & Reese. Alsobrook was assigned to the case. "He was scared to death because he'd just come on board [as head of the department of psychiatry and neurology] at LSU Medical School, and he didn't know whether this was going to impact his job there."
In court, Alsobrook surprised the plaintiff 's attorney with information he'd gleaned from the hearing officer just moments before. "If Dr. Patterson is required to answer any questions that elicit an opinion," he announced, "he will be entitled to an expert fee." The troopers' attorney immediately countered, "Well, how much is that?"
"And right off the top of my head—I don't know how I came up with this figure—I said $1,000. Well, $1,000 in 1959 was real money," he recalls with a laugh. "They dismissed him as a witness, and he never got to testify." Afterward, the psychiatrist confided to Alsobrook that Long was perfectly lucid on the day he examined him, a fact that would have undoubtedly marred the troopers' defense.
A decade later, when St. Clair Adams fell ill and handed his malpractice files over to Alsobrook, the detail-oriented lawyer found himself pursuing, in a roundabout way, the medical field he had once shunned. At a time when most insurance defense firms didn't dare represent both stock and mutual companies (they were staunch rivals), Alsobrook talked the senior partners into handling both. With the offshore oil industry booming in Louisiana, he soon became the go-to attorney for insurance companies tied to the American Association of Oil Drilling Contractors.
The products liability field was a natural progression. In the 1970s, Alsobrook successfully defended oral-contraceptive manufacturers such as Ortho and Syntex against suits brought by women who had suffered strokes and blood clots while taking their products. In the groundbreaking Cobb v. Syntex, Alsobrook convinced the court that the physician, not the pharmaceutical company, was responsible for warning the patient about possible risks, thereby paving the way for the oft-cited Learned Intermediary Doctrine. That lasted until the Food and Drug Administration started requiring that birth-control drug companies include package inserts. "And that," says Alsobrook, "was the demise of oral contraceptive litigation, because there was now a direct warning to the patient."
Alsobrook says his greatest professional strength is a trait shared by many great trial lawyers. "I think it's a matter of using your imagination, and that's one thing I try to impress upon young associates in the firm," he says. "You have to think outside the box."
That imagination has served him well. In one case, he defended an oil service contractor sued by an injured master welder. Alsobrook challenged the plaintiff 's claim by hiring a welding shop that routinely employed disabled workers—one bench welder had no legs—to test the man's skills. The videotaped test revealed that the plaintiff was faking. In the case of a roustabout allegedly suffering from post-traumatic stress disorder after an oil rig explosion, Alsobrook successfully showed that the man's elevated pulse rate, blood pressure and body temperature, as observed in the psychiatrist's office, were no more than the side effects of lying.
Such creativity has permeated Alsobrook's personal life. In the 1950s, while dining at the city's culinary landmarks, he cultivated a thirst for the nuances of wine. Gourmet cooking came naturally, too, as evidenced by the crawfish cardinale and other Louisiana-French dishes he's prepared for his fishing club buddies.
In 1985 he joined the New Orleans chapter of the Burgundy Wine Society, a prestigious, invitation-only organization based in France. Five years later, the unflappable Alsobrook was stunned when the society asked him to take over for the retiring Cellar Master. "I can't tell you how surprised I was to be selected for that position," he says. Once a year for more than a decade, he traveled to France, purchased wine for upcoming society dinners, and attended four tastings a day––which he calls a "pretty arduous schedule." His annual wine mission now centers around the largest charity auction in the world, held each November at the Hospices de Beaune in the heart of Bourgogne. The 100-year-old auction, which raises $15 million to $20 million in a single afternoon, allows him to bid on some of the world's most treasured vintages.
Like many New Orleans residents, Alsobrook and his wife, Carey, still feel the impact of Hurricane Katrina. They had just finished a two-year remodeling project—including Alsobrook's "dream kitchen"—when the storm flooded their home with 18 inches of water and destroyed Carey's breathtaking gardens. The house has been gutted and treated for mold, but the recovery is far from complete.
After 50 years in practice, Alsobrook has lightened his caseload but has no plans to retire. "I love it and I've always told the young lawyers, 'When you stop loving it, quit.'"
Search attorney feature articles
Helpful links
Other featured articles
Ashley Pack's devotion to her son informs her legal practice, and vice-versa
That's how it feels to work side-by-side with trailblazer Sherrie Savett
The signs that guided Jennifer Salvatore to open her own employment and civil rights firm
View more articles featuring lawyers
Find top lawyers with confidence
The Super Lawyers patented selection process is peer influenced and research driven, selecting the top 5% of attorneys to the Super Lawyers lists each year. We know lawyers and make it easy to connect with them.
Find a lawyer near you