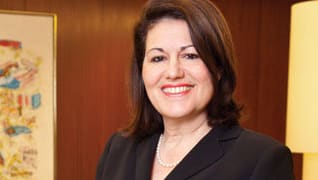 Photo by: George Long
The Problem Solver
Former IRS attorney Jaye A. Calhoun of McGlinchey Stafford on how tax law can be a bit like the Wild West or Nintendo
Published in 2012 Louisiana Super Lawyers magazine
By Ross Pfund on December 23, 2011
Q: What first got you interested in the law?
A: I love a good puzzle, and practicing law is really about problem-solving. I have this opportunity to help businesses and individuals succeed in accomplishing their goals and saving money by understanding the rules in a complex area. It definitely has its high points.
I got into [tax law] originally because, in law school, I met all these very bright people, and even they were intimidated when we heard about tax law. So it was a challenge in the beginning. I was like, "I want to understand this area of law that intimidates these people that I'm very impressed with."
Q: How did you come to be an attorney for the Internal Revenue Service?
A: When I got out of law school [at Tulane University], I went to work for the IRS for four or five years. It was like tax boot camp. It was a great way to get my feet wet. You hit the ground running at the IRS. I showed up the first day of work and there was a big pile of papers on my desk. I could have been reading the phone book for all I knew. It took me a while to figure out how to work my way through a file. But [it] was a great experience and I came to have a lot of respect for the professionals that I met at the IRS. It's almost like saying good things about the IRS is not a popular thing to do these days, but my experience there was formative because I learned that the goal is not to come up with the largest tax liability that you could come up with, it was to get the right tax result.
When I left the IRS, I went to Georgetown to get my LL.M. and then came back to Louisiana. What happened was, I work at a fairly large law firm and people do not always distinguish between types of tax. I had an exclusively income tax background at the IRS, and when I came here, people were coming down the hall to my office with questions about property tax and sales tax—stuff that I'd never touched on at the IRS. So that's how I became a state and local tax expert, just needing to learn as I went.
Q: You've called state and local taxes "the Wild West." Do you enjoy that environment?
A: With state and local taxes, a lot of what you're doing is not written down. Basically, you have to know, through experience, rules that in a federal context you could go look up somewhere. Perhaps I feel even more useful in the state and local area because of having practiced in the area for so long. It's hard to see how a taxpayer, a business owner coming into it without the background I have would ever figure it out. The fun part about this—my son Dawson plays Nintendo, and when he's playing a video game, he's having fun. A lot of [my work] feels like puzzle solving, too. When you're able to tell a client, as I did recently, "You actually didn't have a return filing obligation"—they paid half a million dollars in taxes and a refund claim is a good idea—then you're saving people large amounts of money in situations where they may have never figured it out themselves. So it definitely feels like the top level in Nintendo!
Q: Your clients must be happy when you tell them that.
A: My clients are pretty excited. When you say they can save half a million dollars if they do X, that's big money. We've had such a poor economic climate for so long and operating a business is a very difficult enterprise in any environment. I believe that businesses and individuals have the right to have effective assistance in navigating the system. The system in general—our way of life—it all works better when taxpayers pay what they're required to pay, their fair share, but no more. Everybody's happier, both the taxpayers and tax collectors, when we get to that right tax result.
Q: What advice would you give young lawyers who are just beginning their careers?
A: The legal profession has an important role and they have a real opportunity to make a difference in people's lives, to help businesses succeed, to go home at the end of the day feeling good about themselves. Because this really is a problem-solving profession. You have a real opportunity to make meaning, to help people, to do good in the world.
Search attorney feature articles