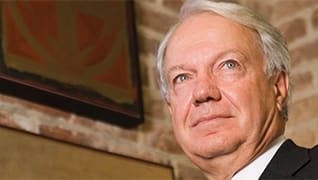 Photo by: Lee Celano
The Son Also Rises
Robert Kerrigan has gone from errand boy to name partner at his father's firm
Published in 2007 Louisiana Super Lawyers magazine
By Erin Gulden on December 27, 2006
Back in the 1950s, Robert Kerrigan was a teenage office gofer responsible for making copies and court runs, and playing the messenger for his father's New Orleans firm, Deutsch, Kerrigan & Stiles. He never imagined that one day he would represent the government, individuals and Fortune 500 companies as the head of that same firm's litigation department. In fact, he couldn't imagine being a lawyer at all.
"My head was in no place to know what I wanted to do," Kerrigan says. "I was just getting through high school and trying to do my best."
Though his father, R. Emmett Kerrigan, always encouraged Kerrigan to do just that—his best––the senior Kerrigan never harped on his boy to follow in his footsteps. And though Kerrigan "looked up to the demeanor and presence" of the men who worked in his father's law office, he was more interested in a career in medicine.
But Kerrigan joined the ROTC in college, thus cementing a post-collegiate commitment to the military. And although he still did not see a future as the replacement for the Kerrigan namesake at DK&S, his time as a U.S. lieutenant in Korea changed his perspective.
"I enjoyed the challenges and responsibility I was given in the Army," Kerrigan says. "I liked the discipline. All of these help you immeasurably with success."
Even during law school at Tulane, it wasn't necessarily Kerrigan's plan to join his father's firm. In fact, he was advised not to do so and he had job offers from many other firms in New Orleans.
"I was stubborn," Kerrigan says of his reaction to those who spoke against his decision to join DK&S. "I think the feeling was that if I ever made a mistake, the response would be 'he is Kerrigan's son.'" But Kerrigan says he was "bull-headed" and was adamant about belonging to his father's firm, and in the end, believes his father was "happy I came on board."
And though Kerrigan says he was able to work with great lawyers who taught him a lot, he never worked on the same case as his father and never felt he was given special treatment by members of the firm, nor was he ever aware of negative feelings from other attorneys. And as far as being the son of a well-respected attorney, the only person who ever put pressure on Kerrigan to succeed was Kerrigan himself.
"My father always taught me to do my best," Kerrigan says, adding that he learned similar lessons in the Army and law school. "I was trained so that whatever I did, I did my best. Not just in the firm, but in life."
Since his fateful decision to join the firm, Kerrigan has taken on some big cases. He and his team represented Pan Am World Airways and the U.S. government in defense of the Pan Am flight 759 crash, as well as the New Orleans International Airport when a local entity attempted to interfere with an $80 million runway project. Added up, he has successfully saved his clients millions of dollars in damage claims. And though Kerrigan often finds himself defending the "big guys," he does represent individuals as well.
"The greatest challenge for any case is to understand the client's needs," Kerrigan says of the multifaceted cases he finds himself defending. "You always want to organize the case in such a way that you can get the most favorable result."
Looking back, Kerrigan is happy with the chain of events that led him to become the namesake of his father's firm. And he also supports his own two sons the way his father supported him.
"One is in the institutional securities business, the other is in real estate development," Kerrigan says, adding that he gave them the same advice he received. "I always taught them to work hard and to use their skills sets."
Now Kerrigan looks to the future. In the wake of Katrina, the firm finds itself dealing with numerous cases involving insurance claims and property damage claims. "I really enjoy the demands of the matters I handle today, resolving disputes by negotiation or trial," Kerrigan says. Recalling his long journey back to DK&S, he says, "I am with this firm 150 percent."
Search attorney feature articles