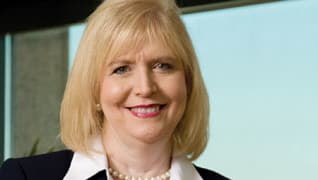 Photo by: Will Crocker
The Unflinching Advocate
Business litigator Nancy Scott Degan plays hard and by the rules
Published in 2013 Louisiana Super Lawyers magazine
By Paige Bowers on January 2, 2013
Nancy Scott Degan had only been out of Loyola University New Orleans College of Law for a few years when she was hired by a New Orleans hotel to represent them in what appeared to be a straightforward collections case. A commercial washing machine manufacturer wanted the hotel to finish paying for three 250-pound washers that sat in their upper-story laundry room. But after a bit of poking around, Degan unearthed an interesting tale about why these washers were sitting instead of spin cycling.
"When the washing machines would go into extract, it sounded like a freight train was going through the hotel," she recalls. "The conference rooms couldn't be used if the laundry was going because of all the noise. The ceilings vibrated, light fixtures started coming out and a chandelier shook so much that it scared the guests. The hotel couldn't use the equipment."
After dozens of depositions and an all-nighter in which Degan—who was over eight months pregnant at the time—directed a videographer to film the churning equipment as evidence, the case settled after six weeks of trial. The victory set in motion a more than two-decades-long career that has made Degan one of America's top business lawyers and landed her at the helm of Baker, Donelson, Bearman, Caldwell & Berkowitz's business litigation group.
"I once saw her cross-examine a witness in a case so effectively that the trial judge said the witness needed a lot of rehabilitation," says Roy C. Cheatwood, managing shareholder of Baker Donelson's Louisiana offices. "So she is an outstanding lawyer, but an even better person who is determined to make sure that young lawyers get the right experiences so they can be effective."
Degan grew up in the New Orleans suburb of Metairie, where she was one of three children in a tightly knit family that embraced hard work and perseverance.
She worked her way through the University of New Orleans as a Fotomat booth employee, a fitting room checker at Sears and a security operative who busted shoplifters at local department store D.H. Holmes. After earning her undergraduate degree in English, Degan took a year off before starting law school in anticipation of her upcoming wedding. (Her husband, Sid, is also a lawyer.) At Loyola, Degan was articles editor for the Loyola Law Review before graduating magna cum laude in 1983. She says she was drawn to business litigation because of its breadth and depth.
"The practice is fascinating because no day is like the day before and no case like the case before," Degan says. "I love the problem solving and intellectual stimulation in what I do, and I love the relationships I build with my clients when we're working together to solve a problem."
Sometimes solving a problem means settling. Last February, Degan settled a case with an oil and gas operator that claimed to have bought faulty piping from her client. John M. Robin, the Covington-based attorney who represented the oil and gas operator, says that Degan got to the heart of the matter in depositions.
"Her side litigated about as hard as it could, but when it came to crunch time, reasonable minds came together and we reached a settlement that was good for everyone because no one was happy with it. We took less than we felt we should and they paid more than they wanted to. That's the proper way to handle it," Robin says. "Nancy was very professional. She worked very hard on this case and she caused me to work very hard. That's what litigation should be about."
The experience was a pleasure from a professional standpoint, Robin says.
"If all my cases were like that, my life would be a lot less stressful," he says. "She played hard, but she played by the rules."
Six years ago, Degan represented an international retailer in a class action suit involving life insurance. At the time, companies could take out life insurance on their employees and get a tax advantage from it. If an employee passed away, the company could pay part of the policy to his family, but use the rest to buy more insurance.
"The plaintiffs sued the company, arguing that they didn't have insurable interest, even though they agreed to it," Degan says. "It was a complicated case, but ultimately we settled it."
Degan also represented an international hair care manufacturer in a breach of contract and unfair trade practices action that was brought by one of its distributors. The distributor claimed his business was wrongly terminated, but after several depositions and motions, the case never went to trial.
Another reason clients and colleagues respect Degan is for her priorities. She has set an example for how women can excel in a high-pressure workplace and have a rewarding family life. Her eldest daughter graduated from the U.S. Naval Academy and is training to become a Navy flight officer. Her youngest daughter, a senior at Notre Dame, is studying accounting and German.
"My parents, both of whom are now deceased, helped my husband and me with child rearing," she says. "We were so blessed, and every day I thank my parents for what they did. Because if you can't be there, who better than your parents to be there for your children? But you also have to have priorities. My husband would go out to the cabbage ball field in his suit to coach the girls. You do what you need to do. Some people have hobbies. Mine were about being with my children. When I wasn't at work, I was with them."
Balance aside, Degan's advice to those who want to succeed in the workplace is to reduce the anxiety level of the people with whom they work.
"In what we do, I like to have someone else worrying about what I'm worrying about because two minds are better than one," she says. "It reduces my anxiety to know that someone else is invested in the problem-solving we're trying to accomplish."
In 2014, Degan will become the chairperson of the American Bar Association's section of litigation, a group with which she has been involved since 1991. She hopes to interest its members in expanding free legal help to residents of homeless shelters across the country—a program started in New Orleans by Judge Jay C. Zainey of U.S. District Court for the Eastern District of Louisiana.
"Nobody chooses to be homeless, so you have to look at the core problem about why they're homeless," says Degan. "You say it's because they don't have money. Well, they don't have money because they can't get a job. Well, why don't they have a job? Maybe it's because they got a ticket and got their license taken away and you can't get a job without an ID. There are legal barriers like these that we can help people deal with. Oftentimes they're things that people don't even know about."
Degan hopes to expand Zainey's program into 10 underserved cities across the United States.
"It's so sad to see people on the street and find out that part of the reason they're there is because they don't know what they're entitled to," she says. "If I can find 10 cities that would benefit from this and find law firms willing to partner with shelters in their community, think about how many people this could help."
Cheatwood, whom Degan considers her mentor, says she's the total package.
"She takes her cases seriously and she takes them personally, in that she understands and empathizes with her clients and finds a way to resolve their cases," he says. "If that means going to trial then she's prepared to do that when the time comes."
Search attorney feature articles