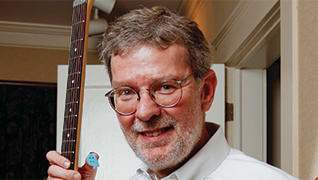 Photo by: Tim Mueller
Tongue of Fire
Johnny deGravelles on PI law, rock 'n' roll and who gets to be Shadrach
Published in 2009 Louisiana Super Lawyers magazine
By Karin Beuerlein on December 23, 2008
Johnny deGravelles of deGravelles, Palmintier, Holthaus & Frugé in Baton Rouge swears he didn't pick his law partners based on how tough it is to pronounce their last names. But he does find it amusing.
"You start with a Frenchman, then you go to an Italian, then to a German and then a Cajun—we cover an international waterfront," he says with a laugh. "Actually, it's to confound our receptionist. You have to pay a little extra for that—we make her say all four names."
DeGravelles and his partners share more than formidable monikers—they're old friends who love working together. Mike Palmintier has been a buddy of deGravelles since they were students at Tiny Tots kindergarten, and his law partner since they started their firm in 1987; deGravelles' friend from law school Frank Holthaus joined the firm shortly thereafter, and Scott Frugé came on board in 1998.
The firm specializes in personal injury, wrongful death, maritime law, product liability, medical malpractice and business litigation. "We have a family firm," deGravelles says, "because my son practices with me and Mike Palmintier's son practices with him, and another of my classmates, Randy Hunter, practices with us. Now I think some people have the idea—defense lawyers, primarily—that plaintiffs' lawyers sort of come into work at 9:00, have their coffee and doughnuts, break for lunch about 11, come back after a three-martini lunch at about 2 and then go home about 3:30. But we work long hours, we love what we do. It's just a crazy, hectic way to make a living but we all love it."
DeGravelles, a resident of Baton Rouge since 1969, inherited his work ethic from his parents. They were pioneers in the Republican Party of Louisiana, the only husband-and-wife team to serve simultaneously on the Republican National Committee. "My dad was a land man his entire career, and my mother, after having raised us, went back and got her doctorate in psychology and had a counseling practice until she retired," deGravelles says. "We're all workaholics [in my family]."
DeGravelles loves competition, and attended the University of Oklahoma on a track scholarship. However, when he was sidelined by a chronically inflamed Achilles tendon, he left Oklahoma and enrolled at Louisiana State University, where he earned his undergraduate degree and signed up for law school. "When I was at LSU [law school], it was brutal," he says. "Literally, I think our class started out with 600-plus students and we ended up with 232. So they would let everybody in-that was the good part. The bad part was that by the end of the year, basically two-thirds of the class was gone, so it was really sort of a Marine boot camp mentality. If you got through it, you were battle-hardened and ready for action." DeGravelles did more than survive—he flourished, graduating in the top 10 percent of the class.
"I knew that I wanted to be a trial lawyer," he says. "I thought in law school that I wanted to be a criminal defense lawyer, but I tried that for a few years and realized I didn't really like it. It takes a special kind of person to do it, because in fact, I can't think of one person I represented who was innocent. My notion growing up of watching Perry Mason, where somebody in the back of the courtroom, after Mason has done his scintillating cross-examination, confesses his guilt—it just doesn't work that way in the real world. What defense lawyers do is incredibly important and I believe in the whole system, but on a gut level it just didn't feel good."
So he stepped to the plaintiff's side of the courtroom. He's proud of 1976's Pence v. Ketchum, his first case that had an impact on state law. "My client, Ladene Pence, went to a bar in Port Allen, where she had way too much to drink. So much so that it was my argument that it was incumbent upon the tavern owner, who was in the business of plying alcohol for a living, to make sure he took some action to keep her from injuring herself. He didn't. She walked across busy Highway 190 and got hit by a car." DeGravelles argued successfully in front of the Louisiana Supreme Court that bar owners can indeed be held responsible in such cases, and the ruling established a precedent that was undone only by the state legislature 10 years later.
DeGravelles has since had many impressive wins, but none so big as the $8.2 million toxic tort verdict he got in 1999 against big oil companies operating in South Louisiana, where toxic waste from oil refineries is a hot issue. DeGravelles' client, Floyd Rivere, was hired by the contractor of a corporation formed by Exxon, Shell, Dow and other companies to assist in the cleanup of a Superfund site in north Baton Rouge. "Unfortunately," deGravelles says, "this company did not have proper safety procedures or equipment, so my guy was exposed to some really seriously nasty stuff and suffered permanent lung damage."
An open-and-shut case it was not. "The biggest obstacle was that Floyd had smoked two or three packs of cigarettes a day for 25 years," deGravelles says. "[The defendants] had toxicologists and pulmonologists from Tulane's medical school coming in and saying, 'Look, this guy was out there for less than 90 days. What you see on the films, what you see on the pulmonary function tests has zippo to do with his minimal exposure to toxic chemicals and everything to do with the fact that he smoked cigarettes for 25 years.'
"When I got to my cross-examination," he says, "I basically had free rein to get into the issue of how much their experts had been paid and [tried] to argue bias, lack of objectivity. I had a jury that, like most juries, was made up of people who aren't wealthy, so when they heard the amount of money these big companies had paid doctors to tell the story the way Exxon and others wanted it told, [they were] swayed into believing our side of the case."
DeGravelles' ace in the hole was his expert, Rivere's own doctor. "What made it so nice was that he wasn't chosen by the plaintiff's lawyer," he says. "This was the guy that had been treating Rivere forever. He was a very middle-of-the-road, conservative kind of doctor from Baton Rouge who didn't have any interest in who won the case. He wasn't being paid exorbitant sums of money to come in and testify, and it was his opinion that it wasn't smoking, but toxic exposure, that had created Rivere's problem."
Rivere's $8.2 million award included $5 million in punitive damages and was, at the time, the largest verdict for a single plaintiff ever rendered in that parish. "It showed juries in Louisiana that oil companies could be held accountable for cleaning up their mess," deGravelles says. "That was important because there had been a real laissez-faire attitude about that down here."
DeGravelles teaches law at Tulane and at LSU, a role he considers of equal importance to the one he plays in the courtroom. "The academic side of the practice of law is very, very important to me," he says, "and so I do write a lot of papers and give a lot of speeches on maritime law, medical malpractice and trial practice."
As part of his teaching duties, he makes a yearly trek to Greece, where he teaches maritime personal injury for Tulane's summer session at Rhodes. In 2001, he won a Fulbright grant to teach maritime law at Aristotle University of Thessaloniki, Greece. "My wife and I were there about five months, and living in Greece, we felt like it was our home," he says. "We made so many good friends there, the people are wonderful; frankly, I just loved it. You would think the biggest challenge would have been the fact that I don't speak Greek, but that wasn't that big a deal because English is widely spoken over there. Being away from my practice was the biggest challenge. All the trials, all the depositions I had scheduled, I had to lay on other lawyers or put off until I got back."
While he was gone, his firm completed renovations on a new 20,000-square-foot office building and made the arduous move without him. "Still I am in debt for that," he says with a laugh. "I owe my partners chips for that. When I got back, my office was all set up and I just kind of sauntered on in."
For kicks, deGravelles plays guitar in a garage band with his identical twin brother, Charlie—Episcopal deacon by day, bass and keyboard wiz by night. "We had a five-man band we sometimes called 'Two Men Who Look Alike and Three Who Don't,'" deGravelles jokes. But they've been through some personnel changes; for one, their lead guitarist, a professor at LSU, defected to take a job at—as deGravelles says with mock disgust—Ole Miss. Now it's down to the twins and their drummer, George Clark.
"We're called Shadrach and the Tongues of Fire," deGravelles says. "I guess we would argue about who's Shadrach."
The band performs an eclectic repertoire and even gigs at the Louisiana State Penitentiary at Angola, where Charlie has a ministry. "We always get a good reception," deGravelles says. "The guys up there are always a good audience and they appreciate what we do."
Angola also happens to be a regular performing stop for Louisiana's own Aaron Neville, a plot point in deGravelles's favorite band story. "One of the songs we play is called 'Steer Me Right' by the Neville Brothers," he says. "So one particular day we played and Aaron Neville was there, setting up while we were finishing—and, of course, our audience was waiting for him to play—and we hadn't gotten his attention at all.
"Then we started playing his song," he says. "He turned around, looked at us, and then nodded. We felt like we had gone to rock 'n' roll heaven."
Although deGravelles professes a secret wish to give up his practice to play guitar full-time—"I would, but I'm not that good," he says—it's a safe bet he'll keep playing to juries instead.
"I really do still like it after 34 years," he says. "It lights my fire."
Search attorney feature articles
Helpful links
Other featured articles
Lawsuits will increasingly be about the technology designed to prevent accidents
Faith Li Pettis has helped fund major community projects and guide the city's quest for affordable housing
Attorneys tell their stories of immigrating to the U.S.
View more articles featuring lawyers
Find top lawyers with confidence
The Super Lawyers patented selection process is peer influenced and research driven, selecting the top 5% of attorneys to the Super Lawyers lists each year. We know lawyers and make it easy to connect with them.
Find a lawyer near you