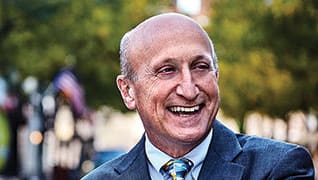 Photo by: Luigi Ciuffetelli
A Funny Thing Happened on the Way to the Estate Planning
Steven Widdes lightened the mood with self-deprecating humor
Published in 2018 Maryland Super Lawyers magazine
By Bill Glose on December 12, 2017
With a steady, green-eyed gaze and a bent nose, broken during one of the few times he ventured to play hockey, Steven Widdes bears the features of a serious man, a helpful trait in his line of work. As principal at Rockville's Stein Sperling Bennett De Jong Driscoll and co-chair of his firm's estates and trusts practice group, Widdes has seen just about everything when it comes to wills. He's even been party to that rarest of occurrence, which bad TV dramas often use as a go-to plot point: the reading of the will.
"I've only, in my decades-long career, done one reading of the will," says Widdes. "It just isn't done. In this one situation, a woman in Virginia left close to $20 million to her grandchildren. The grandchildren thought she might've had some money, but they had no idea about the amount. Many of them had had difficult times in their lives, and she left between $1.5 to $3 million for each of them." 
Twenty-five years later, and Widdes says he will never forget their reactions. 
"One of them screamed out, 'Oh my God!' and fell on the floor crying," he says. "Another one, who was worried about having another child, said, 'We're going home right now and creating that baby. Yes sir!'" 
It was a unique situation. But that's his trade. "One size doesn't fit all in this practice," he says. "You need to listen to people to really figure out what they need."
The needs Widdes fulfills center on end-of-life decisions. As difficult as that may be, he almost always finds a way to satisfy his clients' requests. Even when they border on the bizarre.
"Usually we ask people if they prefer burial or cremation," says Widdes, "and one guy said to me, 'I don't care what they do with my body. I'm fine with either burial or cremation, but there are two places I don't want my remains to be left.' I thought he was joking. I said, 'Where?' And he said, 'Rockville Pike and Detroit. I hate those two places!' And he made me put that in the document."
He laughs about it now. That's something Widdes is wont to do. When talking death and dispersal with his clients, Widdes is quick to diffuse the somber situation with humor. 
"Providing guidance to people as they navigate what they want to happen [after their death] is not the easiest subject to talk about," says Candace Kaplan, founder and senior partner of Kaplan Financial Group and Kaplan Benefits Group. She's worked with Widdes numerous times. "In planning meetings, Steve will be very caring about people's children and their grandchildren. But he will always crack a joke or say something in a self-deprecating manner that manages to lighten the mood. He has a real talent for setting people at ease."
"A friend of mine who is a real estate lawyer calls himself a dirt lawyer," Widdes says. "And he calls me a 'stiffs and gifts lawyer.'" He shakes his head. "I think he's doing that with warmth and caring," he adds with a laugh.
As accomplished as Widdes is—a fellow of the American College of Trust and Estate Counsel, a frequent lecturer at universities and bar associations, and listed among the Top 10 attorneys in Maryland Super Lawyers—you won't catch him bragging on himself. 
The only plaque in his office reads "BEWARE OF THE LAWYER (the dog is harmless)." A sculpted bonsai tree sits on his window sill. A decorative skull painted purple stares out from a bookshelf. And in one corner of the room, a trashcan bears the logo of the Minnesota Vikings, a little something to remind him of his Midwestern roots. 
Widdes' kosher father, a cattle dealer in Hinckley, Minn., a tiny town of 852 people, was a strict man who viewed the world as black-and-white as the Holsteins he bought and sold. 
"We were the only Jews in town," Widdes says. "There were certain rules my father lived by: Be very respectful. Don't owe people money. He never took loans; he waited until he had enough money to buy a house outright. To this day I can't stand owing people money. … My father always made sure that if [me or my sisters] were feeling our oats, he would keep us modest. Just to remember who you are. We all put on our pants one leg at a time." 
Widdes fondly remembers his father driving him around the country in his big Buick filled with cigar smoke. "We'd go around the farms and he would teach me how to work. You could feel how solid a cow was just by the side—the 'bags' is what you call them, the bag of the cow." 
Widdes says his father used to joke that his son failed him because he didn't become a veterinarian. "That was the gold standard," he says. "But somehow he accepted that I became a lawyer."
Once he graduated from Drake University Law School in 1976, Widdes longed to get out of the Midwest and experience life on the coast. 
"My first job, I came out East and worked with B'nai B'rith in DC as a legacy development director, which is a fancy name for being a deferred giving director," he says. "It was a nice opportunity. Unfortunately, four months after I got here, I was beaten up in the Hanafi Siege." 
Some consider it the first Islamic act of terrorism on U.S. soil. On March 9, 1977, 12 gunmen from a radical Muslim sect took over the Islamic Center and held Jewish hostages for three days. A battered Widdes appeared on the cover of Newsweek as part of its coverage of the story. "That was my welcome to the big city," he says. [see sidebar]
The rest of his DC experience was a walk in the park in comparison. And speaking to large groups about including B'nai B'rith Foundation in their wills pricked his interest in the ways in which people give money. Combined with a long-standing interest in tax law, he decided to venture into the world of estates and trusts.
After a three-year stint in the estates and gift tax branch of the IRS, Widdes joined Paley Rothman in Bethesda in 1982. His years as a taxman gave him a great base of knowledge, and he was able to convey dense material to clients in layman's terms.
"Estate planning is a technically difficult thing to describe," says Grant Ottenstein, founder of Ottenstein Insurance & Financial Services, "but Steve explains everything in plain English, not legalese. The clients that I refer to him love him because they feel comfortable. He explains everything so they understand it and don't have to keep going back to ask, 'What did you mean?'"
"Steve is a really sympathetic figure," says Bob Maclay, co-president at Paley Rothman. "He connects with his clients really, really well."
His down-to-earth nature may have helped Widdes make the obscure comprehensible, but it was his hard work ethic that catapulted him to the top. He kept abreast of new trends and built up an encyclopedic knowledge of the intricate laws governing estates.
"There was one case where a couple wasn't married yet," says Kaplan. "The families on both sides were fairly well-to-do, and Steve suggested a prenup provision regarding the children and grandchildren that will be produced as a result of their union. They had interviewed other attorneys as part of their research, and no one had ever brought that up to them. They were blown away. And it became so important as part of their estate planning for the kids that they now have."
"These 'parental prenups' are technically called generation-skipping trusts," says Widdes. "It's a way to leave their assets in trust so they will go on to their children and their grandchildren. We can also look at this trust as separate property that is not subject to a marital division. So if someone says, 'My daughter is thinking about marrying this turkey, and how do we make sure we tie up the assets in trust? I've worked my whole life and I don't want some ne'er-do-well to come along and take my child's assets.' It doesn't necessarily help with alimony, but with property division it can. This is like there's this little moat around this trust, that if there's going to be a marital split up, those assets will not be divided."
At Paley Rothman, Widdes was famous for reviewing provisions and marking them up with a red pen, leaving the document looking like horror film carnage.
"The guy keeps a list," says Maclay. "He has a yellow pad where he writes down his to-do. Every day it's like two pages worth of stuff that he has to accomplish. And he does it all. He returns every phone call. He's just very conscientious. That's a great characteristic in a partner."
After 28 years, Widdes left Paley Rothman to join Stein Sperling in Rockville. He still handles the same types of cases and looks forward to the challenges each new case brings. Equally, he enjoys passing on what he's learned to the young associates in the firm, paying back, in a way, the mentors that had helped him out. When possible, he lectures to various groups throughout the DC area, shedding light, cracking a few jokes, and answering whatever questions come up. 
"With Mr. Trump having certain approaches that he would like to take about maybe getting rid of the estate tax," he says, "those questions come up frequently. … [But] if they get rid of it, I don't think it'll put me out of a job."
He grins. "There're other areas of estate planning. I'll survive."
Search attorney feature articles