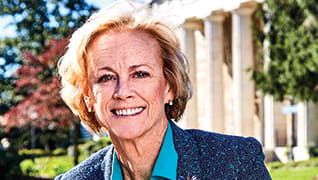 Photo by: Luigi Ciuffetelli
Cruz Control
Levin & Gann's first female managing partner keeps things steady with levelheaded calmness
Published in 2019 Maryland Super Lawyers magazine
By Bill Glose on December 11, 2018
Last year, Levin & Gann appointed the first female managing partner in the firm's century-long history: Debra Cruz, a lawyer in the Towson office who specializes in family law, and who possesses a quality that makes her perfect for the position. 
"She brings tranquility," says partner Stanford Gann Sr. "She does a great job in keeping things level and calm. Dealing with 20-something lawyers is challenging."
Sharp-featured, with short blonde hair, Cruz has a quiet, confident air that blends well with her self-deprecating humor. Devoted to healthy living and a lifelong exerciser, the 64-year-old has legged out the Baltimore Marathon twice and the Army Ten Miler three times. 
Law was an accident. After she earned a psychology degree in 1976, she briefly considered a career as a clinical psychologist, but rejected the notion after discovering how much more school that would entail. 
"You can't do much of anything without a Ph.D. except sell shoes," she says. "My dad mentioned law school a few times. And I thought, 'You know, there's a lot of reading involved. I like to read. So shoot, law school it is.'"
She laughs now about how little thought went into the decision, but Cruz proved a natural litigator. In her final semester of law school, she interned with the state's attorney's office and did something almost unheard of: She tried more than a dozen cases as a student.
"I had to get the permission of the judge to try a case. And the jury had to know I wasn't a lawyer yet, which was a little scary," she says. "But I figure, they didn't expect as much out of me, either."
The experience was invaluable. But an even bigger lesson came from observing the prosecutor during the sentencing phase of the trial of a serial killer.  
"One of the murders was particularly heinous," she says, "because he stabbed the person several times and just watched the person bleed to death. So during [the prosecutor's] presentation to the jury, he used a clock in the courtroom while talking about how long it would take for somebody to bleed out and how painful it was. He had the jurors sit there and watch the clock while he talked about what this person went through. And he talked for the entire time that it would've taken. It was really effective. He didn't raise his voice, but it was heart-wrenching. The jurors were in tears. And I was crying."
Over the years, Cruz has handled everything from run-of-the-mill misdemeanors to maritime law to RICO work. For Dennis Haun, a prosthetist at Metro Prosthetics in Baltimore, she made an 11th-hour wade into employment law.
Haun turned to Cruz after his previous employer, Maryland Orthotics & Prosthetics, accused him of funneling clients to Metro (where he'd soon begin work) while he was still in their employ. They sued for $3.5 million. 
"The bills became so much that I had to file bankruptcy," says Haun. "Debra took my case at the last hour, and worked diligently to save my family's financial future."
"[The plaintiffs] were very aggressive and spent a lot of money," says Cruz. "They seized all [Haun's] electronics and got a forensic expert involved trying to show that he stole patients. And I looked at my partner, Aaron Turner, and said, 'I know one surefire way to show he didn't steal the patients. Let's get the patients out here to testify.'"
Cruz smiles as she recalls one 13-year-old girl who wore leopard-print ribbons tied to the bindings of her lower-leg prosthesis in court. The girl's mother testified that Haun hadn't attracted her away from the former employer. Instead, she had followed him because he'd been the only prosthetist to ever fit her daughter properly. Now her daughter played sports. She could run on those legs.
To combat the emotional tug of amputees praising Haun's work and integrity, the plaintiff relied on forensic evidence. 
"They had gotten an injunction on [Haun] based on an affidavit from their forensic expert that he had been on the premises with a USB downloading patient information," Cruz says. "Our side later got their expert to testify what actually had been happening with the computer system was a [routine] backup. There was no USB. I destroyed his credibility on cross-examination, because he had to admit he knew that the affidavit he gave was false. I said, 'And yet you never retracted the affidavit?' He pointed to the other attorney and said, 'Well, I told him.'"
The jury found Haun had breached his fiduciary duty with respect to a few of his patients, and lowered the $3.5 million to $152,000.
"I would refer her to the pope if he needed litigation," Haun says.
In 2003, Cruz got her first custody case. 
Cruz's client was a mother who wanted to exclude the father from joint custody. But her only reason was animosity toward him. Without evidence of poor parenting, Cruz lost the case. 
"I was up against an excellent attorney, Kristine Howanski. She kicked my butt," Cruz says. "She taught me a couple of things. I've learned to trust my instincts. My instinct was telling me that I should've pushed my client to take the settlement. She didn't want to, and I didn't push her hard enough. So I learned to not get wrapped up in giving clients what they want."
"One of Debra's greatest assets is the way she honestly appraises things and evaluates situations and learns from them," says Howanski. "I remember her coming to me in one instance where I had made an argument that she hadn't seen in court. She was very generous about indicating that that was an eye-opener to her and she would be mindful of that in the future." 
All of her experience came to bear in one case where an aunt and uncle were trying to wrest custody of a boy away from his biological mother, who had turned the boy over to them to raise. The aunt and uncle had the child for five years, but never formally adopted him. His biological mother took a copy of the birth certificate to the police, who returned the boy to her care.
In court, Cruz trotted out character witnesses for her clients while showing the mother to be unstable and angry. The mother had not only disallowed the boy any contact with his aunt and uncle while he had been with her, she had beaten him with a shoe anytime he mentioned them.
The judge ruled that custody was to be transferred to the aunt and uncle. Cruz says the woman became unhinged. 
 "I thought [the psychology degree] was a mistake after I graduated," Cruz says. "But it helps in custody cases because usually, you are seeing people going through one of the worst experiences in their life."
---
Rinkside 
Ask about case law or ethical violations by Maryland attorneys, and Cruz, a member of the Attorney Grievance Council's Peer Review Committee, is strictly business. But mention the photos of Cruz's only child, Alexis, beside her desk, and a smile takes over. 
The photos are of Alexis as a teenager, knifing across an ice rink in balletic poses. When Alexis started skating at age 4, Cruz heeded her husband's advice to take up the sport as something she and her daughter could do together. "I think he just got tired of being the one bending over [on the ice] to hold her hand when she was little," she says with a laugh. 
As her daughter became a competitive freestyle figure skater, Cruz came to the rink but worked on her laptop while her daughter perfected axels and toe loops.
In her final year of competition, Alexis skated away with two national gold medals.
Looking at the photos, Cruz gets wistful. "Skating was part of her identity," she says of her now-grown daughter. "She always took her skates with her. I have them now."
Search attorney feature articles