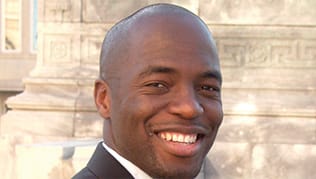 Photo by: Submitted Photo
High Hurdles
How Olympian Edward Neufville overcame civil war, immigrant status and a speech impediment to amend the U.S. Patriot Act
Published in 2009 Maryland Super Lawyers magazine
By Richard Foster on December 19, 2008
It's a good thing Edward Dosa-Wea Neufville III likes challenges, because his life has seen plenty.
He was born in Yekepa, Liberia, and fled a bloody civil war in 1990 at the age of 14. Six years later, as a student-athlete at the University of North Carolina at Chapel Hill, he helped put together a Liberian relay team for the 1996 Summer Olympics even though civil war still raged at home. He now runs a thriving immigration law practice in Silver Spring, Md., helping others gain their U.S. citizenship even though he is still in the process of getting his own.
But his biggest challenge? Arguing before immigration courts despite a severe stuttering problem he has had since childhood.
Given this problem, Neufville entered law school at Washington and Lee University with the thought that "I would just write briefs or I would do transactional work." He soon realized even that could result in speaking before the bench. So while still in law school, he challenged himself to become a trial attorney. He hired a speech pathologist and sought the advice of attorneys who had overcome stuttering. "The idea is not to be stutter-free," Neufville says. "The idea is to learn how to work through your blocks so that you don't spend a large amount of your time trying to work your way through one word."
When he gets stuck on a word or syllable, the struggle is evident as his voice wavers in a nasal pitch. He doesn't stutter often, and he usually works through it in seconds. However, on rare occasions it can take as long as half a minute.
Perhaps Neufville's most surprising characteristic is his loquaciousness; like many lawyers, he enjoys talking, so he doesn't make concessions to his stuttering in conversation. He does, however, inform judges of the issue prior to arguing cases. It's never impeded his advocacy for a client, Neufville says, and in fact, it's sometimes been a positive.
 "You can use this to your client's advantage by talking slowly and taking your time to present your client's case," he says. "A lot of times, people speak fast. But as a stutterer, when I'm speaking before judges, I know if I don't slow down, I will end up taking a lot more time to express myself. And so, as a result of my slowing down, judges have time to digest what I'm saying."
Neufville recalls being led at gunpoint with his mother and sisters from their home in a suburb of Monrovia, the capital city of Liberia, in 1990. Rebel troops and mercenaries herded the family and a crowd of other civilians on a forced march to a township hours away on foot. "I hadn't really seen AK-47s before, so everything was shocking," Neufville says. "It was terrifying."
After a night sleeping under open skies, and hearing tales of rape and murder, Neufville's family took advantage of the confusion and chaos and slipped away from the group, escaping the rebels and trekking to another far-off township and safety. For a month, they were separated from his father, who was then the assistant bishop of Liberia's Episcopal Church and later became bishop of the Episcopal Diocese of Liberia, with neither knowing if the other was alive. Finally reunited, Neufville's father sent him to the United States, where Neufville stayed with church friends in Sumter, S.C. Eventually his entire family would emigrate there.
He blended into high school well and made friends easily, although America—and its citizens' ignorance of world events such as the Liberian civil war—was a bit of a culture shock. In high school, Neufville broke the state track record for the 400-meter hurdles. As a college athlete, he became the Liberian record holder in the 110-meter high hurdles, the 400-meter hurdles and the 4×100 relay team, and he competed for Liberia at the 1996 Summer Olympics in Atlanta and the 1997 World Championships in Athens, Greece. Just to get to the Olympics was a struggle that involved massive amounts of paperwork for a war-torn country and securing a Reebok sponsorship that allowed the impoverished nation to field the team in the first place.
His Olympic relay team didn't make the finals and competed mostly before smaller crowds, but, he says, "Being at the opening ceremonies is quite a different experience, because you walk in and you have a stadium full of people cheering. … [It] was really exhilarating."
His awards came later, like in law school, when the U.S. Department of Justice recognized him in 2002 for his pro bono work on behalf of a detained indigent Mexican citizen suffering from schizophrenia. After graduating in 2003, Neufville temped at various Washington, D.C., law firms and did pro bono work for the nonprofit Capital Area Immigrants' Rights Coalition. He opened his own private practice in Baltimore in 2004. With his client base expanding, he moved his office to Silver Spring in 2006.
Neufville belongs to Civil Justice, a network of small to mid-sized legal practices in the Baltimore area that offers affordable legal representation to those in need of reduced fees or payment plans. "Through that network," he says, "I was able to get additional mentoring and also to build my practice. … I got a lot of landlord/tenant issues, [but] I used that as a way of getting trial experience."
Today his practice consists largely of immigrants seeking work visas and citizenship, in addition to helping large nonprofit humanitarian groups (such as Baltimore-based World Relief) obtain visas for overseas workers.
The challenges keep coming. "I like cases that tend to push the envelope a little bit, both in the business and the trial sense," he says.
For instance, in 2006 he represented a Burmese client seeking asylum over ethnic and religious persecution. Homeland Security officials opposed her application on grounds that she had donated money to an armed "undesignated terrorist group" in Burma. What they didn't mention was that the group, the Chin National Front, was a pro-democracy opposition group fighting ethnic persecution. Neufville won the asylum case, gathering press coverage from The New York Times and National Public Radio. As a direct result of the case, Congress amended a section of the Patriot Act dealing with asylum applications, effectively removing the Chin National Front from its list of terrorist organizations.
His other clients have included foreign student athletes and a Tony Award-winning international theatrical troupe, which needed help getting an H-3 visa for a worker. Since 9/11, he has seen a great increase in forced removal of undocumented foreign nationals, who are sometimes referred to immigration officials because of civil violations or innocuous traffic offenses. "Nowadays the police have the authority to investigate the immigration status of anyone who has been arrested," Neufville says. "A lot of people that I have assisted have been arrested for driving without a license, or, for example, if someone hits their car, and even if they're not in the wrong, when the police stop them and they don't have a driver's license, it triggers an [immigration] investigation."
Neufville understands the problems and concerns of immigrants, and cautions them that the process can take years; he's been working on his own application since 1996. "I'm just in line, like other people," he says, adding that waiting more than a decade isn't unusual. He's currently petitioning for lawful permanent resident status, the next step toward citizenship.
"I understand the procedures and how important it is to dot every 'i' and cross every 't,'" he says of immigration law. "I can say [to clients] I understand the whole process and," he adds with a slightly weary laugh, "I understand the wait."
Search attorney feature articles