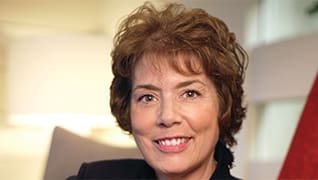 Photo by: Luigi Ciuffetelli
Lien Machine
Deborah Hunt Devan is a stock speculator, a private investigator and a CEO; in other words, a bankruptcy lawyer
Published in 2011 Maryland Super Lawyers magazine
By Bill Glose on December 13, 2010
"I call what I do the shock trauma of the law."
Deborah Hunt Devan, a Baltimore bankruptcy lawyer with Neuberger, Quinn, Gielen, Rubin & Gibber (NQGRG), is wearing thin frame glasses, a flowered cardigan and a polished stone necklace. A natural storyteller with an easygoing smile, the 61-year-old displays quiet charm; then you get a glimpse of the steel within.
"When I meet a new client they're almost always bleeding red ink, a lot of red ink," she says. "You've got to make quick decisions to save the patient's life. Sometimes you have to put the patient out of its misery."
Clarkson McDow Jr., a United States Trustee who appointed Devan trustee on what turned out at the time to be the largest bankruptcy case in Maryland history, the Merry-Go-Round case in 1996, says, "I know a lot of lawyers who are as intelligent as Deborah. I know others who are as tough as she is, too. But none who are both."
That combination has served her well, especially during the recent recession when even savvy business owners found themselves in financial trouble. "I've learned that it takes a certain kind of person to start and grow a business," Devan says. "But that kind of person, if the business gets into trouble, usually is unable to shrink it back and make it profitable. And that's what I'm good at."
In the Merry-Go-Round case, for example, she oversaw a fashion company that had more than $150 million in debt and no way to pay it off. "When I took over," Devan says, "I didn't have enough money to make payroll. I only had a couple of million in the bank. … The general creditors probably never expected to get back a dime."
Unable to save this patient, Devan did all she could to pay nearly 15,000 employees, 400 landlords and numerous creditors. She liquidated assets and sued the company's accounting firm. She managed to scrape together $294 million. In the end, to the great surprise of almost everyone, everyone got something.
Not bad for someone who had no interest in law until her boyfriend flunked out of law school.
Devan was born in Bethlehem, Pa., but her parents moved to Baltimore when she was a few years old; she's lived there ever since. "I'm a Baltimoron," she says with a laugh.
Excelling in public school, Devan expected to follow her older brother Dwayne to the University of Maryland in 1968. "I said, 'Dad, where do you think I ought to go?' And he said, 'What do you mean? Women get married. You should be taking secretarial courses. If you want to go to college, you're on your own.'"
Devan convinced her father to lend her money for the first semester's tuition, then found a series of jobs to pay her own way. She worked in a department store and walked the mile-and-a-half to her job until her dorm mother gave her a job working the front desk. She spent her first year as a math major before deciding that crunching numbers was not for her. "I realized then that I really liked [working with] people," she says. "So I began to look around and there was economics. I'd never really heard of economics; it was not that big a deal then. But I found all of my math credits could transfer."
In the long run, economics would give her great insight for her career as a bankruptcy lawyer.
Devan is someone who likes a challenge. This was never more apparent than when she decided her post-baccalaureate fate. Her family tree was full of doctors and engineers, but when her boyfriend went off to law school during her senior year, her interest in the profession was piqued. That interest increased when he failed after one year. "And he was really a bright guy," she says. "I thought, 'Wow. Could it be that hard?' So I got interested in law at the time because I thought it was really hard."
Over the protests of her mother, who cried and said, "Female lawyers are absolutely horrible, please don't do that," Devan went on to the University of Maryland School of Law and graduated cum laude. But challenges still awaited. "I was a woman and I was getting out of law school in 1975," she says. "I sent out dozens of letters and got back letter after letter saying, 'Sorry.' … It was just a really different world back then. Only 10 percent of my law school class was women. And of that 10 percent, I think there were only three of us who went into private practice."
Devan was tenacious and landed a job with Weinberg & Green, a prominent Baltimore law firm, where she wound up working with Earl Leitess, a bankruptcy lawyer. She'd never even studied bankruptcy in school, but, Leitess says, "She was very bright and willing. She either knew or learned everything she was faced with."
So he invited her to work with him on the next big case that came across his desk. Leo Goodwin Jr., the heir to his father's stock in GEICO and its affiliated business, had used his stock in the company as collateral for loans to start other ventures, most of which ultimately failed. When banks started calling in the loans, Goodwin filed for bankruptcy. At that time, it was the largest personal filing for Chapter 11 in Maryland.
"We represented the bank's creditors," Devan says. "When the GEICO stock plummeted down to a couple of bucks a share, we made calls and felt that GEICO might come back. We convinced our clients to hold onto the stock, which was the right position. Not only did GEICO come back, it came back huge. Not only did every creditor get paid every penny, every creditor got interest on their debt."
Soon she was involved in some of the most publicized cases of the era. The 1980s saw a rise in loan packaging, a procedure where various banks chipped in to spread risk or increase the size of a loan; so when the PTL Club filed bankruptcy in South Carolina, Devan represented a Baltimore bank that was one of PTL's creditors.
"So we go down to see Jim and Tammy Faye Bakker," says Devan. "They take us on a tour of the television studio and the mansion. I actually got to see the makeup chair where Tammy Faye sat while they put tons of makeup on her. If you thought it was bad on TV, you should have met her in person." She makes a sour-milk face. "Her closet was probably bigger than my house, with bright red carpeting and a big chandelier hanging in it. … Then we tour the money room where they have 20 women sitting at check machines every day, all day long, just opening mail and putting checks through check machines. … But at the same time they were begging people on TV—'Send your money, send your money'—they kept on borrowing money from the bank."
McDow was representing a Baltimore savings and loan association, and, figuring they could serve their clients better if they worked together, he teamed up with Devan. "We had lunch with the people from PTL," he says, "and they gave these promises of what they were going to do and so forth. At some point in there, the president of the S&L [believing the PTL pitch] said, 'You can cut your clocks off now. This case is resolved.' When we left, Debbie said, 'We're going to continue with the same plan we had because [what they're promising] is just a bunch of smoke and mirrors and it'll never work.' And she was absolutely right.
"She can see through B.S. pretty good. She has a good eye for that. She's a very tough negotiator, probably the best I've ever dealt with as a lawyer."
Devan's clients ended up being paid in full and Jim Bakker wound up going to prison. On her last trip to South Carolina, she stopped in the PTL bookstore. "They were having a going-out-of-business sale, so I bought as a souvenir for myself: a Jim and Tammy Faye coffee table book. Well, it was so funny: I opened it up and inside was a whole chapter on ministering to those in jail. They had all these pictures of Jim visiting people in jail."
during her 20 years at Weinberg & Green, Devan became the firm's first female partner. But her work, to that point, had been almost entirely representing creditors and she wanted to represent debtors. So she joined NQGRG in 1995. Flocks of skyscrapers dominate the view of downtown Baltimore from her window on the 27th floor. A mere 3 blocks away stands the Bank of America Building, where she'd spent the majority of her career.
"When I came here, I said, 'I don't want to represent banks.' And they said, 'Well that's good, because we don't generally represent banks. We represent wealthy people [and distressed businesses].' So this is a perfect fit."
In late February 1996, Devan was appointed trustee for a Chapter 11 case for a fashion company named Merry-Go-Round Enterprises. She was now effectively the CEO of a major corporation. She was appointed on a Friday, she reviewed the case on Saturday, and called the judge on Sunday for permission to stop payment on rent checks for 400 stores. "There was almost no money in the bank," she says. "And the CFO had sent out millions of dollars in checks, including rent checks. … So I stopped payment on all checks and I came up with about $10 million."
A good start, but a long way from where she needed to be. The company had approximately $150 million in debt and thousands of angry and confused workers. Devan called an employee meeting and told them, "I'm newer than you are. I don't know too much about this company, but one thing I promise you: If I ask you to come to work some morning, I know I have enough money to pay you."
She shuttered the remaining stores and liquidated the assets to generate $109 million, which was still not enough to pay everyone. And why had the store failed in the first place? Devan started investigating. She remembers traveling with her husband to Toronto for a friend's wedding in February 1997. "I told him, 'You're going to do the driving and I'm going to plow files in the back of the minivan.' … So we're driving to Toronto, it's nighttime and the Comet Hale-Bopp is up there in the sky, huge and glorious. I'm sitting in the back with a flashlight reading these files that covered the whole third seat of our minivan, trying to figure out what happened. All the way up and all the way back."
What she discovered were accounting irregularities with Ernst & Young, the firm that had represented Merry-Go-Round Enterprises in Chapter 11, and she decided to file suit. The cash she had already raised was spoken for, and she didn't want to risk losing any money in litigation, so she needed to find a litigator willing to take the case on faith.
Enter Stephen Snyder, king of the contingency case. "She's from a different environment than me," Snyder says of Devan. "Bankruptcy lawyers are a lot more detailed and exacting; I'm more loosey-goosey. She was always involved in the process, almost like a Marine sergeant to me. I didn't like that everything that we did was reviewed, but in the end it was an extremely successful team effort." He reflects for a moment, then adds with a laugh, "Yeah, she reined me in at the appropriate times."
Their partnership resulted in a settlement of $185 million: enough to pay all employees, the contingency fee to Snyder and a distribution to all the creditors on the case. It was the biggest malpractice settlement in Maryland at that time and set a new precedent where a consultant that was brought in to manage the turnaround of a bankrupt company could be held liable for the failure of the business.
"It was incredible," Devan says. "I paid all the priority clients; I got all the employees all their money; and I paid all the general creditors a distribution."
She also got to fulfill a childhood dream. One of the questions in Devan's high school yearbook was: What do you want to be when you grow up? Her answer? A career in fashion.
"I may have ended up in law," she says, "but my biggest case was in fashion. And that was the best trip down fashion lane I could ever have made."
Search attorney feature articles
Helpful links
Other featured articles
Barbara Howard has held the reins at both her state and city Bar associations 
Corinne Smith's work has bridged her two passions
Office Depot's Elisa D. Garcia C. makes it her business to know the business
View more articles featuring lawyers
Find top lawyers with confidence
The Super Lawyers patented selection process is peer influenced and research driven, selecting the top 5% of attorneys to the Super Lawyers lists each year. We know lawyers and make it easy to connect with them.
Find a lawyer near you