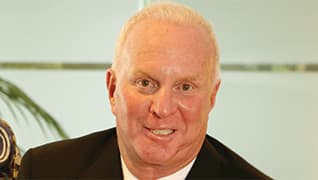 Photo by: Larry Marcus
The Amazing Snyder-Man
Stephen Snyder is the master of the nine-figure case; now he's going for 10!!
Published in 2008 Maryland Super Lawyers magazine
By Bill Glose on December 26, 2007
The only thing unobtrusive about Stephen Snyder is his office.
Snyder wears the flashiest suits to court and a diamond-studded Rolex on his left wrist. He alternates driving a Ferrari and a Rolls-Royce. His Web site (Snyderwins.com) features a cartoon character called Snyderman who is described as "a superhero of incredible strength and legal savvy."
"Stephen definitely comes across as a person who's very confident in himself," says Gilbert Holmes, former dean of University of Baltimore Law School. "He has a different aura about him. When he comes into a room, whether you see or you hear him, you know that he's there because he changes the flavor of the room." He adds, "He once showed up at a school program in a purple suit. A very, very nice, well-tailored purple suit."
Confident, successful, ostentatious to the point of gaudiness, Snyder is anything but common. That's why it's so surprising to find his office in a nondescript building in Pikesville, a northern suburb of Baltimore, nestled amid bookstores and strip malls. But any misconceptions dissipate upon entering his conference room. Mounted on the wall, along with dozens of articles about Snyder, is a framed copy of a check. It looks like a framed, first dollar bill you might find hanging behind the cash register of a business. Peering closer, you find that this check is made out to Snyder's law firm in the amount of $70 million. And that's just his cut for one case.
Snyder is a big-game hunter who targets billion-dollar cases. Though he takes cases for less money, he only goes after deep-pocketed defendants. The pool of clients with cases matching this criterion is rather shallow—about 10 cases a year—which is why his law office, Snyder Weltchek & Snyder, has been in the suburbs for the past 20 years. "My home is within a mile of here," says Snyder. "And all the activities I engage in are within a 12-mile radius."
Of course, there aren't many activities outside of law that he actually engages in. Relaxing is something he does begrudgingly. He's a member of the Woodholme Country Club, which has a golf course beside his office. He also has a professional par-3 hole at his home and a room devoted to golf in his mansion. Even so, he seldom plays. "I do play golf at times," he says. "A little bit. But I see golf as a retirement sport … and I don't see myself ever retiring."
In the midst of a month-long summer vacation, Stephen Snyder drives up from his summer home in Bethany Beach, Del., to visit the office. He's dressed casually in wraparound Prada shades, gray slacks, Italian loafers, no socks. He carries an alligator briefcase and that Rolex peeks from the sleeve of his black silk shirt, which is unbuttoned to his breastbone. For Snyder, "vacation" doesn't mean "taking a break from work." For the past six weeks he's been preparing a deposition in a case against Exxon.
"During this deposition, he gave 250-some exhibits," says Snyder's son and partner, Michael. "No one does that in a deposition. Most lawyers would just say, 'I've got 500 clients and it's just another day.' But whereas another lawyer may prepare for two days, he prepared like he was going to trial for this deposition."
Preparation is intense for Snyder. "When you're high profile and flashy," he explains, "you've got to back it up with substance. Because people will take a position on you quickly, and the knee-jerk reaction is probably not great at first blush. But I work very, very hard at being prepared. Being prepared allows me to be somewhat flamboyant and comfortable."
Flamboyance comes with risks, though. In a New Jersey trial, a juror saw Snyder's Rolls-Royce and assumed it belonged to his client. The jurors then became predisposed against Snyder's position because they didn't want to award anything to his "rich" client. Once they were empanelled, the judge told them the expensive British car belonged to Snyder. "Now the jury all knew that the head lawyer was driving a Rolls-Royce," Snyder says. "So the minute I opened my mouth they knew I was a successful lawyer from out of state. I think it worked because we won $25 million."
Snyder is able to achieve such large verdicts in part because of the way he connects with juries. He breaks down complicated matters to an elementary level and performs like an actor entertaining an audience. Evelyn McClain, jury forewoman on a case Snyder argued against First Union National Bank, remembers that he was one of the few people during the month-long trial who didn't bore her to tears. "So much of it was repetitive," she says. "I remember when they called the [economic expert] and he went on about economic theory and, oh my goodness, it was all we could do to stay awake. … [Snyder] didn't shy away from speaking in plain language; he would tell it like it was. … He related to the jury quite well because he let just enough emotion show, just short of anger. It wasn't confrontational, but he let you know that this is what he felt; he felt strongly about something and he passionately believed in the plaintiff."
Of course this dramatic style doesn't sit well with everyone. He's been called, in a Baltimore Sun cover story, "The Lawyer Other Lawyers Love to Hate," and when Forbes invited him to speak to 150 chief financial officers on how to avoid malpractice suits, he began his address by trying to convince them he was not, in fact, the devil.
"I don't think I've ever had trouble achieving success in a case," he says, "but [some lawyers and judges] have said, 'You have a horseshoe up your ass; you're lucky. You do things other people don't do, unconventional things, and you get away with it.' A judge wants to run his courtroom, but I say a judge should let me do my thing as long it's not in any way disruptive of the system. … If I'm in a trial and I ask a question and the judge rules that it can't be asked, I'll ask it 10 times. I don't care. I don't worry about stuff like that. I don't worry about whether the judge likes me or not; that's sort of irrelevant to me. I worry about my audience."
In his office, it's hard to imagine Snyder as the serious courtroom threat he is. He's too much of a jokester. The nameplate on his desk reads "Serenity Now!"—an old Seinfeld joke. His banter with the 12 lawyers in his firm is often laced with expletives and seems almost litigious. When he asks one of his secretaries a question, he waits less than a second for a response. "Hey! Are you alive?" he says.
"I'm alive," she replies in a tone that says, give me a break. "I'm thinking!"
Snyder laughs hard with a smoker's gravelly rasp and then, in one of his typical non-sequitur leaps in conversation, asks, "How old are you?"
"50."
"You came here when you were, what, 21?"
"No, I think I was a little older than that."
"And I never sexually harassed you, did I?"
"No. Never sexually harassed me."
"Really? Ever wish I did?"
Snyder grew up in a row house near Reisterstown Road Plaza on the western edge of Baltimore, sharing one bathroom with a brother, a sister and his parents. His father and his father's four brothers owned a couple of clothing stores, which paid the bills but did not allow for an extravagant lifestyle. He was a flagging student at a large, all-boys high school. "I don't think I ever got a B, certainly never an A. I had a lot of trouble getting through high school. Just behavioral issues." He pauses a beat before adding, "Shocking as that is."
At the time, his only destiny with the law seemed to be to wind up on the wrong side of it. "I was a tough kid," Snyder admits. "I'm 60 years old and I still hear, 'You were a tough little S.O.B.' But they mean it in a complimentary way, that I really turned myself around."
Trying to impress a girlfriend, Snyder adjusted his classroom attitude, which led to the realization that he could go much further with an education than without. At the University of Maryland, he became an honor roll student and was accepted at the University of Baltimore School of Law, where he graduated magna cum laude. From there, he went into the city for a short stint as a prosecutor.
"I really knew very little when I went there," Snyder says. "I had not clerked for a law firm during law school. I don't think I was a standout prosecutor. [But I gained] a great deal of confidence in being before audiences. I learned to speak on my feet and how to deal with impulsivity. I learned how to bring things successfully to the finish line."
In 1972, with two years' experience under his belt, Snyder did what would later become his hallmark: he took a risk. Giving up the guaranteed income of his regular paycheck, he partnered with another lawyer to launch a contingency practice. "I was a 24-year-old guy," he says, "married, with two kids, out on my own in a totally contingent practice, 100 percent from day one. We did criminal law, and in the old days cases were in the district courts where the police stations were. I would go in there and I would turn to the audience during my case and if we won I'd end up picking up five new cases each time. But I had the piss and vinegar and I had the drive and the fire."
In those early days, Snyder hustled to get all the work he could. One time, he received a phone call while having dinner with his partner and their wives. A friend of a former client wanted to hire him for a criminal case in Sault Sainte Marie, 500 miles north of Detroit. Without hesitating, he and his partner hopped in the car and drove 21 straight hours to take the case.
Even with the grueling hours and uncertain work, Snyder never considered switching from contingency to hourly. "You can hire anybody on the clock. A guy on the clock just knocks things out. … I'm just not a guy that's subject to rigidity. I need to be loosey-goosey and do it my way. I don't think you could hire me for any hourly rate, no matter what; there's not an amount you could offer me. If I win, I have to have some skin in the game, a piece of the action."
Snyder's first million-dollar verdict occurred in the early '80s. A radiation therapy victim discharged her lawyer three weeks before trial and hired Snyder to represent her. It was a complicated case with plenty of technical details, but Snyder decided not to postpone it. "I took it to trial and got the largest verdict ever in Baltimore County at that time," he says. "[The previous] lawyer had wanted this lady to settle for like a few hundred thousand dollars. So I got tremendous notoriety from it."
Suddenly, Snyder was a "name" lawyer being sought for big cases. Then his success moved to a new level: the nine-figure level. In 1990, he won $106 million in a settlement against United Cable. In 1999, he won a settlement against Ernst & Young worth $185 million. Three years later, he won a jury verdict against First Union worth $276 million. Then, in 2004, he won yet another case against E&Y for $125 million, this time representing the FDIC.
Oh, and two months after wrangling the $185 million settlement from E&Y? They hired Snyder to represent them in an indemnity suit.
"I've had four separate cases where, after I won, my adversaries hired me," says Snyder. "It's pretty cool to go after someone in a high-stakes case, beat their pants off, and then get called to represent them. It's a pretty high compliment."
Now that Snyder has become comfortable with multimillion-dollar cases, he's raising the bar again. Two years ago he launched a campaign for a billion-dollar case, taking out full-page ads in both The Wall Street Journal and The New York Times. "I ended up getting over 500 calls from around the world," says Snyder. "It was the most unbelievably effective campaign. … I'm presently pursuing about five or six of them that I think are potentially extremely large cases and just starting to get into discovery in these cases."
Snyder realizes how fortunate he's been and gives plenty of his good fortune back to the community. In 2000, the 30th anniversary of his law school graduation, he paid for a new building at his alma mater.
"He's had a tremendous impact on the school," says former dean Holmes. "He funded the Stephen L. Snyder Center for Litigation Skills, which has become a leader, both in the region and nationally, in teaching law students about litigation, as well as setting up mentoring programs for our students with very established practitioners."
Snyder encourages lawyers in his firm to teach courses at the center and has participated in programs himself. "I've gotten as much pleasure out of [the center] as much as anything I've ever done," he says.
His philanthropy doesn't end with the legal community, either. He recently donated $2.5 million to United Cerebral Palsy, which will use that money to open a new 60,000-square-foot facility.
"I think legacy is important," says Snyder. "What am I going to leave my five kids when I'm not around? I hope it's a good reputation. I think I've worked hard to get it. It's difficult, because it's this love-hate relationship. You want to be the tough guy in the courtroom and you want to go full bore to get the best result, and yet you want everyone to like you. And it's sort of a hard thing to accomplish."
Search attorney feature articles
Helpful links
Other featured articles
As outside counsel to the Mormon church, Von G. Keetch has been called every name in the book
Ibiere Seck follows in some big footsteps
Why Elena Karabatos is the family lawyer for 95% of the human race
View more articles featuring lawyers
Find top lawyers with confidence
The Super Lawyers patented selection process is peer influenced and research driven, selecting the top 5% of attorneys to the Super Lawyers lists each year. We know lawyers and make it easy to connect with them.
Find a lawyer near you