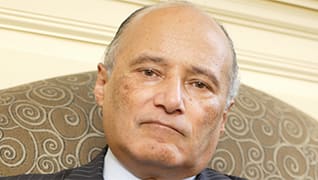 Photo by: Luigi Ciuffetelli
The Barracuda with a Big Heart
Whether representing the Black Panthers or Bill Gates, Billy Murphy knows when to go for the kill
Published in 2007 Maryland Super Lawyers magazine
By Patrick Pawling on December 25, 2006
Barracuda lawyer. That's what a magazine once called William H. "Billy" Murphy Jr. His reaction? He chuckled—and then made sure the quote went into his official law firm biography.
Like his sharp-toothed namesake, Murphy is often relentlessly focused on the kill, especially when crossing a witness, and his career results show it. A former circuit court judge in Baltimore City, a criminal defense attorney for 29 years and now a corporate and personal injury powerhouse who attracts clients such as Microsoft and Johnson & Johnson, Murphy wins cases at an amazing rate—more than 90 percent, by his estimate.
So how does a lawyer go from representing the Black Panthers to defending Bill Gates? And how does he then go on to successfully handle product liability and med-mal cases, defeating heavyhitting competition like Johnnie Cochran?
It started 63 years ago in a Baltimore housing project named Cherry Hill. Now plagued by drugs and violence, the Cherry Hill of Murphy's youth was a place where locks went largely unused and people of color could walk without fear—mostly because they walked among themselves.
The only white people Murphy knew growing up were merchants, and one of his biggest fears was getting bad grades. One time he came home with a 95 on a test. "What are you smiling about?" his mother asked. "What about the other 5 percent? When you miss only 5 percent, it's not your brain, it's your attitude."
Every night by 6 his father, a prominent judge and attorney, would be at the dinner table cross-examining Murphy and his two brothers and two sisters about their day at school, what they had done on their way home, how sports were going and whether they had started on their homework.
His father had been the third African American in the 20th century to go to the University of Maryland Law School, and it took a court order to get him in. Hard work and preparation were thus wired into Murphy and his siblings. One of Murphy's sisters, Madeline Rabb, served as Chicago's director of art and culture under three mayors. His other sister, Laura Murphy, is the retired director of the ACLU's Washington National Office. His brother Arthur is a political consultant who has directed more than 25 campaigns. His brother Houston is an IT manager for a Virginia company.
To make sure Murphy launched with the right trajectory, his parents sent him to Baltimore's Polytechnic Institute, a high school renowned for its education in the sciences. He went on to MIT, graduating with a degree in electrical engineering. His first job was in aerospace, working on deep-space communications, where there were seven black engineers among thousands. At one point, his company, Martin Marietta, failed to win a big government contract, and the company that won, Lockheed Corp., needed engineers; so a "sale" was made for Murphy and others—a then-common industry practice.
Murphy had another word for it. He went to his supervisor and said, "The only people I know who get sold are slaves and ballplayers." The supervisor was defiant, and told him, "I don't see any bat or glove …" Murphy's reaction anticipated baseball player Curt Flood's reaction to being sold to the Philadelphia Phillies in 1969: He refused to go. Instead, Murphy applied to law school at the University of Maryland.
Like many in college in the 1960s, Murphy picked up a hard-to-kick habit: jazz. He wanted to be a drummer. This didn't go over well with his father, who imagined him playing dives in New York or Paris and living on whatever it is aspiring jazz musicians live on.
"I was so bad, the only way I could get work was if I started my own band," Murphy recalls. So he did. He got good enough to play clubs, studying for law school during breaks. Jazz would govern the rhythm of his legal work for the rest of his career. He still plays and still believes it's great training for the discipline required by the law.
"There are so many similarities between jazz and trial work," he says. "You have to prepare intensely to improvise. You don't just wing it. You have to know your material first."
At law school, Murphy initially considered business law, but, as he says, "Sometimes events overtake you." Murphy had been the only African American in his high school class and in his law school day class. Not much had changed, it seemed, since his father fought to get into U.Va. Law School.
By the time Murphy graduated in 1969, America was in turmoil. His father represented people arrested during anti-war and civil rights protests, and Murphy wound up going to court to help. The work opened his eyes, and he set his sights firmly on criminal defense.
His early legal work reinforced his distrust of the system. Case after case showed that people in uniforms were not to be trusted.
"They were as likely to kick your ass and lie about it as anything else," he says. "It was a scary time. There was a tremendous backlash against the civil rights movement. People were getting beat up and prosecuted falsely. It was routine."
Against this backdrop, Murphy launched his legal career by representing the Black Panthers.
"I had worked with them in the community and I viewed them as a positive force for change," he says. "I was never a member but I supported their objectives."
His first case involved the murder of two police officers. Authorities suspected the Panthers. They also believed that cartoons in a local Panther newspaper depicting the killing of police officers provoked the attacks. Based on this theory, they shut down the newspaper.
"Prior restraint," says Murphy. "It's worse than censorship."
He went to court to reopen the Panther newspaper, cross-examining the chief of the FBI in Baltimore and the city's chief of police. He won, and he kept winning. For nearly three decades Murphy was the man you'd come to if your case was tough and your back was to the prison wall. Some 30 percent of his criminal clients were pro bono, or able to pay only a fraction of what Murphy would normally charge. But he never gave anything less than 100 percent.
"I was an investigating motherf—er," he says. "There's no substitution for doing your homework. My strength is [that] I am committed to one thing, and that is winning. Whatever it takes to win, I do it. I am an intensely competitive person." 
In 1998 he engineered a 180-degree turn to civil litigation, representing both plaintiffs and defendants. He successfully defended Don King's company, Don King Productions, against charges that King had defrauded the insurance company Lloyds of London. Winning that high-profile case brought a deluge of opportunities.
"After doing criminal for 29 years, I wanted to pursue other challenges," he says. "With the King case, new challenges and opportunities were opening up to me."
Bill Gates was an early corporate client. In 2001-2002, Murphy helped defeat famed attorneys Johnnie Cochran and Willie Gary, who had separately filed class action race discrimination lawsuits against Microsoft seeking $3.5 billion in Seattle and $5 billion in Washington, D.C.
"I had been following Bill Gates' career for years, and I believed he wasn't a racist," says Murphy. His team—including his son, attorney William "Hassan" Murphy III, managing partner of the firm, and one of his five children who continue the Murphy family's successful ways—helped destroy the credibility of the lead plaintiffs through what Murphy calls "a wide-ranging investigation."
Murphy's corporate litigation clients have since included Sony; Qualcomm; Coca-Cola Enterprises; H&R Block; Merck; Allied Signal; the Baltimore Orioles and owner Peter Angelos; the Washington Redskins and owner Dan Snyder; and families whose children are brain-damaged as the result of medical malpractice.
In 2003 he won a jury verdict for Johnson & Johnson in a multibillion-dollar group of product liability cases involving the heartburn drug Propulsid, which the FDA, in 1998, issued strengthened warnings against for its association with irregular heartbeat rhythms and possibly death. For Johnson & Johnson, it was a challenging time with huge stakes.
"We had several class actions," says Roger Fine, Johnson & Johnson's then-general counsel. "We needed to put together a world-class defense team and go out and win some lawsuits and show we were not vulnerable. Billy was one of the senior people on our team. He tried some of our most difficult lawsuits. He is a phenomenal lawyer."
Murphy says his defense was simple: "[The plaintiff] was a guy who was a heart attack waiting to happen—obesity and cholesterol—the typical American at the typical heart attack age."
"Billy is different than most other lawyers," says Fine, "and I mean that in a very good sense. He is a natural human being and an instinctive lawyer. When you want somebody to grasp the technical material and be able to translate it for a typical jury of laypeople, Billy is your man. He understands how regular people think. He doesn't act or talk like a lawyer and that's one of the reasons he's such a great trial lawyer and particularly a great jury trial lawyer."
So how can a small entity—at press time, the Murphy Firm had only seven attorneys—handle such big cases?
Murphy, as he is prone to do, doesn't begin by defending his firm; he goes on the attack. "Big firms have a problem," he says. "They don't have enough attorneys who have more than, say, 20 trials under their belts. Back in the day when every law firm was small, with like 20 lawyers, everybody who was hired did small cases—and lots of them. Now the big firms don't even take the small cases. So the typical associate for the first seven years in the litigation department, he doesn't get a chance to do jury trials. Then he makes partner and maybe he gets his first jury trial—and at most he gets one or two a year for the rest of his career. That just doesn't turn you into a trial lawyer."
Murphy figures he's done hundreds of jury trials and more than a thousand misdemeanor and felony trials, along the way cross-examining more than 10,000 people. And that, he says, is why the transition to civil law wasn't as difficult as some would think. It's trial experience his clients want.
In 1999 he partnered with Johnnie Cochran to win a $3 million settlement from Montgomery County for the family of a man wrongfully shot and killed by a police officer. In 2002, he again successfully defended Don King, this time against charges by boxer Mike Tyson that King had cheated him out of $100 million in boxing winnings.
In 2002 he also won a $276 million verdict as lead counsel against First Union Bank. It was the largest punitive damages award in Maryland history. "It was an attack case from the beginning," Murphy says. "We put on nine witnesses but only two were ours. The other seven were bank employees—adverse witnesses. We crossed them before they could be examined by their own counsel. That way you get a chance to destroy them right off the bat. By the time their lawyers got to them, they were dead."
Recently Murphy represented Baltimore public school children, including the mentally disabled, in their fight against the state and city to obtain more funds for public schools. The upshot of that case, which Murphy took on pro bono, was a dramatic increase in funding, Murphy says.
Last year he won a $44 million verdict against the city of Baltimore in a case involving a police detective charged with maliciously throwing a handcuffed man head-first into the cinder block wall of a holding cell, rendering him a quadriplegic. "I think that trial was death by a thousand cuts," says Murphy. "We came at the officer in many, many different ways."
But attack mode is just one side of Billy Murphy. He gave money to help Hurricane Katrina victims attend college. He also helped friend and fellow attorney Robert Weltchek represent a young man booted out of college just weeks before graduation for reasons that appeared to be racially motivated.
"He dropped what he was doing to do it pro bono," Weltchek says. "He tried the case, and lived in a little bed-and-breakfast near the college, staying up to 4 a.m. every night."
Weltchek adds, "It's unique to find an extraordinarily talented attorney who also has an extraordinarily big heart. All trial lawyers have big egos—it goes with the territory—but a lot of successful trial lawyers sometimes lose compassion for their fellow man. Billy just has a great heart. In Baltimore there is not a place where we would walk that people on the street didn't come up to him saying, 'Thank you for what you have done.' He has accomplished so much and he is an inspiration for people who fight the system in a clean, honest way."
"People want lawyers for different reasons," Murphy says. "Some want a barracuda or a shark. Some want somebody more defensive. Some want you to be warrior or a conciliator or a mediator."
And some want a lawyer who can be any and all of those things. That's when they call Billy Murphy.
Search attorney feature articles