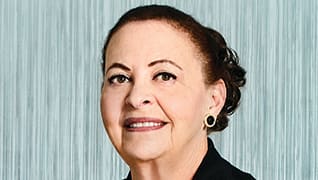 Photo by: Luigi Ciuffetelli
The Bold Type
Cheryl Hepfer bloodied her forehead against glass ceilings so the next class of women lawyers didn't have to
Published in 2020 Maryland Super Lawyers magazine
By Bill Glose on December 17, 2019
On Cheryl Hepfer's first day of law school, a professor sporting a gold watch zeroed in on her. She expected to be challenged—it was 1969, after all. Not even 5 feet tall, Hepfer seemed an easy target. But she stood her ground as he grilled her for an hour, many of his questions inappropriate. The next class, she brought a gold watch similar to her professor's. She sat up front, chin raised, and set the watch on her table before crossing her arms and settling in. "If he wanted to go at me again, I was ready," she says.
It went that way for a while: some man telling her she didn't belong. Her proving otherwise.
In one of her first forays in court, a magistrate asked Hepfer if she was an attorney admitted to practice in Maryland. Unsure if this was his practice with attorneys he didn't know, she told him she was, but it bothered her that he asked in front of her client and opposing counsel. When the same thing happened a few weeks later, she asked permission to approach the bench.
"I'd like to know how many other attorneys, especially men, you've asked that question of in the past few months?" she asked. When the magistrate started stuttering, she continued, "If you ever ask that of me again, I'm going to report you to the judicial disability commission because I'm beginning to wonder about your memory."
Hepfer has had to overcome obstacles far worse than the run-of-the-mill male chauvinist. When she was 6, she contracted polio. She was hospitalized in an isolated ward, only able to see her parents for an hour a week, and told it was unlikely she would ever walk again. But there was a researcher at her hospital who was working on a vaccine. "I called him 'The Blood Man,'" says Hepfer. "All I knew was he came and took blood, and I didn't like it." That virologist? Jonas Salk, whose 1955 vaccine has helped the U.S. remain polio-free since 1979. 
"I was very, very fortunate," says Hepfer. "[The polio ordeal] was an important aspect of my childhood that formed my personality in the years to come. I became very independent and stubborn, which is why I did things like open my own office. I basically thought, if I can get through those times in my life, I can do anything."
Heather Hostetter, of Hostetter Strent, values her mentor's boldness. "There are always uncertainties when you take a case to court," she says. "But Cheryl always thinks, 'I can try it and be successful.' And that element of fearlessness makes her formidable."
The product of a coal- and steel-town upbringing in McKeesport, Pennsylvania, Hepfer was raised by her schoolteacher mother and litigator father. He went to court most days, getting up early to ride the train into Pittsburgh. Hepfer watched her father argue a few times, coming away impressed. Even more impressive than his skill was that no matter his caseload, he came home each night for supper. His was an idyllic example of a life in law.
"Both my brothers and I ended up becoming lawyers," Hepfer says. "He left his mark on us." In law school, Hepfer married, had a child, then moved to Maryland in 1972 when her husband landed a job in the D.C. area. It was difficult. She had a young child to care for, no local connections and no one to lean on for help. Plus the male-dominated legal profession was rife with chauvinism. She tried to get a job with law firms in Prince Georges County, but none wanted to hire a woman. During interviews, senior partners asked Hepfer if she was planning to have more children and other questions that would be considered inappropriate by today's standards. Her gender: strike one. Her child: strike two. But Hepfer was undaunted.
So, in a tiny, two-room office in Oxen Hill with no receptionist, she launched her own practice. When potential clients entered, a doorbell chimed in the second room where Hepfer sat.
"It was just me and a telephone," she says. "I basically did everything. Anything that walked through the door I did. Criminal defense, personal injury work. I even did a court-martial. Part of my personality is that if other people can do something, I think I can as well. I just have to figure it out."
Some problems were trivial. "The first time I went to get a file from the [court] clerk, the clerk didn't say to me, 'Are you an attorney?' or 'Only attorneys can take the files.' Instead, she said, 'Oh, no, you can't. You're not an attorney.' I looked at her and said, 'Oh, yes I am.' I had to put my place on the map or I was going to be treated like second-class for a long, long time. And I wasn't about to put up with it."
Other issues she parlayed into advantages. As a new lawyer, her cases were often called last in court. So she'd sit back and watch and learn from lawyers she dubbed "the Kings of Law."  
"[Cheryl] is very perceptive of what is important to people and what is important to judges in cases," says Sanford Ain, a founding partner at Ain & Bank. "She's great at reading people and she has the ability to direct things so they help her clients."
She refused to be out-prepared by her opponents. And she felt a responsibility to show that a woman could go toe-to-toe with a man and come out victorious. "I didn't want to be 'that girl who lost,'" she says. "I bloodied my forehead a lot on the glass ceiling that young women today don't recognize."
As her caseload increased, Hepfer grew more selective. Family law, with all its complex issues, fascinated her. 
"It takes a lot of tact, knowledge, preparation and skill to be able to accomplish that [selectivity]," she says. "To represent people in family law cases, you have to know some degree of psychology and accounting; you have to understand real estate, corporate structure, finance, tax law. You don't have to know all the answers, because you can hire experts to assess, but you have to know enough to ask the proper questions, to be able to think outside of the box and be creative.
"A dollar is not a dollar unless it's in a bank," Hepfer says. "A dollar is a dollar less the capital gains tax or whatever the issue is. Even with something as easy as dividing a 401(k), let's suppose on the day [of the agreement] its value is $80,000 and you say you're going to transfer 40 over to the other spouse. But what happens if the stock price drops from 80 to 40? Then she gets 40 and he gets nothing because it's not as though we freeze it. It's not like a car accident took place and it's done. The wheels are moving constantly."
Adding to the complexity of cases is the emotional freight. Hepfer recalls a custody case between two doctors with four children. She represented the wife in a four-day trial with numerous experts testifying. "We ended up proving that the dad had inflicted horrible injuries on these children," she says. "Not just psychological, but physical injuries."
Her client won sole legal and physical custody. Those types of wins, where Hepfer feels like she is actually saving lives, are what makes taking the emotional toll home with her worthwhile. 
"Years later," Hepfer adds, "I got an email from the client, who told me that one of her sons had graduated from a very prestigious college. He was valedictorian."
At 73, Hepfer is now a principal partner at Bethesda's Offit Kurman. She's a past president of the American Academy of Matrimonial Lawyers and of the International Academy of Family Lawyers.
"Cheryl was the first president in the International Academy to take the Academy to South America for a meeting," says the body's treasurer, Thomas J. Sasser, who practices in West Palm Beach, Florida. "She had a meeting in Buenos Aires and established connections with some the best lawyers in all of South and Central America."
As president of the AAML, Hepfer added an element to their training focus that she felt was missing: the art of negotiation. "We always instructed trial tactics at our seminars, which is very important," says Hepfer. "But [family lawyers] don't try a significant percentage of cases—at least, very good lawyers don't."
Hepfer sought assistance from the best in the biz, Robert Mnookin, a Harvard Law School professor who focuses on dispute resolution. 
"She actually went on her own on behalf of the Academy and negotiated with [Mnookin and his colleagues]—the experts at negotiating—and convinced them to put on a program," says Sasser. "They were very reluctant. They don't do it for any other group. But Cheryl is strong-willed and persistent and bold. She convinced them to put this program on every two years."
Sasser says Hepfer is an annual highlight of the AAML's Associates Institute, which helps train young lawyers. "I try to sit in on the session, even though it's generally aimed at younger lawyers, because it gives amazing tips on the psychology of working with clients, how to manage them and help them to the place that they need to be when their divorce is over," he says.
"I'm really indebted to people like Cheryl who, when they started their careers, there were no women lawyers doing this type of work," says Hostetter, who serves as president of the Montgomery County Bar Association. "Cheryl really helped pave the way for women like me. She made it much easier."
Hepfer revels in Hostetter's success and the successes of scores of other young lawyers she has mentored over the years. At each annual AAML conference, she takes in another handful of mentees, educating them, introducing them to experts in various fields, and expanding their horizons. 
Fitting for a family lawyer, she preaches family first. "You might not remember the client that you miss the soccer game for," she says, "but you will remember that you missed the soccer game. I didn't have a mentor—certainly no women mentors—who told me that when I was practicing law. I worked too hard and didn't spend enough time with my children." She laughs. "It's a good thing they all turned out well and love me."
---
Mixing it up with The Champ
Before she was president of the AAML, Cheryl Hepfer was its unofficial photographer. That position led to the meeting of a lifetime
"On Friday evenings [at AAML events], we have this big dinner and dance; we call it prom. And we have an auction for charity. Well, Ron Tweel came up to me and said, 'Cheryl, you think if I get some signed boxing gloves from Muhammed Ali, would they like that?' I said, 'Sure, Ron, that'd be great.' Then Ron came up to me again and says, 'Cheryl, if I could get two pair of signed gloves, do you think they'd like that?' And I said, 'Oh, Ron, they'd love that.' Then he said, 'So if Muhammed's in town, you think he can come to the dinner?' I said, 'I assure you, if Muhammed Ali wants to come to the dinner, he can come to the dinner.' So we're having dinner in this big hotel in downtown Chicago, and I hear this roar—literally a roar coming down the hall—and Muhammed Ali walks in. I always had my camera, so this guy I'm sitting with said, 'For God's sake, Cheryl, go take some pictures.' So I did. He was very lovely and gracious. About four years later, Ron and I are really good friends. We're in the same hotel, and Muhammad is coming to go to lunch with Ron. He asks me to go down in the lobby and tell him Ron is running late. I go downstairs and here's Muhammed Ali, and nobody recognizes him! I say, 'Mr. Ali, my name is Cheryl Hepfer. You probably don't remember me, but I met you a few years ago.' And he said, 'I remember you. You were wearing a blue dress. You took my picture.' And I was like, 'Holy crap, Muhammed Ali remembers me!'
Search attorney feature articles