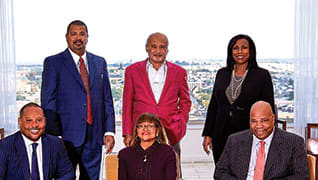 Photo by: Luigi Ciuffetelli
'The City was on Fire'
Six African-American attorneys on rising up in the backyard of Thurgood Marshall—and navigating Baltimore's legal landscape, before and after Freddie Gray
Published in 2019 Maryland Super Lawyers magazine
By Matt Amis on December 11, 2018
Upton is a zig-zagged, Christmas tree-shaped neighborhood just northwest of downtown Baltimore. Part of a larger swath of West Baltimore, it's where young Thurgood Marshall would debate issues of the day with his father: For decades, it was a place rich with a geyser of civil rights activism, black culture and entertainment.
Farther south, in Cherry Hill, the neighborhood where William "Billy" Murphy was educated in segregated public schools by "excellent, well-credentialed black teachers who could not get jobs in other occupations because of racism." 
Today, these and other urban patches of Baltimore struggle. West Baltimore is mostly known as it was depicted in HBO's
The Wire: vacant row houses, thriving drug markets, violence. 
During the space between those timelines, a generation of African-American lawyers rose up. Inspired by Marshall's legacy, driven for justice against a pervasive backdrop of injustice, they helped define, shape, grow and evolve the area's post-civil rights era black legal community.
Getting In
William H. "Billy" Murphy Jr., University of Maryland School of Law, 1969; senior and founding partner, Murphy, Falcon & Murphy: I founded the Black American Law Students Association in 1967, and got the University of Maryland—through aggressive political action, with a coalition of white faculty members, and white progressive students, and the Black Panther Party—to work out the first affirmative action agreement in any of the graduate schools in Maryland: 20 percent black, 50 percent women.
The younger faculty members were on our side. The dean was an absolute racist, and anti-Semitic, and the Black Panther Party, with some "alleged" cooperation and instigation from me, took over the courtroom of the law school. They brought in bullhorns and amplifiers, and scared the dean and older faculty members to death.
There was another black that got admitted with me, named Hinton. The dean said to me [during the demonstration], 'Hinton, what's going on?' I said, 'I'm not Hinton, I'm the other one. I'm Murphy. And that's your problem, Dean: You don't know what's going on. So why don't you come on to the moot courtroom and interact with the Black Panther Party and the other students who are part of the resistance to the segregation in this school?' 
He ducked back into his office, never to be seen again. When he later blackballed a popular Jewish professor to prevent him from being tenured, that was the end for [the dean]. 
By the time I graduated, there were 15 of us. We started with just Hinton and me. Hinton dropped out in the first semester.
Ava E. Lias-Booker, University of Maryland School of Law, 1986; partner, McGuireWoods: At the time I entered firm life in 1986, there were very few African-American lawyers in Maryland and throughout the country in big law firms. There were African-American lawyers who came ahead of us, obviously, and I think the year I became a lawyer was the year Maryland saw its first few African-American male partners at the state's largest law firms. And then, a little less than a decade later, I would become part of a group of African-American women who were among the first to make partner in major Maryland law firms.
In the very early stages of my career, I did have encounters where someone thought I was a secretary, or a client who was surprised to see me when I showed up for a meeting. I think, at that time, it was not unusual for a lawyer of color to have such an encounter. 
Michael A. Brown, Georgetown University Law Center, 1989; partner, Nelson Mullins Riley & Scarborough: When I first joined a firm in 1989, after law school, there were very few black partners. In fact, there was just one in a firm of 250 lawyers, and he was a corporate lawyer. I was in litigation, so there were no examples in my firm of how a black lawyer in litigation could make partner, which is one of the reasons the few black lawyers that the firm did have found it difficult to stay. Things have improved since those days, but back then, there were few—if any—roadmaps to follow.
I once talked my way into a meet-and-greet with Royal Insurance Company, where I met a gentleman who worked there named Eric White. We were the only two black men there. So we started talking, became friends, and before you knew it, I was getting clients on my own.
Kerry D. Staton, University of Maryland School of Law, 1980; founding partner, Schochor, Federico and Staton: I experienced rejection after I graduated. The story that stands out in my mind is applying for an associate position at Gordon Feinblatt, which is a blue-blood, blue-chip firm in Baltimore going back, way back. I applied because one of the partners, Donald Rothman, his son was in my high school class at Park school, a private school in Baltimore County. The class was tiny and everybody knew everybody. I ran into Mr. Rothman at a bar association event in the men's room. I recognized him, and I said, 'Mr. Rothman, I'm Kerry Staton. I'm in Tom's class.' 'Kerry, hi, how are you? How you doing? What are you doing these days?' I said, 'I'm a lawyer, blah, blah, blah. I'm under a fellowship and that fellowship is about to expire.' He said, 'Why don't you send me your résumé?' I said, 'OK, I will.' The next thing I got was a letter saying 'Dear Ms. Staton. Thank you for your interest in the firm. Unfortunately, we have no positions.' It didn't come from him. I was like, well, how did that happen? 
Looking Around
Hassan Murphy, Georgetown University Law Center, 1994; managing partner, Murphy, Falcon & Murphy: Growing up, I was peppered with stories about the practice of law—probably in the womb. It was always about helping black people, and evening the scales of justice, and literally that was my grandfather's and then my father's waking focus. That really motivated me.
I used to work for my father during the summers and he would often make me come to work with him. He was a criminal lawyer and 99.9 percent of his clients were African-American. I was exposed to so many tales of unjust policing and unfairness or people who had truly committed crimes, but that needed help, overcharged or unfairly charged.
Billy Murphy: I still feel that rage. And it motivates me in my politics and in the courtroom. The reason I'm successful in the courtroom is because of my anger about how racist our civil and criminal justice systems are.
Alice G. Pinderhughes, Catholic University of America, Columbus School of Law, 1976; founder, Alice G. Pinderhughes: I have lived in Baltimore most of my life, and I love Baltimore. Practicing in downtown Baltimore, I have some clients that have been concerned about coming to Baltimore. I assure them that Baltimore is safe, that I walk to the Orioles and Ravens games, and they come to my office and they are pleased.
I was in high school when Dr. Martin Luther King Jr. was killed, and I remember vehemently the riots and curfews. When Freddie Gray was killed and there were riots again, I understood the despair of our young people. The factor that was compelling being downtown was the sense of community after the riots. There was a sense of concern among neighbors in the business community and support.
Staton: I think Billy Murphy put it best when he once said 'Officer Friendly never came to my neighborhood.' That's not who we get. We don't get McGruff the Crime Dog.
Pinderhughes: As the product of two educators, I am concerned about the educational and job opportunities for our young people. I have interns in my office and try to hire individuals with potential and who do not have the same opportunities that I had.
Brown: It is inevitable that you are going to run into obstacles as a black lawyer, whether because of the nature of the business or, in some circumstances, because of your skin color. As my father always said, 'When someone does you wrong, you have two options: one, quit, shrink away and fail; or, two, use that disappointment as fuel and fight harder, and prove those folks wrong.' I always choose option B. No one gets to determine my failure or success but me. You gotta keep your faith and keep pushing forward, no matter what.
Before Freddie Gray
Staton: Jeffrey Alston was a $39 million-dollar verdict. A young African-American guy was driving Park Heights Avenue/Reisterstown Road in the wee hours of the morning [in 1997] with his lights off. Police stopped him. During the course of the strip search, in the middle of the street, they had his pants down around his ankles and they were checking for drugs in his crotch. Jeffrey gave a pelvic thrust toward [a cop's] face and said, 'Is this what you want?' The officer lost it. He put Jeffrey in a choke hold, choked him out, and threw him in the back of the wagon. That was our case. We were able to prove the excessive force allegation. 
They broke his neck and made him a quadriplegic. Part of our proof included psychiatric records of the officer in question, who acknowledged being a racist. He said he would sit on his porch and think about shooting black people that walked by his neighborhood.
Hassan Murphy: There was a young kid named Larry Hubbard. Larry Hubbard was shot in the back of the head execution style by a Baltimore City Police officer after a tussle for a gun [in 1999]. We represent a guy named Albert Mosley, who was beaten and rammed into a cinder block wall [in 2005] while he was handcuffed in the Western District. He was rendered a quadriplegic after having been arrested for nothing, literally.
After Freddie Gray   
Billy Murphy: David Simon is a groundbreaking filmmaker who was the first person to portray correctly the full humanity of black people across all social levels. [He captured] our ability to make rational decisions in the midst of our shattered lives without stereotyping us. 
Everything we learned about Baltimore after Simon's show [The Wire], beginning with the Freddie Gray case, and the Justice Department's explosive report of the widespread corruption endemic in the Baltimore City Police Department, and the appointment of a federal monitor … was a whole lot worse than we thought it was.
Hassan Murphy: When Freddie Gray was first taken to shock trauma, I was in my office. One of my young lawyers came in and told me about it. I was incensed. And literally an hour or so later, the family called and wanted to come see us. But we had done dozens if not hundreds of [these types of] police cases. It's been a big part of what we do and have done historically. So in some respects, I was not surprised by it. What surprised me was how much of a tipping point it was after he died.
Staton: The city was on fire.
Billy Murphy: We had no idea it was going to be as big as it was. For the first time in the digital age, young white people and un-politicized black people were beginning see these [cellphone, dash-cam, and closed-circuit TV videos]. One after another after another after another of what was really going on between police and the black community. And it created a whole new level of activism that is still going on. 
Hassan Murphy: [After Freddie Gray] there was an overwhelming sense of, "Okay, what can we do to address this, fix this, rebuild?" Some of it was motivated by basic ideology and principles of human fairness, some of it was motivated by practicality. But I saw a very serious problem-solving approach that I hadn't seen before.
Lias-Booker: I think the city is still grappling with the fallout from the Gray case. But I encourage people to look at the city skyline, for example, and see some of the economic activity that's happening in Baltimore, and the potential for Baltimore.
State of the Union
Brown: What I've seen in Baltimore is black partners in the big firms or black business owners who are committed to helping young black lawyers out. When I was first coming up, I didn't know many black partners. Today, there are so many good, strong black partners in firms in Baltimore compared to when I was coming in. 
The younger generation, they're smarter. No question. Intellectually smarter. The young lawyers we see are so capable. They are fearless. 
Lias-Booker: What I really love is that the demand for diversity and inclusion is across the board. It's not just coming from under-represented groups. It's coming from all of the different stakeholders and constituencies—white lawyers, female lawyers, lawyers of color, they all want to be in diverse and inclusive environments on a professional and personal basis. 
As a recent study confirms, you must have both demographic and cognitive diversity to effectively solve today's problems—both really matter in our world. You have to have people at the table with life experiences and perspectives to understand a problem and the brain power to think strategically and evaluate options so that a problem can be effectively solved for an individual, a business or a nation. How many times have we borne witness to situations in which we simply missed the point, failed to understand the opportunity, or failed to develop an effective solution because we did not have a diverse group sitting at the table? 
Staton: There have always been African-American people just as smart as everyone else, just as capable. We're now getting an opportunity to show that.
Lias-Booker: A few years ago, I went to one of my first meetings at an organization called Corporate Counsel Women of Color. I told the client I'd meet her in the ballroom. Normally I never have trouble finding another African-American woman in a legal environment, and I walked into this ballroom, and as I'm looking around the ballroom, it hit me that I was having trouble finding her because there were so many women of color in the room. It was one of the first times ever in my career I had had that experience. It had an emotional impact on me.
Do we all still suffer from entrenched implicit bias problems that plague all of us? Absolutely. And we've got to work very hard on recognizing these pockets of bias that close down our thinking and slow our progress. But I do think you get to a point, sort of a tipping point, to borrow from Malcolm Gladwell, where we are all waking up and realizing the necessity of addressing our biases and blind spots to make real progress. We know that once you reach the tipping point, things move quickly. 
Billy Murphy: Now, has there been progress? Yes. Has it been enough to change the lives of the millions of impoverished black people who live in inner cities and towns all over the country? Absolutely not. Are things still getting worse for us in these communities? Yes.
Hassan Murphy: I try and use the anger to motivate me, for us to create the example and the rallying cry or the case that at least gives people the hope that fairness and justice are somewhere in the offing. 
Search attorney feature articles