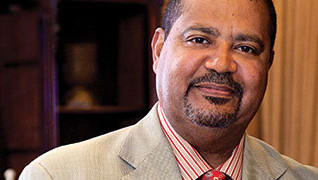 Photo by: Luigi Ciuffetelli
The Human Touch
Kerry D. Staton is such a good lawyer he almost bankrupted Baltimore
Published in 2016 Maryland Super Lawyers magazine
By Bill Glose on December 7, 2015
"He's a superb lawyer."
That testimonial is not from one of Kerry D. Staton's colleagues or clients but from his opposition: personal injury defense attorney M. Natalie McSherry, a principal at Kramon & Graham, who has battled numerous times with Staton. "He not only knows the law," she says, "but he has a human touch: down-to-earth and practical. That's what makes him so effective. I wish I had more cases against him. I would probably lose more, but it would be more enjoyable."
At 61 years old, the tall and athletic Staton, a founding partner at Schochor, Federico and Staton in Baltimore, concentrates his practice on medical malpractice from the plaintiff side. He's the big gun that injured parties employ when facing opponents with considerable resources: hospitals, insurance companies and even the government. Twice, Staton has handled police brutality cases against the city of Baltimore, where his skill at arguing medical cause-and-effect were key ingredients to success.
Over the years, he has represented clients suffering every type of injury imaginable due to negligence and carelessness. He points to one such case as an exemplar: a phlebotomist who mixed up labels, resulting in a wrong type blood transfusion and the death of his client.
"Quite frequently, that's how medical malpractice works," Staton says. "It doesn't have to be complicated. It's a simple human error that has devastating results."
McSherry recalls her last case against Staton, a mediation regarding a widow's damages in a death case.
"Kerry made me feel sorry for his client and for the patient who had passed away," McSherry says. "He managed to present it in a way that I'm sure he would say 'tugged at the heartstrings of even the hard-hearted defense lawyer.' I'm sure that's how he would describe it. And he would do it with a sense of humor. He has a wonderful sense of humor that he uses to defuse tense situations."
That's a good thing, because Staton's cases always involve tragedy and often rely on facets of medicine that boggle the mind. Of necessity, Staton has grown comfortable with medical jargon, sprinkling his conversation with such $10 words as "tracheostomy," "thrombocytopenia" and "brachial plexus." But he also knows the medicine itself, and how to convey complex procedures in a simple manner that any layperson could understand.
In describing the case of Dondi Johnson—another man who, 10 years before Freddie Gray, went into the back of a Baltimore police van in good health and emerged unable to walk—Staton first places one fist on top of the other to show how spinal vertebrae stack up like building blocks. Then he pulls from his shelf the Atlas of Human Anatomy, whose pages bristle with yellow tabs, and quickly flips to an image of a vertebral cross-section. "So these are your vertebral bodies," he says, "and they stack with discs in between. [Johnson] had a fractured subluxation of his cervical spine with locked facets, which means that one of these vertebral bodies slid so far over and dropped down so that it couldn't get back." He stacks his fists again and slides them in opposite directions to demonstrate. "This opening is where the spinal cord runs through. When this vertebra shifted forward, it pinched off his spinal cord. This is what happened to Freddie Gray; this is what happened to Dondi Johnson."
Fully functioning when he was loaded, alone, into the police van, Johnson—shackled and cuffed behind his back, but not seat-belted—was lying on the floor unable to move when the police pulled him out. His neck had been broken. He died two weeks later.
"It's a kind of injury that happens when there is a sharp flexion of the head with great force. The injury allowed us to prove that Mr. Johnson was thrown from the hard bench seat on one side of the van into the opposite wall," Staton says. "In his words, 'The b—- was driving like an a–hole and I fell.' That's a quote in the medical records. …We hired a biomechanical engineer to prove how much force was necessary to create the injury, and to prove that under normal driving conditions, it would never have happened. So we were able to refute the driver's testimony that she didn't make any sudden stops or accelerations or sharp turns."
The jury sided with Staton, awarding Johnson $7.4 million. Due to Maryland's Tort Claims Act, which provides immunity for police actions under most circumstances and caps recovery amounts, the sum was lowered to $216,500.
In a previous "rough ride" case Staton handled for Jeffrey Alston, who had also been paralyzed, the jury deemed police actions went beyond gross negligence and showed malice. Therefore, the Tort Claims Act did not apply. When Staton won that case, the verdict was more than $39 million. But Staton voluntarily lowered the sum.
"After the verdict," he says, "we ended up settling the Alston case for a lesser amount, recognizing that payment of the full verdict would bankrupt the city. So we got him a very healthy and reasonable number to care for him for the rest of his life while protecting the other citizens of Baltimore."
That type of empathy has always served Staton well. "I make a habit of telling my clients one day this case will end," he says. "It's either going to end positively or negatively, but when it ends it will be over. It may be one of the saddest days of your life. Because I remember when my case ended, and it was one of the saddest days of my life."
His case?
He was the client. And the injured party was his mother.
An only child with an ornery streak, Staton was set straight more than once with a few swats to the behind. "I remember one time, my mother was going to spank me, and so I stuck a Dr. Seuss book down the back of my pants," he says. "When she hit me with her hand, she realized the book was in there, and so she took the book out and spanked me with that. And then she made me read it."
Staton began working at age 12 with a paper route, then helped out at Rombro Brothers clothing factory at 15 before doing janitorial work with Con Edison power company in New York. After graduating from Oberlin College in 1976, he was accepted to law school; however, he says the school lost his financial aid application and he couldn't afford tuition. He had to find another way to pay for school.
"So I took a job with the public defender's office in Baltimore," he says. "That was my day job. And I worked at night for the Hecht Company selling clothes in the men's department. I'd hop on the bus in the morning, get down to the public defender's office, and at the end of the day, get back on the bus and go to Hecht's and work until they closed at 9:30. Then I would either walk home or take the bus. I did that for a year."
After earning a J.D. from the University of Maryland School of Law in 1980, Staton was a fellow in the Reginald Heber Smith Community Lawyer Fellowship Program, which placed him with Maryland Legal Aid, a statewide agency that provides representation for indigent citizens. His primary duty was representing people in District Court who were battling debt collection.
"I was addressing the problems of the poor, so their problems were not so much legal in nature as they were financial," he says. "It was a great experience for a young lawyer to have to go to court and stand on your feet and argue in front of the judge, and apply the law to the facts and also argue real life. It was a wonderful and rewarding experience. And one of the things I like about my current practice is that I see a lot of that same type of people—the indigent who unfortunately received second-class medicine. They're the same folks, just with a different set of problems."
But then his family developed its own set of problems.
When Staton was in high school, his mother developed trigeminal neuralgia, an irritation of a cranial nerve that causes severe and sudden burning facial pain. A neurologist prescribed her Tegretol to dull the pain, which worked for a while, but she eventually needed a more invasive solution.
Before she chose one of three possible procedures, however, a neurosurgeon at Johns Hopkins requested a CT scan, which revealed a cyst in her skull. Though not cancerous or life-threatening, the cyst was a possible cause of her facial pain, the doctor explained, and should be removed.
"I remember getting a call after the operation to come back to the hospital," Staton says. His chin trembles and his voice begins to crack. "She had experienced bleeding in the brain that they couldn't stop. She ended up with severe brain damage. She had cognition. She understood her circumstance, but had no control of her motor function." He holds up his hand. "I'm sorry," he says. "This is really hard."
He grabs a tissue and wipes his eyes. "She was stuck in a body that was her prison," he says. "She had to suffer the indignity of me cleaning her. I would go and read the paper to her, read books to her. Back in those days, I didn't have a car. I'd walk there from my apartment downtown and stay until visiting hours were over."
Bleeding during surgery had been caused by thrombocytopenia, a reduction of blood platelets caused by the Tegretol. The reduction meant she couldn't clot, which is what caused the uncontrollable bleeding. Staton says that if her platelet level was checked pre-operatively, as it should have, this could have been avoided.
Staton presented his case to malpractice attorney Marvin Ellin, a partner at Ellin & Baker. Ellin was so impressed with Staton's confident demeanor and knowledge of the medicine that he not only took the case, but offered him a job.
Staton's mother was transferred from Johns Hopkins to a nursing home, where she spent the last few years of her life. She died at 56. Her case was resolved with an out-of-court settlement.
"Very, very infrequently, I will tell clients my story when they think that I don't get it," Staton says.
At Ellin & Baker, Staton worked on such things as motor torts and workman's comp cases. "I was not immediately immersed into medical malpractice cases," he explains, "because experienced lawyers don't just put new lawyers in position to screw up a high-value case. I was mentored by Jon [Schochor], who would take me along to depositions and I would sit there with my mouth shut and my ears open."
"Kerry's learning curve has been exponential," says Schochor. "He absorbed the medicine as if he were going to medical school. He was one of those rare lawyers who can combine his legal acumen with his medical knowledge and present his case in an articulate, well-reasoned, passionate and compassionate manner."
One day, Staton was called into the office library, where a family he'd never seen before was seated at a conference table. Ellin informed the family Staton would be handling their jury trial. In two hours.
"I remember going to Jon Schochor and saying, 'I'm panicked. What am I going to do? I've never had a jury trial. I don't know these people. It's today. I don't know the file.' He said, 'Calm down. You're going. There's nothing you can do about that. If Marvin wanted you to put on a tutu and do a pirouette, if you want to keep this job, that's what you'll do.'"
Eventually Staton didn't want to dance to someone else's tune. So in 1984, he, Schochor and Philip Federico formed their own firm.
"We started in Jon's kitchen with an IBM Selectric typewriter, just the three of us and a woman who volunteered to be our investigator," he says. "Our motto was, 'No guts, no glory.'"
The attorneys have since come out of the kitchen and into a three-story brownstone called The Paulton, which is listed on the National Historic Registry. With its rose-brass chandeliers, curved staircase and stained-glass windows, The Paulton is a showpiece in midtown Baltimore. Its central location amid all the local healthcare facilities perfectly suits the firm's needs.
Staton gives back wherever he can. He and his wife, a former judge and deputy attorney general of Maryland, endowed a scholarship at their daughters' high school to benefit children with learning differences. Staton also serves as a commissioner on Maryland's Attorney Grievance Commission and as a director on the board for Maryland Volunteer Lawyers Service.
"At MVLS, I'm a member of the fundraising committee," says Staton. "My job is to beg for money. There's the expression, 'Give till it hurts.' Well, I tell people, 'Give till it feels good.' Because MVLS is a worthwhile organization that provides legal help for folks that can't otherwise get it through any means."
"Kerry has been amazing," says MVLS Executive Director Bonnie Sullivan. "In a quiet way, he exerts a leadership role on our board of directors in terms of focusing attention on important issues. He will direct people to the point of view that makes the most sense in a way that always makes me smile—not laugh, but smile. I guess that's what makes him a wildly successful trial lawyer—those persuasive skills where, quite frankly, you don't know you're being persuaded."
Staton's office bears that same understated quality. Yes, there is the stack of binder-clipped documents on one chair and worn briefcases hidden in a corner, but the items most prominently displayed are vacation photos of his family. He only wishes his mother could have been on these trips, too.
"I choose to believe that Mom is proud of me for what I have been able to do with what was a very tragic situation," Staton says. "I've tried to turn it around and do something positive for other people."
Among the photos is one that shows Staton on the back deck of a St. Martin beach house, arms outstretched, beer in hand. It is the image of a man at peace.
Search attorney feature articles