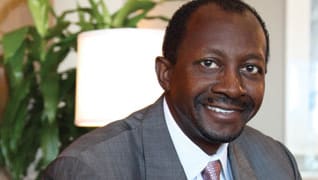 Photo by: Luigi Ciuffetelli
The Sharecropper's Son
Colleagues say Ken Ravenell is one of the hardest-working lawyers in the state; but he says he knows what hard work really is
Published in 2012 Maryland Super Lawyers magazine
By Bill Glose on December 14, 2011
"We thought she was dead the way she hit the ground," says William H. "Billy" Murphy Jr., senior partner at Murphy PA in Baltimore.
"Yeah, she went down like a sack of potatoes," agrees Kenneth Ravenell, also of Murphy PA.
"Ordinarily," Murphy says, "you cross-examine the victim's mother by saying, 'Oh, we're so sorry for your loss. We have no questions.' The prosecution likes to put them on because they evoke emotional sympathy."
In this case, though, the mother was testifying about business dealings between her son and Ravenell's client, who was accused of murdering the son. Ravenell used cross-examination to attack her credibility.
For three hours.
"He got everything he needed to get out of her," says Murphy. "The jury did not like her, the jury did not believe her, and that, in part, explains why, when she got off of the witness stand, she just collapsed in a heap right before she got to the rail that separates the well of the courtroom from the spectator's section. …. It was a masterful example of a cross-examination that had a high level of risk but had a tremendous reward. It was a killer cross-examination."
Although a collapsing witness is atypical for Ravenell, foiling prosecutorial strategy is not.
"His numerical track record is phenomenal," says Larry Gibson, law professor at the University of Maryland. "He's tried a couple of hundred serious criminal cases, jury trials, and the majority of his cases have led to acquittals, many of them in federal court."
Ravenell's acquittal rate in federal court actually lies somewhere in the neighborhood of 70 percent, dwarfing the average in the 4th U.S. Circuit Court of Appeals, which, in 2010, was 8 percent, according to Murphy. How does he do it?
"No one works harder on behalf of his clients than he does," says Gregg Bernstein, the state's attorney for Baltimore city. "He outworks his opponents in every case that he has."
"You can't get to his level of skill on talent alone," says Murphy. "It's like saying Michael Jordan came out of the womb shooting jump shots. No, this is the product of hard work and incredible dedication."
"He is the hardest working individual I know," says Milin Chun, a Murphy PA associate. "One of the first things he told me was, 'If we ever get outworked by the opponent, then we are doing something wrong.' It's normal for young associates to work long, hard hours while the partner is out golfing. But if you're an associate working with Ken Ravenell, you will never feel [abandoned] because he's right there with you, working even harder than you."
If Ravenell works hard, he shakes off the notion that what he is doing is hard work. He waves an arm at the window in his corner office on the 23rd floor in downtown Baltimore. Outside, heat radiates off the pavement in shimmering waves. His gesture, however, is meant to point past the shining skyscrapers and toward the little town 540 miles south where he grew up on a sharecropper's farm.
"This isn't hard," he says. "Days like today, where it's 100 degrees out, you couldn't just take the day off. My family needed the money. You had to be out there working. We had these rows of cotton. And it wasn't like you were using machines to pick the cotton—we were the machines. We were picking the cotton with our hands, dragging bags behind us, picking the cotton and messing up your hands, and the sun's beaming down, and we're all out there together as a family, doing it. That is hard work.
"So when people ask me how I work so hard now, [I say] 'You think this is hard work? Using my brain? Shoot, I know what hard work is. … I'll take this any day. I'll take this any day over what we did back then.'"
Ravenell was the seventh of 11 children born to
Francis and Daisy Ravenell in a tiny town of Cross, S.C., 50 miles east of Charleston. They kept a portion of the cash crops, such as cotton and cucumbers, grown in their fields and a portion was sharecropped for others. Each weekday, Ken would come home from school in the early afternoon and go out to work the fields until it was dark. Weekends he would begin picking with the sun.
Family needs may have required the children to work, but that didn't mean they could skip out on school. "My parents really believed in education," Ravenell says. "My mother made us believe that she knew everything. We could always turn to her [with questions] and as we grew she would send us to an older sibling. We had a saying in our family: Each one teach one. You know, it takes a village to raise a family."
Ravenell's older siblings attended all-black schools, but South Carolina finally dropped "separate but equal" by 1959 when Ravenell was in fifth grade. "Thurgood Marshall was at the forefront and I was amazed at what he had done," Ravenell remembers. "I thought, 'I want to do what that man is doing. I want to be a lawyer.' That was it. That was the spark. I was in fifth grade and I had never even met a lawyer, but I knew I would become one."
He was his high school valedictorian, then went on to South Carolina State University, where he majored in political science, working hard and acing his classes. All along, he focused on becoming a lawyer—no matter the hardship. "I took the LSAT and it was homecoming day," he says. "Everybody was out with the floats and celebrating. I remember the band playing and I'm sitting there trying to take the LSAT." He sighs and shakes his head. "Can you believe it? Saturday morning. They scheduled it on homecoming!"
After earning his J.D. at the University of Maryland School of Law in 1984, he began his career working for the Baltimore City State's Attorney's Office. "My first three years I was in the prosecutor's office," he says. "That was important. I always knew I was going to go out into private practice and be a criminal defense trial lawyer … but I wanted to see how the other side worked."
Armed with that knowledge, Ravenell joined Schulman, Treem, Kaminkow & Gilden, where he defended clients accused of all sorts of "street crimes"—mostly drug cases and murders. Over a 10-year period, he argued hundreds of cases in open court, winning the majority of them.
"I've taught law for 40 years," says Gibson, "so I've seen a lot of law students, and a lot of lawyers and a lot of judges. And Ken clearly is one of the most persuasive advocates I've seen. … Juries and judges find him very persuasive because he is reasonable and sincere; he is not arguing but reasoning with them, which is an interesting way of being a very effective advocate."
In one case, in 2002, Ravenell's client, Leeander Blake, was charged with first-degree murder for shooting and then running over his carjack victim. After he was arrested, Blake said he didn't want to talk without a lawyer. One of the arresting officers provoked him, however, and he changed his mind; then they obtained a confession.
Ravenell argued that coercing Blake to confess after he invoked his right to counsel was a Miranda violation. The state court agreed and so did the Maryland Court of Appeals. But then the U.S. Supreme Court decided to hear the case.
Ravenell had tried appellate cases before, but never before the highest court in the land. "The first thing that struck me," he says, "was how close you stand to the justices. You have nine justices wrapped around you, and you're standing in such close proximity that you cannot just see their faces, but see what they think, when they smirk, when they change [an expression], whatever. Luckily for me, I was not intimidated; I had a very good argument.
"[At one point]," he adds, "Justice [Antonin] Scalia turns to me with this deep voice: 'Mr. Ravenell, don't you think there are times when it's better for your client that he sits with the police and talks with the police?' I looked him straight in the eye and said, 'Judge, with all due respect, I've been doing this for 20-something years, and I cannot think of one time it worked out better for my client when he sat down and talked to the police without me being present.' And he chuckled and others on the bench laughed. It was a moment that was unforgettable."
Two weeks after hearing the case, the justices decided they had granted certiorari improvidently and dismissed it.
The case had been an exhilarating experience for Ravenell, who had by then risen to partner. It had also been an anomaly. Most of his cases were small cases, and he was handling a high volume of them.
"We were like a machine, in some respects, doing all these cases," he says. "It began to feel like we were in this constantly churning mill. … We still had to give each client our best. That meant that we didn't go home. We were there late all the time. It got to be a situation that just wasn't working for me."
Relief from the machine came from one of the heaviest strains on it. From 1995 to 2002, Billy Murphy sent almost all of his routine criminal cases to Ravenell. After a while, Murphy did a historical review of this work. "It looked like he was winning about 93 percent of all the cases I was sending him," Murphy says. "Outright 'not guilty.'"
So in 2007 Murphy enticed Ravenell to join his firm as a senior partner, with the promise of fewer but bigger cases.
"The first thing we did is we tried an eight-month criminal trial in the federal court in Long Island," says Murphy, "and I got a chance to see the latest version of Ken Ravenell. It was nothing short of amazing."
Ravenell and Murphy were co-counsel on a RICO conspiracy case against Rodney Morrison, a former drug dealer who married a Native American and set up a business selling cigarettes on the Poospatuck Reservation on Long Island. Morrison was accused of murdering the owner of another cigarette stand, stealing yet another competitor's product, and burning the car of someone who was slow in repaying a debt. But it was something else that brought federal investigators down on him, the same thing that got Al Capone: tax evasion. Since Morrison was selling on a reservation, the cigarettes were tax-free and droves of people came to purchase truckloads of cheap cigarettes, essentially creating a wholesale business that didn't pay taxes. The murder, robbery and arson charges were then rolled into the RICO case.
During the pretrial phase, Murphy wanted to suppress damaging statements the client made right after being arrested. He had a conversation with Ravenell over lunch just before the hearing to go over his plan to grill the FBI agent who had heard their client's initial statement. "I gave him a little bit of the background," says Murphy, "and I asked what he would do. And he just came up, off the top, with some tremendous ideas. And I said, 'Ken, why don't you take this witness. I like your ideas better than I like mine.' … And the judge said in his opinion: 'If it hadn't been for the remarkably effective cross-examination by Mr. Ravenell, I wouldn't suppress this evidence.'"
If Ravenell's caseload decreased, the long hours did not. For Morrison, he worked until 9 o'clock every night; then he'd wake up in the early morning to continue his preparation.
"Whenever I'd knock on the door at 4 or 5 o'clock in the morning," says Murphy, "I'd hear, 'Yeah, what is it?' And he'd be sitting at his desk with his little yellow sheets, underlining, going through documents, getting ready to kill the next witness."
The long hours paid off. "[Morrison] was looking at life in prison," says Ravenell, "and the government wanted to seize $172 million of his money. When we finished the case they got zero. … The jury was out 30 days in deliberation, came back, and it was almost a clean sweep, a smashing victory. The guy was only convicted of possession of a handgun."
"He really thrives on these large, complex cases," says Gibson. "I've watched him start out as a defense lawyer with mundane, everyday matters. But through all of this, his understated demeanor hasn't changed one bit."
At the same time, the man knows how to put on a show. In a case where his client had been charged with murdering her boyfriend while he slept, Ravenell used the battered woman syndrome as her defense. The state argued the boyfriend had been asleep when she shot him in the head; Ravenell argued that she had woken up with the boyfriend on top of her, holding a knife to her neck, and that she had been able to pull a gun from beneath her pillow.
"We're in the middle of my closing argument," says Ravenell, "and I said to the jury, 'I wish I could show you exactly how it happened. I wish I could re-enact it for you. I wish you could see what she saw and what happened that night in that bedroom and in that bed.' And that was [my associate Erin Murphy's] cue to come in. We had rented a rollaway bed and when the doors opened, Erin rolled a bed in before the jury. So we opened the bed and I got into it and I re-enacted the whole thing as best as I could. And the jurors are gawking; they're like, 'This is amazing!' Then I crossed my legs, and I sat on the bed, and I finished my closing argument from the bed."
His client was acquitted of the murder charges.
This is the moment Ravenell lives for. This is the moment he dreamed of as a fifth grader lying in his bunk after a long day in scorching fields.
"Being in front of a jury and getting a chance to strut and show off and talk to the jury: that's my element," Ravenell says. "Inside those lines is my football field, me and the courtroom, battling with judges, battling with opponents. That's it. That's what I love."
Search attorney feature articles
Helpful links
Other featured articles
Why Jessica Heltsley moved out of courtrooms and into divorce coaching
Cara Fialkoff's CLE explores what horror movies can teach lawyers
Kentucky attorney Rob Bilott is a warrior in the battle against PFAS
View more articles featuring lawyers
Find top lawyers with confidence
The Super Lawyers patented selection process is peer influenced and research driven, selecting the top 5% of attorneys to the Super Lawyers lists each year. We know lawyers and make it easy to connect with them.
Find a lawyer near you