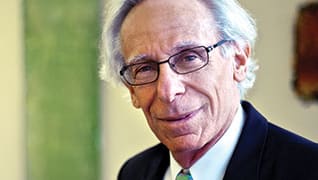 Photo by: Luigi Ciuffetelli
The Untouchables
Whether defending public enemy No.1 or Baltimore's most reviled organization, Joshua Treem takes the clients no one else will
Published in 2017 Maryland Super Lawyers magazine
By Bill Glose on December 9, 2016
It's the question Joshua Treem, partner at Brown Goldstein & Levy, hears all the time, usually punctuated with raised eyebrows: You represented the D.C. sniper?
"Yes," he says. "But it was a short-lived representation." Then he leans forward. Most of the time Treem's manner is as casual as his rolled-up sleeves, but this makes him angry. 
"It was short-lived because [then-Attorney General] John Ashcroft had the marshals kidnap Mr. Malvo, and take him across the river to the Eastern District and turn him over to [Virginia] state authorities with the idea that they give him the death penalty. They did that for juveniles in Virginia, but not in Maryland."
Here's how it happened: One month after his federal appointment to represent John Lee Malvo, Treem went to lockup to meet with his client regarding a scheduled hearing. Except Malvo wasn't there. No one seemed to know his whereabouts, only that he'd been transferred. 
"When we finally tracked him down, he had already been turned over to [Virginia] authorities who didn't recognize our right to advise him or even talk to him," Treem says. "We were only appointed for the federal case, and now he was in state custody." 
But as quickly as it had come, irritation leaves Treem's face and is replaced with a smile, making the 69-year-old look as young as he says he feels. He explains how his son was also upset that the Malvo case was reassigned. "My son's disappointment," Treem explains, "was that the interview that Connie Chung wanted to do of me didn't happen. It was scheduled for the night that he was secreted away." 
Treem's role may have been brief, but the fact that he agreed to represent someone labeled a monster by the media is indicative—as was the appointment itself.
"The court appointed Josh because they knew the stakes involved," says Jim Wyda, federal public defender for the District of Maryland, "not just for Mr. Malvo, but also for our justice system. … With a matter of such renown and potential for divisiveness, the court wanted to make sure that Mr. Malvo's rights were defended by one of our best lawyers, and that the system's values were reflected in the individual appointed."
Treem's values are a reflection of his father, Leo, who took on the role of man of the house at the age of 9, when his own father died during the Spanish flu pandemic. After scraping through the Depression in the Bronx and serving in Patton's Third Army in World War II, Leo became the sales vice president for Londontown Manufacturing, a historic Baltimore cotton mill built in 1877. He was conversant in three languages (Yiddish, French and English), an expert at chess and a whiz at The New York Times Sunday crossword. But what impacted Treem the most was the socially conscious attitude his father brought to their home in Long Island, New York, during the tumultuous 1960s.
"There were always these vigorous conversations at the dinner table between my father and me and my brother," says Treem. "Everything going on in the news infused in our daily conversations." 
Treem's participation in '60s protests was more symbolic than practical. "We tried to levitate the Pentagon, among other things," he recalls with a chuckle. 
Then the National Guard shot into a crowd of students at Kent State, and campuses around the country rioted. President Nixon's press secretary, Herb Klein, tried to defuse the situation by commenting on TV that the administration would be willing to sit down and talk with student protesters. Treem and a handful of his Duke classmates phoned the White House, thinking they were calling Klein's bluff. But soon afterward they were invited up to D.C., where they met with Klein and several Cabinet members. Photos of the meeting appeared in AP stories that ran across the nation.
"In the end," says Treem, "we felt we were somewhat co-opted by this because we gave them some evidence they could point to and say, 'See? Members of the administration will meet with students.' But I think we were glad to have done it."
Graduating in 1972, Treem's first job as an attorney was in the U.S. Department of Justice's civil rights division. He spent much of that first year driving around North Louisiana and the Mississippi Delta reviewing desegregation in public accommodations and monitoring elections under the Voting Rights Act. Then an issue in one of his cases required a hearing in front of a judge. As he watched the litigator work, he was captivated. "I didn't know that I wanted to get into a courtroom until I got into a courtroom," he says.
That changed everything. He signed on as an AUSA in Baltimore and found himself in the courtroom. "Almost immediately," he says, "I was grabbed by another assistant U.S. attorney, Jeffrey White, who had a bank robbery case. He said, 'Come on, you can help me with it.' So I second-chaired that case. And having second-chaired a case, the next file I got was mine."
Treem spent five years as a prosecutor, learning how to investigate cases, put them together and, most importantly, how to comport himself in the courtroom. He took his newly found skill set across the aisle, worked two years as a defense attorney with a big firm and then, in 1980, launched his own practice with Robert Schulman, another former AUSA.
"I'm not sure my timing was the best," says Treem, "because we had two children and my wife was pregnant with the third. So I was leaving a place where I got a check every two weeks to someplace where I had no idea when we were going to see money. But we did it and had a pretty good run at it."
In 2012, Treem left the firm he'd founded 32 years earlier to join Brown Goldstein & Levy. "I wanted to get involved with some of these things that motivated me to go to law school in the first place," he says. "[This firm] was doing work that was important on a larger societal level. They were pushing the envelope of some of the laws to help the disabled, the physically challenged, the mentally challenged. That's work that needed to be done. And it was exciting work."
"Somebody once said about that law firm, 'They figured out a way to do good and make money at it,'" says Gerard Martin, a partner at Rosenberg Martin Greenberg and a former AUSA who served with Treem. "Perfect for Josh because he really feels a sense of mission. Now that he's there, he seems much happier."
Many of the personal touches in Treem's downtown office in Baltimore's Suntrust Building showcase his affinity for sports. There is a black-and-white photo of assistant coach Treem (see sidebar) standing with the 1977 Johns Hopkins Swim Team, NCAA Division III National Champions. Beside his desk are framed photos of Yankee Stadium and Shea Stadium. And one wall is filled with maps of ski slopes crisscrossed with multicolored lines for the various skill-level routes. 
"There's hardly a slope I can think of that he wouldn't charge down," says Martin. "When we were younger, we used to run together. …Then Josh decided he wanted to go run the Chicago Marathon with his son who was living out in Chicago. So without any training whatsoever, Josh went out and ran that marathon. You know how hard that is to do?"
But the sports item most significant to Treem's legal career is the structure he can see from his office window: the Baltimore Ravens stadium. It would be home to the Baltimore Colts but, of course, in 1984 the team suddenly relocated to Indianapolis. You might say, much like Malvo, they were secreted away in the night. Except this time, Treem got the case.
The case had a long gestation. Colts owner Robert Irsay was searching for a new home for the team, but on March 27, 1984, Maryland's Senate passed legislation to use eminent domain laws to wrest the team from Irsay's control and keep it in Baltimore. Worried that further steps might be taken to impede his will, Irsay bolted. At about 10 p.m. on March 28, the first of 14 tractor-trailers arrived at the stadium. Although Indianapolis lies due west of Baltimore, the first truck, loaded with the team's business records, drove north on I-83 toward Pennsylvania—the shortest distance to the state border. 
"The trucks moved in and took everything overnight," says Treem, "literally everything. They unbolted the industrial washer and dryers at the training facility. I think there might have been one jockstrap left." 
Residents of Baltimore were outraged; they wanted blood. The city sued the Colts, and that was when Treem received the call that most lawyers in Baltimore were dreading.
"It's a miserable winter day," Treem recalls, "sleet and frozen rain and snow. I drive home, and my kids are fussing and my wife is pulling her hair out. As soon as I walk in, she hands me the 2-year-old, at which point the phone rings. I take it and this woman says, 'We're looking for counsel to help us represent the Colts. They just left town. Can you be available for a conference call meeting tomorrow at 12 o'clock [to talk strategy]?' 
He didn't hesitate. He said yes.
When he called his partner up to relay the news, he said, "You know that case that everyone says they don't want but wishes they had? Well, we got it."
"You have to understand that I grew up in Long Island," Treem says. "In football, I was a huge New York Giants fan—huge. And the Baltimore Colts beat the Giants in sudden death in the [1958] playoffs. I was crushed. So when I got hired to represent the Indianapolis Colts, I did that with some particular joy." 
The eminent domain case was litigated in U.S. District Court before Judge Walter Black. The team won and was allowed to stay in Indianapolis. 
"At least among my friends and contemporaries, the thinking was: 'If you're a trial lawyer, you want cases like this,'" Treem says. "So no one's held it against me—not even my children."
There is a guiding principle that rules Treem's decisions: If you want to lead a full life, you must contribute to society. 
One of the ways he contributes is as a member of the CJA Felony Panel, a federal court committee that administers the Criminal Justice Act in Maryland. His work ensures indigent defendants receive effective counsel. For his service, the Federal District Court of Maryland gave Treem the John Adams Award in 2001. The plaque is posted on his wall below two framed letters between Josiah Quincy Sr. and his son, Josiah Quincy Jr.—co-counsel with Adams in the 1770 Boston Massacre trial. The father urges his son not to represent the Redcoats accused of murder because doing so would prove "destructive of your reputation and interest." 
"Representation was probably not going to help John Adams' political ambitions," says Wyda. "This was not a popular cause, but he did it anyway. [Same as] Josh in the Malvo case, taking on unpopular causes and insisting that our justice system lives up to our country's principles and values."
Quincy Jr.'s response to his father? 
"The sting of reproach when envenomed only by envy and falsehood will never prove mortal."
---
Another Day, Another Unpopular Cause
Treem's penchant for taking on unpopular causes began before the Bar.
In high school, Treem was on the swim team. One of his teammates, Jeff Lauren, followed Treem out of Long Island. They attended Johns Hopkins together, and then Duke Law School. They both made the cut to swim for John Hopkins, but there was a problem.
"The coach didn't really know much about swimming or how to coach a team," says Lauren. "The administration didn't want to deal with it because obviously they had made a mistake [in hiring him]. So it was up to the swimmers to make it clear to folks that he just wasn't a capable coach. … Josh wrote an article about it in [the school newspaper]. He described the team as dysfunctional and said they weren't going to win anything. I remember it being a little controversial; in those days, it wasn't a proper thing for athletes to criticize their coaches."
"After I wrote that," Treem says, "I decided it probably wasn't appropriate for me to remain on the team, at least while [that coach] was there. So I stopped swimming my junior year."
A new coach was hired in Treem's senior year, and he was invited back. That coach converted a moribund program into a conference champion, impressing Treem so much that he came back after law school to serve as assistant coach.
Search attorney feature articles
Helpful links
Other featured articles
Jo Ellen Whitney has been entering dishes in the Iowa State Fair for 20 years—and she has no intention of stopping
Employment lawyer Diane King takes on big companies like Lockheed Martin
That would be in front of a jury
View more articles featuring lawyers
Find top lawyers with confidence
The Super Lawyers patented selection process is peer influenced and research driven, selecting the top 5% of attorneys to the Super Lawyers lists each year. We know lawyers and make it easy to connect with them.
Find a lawyer near you