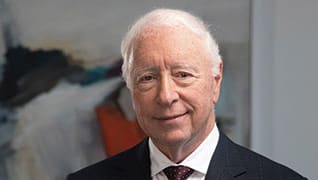 Photo by: Bryce Vickmark
An Everyday Guy from Dorchester
Neil Sugarman looks back on more than 50 years in the law
Published in 2017 New England Super Lawyers magazine
By Nick DiUlio on October 17, 2017
On a late fall afternoon in 2005, as a South Shore stone quarry was being prepped for seasonal shutdown, one of the large machines used to crush stone malfunctioned and began screaming like it was coming apart at the seams. One of the quarrymen working that afternoon had to make a split-second decision: Should he let the machine fly apart and potentially injure his crew, or risk his own life by climbing onto it to shut it off?
He chose the latter, and the personal consequences were devastating.
To shut down the crusher, he had to bypass a critical safety guard. He got caught in the workings of the machine and ended up with catastrophic injuries—including the loss of multiple limbs. During his recovery, he reached out to legendary personal injury lawyer Neil Sugarman.
"It looked virtually impossible to win," recalls Sugarman, who, along with his older brother Paul, is co-founder of their namesake Boston firm. "The defense argued it was my client's fault he was injured. He knew the dangers of bypassing the safety guard."
So Sugarman decided to highlight that decision.
"We had to explain to the jury that this was a split-second, emergency decision, and he made it to save his coworkers," says Sugarman, who also argued that the machine manufacturer should have anticipated this circumstance and made it possible to shut off the machine without bypassing the safety guard.
"My client told the truth, and it was disarming for someone to admit that he did something he knew was so dangerous," says Sugarman. "But he had a reason for it. And when the opposing lawyer cross-examined him, he stuck to the story. The jury appreciated that."
Sugarman's client won over the jury, but the judge overturned the verdict on a technicality. Then Sugarman won an appeal, and when the case was sent back for another jury trial, the machine manufacturer decided to settle.
For more than 50 years, Sugarman has successfully navigated the complex, emotional waters of personal injury cases, earning a reputation as one of the most celebrated litigators in the region.
Not only has he represented victims of countless catastrophic injuries—including some of the most devastating explosion and fire accidents in Massachusetts—he's also successfully argued groundbreaking appellate cases involving the expansion of personal injury law and consumer rights.
But when he looks back on his half century of practicing law, Sugarman always returns to the personal effect his work has had on his clients and their families.
"I used to use the word 'closure' when it came to tragedies like this, but closure is a word someone uses to talk about other people's pain," says Sugarman. "The people who experience great tragedy don't forget. They don't experience closure. They just need to get to a place where they can live with it. That's what I help them do."
Sugarman and his two brothers grew up in the working-class Boston neighborhood of Dorchester. His father owned a small dry cleaning and tailoring business in Jamaica Plain while his mother raised the boys. 
"Neil has an ability to relate to jurors in ways I've never seen, and I think that's because he's one of them," says Steven Hoffman, a former attorney at Sugarman's firm and current deputy chief of the Medicaid Fraud Division in the Massachusetts Attorney General's Office. "Neil comes from a humble background and he's never forgotten or lost touch with his roots. Underneath all of his success, he's just an everyday guy from Dorchester."
Sugarman decided on law during his senior year of high school, shortly after his older brother Paul began practicing as a trial attorney. "I watched him try a case while I was in college and it was extraordinary," recalls Sugarman. "I was hooked. Everything I've done in my professional life was built from that desire to be in the courtroom."
He got his J.D. from Boston University School of Law in 1965, but before he could start practicing law he had an obligation to fulfill.
Sugarman had earned his undergraduate degree from Northeastern by way of the Reserve Officers' Training Corps, which provided him with "a very useful" stipend of $29 a month. After deferring his active duty requirement in order to finish law school, Sugarman was sent overseas to Vietnam for a year: from June 1966 to June 1967. For his service as a captain in the U.S. Army Signal Corps—the specifics of which he doesn't care to get into—he was awarded the Bronze Star Medal.
"I took it very seriously when I was over there and I did my job," recalls Sugarman. "But I was concerned that when I got out of the service, I would be two years behind my classmates and would have difficulty catching up. That turned out not to be the case."
As soon as he returned to the States, he took a job at Paul's small but thriving firm. What he learned from his brother serves him to this day—although what works for one Sugarman doesn't necessarily work for another.
"At first I tried to simply emulate what I saw Paul doing, taking notes of his style and writing down words and phrases Paul used in the courtroom. But they didn't work for me," recalls Sugarman. "It slowly dawned on me that I had to be my own person. Because trial law is an art form that blends your personality, the ability to absorb a lot of detail and an ability to explain those details to other people. It's a skill that took me quite a long time to develop."
His ethos of careful cultivation is also applied to each case.
"Trying a case is like making a sculpture," says Sugarman. "When a client comes to you, it's all very raw and unformed. A good lawyer knows how to slowly form it like clay. Something starts as amorphous, but when you're finished, it's like an article of beauty. It makes sense. The parts fit."
Perfecting that sculpture requires a tireless pursuit of detail and an ability to communicate those details to a jury—two qualities Sugarman's peers and colleagues mention time and time again.
"Neil Sugarman is a master of direct examinations of his clients and their families," says Larry Cetrulo, a Massachusetts defense attorney who cut his teeth locking horns with Sugarman on several groundbreaking products liability cases throughout the 1970s and '80s. "He has such a deft touch when it comes to direct examinations that's really something to behold."
Cetrulo recalls a case from several years ago in which Sugarman's client had sustained severe injuries after falling from defective construction scaffolding. Cetrulo says Sugarman conducted the directed examination of his client's family "as though he were telling a very moving story.
"Most lawyers fall into this pattern of asking, 'What happened next? Then what happened? And then what happened?' But with Neil, it's like the jury is in the plaintiff's living room, listening to a conversation about the case," says Cetrulo. "Neil does that better than anyone."
Sugarman is quick to point out that the process of crafting a compelling story must never come "at the cost of losing your humanity.
"If you build up callouses to the emotional impact of these cases, you're going to come across as false," says Sugarman. "There has to be a balance between letting it affect you, but not so much that you're unable to tell the story. It took me a long time to build up some form of a professional barrier while retaining my humanity. People say a good trial lawyer is an actor, but I don't believe that. I think a good trial lawyer is very human and very professional at the same time."
As for Sugarman's attention to critical details, Cetrulo recalls a case from the late 1970s when he and legendary defense attorney Tom Burns were representing Black & Decker in a products liability case involving a faulty percussion hammer used to break up cement.
According to Cetrulo, the large, heavy drill bit attached to the hammer had a tendency to come loose from its fitting. One afternoon, a construction worker was using the hammer on the eighth floor of a work site when the bit came loose and fell eight stories through a utility opening in the slab floor, landing on another man's head and seriously injuring him. 
Cetrulo and Burns contended this was an unforeseeable accident and that there was no way Black & Decker could have known this drill bit would come loose. But Sugarman, who represented the injured worker, had an ace up his sleeve.
On the third day of trial, Sugarman came into the courtroom with an engineering change order he had obtained from Black & Decker. It concerned the hammer and drill bit in question.
"The change order didn't explicitly mention a hazard, but Neil deftly cross-examined our expert engineer witness and got him to admit that the reason they introduced the change order for that hammer was precisely because they were worried about the bit coming loose. And that croaked us," says Cetrulo. "After the cross-examination, Tom turned to me and said, 'Pack up your files, because this case is over.' We went to lunch with Neil that afternoon and settled."
For the first 10 years of his career, Sugarman kept a tally of every case he worked on. He doesn't do that these days—"it wasn't important to me anymore," he says. 
At 77, he's locked in on what is important to him: 
"This work is like a good marriage. I live what I'm doing. I look forward to coming to work. I look forward to the challenge," says Sugarman. "And not only am I not tired, but I seem to thrive on it more than ever."
Search attorney feature articles