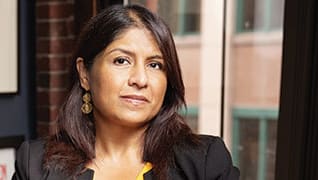 Photo by: Bryce Vickmark
Changing the Balance
How Mala Rafik tips the scales toward plaintiffs in employee benefits litigation
Published in 2018 Massachusetts Super Lawyers magazine
By Nick DiUlio on October 18, 2018
In July 2004, Dr. Julie Colby, an experienced anesthesiologist, was found sleeping on a nursing table in the hallway of the Massachusetts hospital where she worked. The incident was suspicious enough for the head of Dr. Colby's anesthesia group to request a urine screen, which turned up positive for fentanyl. Unbeknownst to her coworkers, Colby had been struggling with an addiction to the powerful opioid as a result of extreme back pain. Colby relinquished her medical license and entered an in-patient substance abuse program. Shortly thereafter, things took an adversarial turn.
Her rehab stay was covered by long-term disability insurance through Union Security Insurance. Once she was discharged, however, USIC terminated her benefits, claiming that she no longer had symptoms of active substance abuse and therefore was no longer "disabled." That's when Colby contacted Mala Rafik, now partner at Rosenfeld & Rafik in Boston.
"The insurance company was telling her she should have no problem going back to work since she wasn't actively using," recalls Rafik, who has worked for 20 years representing disabled and terminally or chronically ill people who have been denied insurance benefits.
Fighting within the rigorous legal confines of the Employee Retirement Income Security Act, which governs all long-term and short-term disability and health insurance plans provided by employers, Rafik has earned a reputation as one of New England's most respected health and disability insurance litigators and advocates.
"ERISA provides an extremely unforgiving area of the law, and it's very difficult for a plaintiff to prevail," says Jonathan Feigenbaum, a longtime friend of Rafik's who heads his own Boston-based firm. "But Mala has a very long-term view and incredible perseverance. She knew there'd be setbacks along the way, but she hung on in the Colby case for a long time. As a result, she really achieved a landmark victory."
After losing two internal appeals with the insurer—which are required under ERISA before any litigation can take place—Rafik filed a federal lawsuit in 2007, claiming that USIC's termination of benefits was "arbitrary and capricious."
"The problem was that Dr. Colby had a severe risk of relapse if she went back to work, where she'd be surrounded by the very substance she was addicted to, and that rendered her unable to do her job," says Rafik. "But the insurance company wasn't buying it. To win this case, we had to go up against the entire stigma of addiction itself—that it's not an illness but simply an issue of mind over matter. But it's not that simple."
To make her case, Rafik amassed an exhaustive body of evidence supported by expert testimony—from addiction specialists, Colby's therapist, and several others—showing that the risk of relapse was indeed a disabling condition. Eventually, Rafik won the case in the First Circuit Court of Appeals and Colby's disability benefits were reinstated.
"That case was all about the education of the true nature of addiction and advocating for someone who was caught in its web," says Rafik. "And when you're able to not only achieve a victory for your client, but also change the broader narrative of something like addiction in a legal setting, that's really awesome."
Rafik was one of two children raised in Dubai—"back then, just beach and desert," she says, "our own little isolated world"—to a Catholic mother from India and a Muslim father from Pakistan. Her parents had both left home after high school to get jobs and send money back to their large families. They were, says Rafik, "the hardest workers I've ever known."
Her parents also encouraged compassion and generosity. 
"My parents had three things they constantly ingrained in my brother and me: Work hard, never forget how lucky you are, and always give back," she says. "That's the way my parents lived their lives. They were the most generous, compassionate people."
From kindergarten through eighth grade, Rafik attended what is now the American School of Dubai. "I was surrounded by kids from every country and culture you can imagine," she says. "It was an international world that fostered empathy and broad perspective."
In fourth grade, Rafik and her classmates had to write a short essay about where they saw themselves in 20 years. What Rafik wrote still hangs on her office wall: I want to be a lawyer who can help people out of difficult situations.
"Helping people was so ingrained in my way of thinking, and it's all I ever wanted to do," says Rafik, who spent her childhood reading books about Abraham Lincoln and the civil rights movement in America. "I was a perpetual peacemaker, the complete opposite of aggressive—which I guess is ironic because I'm a litigator. But I always saw law as a way to resolve problems rather than fight about problems."
As a teenager, Rafik left Dubai to attend Madeira School in Virginia. From there, she went on to Colby College in Maine as a government and anthropology major, and after obtaining her undergraduate degree she attended Northeastern University School of Law. Through the university's co-op program, Rafik worked for several human rights nonprofits, including the ACLU of Massachusetts and the Women's Rights Network—formative experiences in her passion for the intersection of human rights and the law.
"I definitely wanted to do civil or human rights work, but I realized that I wasn't built to do it in a non-legal way," says Rafik. "I loved working at organizations like the ACLU and the Women's Rights Network, but I knew that my personality was much more geared toward working with and representing individual people. What I didn't know is that I would love it as much as I do."
Though she always believed in economic rights as human rights, Rafik hadn't considered practicing health care law. Then she met Steve Rosenfeld, the founding partner of the firm where she's worked for two decades.
It was 1998, and Rafik was working as program director for the Women's Rights Network in Boston, anxious to begin practicing as a litigator. One night at a party, she met Rosenfeld's daughter, Sarah, who told Rafik that her father had recently started his own health care firm. An interview was arranged the next day.
"When I met Steve, I told him I wanted to do civil and human rights work, and he said, 'What do you think access to health care is all about? How do you advocate for equality if you don't have health care equality?' That changed everything, because I began to see that health care justice is all about human worth, dignity and how we value humanity," says Rafik. "That's what my work is all about."
Reflecting on Rafik's early years at his firm, Rosenfeld, now retired, overflows with superlatives. He recalls an instance, about four years into Rafik's tenure at the firm, when a new client came to the office. She was losing her eyesight and her insurer refused to pay for her treatment. Even though he and Rafik both did the intake together, Rosenfeld says Rafik handled about 90 percent of that initial meeting.
"I'm pretty good at showing empathy and establishing relationships, but I was simply floored by the way Mala engaged this new client," recalls Rosenfeld. "She drew her out, asked all the right questions and established an immediate bond with her. I had never seen anything like it. The following week, I said to Mala, 'Either you become my partner or I'm going to close the firm.' Of course, I was exaggerating, but it was the best decision I could have made."
The qualities that so excited Rosenfeld are the qualities one hears over and over again when Rafik's peers speak about her.
"She is a terrific person with a huge heart, and her motivation comes from this deep-rooted sense of empathy and compassion," says Jeffrey Catalano, a partner at Todd & Weld. He and Rafik served on the Health Law Advocates board together and often refer cases to one another. "That's a big part of what makes her so successful in dealing with people. Clients go to her suffering disabilities and injustices, and they need her as an advocate. With patience and compassion, she absorbs her client's struggle and turns it into the energy she needs to be a passionate advocate."
What's more, Rosenfeld says Rafik has "changed the balance" of the ERISA system over the past 20 years, slowly and methodically balancing the scales between plaintiffs and defendants.
"We used to win about two out of every 10 appeals that went to court. But then Mala got this idea that the internal appeal is all-important, and that it had been underappreciated," says Rosenfeld. "So she started creating voluminous records in that process. Five hundred-plus pages that bring every aspect of the case into account. Now, thanks to Mala, we win about eight out of every 10 cases internally before they even go to court."
For Rafik, who serves as legal counsel to Boston Health Care for the Homeless, everything comes back to emotional investment and empathy, without which, she says, legal expertise would be worthless.
"I'm constantly surrounded by people who are experiencing the hardest times of their lives," she says. "They're sick. Their financial security has been threatened. Or maybe a lifesaving treatment is within their grasp but they're told they can't have it. And yet these people are so strong and kind. And sometimes that means the client is also helping me. What I get back from them is really remarkable."
Sometimes that strength can even come from her adversaries. 
It was the early 2000s and stem cell transplants were still very new in cancer treatments. Rafik was fighting for a 27-year-old woman whose oncologist recommended the procedure, which was denied by Blue Cross Blue Shield of Massachusetts for being too expensive and experimental.
Rafik took the case pro bono and worked tirelessly with the woman's doctors to build a body of evidence suggesting that a stem cell transplant could mean the difference between life and death. When she was finished, Rafik sent her work to Peter Meade, then-executive vice president of corporate affairs for Blue Cross Blue Shield. Affected by the depth of Rafik's research as well as her advocacy, Meade passed it along to his medical director on an expedited basis. Shortly thereafter, the insurance company signed off on the procedure.
"I'll never forget what Peter said to me. He said, 'If we can't take a chance on the lives of our children, then who are we?' I think about that all the time," says Rafik. "It was the first time I saw how you could be on both sides of the aisle and still have compassion for the people you're serving. Even though we're fighting against insurance companies, there are people who want to help as much as I do. And I refuse to stop believing that, even after all these years."
Search attorney feature articles