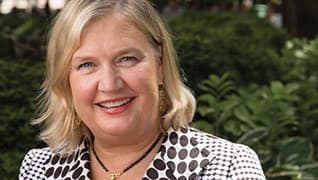 Photo by: Bryce Vickmark
Keep Calm and Litigate On
Lisa Arrowood wins cases with tranquil intensit
Published in 2016 New England Super Lawyers magazine
By Nick DiUlio on October 18, 2016
When John and Karen Tedeman enrolled their autistic teenage son, Scott, in the Boston Higashi School, they believed they were placing him in safe, capable hands. Touting itself as one of the state's leading institutions for autistic and behaviorally challenged students, Boston Higashi promised never to use physical discipline, restraints or other harsh techniques. And for a while it appeared Higashi was living up to its promise—until one afternoon in 2000.
After picking Scott up for a long Fourth of July weekend at home, his father helped his 18-year-old son get ready for a shower. When he took off Scott's shirt, John was stunned by what he saw—his son's back covered in various wounds, some of which looked like cigarette burns. 
The Tedemans eventually ended up in the office of Lisa Arrowood, then a partner at Todd & Weld, which she co-founded in 1992. Since graduating from Harvard Law School two decades earlier, Arrowood had built a reputation as a preeminent trial lawyer, trying cases within a wide variety of disciplines, including business litigation, employment disputes, medical malpractice and personal injury. Once described by Chambers USA as "a force of nature" in the courtroom, Arrowood was an ideal fit for the Tedemans.
"That was a very tough trial and a really tough case," recalls Arrowood, now a founding partner at Arrowood Peters in Boston. "The school claimed that Scott's injuries were accidental and the marks on his back were from rug burns he got while throwing tantrums. But there was something much more sinister going on."
Persuading a jury was not going to be easy. Scott's autism was so severe that he was incapable of testifying in court; and Arrowood, along with her partner Raymond Ausrotas and former partner Nick Carter, had to not only find evidence that the abuse had occurred but also prove school officials knew about it and did nothing to stop it.
During discovery, Arrowood learned that the school's medical director, Dr. Joel Herskowitz, continually signed off on weekly medical reports showing Scott had been brought in time and time again for substantial injuries—yet no red flags were ever raised.
"This doctor just kept signing his reports without ever questioning why Scott was being brought in. The evidence of his abuse was just stuck in a file somewhere and ignored," says Arrowood, who currently serves as president of the Boston Bar Association. "It was heartbreaking, and we needed the jury to see that."
After a grueling six-week trial and eight days of jury deliberations, the Tedemans were awarded $2 million. The jury found the executive director and senior administrator negligent in failing to prevent harm to Scott. The jury also found Herskowitz liable for failing to detect and prevent Scott's injuries, and two Higashi teachers liable for conspiring to inflict harm and for intentionally causing Scott emotional distress.
"Lisa's skills at cross-examination and her experience in malpractice allowed her to really illustrate where the medical director had been negligent and contributed to the harm that had been caused," recalls Ausrotas, now a founding partner at Arrowood Peters. "The whole thing was deeply emotional and upsetting, but Lisa performed at such a high level for weeks on end and never lost sight of what we needed to do for our clients."
And while that case yielded the 10th-largest jury verdict ever awarded in the state at the time, Arrowood doesn't have much interest in chasing records.
"A lot of personal injury lawyers are all about racking up the big numbers, but for me it's about proving that an injustice occurred," says Arrowood. "And in this case, it was about proving how negligent this school was. I was doing it for Scott."
Born in Kansas City, Missouri, Arrowood had a peripatetic childhood. Her father worked for IBM and relocated to a new locale every few years, including New Orleans, upstate New York and Mobile, Alabama.
Teachers frequently told her she'd make an excellent attorney, but Arrowood never aspired to the job. After graduating from high school in Connecticut, she went on to earn an undergraduate degree in ancient and medieval philosophy from Brown, assuming she'd become a professor. But after just five weeks in Princeton's graduate philosophy program, Arrowood changed her mind.
"It was horrible," she recalls. "I quickly realized this was not how I wanted to spend the next five years."
So, in 1979, she enrolled in Harvard Law School. "I wanted nothing more than to work for a firm that was actually going to try cases," she says. "I believe that of all the things you can do as a lawyer, it's the one where it feels most like you're involved in doing justice."
Which is what she's been doing. Over the course of more than three decades, she has litigated cases in nine states. Arrowood's work led to her induction into the American College of Trial Lawyers in 2000 and the International Academy of Trial Lawyers in 2014.
"Lisa is an extremely intense person, but when it comes to trial, there is this calmness about her that is just remarkable," says Jed DeWick, partner and co-founder at Arrowood Peters. "She has this rare combination of being direct and aggressive without going over the top, and that comes from decades of experience and success."
After graduating law school in 1982, Arrowood joined Hale & Dorr (now WilmerHale), where she worked as a summer associate alongside such trial luminaries as J. Owen Todd and Jim St. Claire.
"It was an amazing place to be a young lawyer because they trusted me and gave me a lot of time in court," says Arrowood.
Jeffrey Catalano, a partner at Todd & Weld, worked alongside Arrowood for 12 years. "I was immediately struck by how intelligent, well-prepared and thoughtful Lisa is about all of her cases and trials," he says. "She exudes confidence and creativity, and is able to use those skills to be an excellent cross examiner and communicator to juries."
Arrowood relied on that talent in 1998 when she and partner Kevin Peters won the third-largest verdict in Massachusetts that year for a family whose newborn suffered kernicterus, a neurological injury. According to Arrowood, the infant developed severe jaundice but the nurse who discharged her told the family it wasn't anything to worry about; the jaundice would dissipate.
After three days, the baby girl was irritable, grunting and suffering severe diarrhea. Her parents took her back to the hospital, but it was too late. The jaundice had caused a severe spike in the baby's bilirubin, which left her with permanent and severe brain damage.
The nurse claimed she'd instructed the family to visit their pediatrician first thing the next day, but Arrowood's client said the nurse only suggested calling the pediatrician to set up a future appointment. Arrowood obtained home video footage shot by the baby's father on their first day home from the hospital. In the background of the video, Arrowood's client can be heard setting up an appointment with their doctor, just as they said the nurse had instructed.
"When I met these people I knew they were not lying," says Arrowood. "If someone told them they needed to bring that baby to their doctor the next day, they would have done it. The whole case turned on that: The jurors had to assess whether they believed this nurse—who was not a credible person at all—or these parents."
It's a trademark Arrowood courtroom strategy: establish credibility with the jury and make relatable connections between the evidence and her client's situation.
"Lisa is very measured but unwilling to relent, and that resonates strongly with jurors," says Anthony Mansfield of D.C.-based Cadwalader, Wickersham & Taft, who has known Arrowood since he started working at Todd & Weld in 1996. "She has the capacity to translate complicated situations to a layperson in a way that is both understandable and compelling. And that's not something many people do well."
In addition to her success in medical malpractice and personal injury cases, Arrowood has extensive experience as a business litigator.
"It's nice to have such a broad spectrum," says Arrowood. "Compared to malpractice, business litigation sometimes feels like a cakewalk, because it's not usually about emotion. It's usually just about the money. With medical malpractice it's rarely so black and white."
She's also represented employees, including a high-profile win alongside Peters in a gender discrimination case against Dana Farber Cancer Institute in June 2011 after a three-week jury trial.
At issue was the termination of a research professor who had been fired after years of noteworthy accomplishments. Throughout the trial Arrowood outlined for the jury how her client—the department's only female employee—had experienced discrimination throughout her tenure, including being the only associate professor required to share her office with a post-doc while her male counterpart was given his own office as well as separate offices for his post-doc and lab techs. When she was fired, she asked her supervisor if she could retrieve research from her office. He told her she could only take personal items. When she asked what he meant, she says he replied, "You know, like your lipstick."
"In the end, a good trial lawyer understands people," says Arrowood. "At least half of what we do is psychological. Jurors get that—they understand motivation and why people do the things they do, and they can take the measure of a man. Your job as a lawyer is to present evidence that allows them to draw those conclusions." 
Search attorney feature articles