Wonder Woman
There is exactly one life sciences patent attorney in the state with a side practice in quantum mechanics: Brenda Herschbach Jarrell
Published in 2006 Massachusetts Rising Stars magazine on April 20, 2006
Updated on October 17, 2016
Tucked into the corner of a crowded sushi restaurant, Brenda Herschbach Jarrell, a partner with Choate, Hall & Stewart, sits at a tiny table and scans the menu, even though she knows it by heart. "I'm a sushi junkie," she says, and then rattles off her order: diet Coke, miso soup, edamame and an alligator roll, the chef's specialty, which calls for wrapping grilled eel over a long maki roll filled with tempura shrimp and avocado.
With her clear-rimmed glasses, uncombed blond hair and wrinkled blue blouse, Jarrell looks a bit like a runaway from an all-night final-exam cramming session. After the waiter writes down her selections, she says, "I order the same thing all the time. I'm not too creative."
Were this not one of the premier intellectual property lawyers in the United States, it would be possible to take her comment seriously, especially considering her brainiac background. Along with her law degree she holds a doctorate in biochemistry and molecular biology. She's crazy smart. She admits that the image of science Ph.D.s isn't one of conceptual right-brained thinkers, but of uptight researchers obsessed with minutiae. She wrinkles her nose, brings her fingertips to her lips in a mock nail-biting gesture, and says, "It's 2.445, not 2.45. It is! It issssss!"
Jarrell breaks up. She may be a scientific savant who can discuss isotopes with the best of them, but she also has a sense of humor. And plenty of creativity. The only known life sciences patent attorney in the state with a side practice in quantum mechanics, she has worked with a technology company on a patent for a system that reconstitutes dinosaur DNA from fossils. And she has helped a client patent a phonon resonator that amplifies quanta of sound, similar to how a laser amplifies quanta of light.
Her rise to science law stardom started early. She earned her bachelor's degree magna cum laude in chemistry at Harvard by 19, her master's degree in chemistry at Harvard by 20, and her doctorate at the University of California in San Francisco by 25. Then she returned to Harvard to earn her law degree by 30, while working part-time as a staff scientist and patent agent at Choate, Hall & Stewart.
"I'm a rise-to-the-occasion kind of girl," she says. "If you set the bar in front of me, I'll figure out how to get over it one way or another."
At Choate, Hall & Stewart, Jarrell works in the intellectual property department. She advises clients such as Bayer Corp., Wyeth Pharmaceuticals, Harvard and the Memorial Sloan-Kettering Cancer Center in New York.
The majority of Jarrell's law practice is in pharmaceuticals. On the deal side, she helped a small biotech startup negotiate its first multimillion-dollar arrangement with a major international company. On the protection side, she safeguards Memorial Sloan-Kettering Cancer Center's proprietary compounds.
For Jarrell, who has been with the firm since 1993, working in both the science and business worlds is uniquely satisfying. "I love to help articulate what people must do to turn their bench science into a product and get it commercialized," she says. "I also like to work on the analyzing side, where I'll work for the investors. It's really useful to do both types of patent protection. So now when I'm representing the startup guy, I can tell him what the other guys look for."
Jarrell also works on negotiating licensing agreements and joint ventures. "It's quite helpful to have an understanding of the technology and the culture of the scientific community when you're helping companies negotiate relationships with one another," she says. "In [intellectual property law] it's helpful to know the biotechnology. Cells can be kept alive. That's different from other things, such as a new adhesive for a shoe. When the adhesive runs out, then it's done. But if you give someone a cell line, well, that's forever, and the agreement needs more protections."
Jarrell says it's her unconventional thinking that often gets noticed in the professional world. "People will say, 'I've never seen it done that way.' And, I'm like, 'Oh, did I do something wrong?' Let's face it: I was something of a freak coming into a law firm with a science background," she says. "I didn't know anything. I didn't know what stock was … I just liked the work and felt very, very comfortable here. But I'm a very practical person, and if you tell me what you want, I will get it for you. Sometimes I just do it a little different."
In her teens, Jarrell consumed advanced-placement math and science courses as vigorously as her peers consumed Cheetos. In her 20s, she navigated the transition from academic science and laboratory research to patent law. Now 38, Jarrell, a mother of four, has crafted a professional work schedule that allows her to put in 18-hour work days (she alternates working late evenings with her husband, Kevin Jarrell, founder and principal of Modular Genetics in Cambridge) while finding time to volunteer at her children's schools and ride her new quarter horse, Texas. She gets her 'round-the-clock energy from her father. "My dad doesn't sleep. I don't sleep. It's very handy," she says.
Jarrell's father, Dudley Herschbach, won the Nobel Prize in 1986 for his work in chemistry and is professor emeritus at Harvard. Her mother, Georgene Herschbach, is associate dean for academic programs at Harvard. Her sister, Lisa Herschbach, is dean of Wilson College at Princeton. "Growing up, everyone I knew had their Ph.D.s," says Jarrell. "When I finally became aware of others and learned it wasn't always the case, I was like, 'Oh, who knew?'"
Dudley Herschbach attributes his daughter's success to two things. One is the education Jarrell received from her seventh grade English teacher in Lincoln, where Jarrell grew up and now lives, about a mile from her parents' home. "The teacher made Brenda rewrite her essays," he says. "She would complain. I'd tell her if you learn to write well, you can make your way in the world. What she does now is largely writing. It has a lot to do with thinking clearly. A lot of what many scientists do, including me, is a lot of writing. There is nothing more important than that."
The other winning characteristic is her instinct for other people, he says. "From an early age, she wanted to help other people. I think that has a lot to do with her current satisfaction in her job."
In Jarrell's 34th-floor office at Two International Place, which overlooks Boston Harbor, a Wonder Woman Barbie doll rests on her desk. Unlike Wonder Woman, however, Jarrell doesn't have super-human powers. Her success is a result of a lot of hard work, and a push in the right direction.
Her undergraduate mentor and professor of biochemistry, Mark Ptashne, now head of the Gene Lab at the Sloan-Kettering Institute in New York, urged her to try patent law after she earned her doctorate. "Some people are made out for the laboratory grind, some aren't," says Ptashne. "Brenda is just an intelligent and energetic good-willed person. She's always been able to communicate scientific terms quite easily. I knew at the time that going into patent law was an unusual thing to do for a scientist. But with her background in molecular biology, and her ability to be engaging, listen to arguments, and figure out what's important, it's not surprising that she's terrific at patent law.
"She's just a ball of something special," he says.
After Jarrell finishes eating lunch and asks the waiter to wrap up the leftovers, she puts on her blue, puffy down parka and readies to leave the restaurant. Then she makes a plea. "I hope this article isn't about how I'm so amazing," she says. "I'm very, very lucky. I work at a great law firm and I work with great clients. I'm honored that they have me on the team."
Other Featured Articles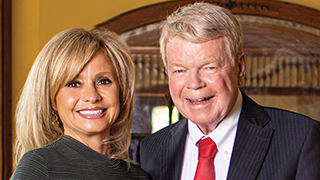 The Bulldog and the Scholar
How Tara Knight and Hugh Keefe became Connecticut's criminal law power couple Featuring Hugh F. Keefe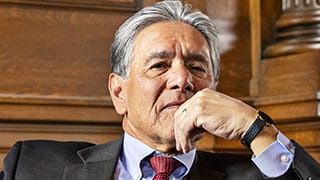 First Served
Sam Alba's long and storied legal legacy Featuring Samuel Alba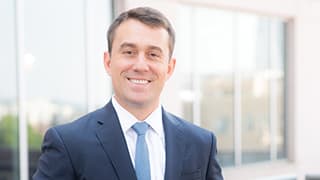 In Their Corner
With an expanding civil rights case load, Alex Heroy embraces litigation as a change agent Featuring J. Alexander Heroy