Coat of Many Conflicts
And that was just the beginning of the tumult in Rosa Parks' estate case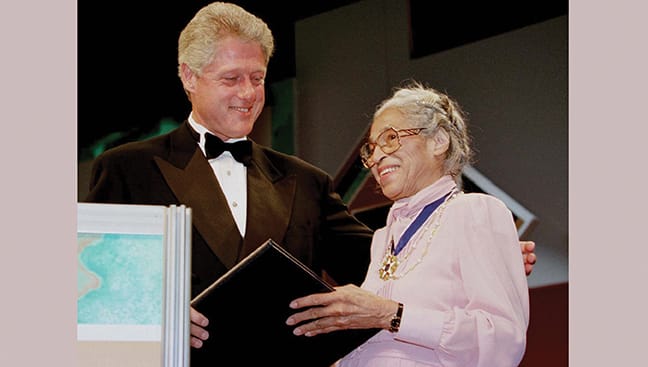 Published in 2023 Michigan Super Lawyers magazine
By Amy White on August 4, 2023
When Alan May and Kate Klaus stepped into the fray in 2011, the chaotic dispute over the estate of civil rights icon Rosa Parks was already in full swing.
Parks, who died at age 92 in 2005, created an estate in 1998 that named longtime friend and caretaker Elaine Steele and retired Detroit Judge Adam Shakoor as overseers of her estate, and assigned all of her belongings to the Rosa and Raymond Parks Institute for Self Development, a foundation which seeks to educate and motivate Black youth.
Parks' heirs took issue with the estate plan and sued to challenge it, accusing Steele of undue influence. The probate judge presiding over the case, Judge Freddie G. Burton Jr., appointed two different lawyers, John Chase Jr. and Melvin Jefferson Jr., to serve as executors.
"The heirs and the trustees of the institute had been fighting over the will for years because the heirs believed they should get a percentage of the estate, which was meant to go to the institute," May says. Most notably, Klaus says, was the homemade wool coat Parks wore on the bus in 1955. "A niece who everyone thought had it, didn't have it," she says. "To this day, this coat has never appeared—it's possible it doesn't even exist anymore."
While Klaus and May had nothing to do with legal actions regarding the phantom coat, valued at $1.3 million sight unseen, an important character in this story—Steven Cohen, attorney for Steele and the institute—was still, just a few years ago, trying to move legal actions forward on the missing piece of clothing. After he exhausted appeals in Michigan courts, the U.S. Supreme Court in 2019 declined to hear the case. Cohen alleges Parks' heirs reneged on an agreement to hand the coat over; the heirs contend no one has it.
"This was the level of pettiness that this fight was about," Klaus says.
At least, that's how it started.
Her estate and the things in it meant something to this country, and [Judge] Burton wasn't going to let it be sold off on eBay.
Klaus and May got involved for a different reason: Cohen, in the wake of his client, Steele, being replaced, started an all-out media blitz, calling the newly appointed trustees everything from "cronies" and "looters" to just two more cogs in a system who "embarked on a course to destroy [Parks'] legacy, bankrupt her institute, shred her estate plan and steal her very name," which he wrote in a Michigan Supreme Court filing in 2011 that contested Burton's action of removing Steele and Shakoor as executors.
"At the time of all the coat fighting, my client [Jefferson] isn't involved yet," May says. "Kate's client [Chase] isn't involved yet. The heirs and the institute reach a settlement over the not-found coat [in the original suit]. Everything's copacetic—until Steve Cohen decides to come in and represent Ms. Steele and the foundation."
Cohen started to pick on the fiduciaries, May says. "He didn't like the fees that Jefferson and Chase were charging. He didn't like the way they were acting, and who they might be favoring, even though they were favoring neither party."
The charges Cohen filed against Chase and Jefferson alleged that they used improper billing practices to inflate their fees, May says. Cohen even sued Judge Burton and tried to remove him from the case.
"Cohen alleged Judge Burton issued an order without the slightest justification or cause granting permission for Chase and Jefferson to literally raid the institute's office in the home shared by Steele and Ms. Parks," May says. "No inventory had been done, so nobody knew what assets were in this estate. When Judge Burton removed Steele and put our clients in, the first thing they did is what a probate fiduciary's supposed to do: catalog what's in the estate. To do that, you have to go to where those assets are stored. And Cohen cries to the press, 'It's a raid.'"
Meanwhile, May adds, other shenanigans were going down, like when the heirs noted that Parks' Presidential Medal of Freedom was missing. "Burton calls everyone into chambers and says, 'Somebody's got it, someone's in trouble, and I want that thing on my desk Monday morning,'" he says. "No one needs to get sued for libel today, so let's just say it mysteriously reappeared and leave it at that."
"These were the kinds of things that I think made Judge Burton remove Ms. Steele and replace her with these neutral fiduciaries," Klaus says. "Because of who Rosa Parks was and what she meant to the people both in Detroit and in the country, this case couldn't be treated like some inner-family squabble. Her estate and the things in it meant something to this country, and Burton wasn't going to let it be sold off on eBay."
Which, by the way, May notes, "Cohen created a company and, in a secret side deal with Steele, stood to get paid one-third of all the revenue from the sale of Rosa Parks' name, image and likeness. Burton said, 'That's it. This is going to be handled respectfully.' He felt our clients would do that."
Yet, in 2012, the Michigan Supreme Court ruled that Burton had to reinstate Steele and Shakoor as executors to coincide with Parks' original wishes. "Steele is back, and our clients are out," says Klaus.
Out in more ways than one. Both attorneys not only saw their reputations take a hit and their practices dry up, but Jefferson, a Black lawyer, began to see his community of Black peers turn on him, in part because of stories May believes Cohen was giving the Detroit Free Press that made Jefferson appear to be "anti-Rosa Parks."
"Chase, too, was personally wounded by the accusations made against him, and how it alienated him from a lot of his African-American colleagues," Klaus says.
"I physically saw the wounds," May says. "Chase was placed into St. John Hospital in Grosse Pointe. I went to visit him. And on his thigh was a circular rash as big as a basketball. The doctor said it was a result of the consternation that he was incurring because of this case. Now, it was much worse for Jefferson because almost all of Jefferson's clients were African American, and he was losing everything."
May and Klaus' approach to the defense of their clients was to do their fighting in court—not in the press.
"Part of our counseling was, 'Don't fight this out in the newspapers,'" Klaus says. "We have a process that handles this, and we respect process. We're going to take the lawyer way. And when all of this is over, we'll have the Grievance Commission look at it. Alan and I both have sharp elbows. We tempered some of that because we were conscious of the undertones of the case. Given Cohen's conduct, if this were not a case involving Rosa Parks, we would've gone after him a lot harder."
When it was all over—both lawyers cleared of any wrongdoing—Cohen was reprimanded; a panel of the Michigan Attorney Disciplinary Board found that Cohen's conduct "amounts to forum shopping," and that Cohen admitted he "created a condition in which a jurist would have a conflict and be required to recuse him/her self."
"To have the discipline board issue just a reprimand, Mr. Chase took that really hard, as he was a witness in the grievance stuff," Klaus says.
There was still an estate to deal with, however. When Steele was reinstated, May says, "Everyone was looking for a buyer. We just wanted it to all go away."
Howard Buffet (son of Warren) made that happen. Buffet paid $4.5 million in August 2014 for the estate collection, which includes the Presidential Medal of Freedom, 7,500 papers and manuscripts, 2,500 photos and more testimonies to Parks' civil rights struggle. The collection is currently on a 10-year loan to the Library of Congress.
"I keep this check for $256,000 that I framed with Rosa's picture on my wall," May says. "It came from the Howard G. Buffett Foundation. This is the reimbursement of all Mr. Chase and Mr. Jefferson's fees, which were repaid.
You do take some perspective, though. "I learned a lot about the Detroit community's commitment to Rosa Parks and all that she meant in a way that I didn't really appreciate before," Klaus says. "I took my kids to see the bus at the Henry Ford Museum and watching them understand its importance. Getting that kind of intimate appreciation of what she meant to so many people was a real highlight of the case for me."
Search attorney feature articles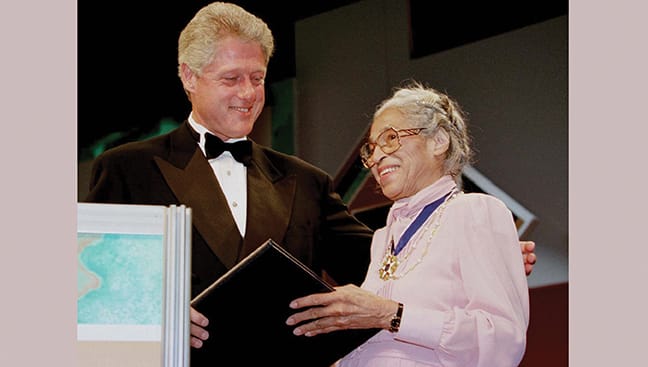 Featured lawyers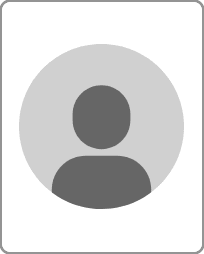 Top rated Professional Liability lawyer
Maddin, Hauser, Roth & Heller, P.C.
Southfield, MI
Helpful links
Other featured articles
The signs that guided Jennifer Salvatore to open her own employment and civil rights firm
Kostan Lathouris' promise to represent tribal interests and sovereignty 
As outside counsel to the Mormon church, Von G. Keetch has been called every name in the book
View more articles featuring lawyers
Find top lawyers with confidence
The Super Lawyers patented selection process is peer influenced and research driven, selecting the top 5% of attorneys to the Super Lawyers lists each year. We know lawyers and make it easy to connect with them.
Find a lawyer near you