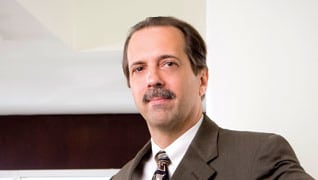 Photo by: Scott Stewart
David Kotzian Shoots From the Hip
The employment law attorney prides himself on being straightforward with clients and colleagues
Published in 2011 Michigan Super Lawyers magazine
By Ellen Piligian on September 9, 2011
In 2000, after 15 years of practicing employment law at a large firm, David Kotzian, then about 40, entered a mild midlife crisis. Nothing major, he insists. But he did get a tattoo.
"I kept it professional," says the conservative-looking lawyer, his gray-flecked hair and mustache accenting his ensemble of gray slacks, gray-and-white striped shirt and gray tie, as he sits in his simply appointed office in Farmington Hills, while gesturing to the phoenix tattoo on his right arm above the elbow. "I just wanted to try something different."
Kotzian, now 52, did more than add a permanent image of a mythical bird to his body. He left his position as senior partner at Southfield-based Sommers Schwartz—his first job out of law school—to set up a solo practice in January 2001.
"I wanted to do my own thing. I also wanted to do more neutral work," says Kotzian, who now litigates employment cases full time, including more arbitration and mediation, which make up about a third of his workload. "It's a nice mix."
It seems Kotzian, whose practice includes wrongful termination and employment discrimination law, could do just about anything he wanted. With dual degrees from the University of Michigan—he graduated magna cum laude with a law degree and a doctorate in economics—he was a shoe-in with his first employer.
He first impressed veteran employment attorney Joseph Golden at Sommers Schwartz, whom Kotzian contacted following graduation because he was interested in the practice area. Golden landed Kotzian an interview. "He was hired immediately," says Golden.
The man who hired him was Donald Gasiorek, who remains a good friend. "He was ungodly impressive," Gasiorek says. "He was a perfect candidate, with wonderful credentials, and wanted to do what we do."
Not that Gasiorek knew what to expect personality-wise from someone with that kind of a résumé. "You expect he'll be a dorky geek, and you meet this wonderful, engaging, articulate person," says Gasiorek, today a partner with Gasiorek, Morgan, Greco & McCauley in Farmington Hills, where Kotzian now rents office space. "I always say he's one of the smartest people I know but completely unpretentious."
Golden agrees. "He's got an analytical mind, and he's very reasonable and comes to things from a very common-man perspective. The man's word is his bond," says Golden, now a partner at Pitt, McGehee, Palmer, Rivers & Golden in Royal Oak. "You may not want to hear it, but he'll tell you. He's straightforward and shoots from the hip."
Among the pair's most famous cases was the 1992 wrongful termination case involving the late Bo Schembechler and the Detroit Tigers. The famed Wolverines football coach had become the Tigers' president by way of a handshake agreement. "It consisted of some handwritten notes he and Tom Monaghan had written on a napkin. It was a little amusing to see that [Schembechler] had taken the time to have the napkin laminated," says Kotzian.
The lawsuit fostered such publicity that reporters camped out in the law firm's lobby. "Bo took it all in stride. It never seemed to faze him," says Kotzian, who recalls the legendary football coach as "just a regular guy like any other client. He didn't come to us with a team of advisers or an entourage. It was just Bo."
Kotzian, a die-hard baseball fan, knew his limits in terms of the sport, so he didn't try to talk much football with the coach. He says Schembechler knew his limits, too, and listened to their legal advice. "He was an excellent client." 
In turn, Kotzian says, he never treated Schembechler like a living legend. "I felt that the minute I treated Bo like a celebrity instead of a client, I'd lose some credibility and objectivity in representing him."
The parties reached a confidential settlement one day before trial.
At Sommers Schwartz, while representing plaintiffs in employment discrimination cases, Kotzian also acted as a prosecutor for the city of Taylor, then a client of the firm; that's where he met his wife, Debbie, who was a probation officer.
Kotzian learned how to build a law practice from Golden and Gasiorek, who taught him the importance of integrity. "You can vigorously and effectively represent your client without resorting to personal attacks, dirty tricks or other unnecessary nastiness that serves only to drive up the costs of litigation and give lawyers a bad name," he says.
Working on a commission basis at the firm, Kotzian developed a clientele and with it, some assurance that he could make it on his own.
Still, when he made the leap, "It was scary at first," he admits. But it also simplified things. At Sommers Schwartz, which had about 80 attorneys at the time, there were potential conflicts of interest. For instance, if Kotzian wanted to represent one side of a case, he sometimes couldn't because a partner was representing the other side. "Everything we did had to go through conflict checks."
These days he's happy to have about 15 cases on his plate at any one time, with about a dozen arbitrations pending, and mediation for a case every week or two.
"Mediation is a way to bring a sort of neutral perspective," says Kotzian. "The problem is that early on, employment cases are very personal. The parties are highly charged."
He recalls a recent case in which he represented an ex-son-in-law who was part owner in a family business. "The family didn't want to end up in court," Kotzian says. "Emotions were running extremely high. We spent hours and hours unraveling his stock ownership, and what people would or would not say. It was complex, with two brothers-in-law at odds. That case took a lot of bringing people away from emotions and family dynamics, and coming up with something that was fair that would still allow my client to provide for his family but not be such a burden on the business."
In the end? "Nobody was happy," says Kotzian. "It's the perfect settlement. No one is happy, but everyone can live with it."
Kotzian doesn't sugarcoat conversations with clients. "It's critical," he says. "When you're advocating for someone, it's your job to provide them with professional advice. You're not there to be their cheerleader. You have to tell them the pros and cons even if it's not something they want to hear."
One thing he wishes he could change about employment law is the endless probing into a person's personal life as a means to find weaknesses in a case. "Like listing every instance that caused [a plaintiff] distress in the last 10 years, and everyone having to feel they've looked under every stone," he says. "It's a burdensome process."
Golden says the only time he recalls Kotzian ever raising his voice was in just such a case 20 years ago.
Their client had been terminated after suffering an emotional breakdown. (She didn't leave her house for several days nor communicate with her employer.) At one point during the trial, to determine if there were grounds to fire her, the defense attorney attacked her personally, says Kotzian. "After bringing her to tears on cross-examination, the defense attorney rushed up to the witness stand to offer her a Kleenex. I found that to be a little disingenuous."
Golden recalls Kotzian asking the judge to please tell the opposing counsel to stop patronizing their client. "It's the angriest I've ever seen him," he says.
having grown up the middle of three children in blue-collar Sterling Heights, with three factories within walking distance from the home his parents still live in today, Kotzian says his high school was more geared toward vocational training than college prep. 
He paid his way through the University of Michigan with jobs, financial aid and scholarships, thinking he might like to teach economics. By the time he finished his bachelor's degree in math and economics with highest distinction, he'd decided to pursue the joint degree program in economics and law.
Two summer jobs during law school helped define his goals. The first was at Wilson & McIlvaine, a large corporate law firm in Chicago. "It was kind of dry and stuffy with many tiers of lawyers before you got to deal with clients and issues and problems," he says.
The next job was more his style. As a clerk at the American Civil Liberties Union in Chicago, he worked with indigent people. "It was much more hands-on," he says. "It's kind of the same philosophy I bring to dealing with clients today: Is there some way we can use the legal system to put you in a better position and make things better for you?"
He tells of one client who came from a rough part of town and suffered from mental illness. The man would ride the public trains using his city-issued pass and the conductors had him arrested for vagrancy.
"He'd spend time in jail—months—because he couldn't post bond," says Kotzian. "The case was about: Can you incarcerate somebody indefinitely waiting for trial for an offense that would not end up with jail time if convicted?"
Kotzian was assigned to get him out of jail and get him registered with a homeless shelter. "What a contrast from the corporate country club, sipping fancy cocktails," he says. "A light went on: Here's something I can do."
Kotzian is now happy as his own boss. "I like working on fewer cases and spending more time on them," he says. "I can get to know clients, know their spouses and who their kids are."
He can also spend more time with Debbie, his son, James, 17, and daughter, Shayna, 15. "You need a balance. You have to have a life outside the law," he says, adding that with his kids' high school just two miles from his office, he can make it to track meets and band concerts. "I don't miss much of that stuff."
As for his own interests, Kotzian loves backpacking with his family. Recent trips include Costa Rica and the wilderness of Isle Royale National Park. "You walk five or 10 miles into the woods and you have whole place to yourself," he says.
He's not planning to give up the law anytime soon, though. Kotzian used to imagine he'd retire as soon as possible. Now that he's in his 50s, he's thinking of semiretirement, he says. But that could affect some other life plans.
At the bottom of his to-do list is to backpack roughly 300 miles from Sault Ste. Marie to the Porcupine Mountains in Michigan's Upper Peninsula. "By the time I have time to do that, I probably won't be physically able," he jokes. "I think I've got one more shift in my career."
Search attorney feature articles