Facing the Fear
When the pandemic hit, Lori Becker geared up to help as an emergency responder
Published in 2020 Michigan Super Lawyers magazine
By Katrina Styx on June 12, 2020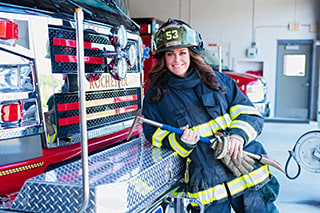 Before the COVID-19 pandemic swept across America, Lori Becker's practice was humming along smoothly. A 20-year divorce attorney, Becker had found her niche in collaborative divorce and mediation.
"I had been practicing divorce law, but once I learned about the collaborative approach process and I took the training—I was the second class in Michigan to be trained in 2005—I never looked back," she says. "I thought this was really my calling."
Her first indication that something was going wrong came in early March, when she both turned 50 and took her first vacation in five years. "It was the weirdest thing to drive home, because our flight had been canceled, so there was already some chaos," she recalls. "We didn't get home until 2:30 in the morning; we got close to our house and stopped at Meijer's, a grocery store, for some basics and saw all of the shelves just empty."
Her collaborative divorce practice is, by nature, a little calmer than a litigating firm. But the pandemic made it a little too calm. Clients started putting their divorces on hold, hoping to ride out the uncertainty. "So my office came to a real halt as soon as the quarantine started, basically," Becker says.
She's seen downturns before. Divorce activity tends to follow patterns, she explains, decreasing in times of financial crisis and increasing once the economy rebounds, so she's hopeful that her practice will survive this, too. "I'm hoping maybe people will learn how to go back to some old-fashioned learning to talk and work through some hard times," she says. "But everyone is speculating that divorces are going to be on the rise."
Becker Legal is still operating, albeit at less than half its normal capacity. Zoom meetings, although not ideal, have become the norm. "There's a lot of psychological pieces that go into helping facilitate the conversation and communication and creativity that needs to happen in the collaborative process," Becker explains. "When we're meeting face-to-face, it adds more of a warmth or a personal touch to it. Having now to go to Zoom, we're finding that spouses … are texting each other and saying nasty stuff that we don't know and wouldn't be happening if we were all together."
And that affects outcomes. "The more conflict or the more emotional distress, the quicker people tend to make decisions, and usually we find that those decisions are not great decisions," Becker says.
In the meantime, Becker has devoted her extra time to a new way of helping people experiencing trauma: as a part-time EMT/firefighter with the Rochester Fire Department.
She started volunteering in 2018, when the then-volunteer department put out a call for help. "I was in my late 40's and I said, 'Is it even worthwhile for me getting the training? Are you going to want someone like me at my age?' And they said, 'Yeah, absolutely.'"
At her firefighter training, she recalls being challenged by another trainee, a 17-year-old, during a relay race involving 80 pounds of gear, fire hoses and three flights of stairs. "And he smokes me, of course, and he was much faster than I was, but we finished. … So that was fun, I'll never forget that."
But, as is the nature of emergency calls, things can get very serious very fast. "The scariest thing is that every call is so different and you don't know what to expect."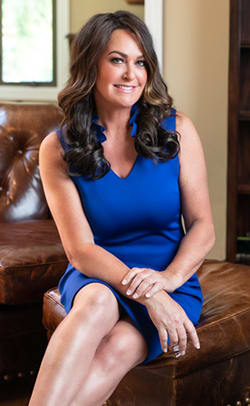 Most of the calls she's responded to have been medicals: drug overdoses, heart attacks, strokes or accidents, for example. Of course, she's also responded to plenty COVID-19 calls. "We've got full protection—you know, N95 masks, gloves, gown, goggles, eye protection, the whole nine yards," Becker says. "And going in and just seeing the fear of people terrified that they're going to die—it's just the fear that's been really heartbreaking to see."
Becker's experience as a collaborative divorce attorney has helped her on those stressful emergency calls. "I have a lot of skills and experience in calming the situation," she says, "and being able to stay focused and see, what's really going on? What helps? What to say, what not to say to people in an emergency and in a trauma."
Before the pandemic, she'd help out on 12-hour shifts, on nights and weekends when she could spare the time from her practice. Lately, she's been putting in anywhere from 36 to 60 hours in a week at the department, sometimes working 24-hour shifts, during which she has to live and sleep at the station.
"You've got a twin bed and a little nightstand, and then you've got office dividers. So you don't really have any privacy," Becker says. "So you hear everyone snoring, and there are six of us that sleep there any given night. … You don't sleep well when you're there, if you do get any sleep. And then to be awoken from the siren going off alerting you to a 911 call, that a whole 'nother bundle of anxiety or excitement."
While she helps others through their fear, Becker is managing fears of her own. "My business and my income has been greatly affected [by COVID-19], and it's very scary and stressful. And then I'm adding more stress by going into a COVID/911 emergency scenario and going into people's houses."
As with all law firms in this unprecedented time, there are still a lot of unknowns in the future of Becker Legal. How do you keep people safe when they come inside? How do you avoid adding virus fears to existing emotional trauma? How practical is conducting collaborative divorce meetings through teleconferencing long-term? One thing is certain for Becker: the collaborative divorce process, even with necessary COVID-19 precautions, is far healthier and brings much longer lasting resolutions than anything done through litigation or a traditional cookie-cutter divorce. And, she's going to keep working as an EMT/firefighter, "as long as I can physically and that I'm a help and not a hindrance," she says.
She recommends it to others looking to volunteer or get outside their comfort zone. "Firefighting and EMT is so much more complex," she says, "and 'scary-complex' needs a smart person to be able to do it and to think about all the different things you've got to manage while you're in an emergency situation. I don't think they get enough credit for it."
Search attorney feature articles