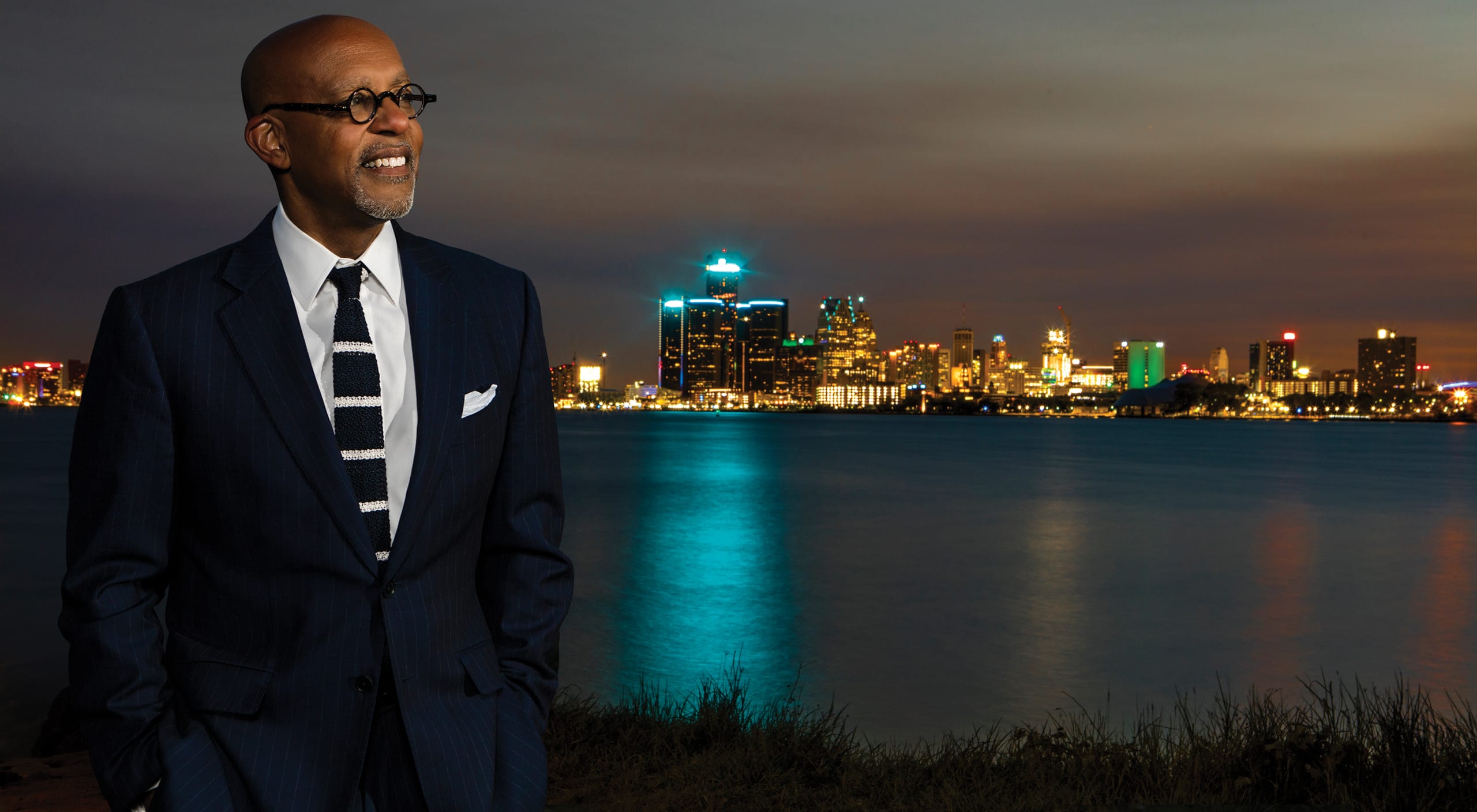 No Place Like Home
Butch Hollowell has Detroiters' backs
Published in 2023 Michigan Super Lawyers magazine
By Anne Brash on August 4, 2023
Melvin Butch Hollowell regularly greets the city of Detroit with a Facebook post: a stunning view of the sunrise or sunset over Belle Isle and the Detroit River from his waterfront home near Indian Village. He says he can't leave town without friends demanding more of the panoramic scene that reminds them of home.
"There's nothing like Detroit," he says. "There's something about it that has this pull to it."
That pull has been a throughline to Hollowell's more than 40 years as an attorney. He has steered the city through a historic bankruptcy, unearthed discrimination in auto insurance, protected abortion access and more.
His career has brought him to some of the city's top law firms, representing clients across North America. He has been a leading voice in the state Democratic Party, Detroit NAACP, and the city government. Now he's a partner at The Miller Law Firm, where he continues his work in commercial litigation, class action suits and government and election law.
Hollowell's father called him "Butch" on a whim when he was a boy. It stuck, and he added it as a legal middle name—a fitting moniker for someone who would grow up among, and later join, fighters who would go to the mat for the city and state they call home. 
"It's this iconic town," Hollowell says. "It's a close-knit community you're not going to find anywhere in the country. Detroit is home and always will be, just because of the people."
---
Born at an Army hospital in Honolulu, Hollowell grew up traveling as his family followed his father's career as a military doctor.
One Thanksgiving at home in Detroit, a group of Black doctors persuaded his father to help integrate the surgery program at Detroit Receiving and Harper hospitals, and he became one of the first Black surgeons in the all-white Detroit hospital system in 1965.
They were the second Black family to move into the Palmer Woods neighborhood a few years later, and they quickly built up an expansive network of African American doctors who lived nearby and had survived the same gauntlet.
"They were bonded together like something you've never seen, and so were the kids," Hollowell says. "And we understood what our folks were doing. There was obviously a high bar for achievement."
A few years later, when his grandmother moved in with their family, the 4-foot-8 "powerhouse" saw something in Butch. She bought him an album of Dr. Martin Luther King Jr.'s speeches for his birthday in fifth grade. When he memorized them all, she entered him in a speech contest.
"I won," Hollowell recalls. "On the way back, I'm hugging the trophy and she says, 'This is you.'"
She was the first to identify his talents for analysis and advocacy, but he had inspiration all around him. His cousin, Donald Hollowell, was King's chief personal lawyer, known as one of the greatest civil rights lawyers of the 20th century.
Early in his career, when Hollowell faced his first jury trial, Donald told him of a time King was arrested in Atlanta and feared he might be murdered in custody. Donald tracked him down, filed a motion of habeas corpus, and snuck King out through the bathroom window of the courthouse into the trunk of a waiting car to avoid dangerous crowds.
"He told me: 'Butch, if you can't try a case in front of a hostile judge and a hostile jury, why did we send you to law school?'" Hollowell says. "So I got it. He left an indelible imprint at a very early age."
---
Hollowell was president of the debate team in high school, which inspired him to consider law school. That was also where he faced off against now-Mayor Mike Duggan, who led a rival high school's team. It would eventually turn into a lifelong friendship and professional partnership.
He headed to Albion College for undergrad and University of Virginia for law school—admission he secured after being waitlisted and driving 16 hours to Charlottesville to knock on the door of the dean of admissions' office unannounced. UVA, "the establishment's law school," quickly became a proving ground for the young Detroiter.
Michael Kennedy and the children of Arkansas Gov. Dale Bumpers and Chief Justice William Rehnquist were in his class. Thurgood Marshall Jr. and Robert Kennedy Jr. were a year or two ahead of him.
As president of the Black Law Students' Association, Hollowell organized protests to successfully advocate for more diverse faculty, and his classmates helped him pull in help from the highest echelons of Washington, D.C.
"I learned how the world works in a hurry," Hollowell says. "You get by with a little help from your friends."
When he finished law school, he returned to Detroit and was hired by John O'Hare, who served as both the Wayne County prosecutor and the corporation counsel. O'Hare also hired Duggan, putting the two debaters in the same office.
Hollowell was thrown into court defending county agencies. Then, the director of the county's civil rights branch resigned and O'Hare tapped Hollowell, who was just 25, to replace him.
The agency oversaw civil and labor rights in companies doing business with the county. He soon discovered that Black-owned businesses weren't getting the same opportunities to bid for county contracts as their white-owned peers, so he beefed up the investigative team to provide equal access. He moved to the county executive's office and, from there, to the largest Black-owned law firm in the United States, Lewis White & Clay, where he would work on corporate municipal finance transactions, and later to Butzel Long as a shareholder. He also served as the first Black chairman of the Michigan Democratic Party.
Throughout this time, he served on the board of the Detroit NAACP, the civil rights organization's largest branch. He looked into the disparate auto insurance prices in metro Detroit. The project—housed on a sprawling homemade map of zip codes and rates on the floor of his house—would expose racism in insurance adjustments. It garnered national attention, kicked off major policy changes in statehouses and elsewhere, and later secured him a role in Gov. Jennifer Granholm's administration fighting for insurance equity.
It was one of many projects Hollowell spearheaded through the NAACP, including leading the group's war room on election day to fight voter suppression and pushing for more diversity in the police department.
"He cut his teeth on doing civil rights work, and I think that has shaped his perspective," says Rev. Wendell Anthony, longtime president of the Detroit NAACP. "I think that has been a motivating factor and helped him remain committed to people, to civil rights and human rights. I think that is a source of his strength."
---
When Duggan decided to launch his mayoral bid in 2013, he approached Hollowell for help. It wasn't a given: Duggan, who is white, was up against Benny Napoleon, a popular African American sheriff in one of the largest majority-Black cities in America.
"I made a decision," Hollowell recalls. "I'm not going to go with the conventional choice. I want my city to stop these fits and starts. I want somebody that I know can do this and do it well."
He then convinced Hollowell to leave private practice and come on as the city's top lawyer. It was an opportune time for two men used to a challenge: They took the reins just months after Detroit filed for bankruptcy.
The city was under the purview of a state-appointed emergency manager, Kevyn Orr. At first, "we weren't even sure what power we had," Hollowell says, recalling how they haggled with Orr for control of various offices before the city regained independence in December 2014.
Over the next four years, Hollowell would bring big changes to his city, starting with major fiscal reform.
"Every dollar that you pay out is a dollar less that you have to pay a police officer or a firefighter or a bus driver," Hollowell says. "The whole method of thinking about how we represent the city, I was part of the team that had to address all of that."
He tackled the $30 million Detroit was paying out annually in lawsuits, bringing it down to $16 million by 2016. He found that bankruptcy consultants had gone $20 million over budget and successfully fought to win it back.
Hollowell shepherded the Detroit Police Department out of an 11-year period of oversight by the U.S. Department of Justice—a policy that sparked lasting change in the agency but cost Detroit taxpayers nearly $86,000 every month. "When I filed that motion, the police department had become a constitutional agency," he says.
He pioneered a new "nuisance abatement" legal strategy to hold the owners of commercial buildings accountable that were falling into disrepair, which put the city on the path to improving many of its dilapidated buildings.
And he created Detroit's Clean Slate program, offering free legal services to people seeking expungement of nonviolent crime. Thousands of people benefitted from the program, which was the first of its kind in the country. Hollowell considers it his proudest achievement as the city's chief lawyer—"maybe even my career," he says. "Everybody deserves a second chance."
---
After four years as corporation counsel, he joined Miller Law Firm, where he currently works as a managing partner of the Detroit office, tackling a wide range of cases.
Last year, he played a pivotal role in protecting abortion access after the Supreme Court overturned Roe v. Wade and before Michigan voters approved abortion protections at the ballot box in November. He represented Oakland County Prosecutor Karen McDonald in a lawsuit over whether prosecutors in the state's largest counties would be able to enforce a 1931 state law that outlawed nearly all abortions. A judge sided with Hollowell and the governor's team, barring enforcement and keeping abortion legal in the state amid a period of intense turmoil.
"I believe very strongly that the government has no business telling a woman what to do with her body," Hollowell says, recalling how he led cross-examination of the opposing counsel's chief witnesses. "I knew exactly who the witnesses were and what was at stake."
He continues to have a broad cross-section of practice areas, representing major corporations and small businesses, government officials and agencies, nonprofit groups and individuals. He takes seriously the role of being a counselor—even if it doesn't result in a big payday in the short run.
"Law isn't just about filing a lawsuit, it's about solving problems," he says. "We're going to think of this as a chess board. Look eight, 10, 20 moves ahead in order for you to be put in the best position."
That approach resonates with Mindy Gilbert, general counsel for North American waste management giant GFL and Hollowell's largest client. She says Hollowell has prevented her team from getting into unnecessary legal battles even when it would have meant a big bill for him.
"He is extremely practical and really more of a business advisor than just a legal advisor," she says. "I hate fighting a legal fight just for the sake of it. He gives great advice, and he's just a true partner in that way."
She adds that he takes an interest in everyone he represents on a personal level. Hollowell, too, says the human connections are at the center of his lifelong passion for legal work.
"That's the law in a microcosm—allowing people to understand that you've got their best interests in heart, and you will give it to them directly, but with empathy, strategy and hard work, so that they know they're covered," he says.
"They might have to go through some difficult times, but they'll know they've got somebody who is going to have their back."
---
Good Morning & Good Evening, Detroit
These are a sample of the photos Hollowell has posted to Facebook with the line "Good Morning Detroit" or "Good Evening Detroit." Some were taken from his Detroit Towers condo looking west, and others from his previous place in Riverfront Towers looking east. "I love it when people comment that the shots are either like a love letter to the city or a connection to the city that enlivens some part of them. Others just reflect that with all the negativity on social media, it's a nice thing to have the simple words 'Good Morning' to start the day," Hollowell says.
Search attorney feature articles