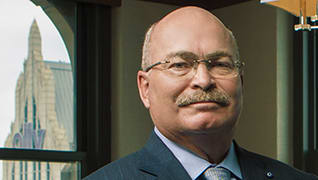 Photo by: Scott Stewart
Taking Chances
Brian McKeen's medical malpractice career is defined by cases that weren't obvious winners
Published in 2020 Michigan Super Lawyers magazine
By Riley Beggin on September 18, 2020
A baby left to nearly suffocate, despite the mother's pleas. A doctor inducing seizures and diagnosing epilepsy in children for personal gain. A neurosurgeon who performed unnecessary spinal surgeries to cheat insurance companies. 
Such cases define Brian McKeen's nearly 40-year career. Some would have gone nowhere—the victims left to suffer without compensation—if he hadn't taken a chance on them. 
Medical malpractice cases aren't cheap, he says. That's why some med mal lawyers overlook complex cases and bank instead on obvious diagnostic mishaps or surgeries gone wrong—the ones they know they can win.
"Absent some immediately obvious cause of action, they don't do the hard work necessary to really understand what happened and how it could have been prevented," says McKeen, of McKeen & Associates in Detroit. "The devil is in the details. It takes a certain level of sophistication, experience and dogged determination to sometimes get to the bottom of what happened."
Part of McKeen's ethos is to work on the nuanced problems that plague the medical system, those cases that require in-depth research and an impassioned advocate. 
"These are oftentimes medical mysteries until you give the case the time, the love and the attention needed to understand what really happened," he says.
Throughout McKeen's childhood—1960s and '70s Oakland County, in a family embedded in the automotive industry—the thought of becoming a lawyer never crossed his mind. 
"I probably wanted to play for the Tigers or be a rock 'n' roll star," McKeen jokes. "When I got to college, I still didn't know what I wanted to do with my life."
He went off to Central Michigan University to play soccer and study administration and political science. Later, at Cooley Law School, he enjoyed learning the art of advocacy. On a whim, he took a job in the circuit court back home in Oakland County. He quickly saw what made the good lawyers rise above the rest: intellect combined with captivating oration. He saw the art in action, and was hooked. 
"They could speak very eloquently, but they could also speak with power and emotion," he says. "They had the ability to reach jurors—reach their hearts, reach their minds, and impact them in very powerful ways."
McKeen left that job to take a summer internship with the Prosecuting Attorneys Association of Michigan. After a week of training, he was shipped to Bad Axe, a town in the thumb with 3,000 people. He lived in a trailer out in the country and reported to the Huron County prosecutor's office. 
"It was a whole different world," says McKeen, who had lived most of his 24 years in the shadow of a city with more than a million people. By his second week, he was in the local circuit court arguing a felony breaking-and-entering jury trial. He won.
"When I left, the presiding judge up there told me, 'You're going to be a great lawyer,'" McKeen says. "Little things like that make a difference in a young person's life."
By the time he'd graduated from law school and spent a short stint clerking on the Michigan Court of Appeals and Supreme Court for Justice Dorothy Comstock Riley, he knew what he wanted to do. 
In his previous positions, he'd seen lawyers help people whose children were injured during birth, and whose loved ones were lost in railroad accidents, car crashes and electrocutions. McKeen was moved, and set his sights on medical malpractice and personal injury advocacy. 
In Detroit, Tom Bleakley was a well-known medical malpractice and products liability attorney, so one day McKeen showed up at his office unannounced and introduced himself. "The next thing you know, I was hired," he says.
Eventually, Bleakley retired and McKeen took over. Thirty-seven years later, he heads up a team of 16 other attorneys, and it remains the only place he's ever worked as a practicing attorney.
McKeen was given a docket of cases his first week. His first case came in 1983 and was on behalf of an elderly janitor at a local school who had a benign growth removed from her nose only to have it come back and removed again multiple times, leaving her disfigured. She accused her surgeon of eschewing a new method with nearly perfect accuracy for an older one that succeeded in removing tumors only half the time. 
The case was sent to the Royal Oak District Court, estimated to be worth less than $10,000. "There was a gruff old defense lawyer who said he was going to kick my ass—that I'd never win," McKeen says. The jury awarded his client more than $50,000.
"I think it was basic logic," McKeen says of the win. "The procedure was fine for the initial management of a basal cell carcinoma, but for recurrent tumors, it had a rate of efficacy of about 50%—whereas the more recent technique, which has now become much more commonplace, had a rate of success of about 97%. Who in their right mind would opt to have something that's a coin toss, when they could have something that's 97% effective?"
He has since won cases worth more than $10 million at least 10 times, and since 2001 his firm has secured the largest verdict of the year in Michigan four times. He won the largest jury verdict in Michigan history, then exceeded the mark multiple times. 
In 2001, he accepted a referral case of a Detroiter who took her infant daughter to a hospital six times in one week because she was gasping for air. She finally brought her to the ER at another medical center, which sent her home without help. The next day, the baby stopped breathing. Her mother rushed her to the hospital, where they saved her life, but the experience left her with cerebral palsy and permanent brain damage.
"How many times does a mother have to bring a baby to the hospital before someone takes these complaints seriously?" McKeen asks. "Parents have this innate sixth sense about when their child might be in danger, and health care providers would be well-advised not to be dismissive of that."
The defense argued the child's vital signs were normal, McKeen adds. His argument: "It's not a question of what the child looks like at this particular moment; it's a question of what the child's vital signs will look like when she's having the next gasping episodes. And if they're occurring intermittently, do you want them to occur in a hospital where the baby can be monitored, or do you want the baby to be home where they are vulnerable? They obviously made the wrong choice."
The jury awarded the family $55 million.
Med mal defense attorney Karen Faett calls McKeen "the preeminent plaintiff malpractice attorney in Michigan. If the doctor has a character flaw, he will detect it, expose it and exploit it." Faett holds on to copies of old deposition transcripts with McKeen to prepare her clients for his uniquely aggressive style. 
"He can do the deposition in under an hour and get everything he probably needs to impeach the guy if the case goes to trial two or three times."
In 2018, McKeen shattered his own record again. An otherwise healthy 2-month-old needed a kidney scan, but the technicians had trouble hooking him up to an IV and, in the process, poked him with a needle multiple times. The infant had started holding his breath in response; suddenly, he went blue. By the time he was resuscitated, he had severe brain damage that resulted in lifelong cerebral palsy. The jury awarded the Tran family $130 million.
Like many of the other cases McKeen has taken, the Tran case had languished for years because no other lawyer would take it; it came to his firm right before the statute of limitations was set to end.
"I feel like I have a calling. There are people who've been aggrieved who need someone like me to figure out what happened to their loved one—to get answers to the questions they have," McKeen says. Depending on the answers, "they need someone that can go pin the tail on the donkey, establish liability and make it stick."
One of those clients was Mary O'Donnell, a lawyer who, after Lasik eye surgery, says she "was left with defective vision; when I'd look at a traffic light, I'd see six red lights." She came to McKeen for help. He approaches his work "with kindness," she says. "You can feel it, see it in his eyes and hear it in his voice. He's smart, he works hard, he doesn't back down. And beneath all that is a wellspring of kindness."
In the end, the jury came back with a multimillion-dollar verdict, O'Donnell says. "But, due to caps, I was limited to approximately $300,000."
Amidst the medical puzzles of care gone wrong, McKeen has also played a role in going after some of the worst villains in Michigan medicine. 
He represented a dozen women assaulted by Larry Nassar, the Michigan State University physician who sexually abused hundreds of underage girls over three decades. He's representing about 270 victims of Yasser Awaad, a Bloomfield Hills doctor who misdiagnosed and induced seizures in children to rack up payments. "As of last Wednesday," McKeen said in June, "his license has been permanently removed." And he represents two victims of Aria Sabit, a neurosurgeon who performed unnecessary spinal surgeries to defraud insurance companies. 
"[McKeen] is a force of nature intellectually. How quick he is on his feet is amazing and fun to watch," says Kimberly Kirkland, a New Hampshire-based med mal attorney who recruited McKeen to help her firm with a difficult case. "And at the same time, he's very sensitive to clients."
And with decades of work behind him, McKeen isn't close to giving up. 
"I've got a lot of fuel left in my tank," he says. "There are people that need me, and it gives me great fulfillment to help these people achieve some measure of justice."
Search attorney feature articles