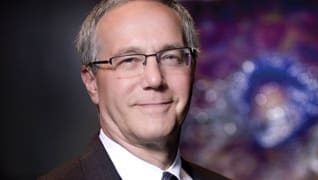 Photo by: Scott Stewart
The Low-Key Litigator
Keefe Brooks stays calm in the courtroom
Published in 2012 Michigan Super Lawyers magazine
By Ellen Piligian on September 6, 2012
One of the most memorable cases of Keefe Brooks' career centered on a 1997 fire in William Beaumont Hospital's neonatal intensive care unit. The fire, caused by a medical procedure done inside an oxygen tent, burned the head and face of a child who was born with severe developmental disabilities associated with premature birth, including poor lung function and cerebral palsy. The question was whether injuries from the fire caused any of the disabilities.
The hospital's representatives specifically requested that Brooks, who then worked at Butzel Long, take the case. Here's the catch: Brooks was and is a business and commercial litigator by trade. He had never tried a medical malpractice case. Still, he couldn't turn the case down.
"It was a big challenge to learn as much as I could. It's not something I'd done before," says Brooks, 58. When the case went to trial in 2005 in Oakland County Circuit Court, he was up against renowned trial lawyer—and 1998 gubernatorial candidate—Geoffrey Fieger.
Brooks had his work cut out for him.
Scott A. Saurbier, an attorney experienced in medical malpractice work brought on to collaborate with Brooks during the seven-week trial, recalls the huge war room Brooks had assembled. It was filled with thousands of carefully organized records, depositions, pleadings, motions and other documents. "They literally covered the tables and sometimes the floor. Each had a list of Keefe's thoughts, notes and strategy for use, or cross-examination," he says.
Saurbier, who didn't know Brooks prior to the trial, says Brooks had every base covered. "There are always little things that don't go according to plan. Keefe always took these things smoothly, as though he planned for them," Saurbier says. "He was never upset or accusatory. His response always was strategy, how we get from here to the next desired goal."
Fieger's clients wanted more than $280 million for lifelong care and wage loss. In the end, the jury to agreed to $8 million for pain and suffering, including $200,000 for future medical expenses to repair a scar on the child's forehead. The award was then capped by statute.
Judge Gene Schnelz, now retired from the bench, remembers the case well. Brooks held his own against the flamboyant Fieger. "Keefe never raised his voice. He was calm and self-assured, polite and courteous. If Geoff raised his voice, Keefe would just keep looking at him and not say a word. When Geoff was done ranting, Keefe would continue on with his questioning," he says. "I was never more impressed with an attorney in a first trial with me."
Just as impressive, Schnelz says, was Brooks' ability to connect with the jury. "He showed great empathy for the child and had empathy for the parents," he says.
The trial exemplified what has made Brooks so successful: his calm, objective demeanor, his no-stone-unturned work ethic and his honest approach, particularly when dealing with juries.
Brooks says preparation is the secret to his success. "I have kind of a motto for myself," he says. "I should prepare for every case as if Clarence Darrow is my opposing counsel."
As for his approach to juries, Brooks says: "I try my best to be nice, somewhat soft-spoken, somewhat understated and likeable, which can be a real challenge for me. I'm not sure it's my natural way."
Sitting with arms crossed, Brooks leans back in his chair in a conference room at Brooks Wilkins Sharkey & Turco in Birmingham, the firm he founded in April 2009 after 29 years at Butzel Long. He is dressed in various shades of gray: a striped shirt, gray slacks, a gray-and-maroon-striped tie and gray, metal-rimmed glasses. He listens intently, answers thoughtfully and smiles occasionally. He's tough to read—he says he has an unintentional poker face.
"I tend to be guarded," says Brooks. "People have said that to me my entire career."
He's also been called the Rock of Gibraltar for his steady personality. But, he adds, "I get just as stressed out as the next person, especially with a significant trial."
He keeps two signs on his mirror at home to fight that stress: "Never forget the winner of the rat race is still a rat." And, "If it's not fatal, it's not serious."
Growing up in West Bloomfield Township, Brooks says he knew by age 13 that he wanted to practice law. It was, he says, to the chagrin of his father, an upholsterer who wanted each of his four children to become doctors.
Brooks made his decision after reading To Kill a Mockingbird, one of the many novels his stay-at-home mother encouraged her children to read. "I still have a page of the book, framed, sitting in my office," he says. "Part of Atticus Finch's closing argument about the courtroom being the one place on the planet where everyone is equal and it's the great leveler."
Brooks majored in anthropology and genetics at the University of Michigan and went on to enroll at the university's law school. After his second year, he accepted a summer clerkship at Butzel Long. Brooks says after being raised in Detroit, he never dreamed of working in any other city, so when he was offered a full-time position after graduation, he accepted gladly.
One of his mentors was attorney William Saxton, who is now mostly retired. Saxton recalls his early impression of Brooks as a humble and hard worker. "He was very dependable, and very bright," Saxton says. "And he loved the practice of law. He wasn't doing it because he needed to make a living. It was because it was something he wanted to do."
After nearly three decades at Butzel Long, Brooks was ready for a new challenge. "I had a different vision for what would be a good platform for my litigation work, so I decided to go out on my own," he says.
Moving on wasn't easy.
Brooks' wife, Terri, a legal nurse consultant at Beaumont Hospital, saw him labor over the decision for about two years before he made up his mind. "It's a huge change," she says. "If you're taking other people with you, it's not just you you're worried about, it's other people's lives. … He's very happy now."
Since the opening of Brooks Wilkins Sharkey & Turco three-and-a-half years ago—with nothing, "no pencils, no tables, no chairs, no notepads"—the firm has grown from six to 16 lawyers, with a focus on business litigation.
"We have control over our own destiny," says Brooks. And while some observers questioned the decision to start a new firm at the worst time in the state's economy, he knew better. "I saw it as an opportunity," he says. "We have been extremely busy from the day we opened. The firm's success has not only exceeded my expectations, but also my hopes."
Brooks lives just five minutes from the 12,000-square-foot work space, home to a staff of 23. In his own sparsely appointed office, he has his credentials on one wall with about two dozen family photos above bookshelves on another. Included are images of his two children from his first marriage: his daughter, a teacher in California, and his son, a psychotherapist who lives in Ireland with his wife and three children.
For Brooks, who lost his older brother to cancer 12 years ago, family is deeply important, a value he says his parents, now both deceased, instilled in him. "Whether it's my children, my grandchildren or my siblings, I try to keep things in perspective," he says.
Several years ago, Brooks discovered a new passion: scuba diving. Some of his photos—of coral, turtles and fish from trips he's taken every January for the last 10 years—hang in one of the conference rooms. "He has no fear in the water," Terri says. "He loves it."
Whether it's underwater exploration or trying a case in an area of the law he has no experience in, Brooks isn't afraid to dive right in once he's made up his mind to take the plunge. Same thing with the new firm. "It's an opportunity to actually build something and not something that was just designed to take me through to the end of my career, but [will] take on a life of its own and be a quality firm for years to come," he says. "It's a new experience and an exhilarating one."
Search attorney feature articles