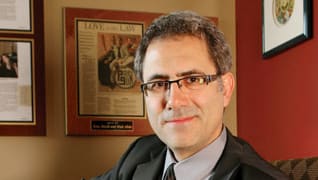 Photo by: Larry Marcus
An Entertaining Practice
Ken Abdo rides with the band
Published in 2011 Minnesota Super Lawyers magazine
By Dan Heilman on July 12, 2011
In late March, Ken Abdo arrived home from Austin, Texas, tired but happy. Abdo, who chairs the entertainment law department at Lommen, Abdo, Cole, King & Stageberg, in Minneapolis, had spent an intense 10 days at the South by Southwest Music and Media Conference, checking out bands, schmoozing with colleagues, and helping coordinate a dizzying array of CLE programs about recording contracts, music licensing, interactive film and other music topics.
Although the experience was exhausting, the setting found Abdo completely in his element, finding ways to meld his lifelong passion for music with his profession. "I try to integrate my work with entertainment events," he says. "It's a mental sorbet hanging out with musicians. It's business, but it's fun." He adds that the event featured a panel of 30 of his favorite nationwide entertainment law competitors who spoke along with members of his firm.
By combining vocation with avocation, Abdo has slowly helped build Lommen Abdo (the result of a 2006 merger with the Lommen Nelson firm) into the biggest entertainment firm in the Midwest. The firm's 44 attorneys, including 11 who work on intellectual property and related litigation matters regarding the entertainment industry, also focus on litigation, business, medical malpractice, and a variety of other areas. As a result, the firm has grown, with an additional entertainment office in New York and a general practice firm in Hudson, Wis.
Abdo, 55, says the accolades he and the firm receive are based on their roles as artist advocates.
"I picture myself as the general counsel of an artist's business," he says. "The artist is the CEO and I'm the consigliere—I'm Tom Hagen. And the artists know that there are a lot of tools here—litigators, core intellectual property lawyers and estate lawyers."
Even lawyers who might be seen as adversaries—such as Michael Reinert, former executive vice president of business and legal affairs for the Universal Motown Records Group—appreciate what Abdo does.
"I deal with lawyers from the coasts all the time and sometimes they lose sight of the real goal—protecting their artist clients while maintaining a good working relationship with the [record] label," says Reinert. "With Ken, you get the best of both worlds. He fiercely defends his clients' rights and desires while at the same time knowing how to work with executives throughout the label to make sure that the results are good for all concerned."
Mixing business and fun isn't just essential to Abdo's practice; it's what got him into the legal field. His father, E. John Abdo, founded the firm in 1936. Abdo's older brother, Bob, joined in 1973, but not only was there some doubt that Ken would be a lawyer, he says, "there was some doubt I would get out of high school."
Abdo, a musician since childhood, worked as a mobile DJ and did time in acts ranging from a '50s tribute combo called Sleeze Band to a heavy rock band called Cast Iron Mist. (It was while playing in the latter band that he met his wife, Karen; the couple recently celebrated their 30th anniversary.)
It didn't take him long to realize, as he puts it, that he was on "the wrong end of the music business. I wanted to be where the creative grist is processed as opposed to being a disc jockey." An ideal way to get in on that process was by being an attorney, and the ideal place to set up practice seemed to be Abdo & Abdo.
One problem: The firm didn't have an entertainment practice. In fact, there was no entertainment practice in the Midwest that would rival those on the coasts. Eventually, Abdo changed all that, about 10 years after joining the firm in 1982. "I told my dad and brother when I started, 'Either I'm going to practice entertainment law or I would want to consider another occupation,'" he says.
Of course now, among its many practice areas, the firm's entertainment side draws a disproportionate amount of attention from the general public. Walking the halls of the firm's offices in the IDS Center, visitors are greeted by an array of signed gold records, movie posters and other memorabilia from grateful clients.
Last fall, Abdo and litigator Barry O'Neil helped singer Kristen Hall, a founding member of country group Sugarland, gain a settlement from her old band to recoup money she claimed to be owed.
Singer/songwriter Vienna Teng, another Abdo client, interrupted her recording career to go to graduate school. Rather than pressure her to keep recording and performing, Abdo congratulated her and assured her the record-buying public would wait.
"Two things impress me most [about Abdo]: his interest in unconventional models for musicians to earn a good living, and his appreciation for artists who're also involved in other pursuits, like me," says Teng."He looks at the long term, at how to structure deals so musicians will have the financial and artistic freedom to do what they're most passionate about."
Steven Greenberg, a longtime Minneapolis music producer and founder of the Web design firm Designstein—one of the first of its kind—was first made aware of Abdo's existence in the '70s, when both were disco DJs. Greenberg resisted having Abdo represent him until about a decade ago.
"I had my LA lawyer, but at some point I wanted to have a guy here," says Greenberg. "I've watched him grow into a real New York/LA entertainment lawyer right here in Minneapolis. I felt good handing him all my music stuff."
Abdo's passion for artist advocacy is almost a cradle-to-grave proposition. He's represented Jonny Lang since Lang was a teen, and he helped Michelle Branch at the launch of her career and negotiated her initial major record company and other agreements, and he and his colleagues do copyright, tax, and estate counseling so that artists' work can benefit the artist and their descendants.
Several years ago, he was the first to file a termination transfer notice for "Funkytown" with the U.S. Copyright Office on behalf of Greenberg, declaring that the copyright for the disco classic, which Greenberg wrote, produced and performed, will revert back to him 35 years after the transfer of the copyright, in accordance with the Copyright Act of 1976. The fact that Universal Records—which owns the recording—will likely fight to the death to keep that and other copyrights, doesn't seem to faze Abdo.
"They'll claim it's work made for hire and we'll claim it's not," he says with a shrug. "We'll just assume the author owns it."
Abdo has had a front-row seat to the slow, seemingly inexorable decline of the recording industry. Thanks to downloading (legal and otherwise) and the industry's tardiness in developing a sustainable digital delivery model as CDs fade away, record sales have consistently declined over the past decade.
While the industry is marshaling its resources to fight piracy, new distribution models are developing under its nose—and often, out of its hands. A prime case is that of Owatonna native Adam Young, who records under the name Owl City. A few years ago, Young began making recordings in his parents' basement and uploading them to a Myspace page; tens of thousands of downloads later, Young was a star—all without ever having set foot in a record label office.
"The traditional way of finding artists has been turned upside down," says Abdo, who now represents Young. "The label's talent scouts are just researchers looking at artists who are already out there. They look at statistics and Web hits. That's amplified by the fact that artists can now make their own recordings and distribute them themselves if they want to. There is no formula to this business."
Abdo says his firm's revenues have done nothing but grow even as music industry profits have shriveled. That's partly due to the loyalty of the firm's clients, but also to the fact that people will always make music for a living, regardless of whether the record industry as we know it lives or dies. That insulates his practice from many of the marketplace vagaries that plague record labels. "Our good fortune is based upon similar factors that parallel artist clients, which is talent and luck," Abdo says. "Luck is opportunity meeting preparedness. As artists' lawyers, we find out that the harder we work, the luckier we get.
"There's a real question as to where it's all going," he adds. "No matter what the distribution platforms might be, there's no real commerce in music without great content. There's more music now than ever before—it's easy to make and easy to distribute. Great artists are being discovered in different ways, like on Facebook and Twitter. This is a stable place to be, even though it might not seem so."
His enthusiasm for their clients and what they do has allowed Abdo to develop the reputation he has, and the stability of life in Minneapolis has helped him keep an even keel. While he travels constantly for work—hanging out on tour buses and having clients give him sneak previews of their recordings and songs while they're being created—he's never left south Minneapolis for any appreciable amount of time; he has a sister, a niece and a brother-in-law working with him along with brother Bob; and he returns home to his high school sweetheart. That groundedness transfers to the office, often impressing clients and colleagues from bigger cities.
"I'm dug in here," he says. "I like that Minnesota is centrally located. It's a great place to develop as an artist, as a lawyer and as a family. I like being the guy who's not from New York or LA—that's distinctive."
Search attorney feature articles