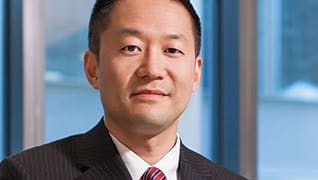 Photo by: Rich Fleischman
Around the World with Inchan Hwang
From South Korea to Japan to the U.S., the attorney has developed an international practice
Published in 2014 Minnesota Super Lawyers magazine
By Dan Heilman on July 7, 2014
Being in a band requires not only skill and passion, but the ability to communicate, listen and compromise—qualities also necessary to bring a business transaction to fruition. No surprise, then, that Inchan J. Hwang is accomplished in both pursuits.
Hwang, 41, is a principal at Gray Plant Mooty in Minneapolis, practicing in international business law with an emphasis on mergers and acquisitions, corporate finance and capital markets transactions, corporate governance and securities law compliance. He's also been playing guitar in blues bands since he was a teenager.
At work, Hwang sees himself as a general business adviser, representing domestic and overseas clients in industries that include agribusiness, higher education, life sciences and manufacturing. Those clients might be interested in anything from seed and venture financing to initial public offerings involving U.S. and overseas markets and investors.
"I always enjoy a good challenge," says Hwang. "As lawyers, you rely on precedent—whether from a prior case or a prior transaction where you try to find similarities that you can adopt. I enjoy projects where there are a lot of unknowns, and you're given the task of finding solutions."
As a speaker of Japanese and Korean as well as English, Hwang is comfortable doing deals with clients everywhere from Minneapolis to Asia to Australia. Born and raised in Seoul, Hwang's father was a civil engineer and later an international business entrepreneur. That meant the family often jetted between Korea and the East Coast of the United States as Hwang was growing up.
"Around fifth grade, I came back to the U.S. semi-permanently and finished high school," he recalls.
Hwang attended college in Japan, and while working his way through school at various jobs, including as a phone receptionist at a publishing company, where he learned to speak and understand Japanese via the old sink-or-swim method: "I had a dictionary with me at all times—I would sound out what they were saying and look up the word."
His hard work paid off with a degree in business and Japanese studies from Sophia University in Tokyo. He also met his wife-to-be, Tomomi Ikeda, during that time. Still a Korean citizen, he decided to move to the U.S. permanently after college.
Without so much as a work visa, he quickly found employment at Toyota Motor Corp.'s regional office in a Chicago suburb. (Hwang has since gained permanent residency, but is still a Korean citizen.)
"They hired me as a generalist and gave me the title 'prototype specialist,'" he recalls. "I was supposed to contact suppliers to arrange for them getting paid. They had to supply invoices, Toyota had to process a purchase order and so on."
Thanks to his language skills, Hwang found himself unofficially coordinating communications and smoothing over issues that arose between American and Japanese management. He wound up doing a lot of troubleshooting and mediating if any misunderstandings came up—in other words, perfect training for a budding international business attorney.
"There was a lot of tension and disagreements," he says. "A lot of what I did was finding solutions. The shipping would come in from suppliers, and we do some checking of the parts for condition, make sure the part numbers are correct, quantities are correct, then ship to Japan for testing. It seems simple, but it was chaos."
As the liaison between American managers who preferred to operate more independently and Japanese managers who preferred to take great care in firm procedure, Hwang found himself making deals daily—not financial transactions, but solutions that would improve workflow and benefit everyone.
Meanwhile, he lived in the same neighborhood as a couple of attorneys, and talking to them made him realize the parallels between what they did and what he did. "I wasn't working in the legal field per se, but there was a lot of problem-solving," Hwang says. "That gave me the idea to go to law school."
He clerked at Gray Plant as a summer associate in his first two years of law school at the University of Minnesota, then started fulltime upon obtaining his J.D. in 2005. At the beginning of law school, among the three languages he spoke, Hwang had the least practice writing in-depth in English; but by the time he finished, his mastery of the language and his school discipline were such that he won an award for best brief among his graduating class.
"[His language skills are] an unusual and valuable asset for an attorney in Minnesota," says Gray Plant, principal and corporate practice group co-chair Mark D. Williamson, who helped bring Hwang to the firm and who has two adopted children from Ethiopia who are working to master English. "I tell them my friend learned English as his third language—you can do it, too."
Hwang's peripatetic upbringing has left him equipped for his job. He flies for work a couple times a month: Korea, Japan, Australia. He has also been tapped several times by the Minnesota Trade Office to present on such topics as developing market-entry strategies and exporting to and managing partnerships in South Korea.
That international reach also means Hwang can work with companies that have an eye on markets outside the United States.
He recently worked with a client to find the opportunity to sell its products in Venezuela, for example. The matter, while not yet to a point of closing, interested him because it represented uncharted territory involving an array of stakeholders including distributors, agents, the Venezuelan government, the South Korean parent company, a U.S. subsidiary and potential customers—"interesting legal issues beyond the issues you would see in a contract," he says.
He also represented Minnetonka-based Osprey Medical Inc., a life sciences company, in its seed and venture financings and its initial public offering and listing on the Australian Securities Exchange. Because Hwang had worked with the company virtually since its inception, he was able to watch it grow from an entity with a good idea that was struggling to be capitalized into a presence on the stock exchange.
"I was just out of law school, and they were just these two guys in a small office," he says. "I remember attending board meetings where they were trying to figure out the best way to raise a chunk of capital, and we concluded that there was no way to do an IPO in the U.S. The product wasn't capitalized and they didn't have a revenue model."
But working with the CEO and outside counsel in Australia, Hwang helped find that a pre-revenue company could go public in the country—a big step for a fledgling company.
"I started to work for them back in 2006 … and we took them public in 2012 to get them listed on ASX, but we made it happen, and it was an awesome experience," he says. "There were lots of interesting legal issues and interplay between Australian and U.S. securities and corporate laws, along with all the various cultural differences."
Hwang works with a level of detail that keeps clients coming back. "A lot of lawyers just give you the big picture of what you should know," says Timothy Ahn, sales manager at Rolling Meadows, Ill.-based Clean & Science Co. Ltd., who's known Hwang since he moved to the United States. "Inchan shares every relevant bit of information and shows you things that you would have missed out on otherwise."
Osprey Medical President and CEO Mike McCormick agrees that Hwang is strong on details, but doesn't overwhelm you with them. "As CEO, you want to know the relevant probabilities in a situation, not every possibility," he says. "Inchan is great at using forethought to sift through the legal issues that might be important to you."
Away from work, Hwang spends time with Ikeda and their three young sons at their home in Independence. His parents split their time between South Korea and the U.S., too. He also likes to tinker with vintage muscle cars and play guitar in his blues combo, the Cobalt Blues Band.
"You can't write a song and expect people to pick it up right away," says Hwang. "It's hard work to get it the way you want. It takes a lot of cooperation.
"Business is like that. Somebody's got to lead the deal, and you need to have a team that finds meaning in what they do. It's about working together on a common goal."
Search attorney feature articles