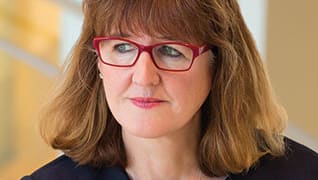 Photo by: Richard Fleischman
Dancing Outside the Shadows of the Law
Jan Conlin is at times a war-room general and at times a self-described softy
Published in 2015 Minnesota Super Lawyers magazine
By Tad Simons on July 7, 2015
Jan Conlin made headlines earlier this year when she and Minneapolis legal legend Michael V. Ciresi left the firm Ciresi helped create—Robins, Kaplan, Miller & Ciresi—in order to create Ciresi Conlin.
Downsizing from an office of more than 200 lawyers to a modest team of six did not scale down the pair's legal ambitions, however. Visit their website and it's hard to miss the new firm's mission statement, which is emblazoned on the home page in huge yellow type: "Protecting the future for all."
It's not just for show.
"The law should be a force for good," Conlin says. "The law, properly applied, creates the relative peace and tranquility that exists in our country. Look at the world right now, where there isn't a rule of law—look what happens. Yes, it's a big, bold catchphrase that gets people's attention. But it's about the need for law and order and justice, so that our society can continue to function."
Conlin and Ciresi add that another of their goals in starting the new firm was to create an environment flexible enough to allow them to serve both their clients and the community without having to worry so much about billable hours and overhead. Though she is known as one of the toughest intellectual property attorneys in the country, Conlin describes herself as a "softy" when it comes to helping people who need it. "The community piece is important to us," she says. "If there is a wrong that needs to be righted, we want to have the flexibility to take that on regardless of any financial reward."
Their partnership was decades in the making. Indeed, the person who got Conlin interested in practicing law in the first place was Ciresi himself.
Born the youngest of 10 children and raised in Williston, North Dakota, Conlin ventured to the Twin Cities after high school to attend the University of St. Thomas. Her older brother Tom Conlin, also a lawyer, was a partner with Ciresi at the time, and recommended that his colleague hire his little sister as a babysitter.
"I was pre-med at the time, babysitting for the Ciresi family to make some extra money," Conlin recalls. "Mike invited me to come down and watch closing arguments in a case he was arguing. From there, I was completely hooked, and decided to pursue law instead."
That was 30 years ago. Ciresi hired her straight out of law school, and the two have worked together ever since.
"Jan is exceedingly smart, but at the same time highly practical," Ciresi says. "Regardless of the technology involved or how complex the subject matter is, she can grasp it immediately, cut through the clouds, and get straight to the important issues in a case. What really sets her apart is that she sees things others don't see."
Conlin's record at Robins Kaplan includes several nine-figure patent-infringement wins, including a $520 million judgment against Microsoft and $400 million in a case representing Pitney Bowes Inc. against Hewlett-Packard.
"I am an adrenaline junkie by nature," she says. "I like trying cases. We always tell clients that they don't want to end up in a courtroom. But in those instances where there is nothing short of going to trial, there's something about being in a courtroom, being right or wrong, and having a jury of people you don't know deciding the outcome. When that jury walks in for the first time—that's when my adrenaline really kicks in, and then it's 'game on.'"
Her pre-trial routine involves setting up a war room at a nearby hotel, eliminating all distractions—including the need to prepare food or do laundry—so that she and her team can focus, she says, "entirely and exclusively on the matter at hand." During that crucial prep time, working 20 hours a day isn't uncommon. "And I don't come out until the start of the trial," she adds.
Corporate business litigation is Conlin's focus. "Corporations are comprised of people," she says, "so the people in a company you are working with, and the people whose jobs are dependent on what you're doing—they become your clients, friends and allies in a case."
One of her most memorable cases was Louis Vuitton Moet Hennessy v. Phillips Beverage Co.: a breach-of-license dispute in which Louis Vuitton was suing to reclaim $100 million it had paid Phillips for the rights to the Belvedere premium vodka brand. One of Conlin's clients was the patriarch of the latter company, Eddie Phillips, and at the time he was extremely ill from multiple myeloma, which would later claim his life.
Conlin says the case attacked the core of who Phillips was—a highly respected businessman. "We had tremendously long odds going in, and it was personal for everyone involved because of Eddie's health," she adds. "We tried the case and got a complete defense verdict for them, so they didn't owe anything."
The cases that tap into her "softy" side are even more personal. In one pro bono matter, Conlin worked on behalf of a woman who'd lost her adopted 4-year-old Native American son when a judge awarded custody to the boy's suddenly re-emergent biological father, who had a history of criminal behavior. "I didn't know anything about this area of the law, but we felt so bad for them that we took the case," Conlin recalls. "We had the child back with his adoptive mother, father and siblings the following week. It was exactly the kind of thing we mean when we talk about the law being a force for good."
Ciresi Conlin's new offices are located on the 46th floor of the Capella Tower in downtown Minneapolis. The view out one side of the building overlooks construction of the Minnesota Vikings football stadium, and out the window on the other side is Target Field. The offices themselves used to house a financial services firm, but are now what you might call hardwood legal chic with a few soft touches, including floral-print chairs in the conference room.
Sitting in one of those chairs, Conlin makes it clear that the decision to strike out on her own had nothing to do with any unhappiness with her former firm. "I had a phenomenal experience at Robins Kaplan," she says. "Part of it is that you get to a point in your career where you know the road you're on, and you're familiar with all its bumps and curves, and then you think, 'Do I want to stay on this road for the rest of my career, or do I want to take an exit ramp and see what's out there and explore new areas?'"
The other part was strategic. "Clients are changing the way they hire lawyers. What we're doing"—creating a small, flexible, team-oriented firm that can expand or contract as necessary—"is going to become very commonplace in the legal industry in the next decade."
"Clients are looking for more nimble representation," says Ciresi. "They don't want cases prolonged unnecessarily; they don't want to pay for first-year associate training through billable hours. In this model, we can put really seasoned people on a matter, and we don't have a large infrastructure. That enables us to establish lower billable rates than many firms. We also bring a wealth of experience to table, so we can cut wheat from the chaff very quickly."
Conlin and Ciresi insist that the small size of their firm does not limit the size of the cases they can take on. "The landmark tobacco case we tried was one of the largest in history, and we only had 12 lawyers on that case," Conlin says. "So I can't imagine a case we couldn't handle."
Clients are also recognizing that there is a difference between what Conlin calls "premium" work and "commodity" work. "Premium work is all the strategy, counseling, and advocacy, as well as trial work—and that's where we bring true value," she says. "If commodity work needs to happen, we can hire people to do that, but if we can be more efficient and economical about it, it's a win-win for everybody."
Indeed, one of the reasons Conlin wanted to strike out on her own was to refocus her energies on those aspects of the law that she feels are most important.
"There are elements of the legal profession that have become too much about gamesmanship, or, as we like to say, 'dancing in the shadows of the law.' But I'm not interested in throwing elbows around in court," Conlin says. "I'm more interested in beating you fair and square, straight up, following the rules. And that's how I've always tried to do it."
Search attorney feature articles