Finding the Good
Deborah Ellis defends cops and the people arrested by them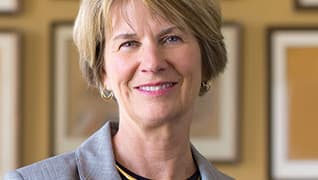 Published in 2015 Minnesota Super Lawyers magazine
By Jim Walsh on July 7, 2015
Last year in early December, Deborah Ellis jumped on the Green Line near her office in downtown St. Paul for the 40-minute trip to the Hennepin County Courthouse in downtown Minneapolis. As usual, Ellis—a respected defense attorney and a no-nonsense but acutely empathetic woman whose clients have included killers, child pornographers, sex offenders, child abusers, Hell's Angels, and police officers accused with brutality—used her travel time to prepare for an appearance in court.
As the train made its way down University Avenue and the neighborhoods clacked by, the voices around her in the crowded car started to rage. Days earlier, a grand jury in Ferguson, Missouri, had declined to issue charges against white police officer Darren Wilson in the killing of unarmed African-American teenager Michael Brown. Ellis was probably the most learned person on the subject of "police-involved shootings and critical incidences" (as her own legalese has it) traveling on the train that day, but she played it cool.
"I just had my head down, listening," she recalls, sitting behind the desk of her spacious 26th-floor office. "It was [getting] agitated; it wasn't just quiet conversation. It was angry voices. But it's tough to get an indictment against a police officer, so I didn't find it all that surprising.
"I didn't follow Ferguson all that closely, just because I didn't want to invest myself. But I think there's been a ripple effect since Ferguson. I think that we may see all kinds of race riots happening all over again. I think there's some stuff percolating under the surface that's going to erupt."
For five years, Ellis has been one of the junior members of a 12-member panel serving the Minnesota Police and Peace Officers Associates. She considers that work to be simply "additional criminal defense work." In recent months, however, as the questioning of police tactics has intensified in the wake of high-profile police shootings of young black men, Ellis and all concerned are in the spotlight. 
"The police are under a lot of scrutiny now, for good or for bad, and I don't think anybody in the prosecutor's office wants to look like they're giving someone a pass," she says. "I think everyone wants to be fair and thorough, and I think everybody accepts that that's what's happening now. Sometimes a police officer will be like, 'I can't believe this is coming under a big investigation.' Well, I think everyone is starting to understand it's the political climate that's causing that."
Ellis has been on both sides, and is clear-eyed when assessing the perils of police work.
"It's not enviable work, because the critical incidents that arise start out with just a welfare check: Somebody's concerned about a family member who they think is suicidal or is holed up in a room," she says. "And then there's a shooting, or someone comes at them with a knife. You just never know how a day's going to end."
In her time on the panel, Ellis has represented officers from across the state in more than two dozen cases. In the last year, cameras on cops and squad cars have become more common, and given the increasingly volatile relationship between police forces and citizens, Ellis' services have never been in more demand.
"I can tell you that the police officers are extremely appreciative," she says. "You're representing people who have a squeaky clean background, so I don't think it's all that surprising that police officers aren't indicted very often. That's been their goal since they were young: They've always wanted to be a police officer, it runs in the family, so I do think that they want to do the right thing. It's something they've always wanted to do, to help people, which is not how they're always perceived.
"And police work is becoming more transparent. I've had cameras work to my advantage for my clients, whether my client is a police officer or a citizen. Sometimes those videos help describe, or you can actually see what happened when the person's brought out of the car: How do they perform on these tests? What is the interaction? What is said to the citizen?"
A St. Paul native and graduate of Highland Park High School and Gustavus Adolphus College (as a theater and English major), Ellis began her road to defending some of the Twin Cities' roughest characters while studying for her paralegal certificate in Philadelphia and reading F. Lee Bailey's The Defense Never Rests. Bailey's tales about his high-profile cases, including his defense of the Boston Strangler, who murdered 13 women in Boston in the early '60s, lit a fire under Ellis that burns to this day.
Upon graduating William Mitchell College of Law in 1983 and the National Criminal Defense College three years later, Ellis received influential training from famed criminal defense attorney Douglas Thomson. She then embarked on a 32-year career that has found her trying white- and blue-collar crimes dealing with weapons charges, murder, child abuse, traffic offenses, sex offenses, forfeitures and fraud. One wonders what she does for fun.
"I compartmentalize my life, for sure," she says. "I work really hard, but I like to play hard. I like to travel. If I could, I'd spend the whole summer up north. I like to kayak and fish and just sit on the water. I feel like my heart is in Northern Minnesota; I've taken a shine to Ely. I'd love to have a cabin up there. Going up north and being able to get away has really kept me grounded in this practice."
It helps put into perspective some of the most unsavory human behavior imaginable, which Ellis, a divorced mother of three adult daughters, sees up close and personal every day.
"In some ways I think, 'If not me, then who?' I've done it long enough so I feel like I know this area of the law, but you're also working with the knowledge that some people who you get to know after a long period of time are facing some pretty serious consequences."
Consequences like the ones suffered by Glenn Ford, who was incarcerated in Louisiana State Penitentiary at Angola for nearly 30 years for a murder he didn't commit. On March 11, 2014, Ford walked out of prison a free man, thanks to the efforts of Ellis and a team of Minnesota-based volunteer attorneys who worked on the case for more than two decades.
Ford, 65, was convicted of first-degree murder in the 1983 killing of a man for whom he did odd jobs in Shreveport. He sat on death row—the efforts of Ellis and company helping delay his execution—until a Louisiana judge finally ruled on new evidence that exonerated him.
The memory of the day that Ford became a free man is a sweet one for Ellis, but the unfairness of the situation sticks. After spending almost 30 years staring down impending death by lethal injection, Ford was diagnosed with cancer and his prognosis is grim.
"I just talked to him today, just to check on him," Ellis says. "He used to send my daughters drawings, which they had in their bedrooms, growing up. He's got stage 4 lung cancer, he's starting chemo and there was an article on him in the Shreveport paper, how it's like now he's facing his second death sentence."
When longtime legal investigator Susan Johnson was in her second year of law school in 2008, she started clerking for Ellis. She now works full time at the firm. "She was absolutely a superb attorney," says Johnson. "I had worked with literally thousands of attorneys over the course of my almost 40 years of investigative experience, and she was the one that I really wanted to work with.
"I found that she had absolute integrity, and that she was thorough. She took good news as well as bad news from the investigator. Some attorneys only want to hear the good stuff, but the bad stuff is just as important. She listened, and I felt part of a team when I worked with her."
Locally, Ellis' reputation was solidified in 2009, when she saved the Minneapolis Hell's Angels' clubhouse. Federal agents and the IRS attempted to forfeit the notorious biker gang's white concrete building off Washington Avenue and I-94 in Minneapolis. The feds used surveillance cameras and other tactics to try to prove that the Angels were running a drug racket there. Over the course of three years' work, Ellis proved that the Angels had legitimate jobs.
She still can recall what she said to the 10-member jury in her closing argument.
"I spoke about how that was their home; how their brotherhood was their family," she says. "My whole theme was, 'If they can do it to them, they can do it to you. They went in to take their home.' I didn't make a big deal about them being the Hell's Angels, but about this being their home. One of the guys who came in from prison, he started crying [on the stand]. He was in a gray-hair pony tail at the time, tattoos, and I said, 'What did that place mean to you?'
"They valued it and they had their hard-earned money and sweat equity in there."
The civil trial was an enjoyable change of pace for Ellis. "A couple times we were at pre-trial and the judge was trying to get us to settle and I said, 'This is going to be a fun trial. Make my day. Nobody's going to prison if I lose.' This was just all over a building, as opposed to people who are looking at 10, 20 years. I just tried a child pornography case and the mandatory minimum is 15 years."
At that, with eyes that have seen it all, Ellis looks up at the photos of her daughters and other family members that hang on her wall. Manila envelopes and case files sit on her desk, calling for her attention. How often does she think about past clients?
"They cross my mind all the time. I hear from them. I love it at Christmastime, I hear from them all and I do keep track of them," she says. "It's been a heavy month. I tried a shaken baby case, and I've done a few of those. It was an allegation of assault on an infant. I've done a lot of drug cases, criminal sexual conduct cases.
"I like to think I'm pretty nonjudgmental. There's some good in everyone, for sure, and that's what you have to find. People are charged with terrible things, and I get to like them. Spend time with 'em and it doesn't always seem to comport with the person you see and get to know and like with what they're charged with."
But Ellis knows that reality sometimes comes calling. It's one of the toughest parts of the job.
"A year ago I tried a murder case here in Ramsey and our client was a 25-year-old woman," she says. "She was out on bail, so she was in this office every single day, helping out. We all worked with her. Then she was convicted of conspiracy to commit first-degree murder of her husband, and she was taken into custody. We all liked Heather, and she's in Shakopee [prison] now."
Ellis, Johnson says, hasn't lost her optimism. "Deborah is undoubtedly the most positive person I've ever encountered," says Johnson. "After many years of criminal defense work, people can become jaded, but Deborah is anything but. She finds the good in people."
Search attorney feature articles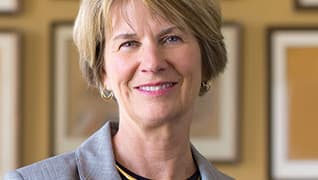 Featured lawyers
Helpful links
Other featured articles
"Lifetime Detroiter" Saul Green fights every day for his city and its people
Marc Kaplan looks back on his days in the Jimmy Carter administration
Stephen Shackelford co-led the Dominion team that took down Fox News
View more articles featuring lawyers
Find top lawyers with confidence
The Super Lawyers patented selection process is peer influenced and research driven, selecting the top 5% of attorneys to the Super Lawyers lists each year. We know lawyers and make it easy to connect with them.
Find a lawyer near you