Politics and Law
Abou Amara brings capitol experience to his practice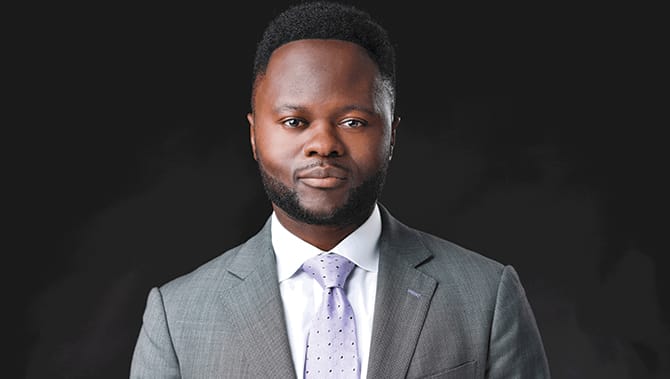 Published in 2023 Minnesota Super Lawyers magazine
By Dan Heilman on July 13, 2023
Abou B. Amara Jr. knew something about late nights long before he went to law school. In 2015, while working on the staff for leadership at the state House of Representatives, Amara was sitting in on discussion of a complicated bill with numerous amendments, and debate wore on into the wee hours.
"At about 4 a.m., a legislator who'll remain nameless put up his hand and said, 'What's this bill about again?'" Amara recalls. "We'd only been talking about it for 12 hours. It showed me that we're all just humans trying to do this work. After that much time, you get loopy."
Amara, 36, is now an associate at Gustafson Gluek in Minneapolis and the vice president of the Minnesota Association of Black Lawyers. Just four years into his legal career, he has made a name for himself thanks in part to his ability to see legal issues through a political prism.
"I still have a strong network at the capitol," he says. "That world will always be a big part of who I am."
A native of Madison, Wisconsin, Amara earned a master's degree in public policy from the Hubert H. Humphrey School of Public Affairs at the University of Minnesota in 2012. A J.D. from the University of St. Thomas School of Law followed in 2019, but there were some interesting times in between.
"In grad school I was working on a paper, and I came across a couple of legislators who were doing work at the capitol—Margaret Anderson Kelliher, Paul Thissen and others," Amara says. "That led to an opportunity later."
He spent nearly a year as deputy political director for U.S. Sen. Al Franken's campaign, then five years at the Minnesota House of Representatives. There, he worked as a legislative assistant to future Secretary of State Steve Simon, handling Simon's correspondence and doing other fundamental work. Then came a stint as a committee administrator, and finally a job as senior advisor to then-House leader Thissen.
In his role as committee administrator, Amara was on a committee studying unemployment insurance. During a meeting about rules and changes, he was brought up short when he realized his perception of some details discussed didn't square with how they'd been interpreted by a state court.
"I thought, 'If I think I know what this means and it doesn't mean that, there's clearly something I'm missing,'" he says. "I had been thinking about law school for a few years, but that realization really pushed me toward it. I saw the law as an additional tool that would help me understand the functions not only of our legal system but our society in general."
At law school, Amara was a two-time National Moot Court individual champion, garnering awards at both the 2018 William E. McGee National Moot Court Competition on Civil Rights and the 2019 Evan A. Evans National Moot Court Competition on Constitutional Law. He was also elected by his classmates to serve as commencement speaker.
After graduation, during a year as an associate at Teske, Katz, Kitzer & Rochel, Amara handled individual employment and civil rights cases. He also found the time to work pro bono on a discrimination case filed against Healthcare Services Group, a Pennsylvania company that manages housekeeping, laundry, dining and nutritional services in the health care industry.
The woman who brought the suit worked as a certified nursing assistant, and had a medical condition that caused her to use the bathroom often. When she was fired, she brought an ADA discrimination claim, and Amara helped settle the case favorably.
"I could see the immediate impact a lawyer can have on people's lives," Amara said. "Some complex cases take years and years and have hundreds of moving parts. Those are great and important, but there's nothing like seeing the effect you actually have on one person's life."
After Teske Katz, Amara reconnected with Thissen, who'd been appointed to the state Supreme Court in 2018. Amara was offered a chance to clerk for both him and associate justice Anne K. McKeig. He jumped at the chance.
McKeig, who first met Amara in a law class she was teaching at St. Thomas, recalls a driven, inquisitive young man. "I was impressed with his intellect and common sense, and knew he was going places," she says. "He is a natural leader, passionate advocate and, most importantly, a genuinely kind human."
Wanting to get into complex litigation, Amara reached out to Dan Gustafson at the suggestion of a colleague. Since joining Gustafson Gluek in July 2021, Amara has had the chance to work on cases involving everything from antitrust and civil rights to consumer protection, business litigation and employment class actions.
Amara is currently involved in a case alleging that Wells Fargo has engaged in continued discrimination against African Americans and other minority homeowners in home loan applications. Federal data unearthed by the firm found that thousands of people were denied the ability to refinance their home loans, forcing them to pay more for their loans than was required for non-minority applicants.
"It's one of the most complex cases I've worked on," says Amara. "Our team is always running investigations to understand what's happening in the marketplace and the economy. About a year ago, we had been doing research, and then there were news articles that crystallized and reaffirmed our suspicions about the bank's discriminatory practices."
It's the type of case he'd been yearning for: "I want to master a complex class-action litigation practice, or at least know enough where I can handle it from soup to nuts."
Away from work, Amara is a frequent traveler and a self-professed podcast nut; Serial is a current favorite. And his thoughts are never far away from the world of politics. He'd like to bring his career full circle, leveraging the political and policy background he has with his law practice in a meaningful way.
"Many times, the path for lawyers is: You go to college and go to law school, and by the time you become a lawyer, that might be your first adult job," he says. "That's very different from me. "I'm hoping to continue creating those intersection moments where we can take what's happening in society through the realm of law. Helping small businesses is something I worked on at the capitol, and I'll keep doing that. The backdrop of public policy will probably never leave my legal practice."
Search attorney feature articles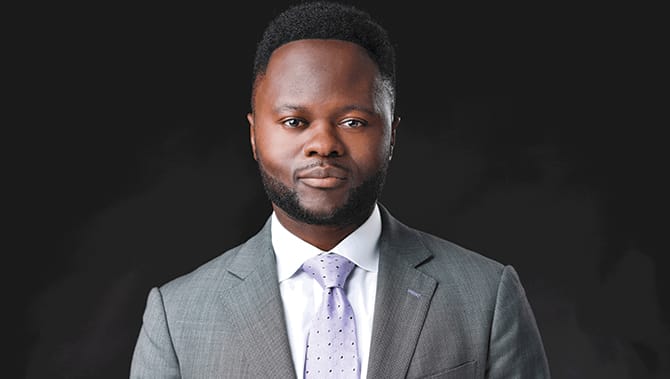 Featured lawyers
Helpful links
Other featured articles
Richard Hanus' deportation case went from the courtroom to the stage to the screen
Meaningful change has always been Ruth Irvings' goal, even if it's via an estate plan
Dawn Estes tears it up, both at her women-owned powerhouse and with the band
View more articles featuring lawyers
Find top lawyers with confidence
The Super Lawyers patented selection process is peer influenced and research driven, selecting the top 5% of attorneys to the Super Lawyers lists each year. We know lawyers and make it easy to connect with them.
Find a lawyer near you