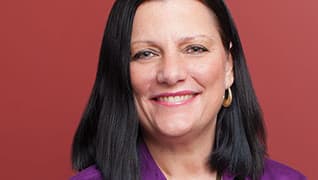 Photo by: Richard Fleischman
Smart From the Heart
Employment law attorney Sheila Engelmeier aims to make a difference as pragmatically as possible
Published in 2014 Minnesota Super Lawyers magazine
By Kevin Featherly on July 7, 2014
If one case has defined Sheila Engelmeier's life and career, it's Sandra Huffman's in 1994.
Huffman, then in her mid-20s, was often the only woman on the third-shift loading crew at a Burnsville PepsiCo Inc. loading dock. She was subjected to frequent catcalls, whistles and derogatory sexual comments. Sexually explicit men's magazines and cartoons were placed in the break room, and sexually explicit computer games were installed on company computers. At one point, two co-workers reached inside Huffman's coveralls and grabbed her underwear and thigh. Although Huffman notified superiors, the abuse escalated.
Hired by Huffman, Engelmeier, now the co-founder of Engelmeier & Umanah, expected a quick, clean outcome. "We were sure that once the company knew, they were going to fix the problem and move on," she says. "In fact, what happened is they wanted to fight about it. So we fought about it for several years."
In the end, the Minnesota Court of Appeals upheld a $764,000 verdict against PepsiCo, including a $100,000 civil penalty paid to the state.
Soon after that, Engelmeier and her team became much sought-after corporate trainers, traveling the country to help workers and employers avoid workplace sexual harassment and insensitivity toward minorities and those with disabilities.
By the time Engelmeier had her first child at age 39, she no longer wanted to be on the road as much. So she worked with firm partner Sue Fischer and others in her circle to develop her training regimen into a standard, multimedia curriculum, now being commercialized as "Respect Effect."
"We certainly talk about the law—what is harassment and discrimination in all areas, whether it is race, religion, gender, disability," Fischer says of the program, which can also be customized to a client's needs. "But then we broaden the scope to discuss the respectful workplace. It's very interactive."
The program has been utilized by companies such as BlueCross BlueShield and logistics provider C.H. Robinson Worldwide Inc., among other employers. It can be used by in-house facilitators, but Engelmeier & Umanah lawyers will also facilitate the workshop themselves if called upon.
"It is really fun to be able to work from the inside of companies, especially when they are interested in encouraging diversity and an environment that is good for employees," Engelmeier says. "You can really make a powerful difference in that way."
In another case, Engelmeier made a difference for current Minneapolis Police Chief Janeé Harteau.
In the mid-1990s, Minneapolis officers Harteau and Holly Keegel were considered the Cagney & Lacey of their department, excelling as beat cops in some of the city's toughest neighborhoods. Both accepted that as female cops in a police force's macho environment, they would have to face occasional come-ons and catcalls, Engelmeier says. But they faced much worse.
At one point, Harteau found bloody knives on the seat of her squad car. Illegal drugs and paraphernalia were also planted in her car, which was occasionally vandalized. At other times, Harteau and Keegel found themselves in perilous situations on the street without backup.
The two cops filed a charge with the Minnesota Department of Human Rights, alleging that the police department had not protected them against harassment from fellow officers. Engelmeier eventually resolved the case through mediation.
In a letter of recommendation, Harteau praised Engelmeier as a dogged and pragmatic advocate.
"Sheila and her team provided a balanced perspective, reminding us what the issues looked like from the other side of the fence," Harteau writes. "They were focused not only on litigation and the money that could be recovered as a result of the challenges we faced, but also on our long-term success in business and how our current challenges fit into the larger picture of our lives."
Engelmeier hopes that the case helped clear a path for Harteau—whom she calls "tremendously gifted"—to eventually be promoted to chief. But, she says, her work was only a small part of the chief's success—the Harteau case really is a credit to the city of Minneapolis, which took steps to ensure such occurrences would not be repeated. "We had to fight about it and it took some convincing," she says. "But at the end of the day the city fixed the problem."
Her representation of former WCCO Radio announcer Ruth Koscielak had a murkier ending. Koscielak filed a sex discrimination case in 2000 after she was fired from the station after 17 years on the air. Because of the confidential terms of the settlement, the details remain unknown. What is known is that Koscielak never returned to her $200,000 a year job at WCCO, though she has remained on the air in smaller Minnesota markets.
Engelmeier says the Koscielak case demonstrates that the discrimination she witnessed in the Huffman case was no anomaly. "What was surprising to me in Koscielak is that an employer would summarily toss out somebody who was a phenomenally productive person," she said of the case while it was pending.
She adds, "Just like what happened to Harteau surprised me, and what is happening now to Ewald shocks me."
Ellen Ewald hired Engelmeier to sue the Royal Norwegian Embassy and its honorary consul general in Minneapolis for sex discrimination. She complained that Anders Davidson, a male coworker who—unlike Ewald, spoke no Norwegian and had never been to Norway—was paid 42 percent more than she was. Ewald, for her part, had lived for two decades in Norway and was fluent in the language. Both were hired at the same time in 2008 for what Ewald understood to be parallel jobs.
According to a February 2012 story in the Star Tribune, Ewald raised the salary issue with now Honorary Consul General Gary Gandrud, who responded angrily. In the lawsuit, Ewald alleges Gandrud ordered her to nip her complaints about discrimination "in the bud" or "someone would have to go." In September 2011, her contract was allowed to expire and Ewald was out of a job.
In January 2012, Gandrud was granted immunity from the suit. The case was at center stage in the Norwegian media.
Former Vice President Walter Mondale is a key witness—as honorary consul general at the time Ewald first raised the pay issue to her employers, both Ewald and Davidson reported to the former vice president. Furthermore, Ewald took the consulate job, Engelmeier says, in part because Mondale—the first U.S. presidential candidate ever to name a female running mate on a major party campaign—was a hero of hers. "In trial, Mr. Mondale testified that when he realized that Ms. Ewald's salary had not been set at the right amount, he tried to get it fixed, but couldn't," Engelmeier says.
"He is an outstanding human being and somebody who spent a lot of time supporting equal rights for women," Engelmeier says. "I believe Mr. Mondale's testimony was helpful for Ms. Ewald."
The case, which went to trial on April 21, is expected to be resolved by the time of publication.
After growing up in North Minneapolis, the daughter of a working-class railroad engineer and a Dayton's receptionist, the spotlight first shone on Engelmeier's career in 1994, when she won the Huffman case. The next year, she represented two women with dissociative identity disorder (previously known as multiple personality disorder). Both sued their therapist for sexual exploitation and won.
"She is so smart and so knowledgeable in the law, and she is a super-strong advocate for her clients," says Sue Fischer, a partner who has worked with Engelmeier for 14 years. "I would want her in my corner if I needed some assistance."
Engelmeier adds that the focus on her high-profile employee lawsuits ignores that much of her career actually takes place on the employer's side. Her firm often performs investigations and mediations at companies as an impartial third party. Perhaps half of her time is spent working with company bosses either to work on or attempt to avoid litigation, she says.
Fischer says that Engelmeier & Umanah is careful to take on only the cases it believes in—and only cases where the firm has a shot at success.
"We get calls from more than 300 people a year who believe that they were mistreated," Engelmeier says. "And frankly, many people are. But being mistreated doesn't necessarily mean that I can help you."
What her 28-year career has taught Engelmeier is that, no matter how much progress has been made in the fight against workplace discrimination—and much progress has occurred—the issues she grappled with at the beginning have not gone away.
"You can get really bummed out about it and say, 'Wow we really live in a kind of crappy environment.' Or you can try to make a difference," she says. "I've tried to make a difference. Sometimes that is really hard and sometimes it's really rewarding. Sometimes, it's both."
Search attorney feature articles