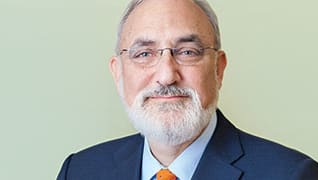 Photo by: Richard Fleischman
There's No "I" in Greene
Legendary Minneapolis litigator Cliff Greene has made teamwork his legacy
Published in 2014 Minnesota Super Lawyers magazine
By Jim Walsh on July 7, 2014
"C'mere, I want to show you something."
Cliff Greene is giving a glancing tour of the offices of Greene Espel on the 22nd floor of the Campbell Mithun Tower in downtown Minneapolis. He's now showing off the firm's corner office spaces—historically the most coveted status spots in a high-profile business. At Greene Espel, though, they serve as two decidedly plain conference rooms, a community room and a mini-library.
It's not only the corner offices. The firm's walls are dotted with framed artwork and photography created by its 45 employees and their families. Many attorneys and paralegals work at standing desks, and new employees are welcomed into the fold with a breakfast in their honor. It's all part of what Greene calls an environment of collaboration. No wonder the firm has been recognized by Minnesota Business magazine as one of the 100 best companies to work for two years in a row.
"A major theme in my life has been to create community, or enhance communities that exist, and to be relevant to communities," says the 62-year-old Greene, who is quick to share credit with fellow Greene Espel co-founders John Baker and Larry Espel, who helped launch the firm in 1993. "My sense is that people get a lot more accomplished collaboratively than in working individually in competition with each other. My attention was called to a book, No Contest: The Case Against Competition by Alfie Kohn, in which he debunks the myth that if you provide individualized incentives—whether it's compensation or corner office or perks or whatever—that you will actually accomplish less than you will if people are working together."
Described by colleague David Wallace-Jackson as a Renaissance man and visionary who loves theater, music and sports, the Harvard- and Cornell Law School-educated Greene grew up in Newton, Mass., where he first developed his unconventional outlook.
"I'm the product of experimental schooling," he says. "I didn't receive a letter grade until I was a sophomore in high school. We had some very smart kids in this school, but we weren't competitive with each other because we were always evaluated in accordance with what we set for our own goals, and what faculty thought we needed to work on. Those experiences formed me. One of my classmates won the Nobel Prize in economics, so we had really smart people, and if we were competing against each other, we just couldn't. So we didn't have to put ourselves in a pecking order."
That philosophy has guided Greene as an attorney, as a youth basketball coach in Hopkins and Minnetonka, as an adjunct professor at the University Of Minnesota, a professor at William Mitchell College of Law, and as the immediate past president of the Jewish Community Relations Council of Minnesota and the Dakotas.
"The values that are important to me originate and are reinforced through the experience I had at home, much of which was reflected by parents who believed that the most important expression of religion is to help others, be humble, not to assume that you're God's gift, but that everyone has worth, everyone has value," Greene says.
"Usually when you give to a community, you get something out of it. I started a program for inner-city kids when I was a freshman in college. We did plays and musicals. The second year we did this, this beautiful woman, who was an aspiring actress, came to volunteer, and two years later, we were married and we've been married for 40 years. The point being, I didn't start this program to find my wife. There was relative anonymity in doing all of this, but when you contribute to a community, good things happen."
Greene and his wife, Kim, who is also an attorney, now have three children and four grandchildren.
At the same time he was dabbling in theater, Greene was playing saxophone in the Harvard band and listening to all kinds of music. Jazz, in particular, provided him inspiration that still rings true today.
"Early on and through the present, we've described our law firm as a jazz ensemble," he says. "And when someone leaves our firm—and we've had people leave to do some very interesting things—and we replace them with someone else, the sound changes. And youth, and a new sound, is important.
"When a new attorney joins the firm, we don't tell them to stay in a partnership track for seven years and then we may open up the curtains, and you can see how the firm is run. They come to this law firm right after their judicial clerkships, and everything is transparent, everything is exposed. And a lot is given to them, but a lot is expected. We say, 'What can you do to enhance the credibility and reputation that we have in the courts? Your job is not simply to support some old guy. Your job is to be your own virtuoso.' And our job is to bring them along."
For Greene, mentorship is more and more important. Put another way: "Dave Brubeck played piano well into his 70s, but the people in his band were in his 20s," he says.
Hearing him speak, eyes lit up with the enthusiasm of an eternally curious soul, it's clear that Greene is having the time of his life.
The results speak for themselves: He spent 12 years as head of the Federal Local Rules Committee, as appointed and reappointed by three successive chief judges of the Minnesota federal court. He has served as a federal special master, assisting the court in managing complex litigation.
Greene's casework can be broken down into three categories: private sector (business, employment litigation, securities, and products liability litigation); public sector and constitutional litigation (he is regularly retained on matters where significant precedent or public policy is at stake); and dispute resolution (in which he has served as arbitrator, mediator, negotiator, and court-appointed special master).
Greene has represented 3M Co. for more than a decade. He has represented Baxter Healthcare Corp., serving as one of four national counselors in nationwide claims involving biologics. He's successfully represented Lawson Software in cases involving disputes over complex business software products. In 2009, he served as lead negotiator in helping the Northstar Commuter Rail become a reality. At one time or another, he's also represented the University of Minnesota, Hennepin and Ramsey counties, the Minneapolis and Anoka school districts and many Minnesota cities.
"Cliff is a true original," says John Ursu, who has worked with Greene at the firm for almost 10 years. "Not only is he one of the finest courtroom lawyers in town, but he is a visionary. I just don't think there's another lawyer in town who has the same package of attributes, including great courtroom presence and deep understanding of business psychology. He is one of a kind. I've learned a tremendous amount from him, especially that you can follow your own voice in this profession, and you don't need to try and be like anyone else."
Spend an hour with Greene and you'll want to work for him, hang with him, be part of his orbit.
"Cliff could work anywhere for any law firm in the country in organizational structures that reward someone of his stature with significant control over a firm's biggest decisions," says Wallace-Jackson. "Instead, he leads the firm that he founded on the core principle of 'one person, one vote' on all issues big and small. His vote counts no more than mine or the junior-most person at the firm. I think it's rare that someone of Cliff's stature shows so much trust in his colleagues.
"For an attorney, the idea that you can have a seat at the table of the place where you work is hugely attractive. It is one of the reasons that we receive an almost never-ending stream of employment inquiries from new and lateral attorneys, and we end up attracting unbelievably talented lawyers. All of this is Cliff's doing. He leads by example. While he, and we, guard our brand zealously, Cliff does not insist that everyone do things his way and try to fashion younger lawyers in his image. He helps people find their own voice. And the result is that Greene Espel is thriving. … Cliff is as energized as ever and at the top of his game."
The game, at the end of this conversation, is basketball. The old coach's first hero was Knicks legend and U.S. Sen. Bill Bradley, but Greene grew up as a fan of the Boston Celtics, and he'll remind you that Celtics' groundbreaking coach Red Auerbach was the first to start five African-American players—because they played well together as a team.
"One of the things about the [glory days of the] Celtics is that no one was ever in the top 10 in scoring," Greene says. "They distributed the basketball, and if someone had the hot hand or [was against] a weak defender, they might get 20 points that night. But by and large, they moved the ball around and played almost to the end of their bench.
"In our particular law firm, we all do better when the collective does better, and we don't have distinctions between partners and associates when it comes to everyone having a stake in the success of the year. So there's some language that we don't use here, and never have, as in, 'This is my client' or 'I'm having a very good year.' We all recognize that even if you're leading the league in scoring, it's because someone else is passing the ball to you and someone else is getting the ball off the boards."
Search attorney feature articles
Helpful links
Other featured articles
Discovery with Oderah C. Nwaeze
Former DAs and PDs on what they loved and hated about the job
Renaissance man Markus Funk on Kosovo, the Casino trials, and the battle against human trafficking
View more articles featuring lawyers
Find top lawyers with confidence
The Super Lawyers patented selection process is peer influenced and research driven, selecting the top 5% of attorneys to the Super Lawyers lists each year. We know lawyers and make it easy to connect with them.
Find a lawyer near you