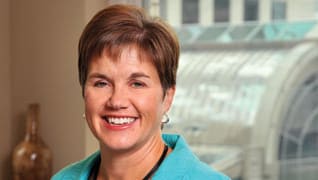 Photo by: Don Ipock
A Deeper Empathy
Denise Henning was a great lawyer before cancer; now she's better
Published in 2011 Missouri & Kansas Super Lawyers magazine
By Allie Johnson on October 17, 2011
It was supposed to be a routine mammogram.
The year was 2004, and Kansas City trial lawyer Denise Henning, then 38 and already known as a strong fighter for plaintiffs in transportation and highway safety cases, went in for her first one. "My doctor had just said, 'You're getting older and you need to do this,' so I went in not expecting anything," recalls Henning. "Then the radiologist came in and said, 'I'm 99 percent sure you have breast cancer.'"
The news sent Henning reeling—and threatened to derail the dream life and career she had been building. She was happily married to her high school sweetheart, Tim, whom she had met while growing up in a small town in Nebraska, where she'd played basketball, worked at a burger-and-ice-cream stand and was valedictorian of her senior class.
She'd gone to college (Doane), then to law school (University of Illinois), and the couple had moved to Missouri when Denise landed a clerkship with Judge Patricia Breckenridge, then on the Missouri Court of Appeals, and now a Missouri Supreme Court justice. Judge Breckenridge became a mentor as Henning moved on in her career, first joining a Kansas City law firm that did both defense and plaintiff's work, then departing to co-found a firm devoted to what had become her dream: representing people who'd been injured.
She racked up accolades along the way—such as the Lon O. Hocker Award in 2002 from the Missouri Bar Foundation in recognition of outstanding trial work. The proof was in her results, including a 1998 $2.25 million settlement in a semitruck crash, the sixth-largest settlement in Missouri that year.
Then came the news that she had cancer.
"I was completely shocked. That's certainly not what I thought was going to happen that day," Henning says. "I remember feeling, that day and the days that followed, just completely overwhelmed by trying to figure out what to do. And that is very similar with what happens with my clients if they're in a major accident and suddenly they're unable to go on and do things they've always done. I certainly have a different level of understanding and empathy for my clients after going through that."
As she went through treatment—surgery and eight sessions of chemotherapy—she thought of her husband and two young sons, Bryan, 4 years old, and Matthew, just 18 months when she was diagnosed. Them, and work. Henning was handling some major cases at the time—including one that would become a milestone in her career. "I liked coming to work because it helped take my mind off [my condition] and allowed me to do something productive," she says.
Before her diagnosis, Henning had taken the case of a family going through its own heart-wrenching experience: Michelle Taliaferro had been married only a few months when her husband, Chris, a fall recruit to the U.S. Air Force Academy who was earning extra money by mowing a farmer's fields near a Missouri highway, was killed when a semitruck crested a hill and crashed into the tractor Chris was driving.
As Henning worked on the case—sometimes all day, going home to eat dinner with her family and put her children to bed, then delving back into the case at night—she uncovered disturbing facts.
The trucking company, Green Valley Transportation Corp., had no training program and violated its own policy of hiring only experienced drivers when it brought on a former waitress who wanted the job so she could work in tandem with her trucker husband. "She had only been driving [semis] for about six months, and she came over the top of this rise in the road, and there was about 30 seconds of sight distance—we knew because we timed it and played [a video of] it for the jury," Henning says. "And 30 seconds is a long time to not be paying attention. She never saw him, drove right over the top of him, never braked. And it is the clearest piece of road you've ever seen. It was a clear, sunny day—there was no excuse for it."
Michelle and Chris' parents were in good hands. Henning had developed an interest in transportation and highway safety cases years earlier when she did defense work, sometimes representing railroad and trucking companies. She knew the Federal Motor Carrier Safety Administration rules and regulations inside and out.
"A lot of people are under the impression that a truck case is just a big car accident, and that really is not correct because there is a completely separate body of law that governs truck cases and trucks," Henning says. "It's very interesting if you know where to look for the documents and what to ask for." For example, Henning might spend hours comparing trucking logbooks to meal and fuel receipts to weigh station tickets and reports from satellite tracking systems. Henning says: "You put the puzzle together and you find out, OK, this driver didn't actually take an eight-hour rest here, even though he put that in his logbook, because he was in a different city buying lunch at Burger King. And you find out those different things, which I think is fascinating."
Henning's diligence has led to successful results. She negotiated an eight-figure confidential settlement with a trucking company and its insurance carrier in 2008 for clients injured when a semitruck driver with health problems and on a cocktail of medications, some prohibited by law for professional truckers, allegedly fell asleep at the wheel and slammed into their car. She secured a $6 million arbitration award against the Missouri Department of Transportation—reduced to $355,396 by the state sovereign immunity cap—for the family of a doctor who was struck and killed by a car after he stopped to help motorists who had crashed at a rain-slick curve in the road due to a highway defect. She also negotiated a $2.38 million settlement in a wrongful death case in which one semi crashed into another, killing a young woman asleep in the truck's berth as her husband drove.
Henning also takes nontransportation-related wrongful death cases, such as the one in which she garnered a $2.25 million settlement for a mother whose son was killed in an explosion at the pork processing plant Triumph Foods in St. Joseph, Mo.
Richard McLeod, of The McLeod Law Firm—where Henning did her first trial—calls Henning "aggressive, effective, ethical and client-driven."
"It doesn't matter how long it takes, how hard she has to work or what she has to spend—she'll do it," he says.
Henning says mentoring from McLeod, Judge Breckenridge and others along the way, has been invaluable to her career. "We don't come out of law school knowing how to practice law," she says. "We have to work under someone and learn those things. And right now, the way the economy is going, you see many young lawyers starting out and hanging their own shingle without having the benefit of working for someone first."
For those reasons, Henning and several other past presidents of the Association for Women Lawyers (AWL) of Greater Kansas City started a foundation and several programs, including AWL Connections, a yearlong mentoring program.
Kelly McCambridge, who opened McCambridge Law in 2008, remembers the first time she walked into Henning's office in search of guidance and saw her sitting surrounded by neatly organized stacks of files. "She had no hair, and she was wearing a beautiful scarf on her head," McCambridge remembers. "My first impression of her was as a dedicated working mom who was so passionate about her career that not even cancer could slow her down."
A young mother herself, and the daughter of cancer survivors, McCambridge immediately felt a connection to Henning. As McCambridge's first-ever trial approached, she confided in Henning that she was nervous. Henning offered to help. "She showed up and second-chaired the whole thing for me—she gave up a whole week of her practice … and instead sat with me at that table," McCambridge says. Together, they achieved a verdict of just over $414,000 for the client—a woman who'd worked at a male-dominated, Korean-owned company and was discriminated against because of her gender, then fired after she complained. "When she first suggested going to trial with me, I said, 'I don't know if I can even accept this offer—it's so generous,'" McCambridge recalls. "She looked at me and said, 'Kelly, this is the fun part.'"
That attitude—and Henning's belief in giving back—extends beyond her profession. She places a priority on community service, and encourages everyone at The Henning Law Firm to do the same. The firm, opened in 2007, includes attorney Jeff Scurlock and two part-time and two full-time staff members.
Henning spent six years serving on the board of Sheffield Place, a long-term shelter and assistance program for women and children who have been victims of domestic violence. She gets emotional recalling a Thanksgiving dinner during which a formerly homeless little boy said he was thankful to have a dry pillow at night. She's also spent time working at a soup kitchen and collecting blankets for the homeless, and organized a fundraiser when the daughter of a woman who works in the same building was diagnosed with cancer. "All the people who work for me, we share a common interest in trying to make the world a better place," Henning says. "It's kind of what we do in our practice every day—we tend to help the underdog, we help the little guy, and we just all have a heart for that."
Henning helps her clients in small ways, too, as they try to recover from tragedy—from assisting them as they file for various benefits, to setting up structured settlements, to just listening. "We communicate, probably to the extreme, with our clients. We pride ourselves on that. We want them to be informed, we want them to be a part of what's going on, because the system is scary and foreign to them. We try to make it less scary."
But Henning's soft side is balanced by a toughness. Take the Taliaferro case. The trial had to be postponed so Henning could finish chemotherapy. As soon as the treatment was done, she was back in court.
Henning remembers feeling self-conscious about the soft stubble that covered her head as her hair grew back in; she wondered what the jury would think. But she laid out the facts of the case for them and explained why the trucking company had been negligent. She told them about the young wife who had lost her new husband and the salt-of-the-earth Kansas farm family who missed their only son. "Trial is the ultimate level playing field. Once you get in there, you are talking to the 12 people in the box," Henning says.
The jury deliberated for two hours. When the verdict was read, it was unanimous: $8 million in compensatory damages, with a determination that punitive damages also would be awarded (though the company settled before the punitive damages could be awarded).
The family cried and hugged her. "It was a wonderful moment. Of course it didn't bring their son back, but I think they felt good to know the jury agreed that this company was in the wrong," Henning says. "For me, at that point, having just finished chemotherapy, and having gone through that personal struggle, and persevering on this case—that was an especially high point in my career."
Henning is now cancer-free. She just celebrated her 25th wedding anniversary with a trip to the Cayman Islands. When she can, she slips away for a few days to spend time boating with her family on a lake in the Ozarks.
"The cases that are the highlights for me," she says, "are the ones where I really feel like we've been able to help families put their lives back together."
Search attorney feature articles
Helpful links
Other featured articles
How Craig Bashein helped the Chardon High victims' families
Facebook's first general counsel participates in hackathons, runs races, and brings the legal and engineering teams together
Greg Westfall repurposes photos into bold pops of color
View more articles featuring lawyers
Find top lawyers with confidence
The Super Lawyers patented selection process is peer influenced and research driven, selecting the top 5% of attorneys to the Super Lawyers lists each year. We know lawyers and make it easy to connect with them.
Find a lawyer near you