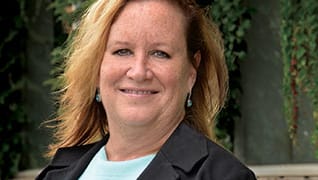 Photo by: Don Ipock
Appeal to Adventure
Susan Ford Robertson attacks appellate cases with the same intensity she honed as a competitive cyclist
Published in 2014 Missouri & Kansas Super Lawyers magazine
By Nancy Henderson on October 9, 2014
Pedaling through South Dakota during a summer after graduating from college, Susan Ford Robertson and her biking buddies kept spotting signs for Wall Drug Store, a celebrated tourist oddity at the edge of Badlands National Park. But the folksy mall was a good 50 miles away, and it wasn't on the planned route.
Undeterred, the cyclists followed their whim and detoured in search of the billboard attraction. But as the day grew longer, the winds harsher and the sun more blistering, Robertson began to wonder: Whose idea was this anyway?
Six hours later, they reached their destination and triumphantly explored Wall Drug's quirky attractions before setting off on the next leg of their journey. That day, says Robertson, 53, an appellate specialist and partner at The Robertson Law Group in Kansas City, Mo., "I learned patience. One of my strong points is [that I am] very patient, reading every word of a record, reading all the cases, and that may take a while."
Known for her authoritative voice, quick thinking and ability to answer unexpected questions with a surprising depth of knowledge, Robertson has handled more than 115 published appeals with total judgments exceeding $600 million in complex civil cases ranging from product liability and wrongful death to probate and breach of contract. She often assists the trial team from beginning to end; occasionally, she is brought in just before oral arguments or after a state Supreme Court opinion has already been issued. In 2012, she became the state's first woman invited to join the American Academy of Appellate Lawyers.
"Becoming an appellate lawyer in this day and age, specializing in that limited area, is not the easiest thing in the world. It's very difficult," says Larry Ward, a trial attorney with the Polsinelli law firm in Kansas City, who worked alongside Robertson on a trucking industry case five years ago. "There aren't more than three or four lawyers who I know of in this entire region who claim to be appellate specialists, and she is definitely one of them."
Robertson's sense of adventure was stoked early on. Tagging along on depositions and trials with her father, Hamp Ford, a defense attorney in Columbia, she was enthralled by his passion for law and wrote in her fifth-grade diary: I want to be a lawyer just like my dad.
"My dad lives by the goal to want to jump out of bed every morning and go to work because he can't wait to see what the day brings," she says. "My mom was very much the same. She was not a lawyer, but she was the most interested and engaged person I know in just experiencing what life had to offer."
As a fallback in case a legal career didn't work out, Robertson enrolled at the University of Missouri School of Journalism, where instructors "ripped my writing apart," she admits. But her major offered the perfect training ground for the persuasive writing skills she would later use to convince appellate judges.
While working for two summers in the kitchen at the YMCA in Estes Park at the edge of the Colorado Rockies, Robertson took up mountain climbing. Then she biked the steep, 48-mile Trail Ridge Road, the highest continuous paved roadway in the U.S. "Some people find [grandeur] in the ocean, some find it traveling the world," she says. "I happened to find it climbing the first 12,000-foot peak and it taking eight hours to get to the summit, and standing there and not seeing another human being. … You feel small but you also feel completely empowered."
Robertson earned her journalism degree in late 1982. From January to June of 1983, she clerked for her father at Ford, Parshall & Baker in Columbia. With time to spare before starting classes at the University of Missouri School of Law, she tackled another grueling feat: a 3,000-mile bike ride from Oregon to Minnesota, lugging heavy gear and sleeping in a tiny tent along the way. "I decided I wanted to do something I might never get the chance to do again," she says. "It was tremendous. That was probably one of the greatest things I have ever done."
Robertson flew back to Missouri the day before her first law school class, but her adventures were far from over. At the end of her first year, she pushed the limits again by racing on Fridays during the summer on the Major Taylor Velodrome, a world-class oval track in Indianapolis with 28-degree banked turns. To her delight, she found herself riding alongside bikers training for the Summer Olympics in Los Angeles.
By the time she started practicing law in 1986, Robertson wanted to prove herself as someone other than "Hamp's daughter." She left her hometown to work for Shepherd, Sandberg & Phoenix in St. Louis. In her first jury trial, she conducted research for a partner representing J.C. Penney Co. In the lawsuit, an older woman alleged that the company's slick-bottomed shoes had caused her to fall. A defense verdict was inevitable when the jury viewed the steep driveway where the plaintiff fell, and two jurors tripped on the gravel.
In late 1987, Robertson returned to her father's Columbia firm. Slowly, she began to assist on appeals. "Then I got to argue some cases, and I was hooked," she recalls. Appellate law offered a personal benefit, too: It didn't require much travel, so she could be at home at night with her daughters. Despite the fact that the specialty was nearly unheard of at the time, and there was no one to show her the ropes, she made up her mind to pursue a full-time appellate career.
One day while waiting her turn to argue an appeal in Kansas City, she observed a white-haired attorney bantering with the judges, pointing out the potential impact of his medical malpractice case on future ones in an informed, conversational tone. She realized she should be emulating his style.
"When I first started arguing, I always thought that I should never concede anything and that I should assume that [with] a question [the judges] were asking, they were trying to lead me somewhere and I should be very careful where that might be," Robertson says. "They're not doing that. They just want to have a discussion. But it takes a long time and a lot of arguments to be able to develop that comfort level where you're not thinking, 'You're trying to trick me.'"
Robertson never knew the name of the older attorney who inspired her, but she took his example to heart and learned how to relate to appellate judges.
"I try to anticipate what they would like to have and need in order to render their decision," she says. "My goal is to be more prepared than anyone else in the room—the judges, the clerks, opposing counsel, whoever it might be."
Trial lawyer Jim Foland, principal at Foland, Wickens, Eisfelder, Roper & Hofer in Kansas City, represented an insurance company in a Kansas suit in which Robertson convinced the judges to reduce a $10 million verdict by $5 million in punitive damages. "She is excellent at appellate argument," Foland says. "She spends a tremendous amount of time studying the various appellate judges' opinions so that she has a very good idea of what their meanings are, giving her an upper hand over most appellate lawyers in the ability to direct her arguments to those judges that are on her panel, and be more persuasive.
"She is very likable but she is also very direct," he adds. "If she thinks that you're out there on something, or just flat wrong, she has absolutely no hesitation in telling you and telling you why."
Early on the morning of Sept. 1, 2009, just moments after officially opening her own boutique firm in Kansas City in the middle of the recession, Robertson checked the online decisions posted by the Western District of the Missouri Court of Appeals, and there it was: one of the largest reversals of her career. After successfully arguing before an en banc court two years earlier, Robertson won the reversal of an "excessive" $10 million judgment against a psychologist who allegedly failed to report the sexual abuse of a child. When a new judge ordered the defendant to pay twice the original amount, Robertson had to appeal once again.
"I thought it was prophetic," she says. "I was all worried about opening a firm and the first thing that happened for The Robertson Law Group was we got a $20 million-dollar judgment reversed."
The legal issues at play in Robertson's cases are often extremely intricate. When Polsinelli's Larry Ward was hired to defend a holding company in a trucking case involving multiple deaths, injuries and parties, Robertson strategized on potential appeal issues and ways to shield individuals within the company from liability.
"I'm not sure what I expected," Ward admits. "But she was coming in from a practice in a smaller city, and this was a really complex issue with a lot of very strong, somewhat eccentric personalities. She grasped the totality of the situation very quickly and very well, and I was impressed to get her input and insights in how we would deal with these people."
It has taken Robertson many years to shape her appellate practice, and she keeps her operation tightly focused—the only other lawyer at the firm is Zachary Bickel, with whom she worked at her father's firm—but she considers it a perfect fit, and quite liberating. "I get the best of it, which is I get to go to motions, I get to go to trial and I get to appear before a trial judge, court of appeals judge, or Supreme Court judge, on the issues that we get hired to argue," she says. "I get to do exactly what I love to do every single minute of the day, and I don't have to do the things I don't like to do."
While she once thrived on the exhilaration of extreme sports, Robertson no longer competes in track races or tours cross-country on her bike. But she's recently embarked on new adventures with her 9-year-old grandson Kelsey, with whom she has hiked, ziplined and explored roadside curiosities. Last year, she and Kelsey took a meandering journey by car from Kansas City to Los Angeles. "I showed him his first mountains, great plains, desert and ocean," she says proudly. "We did turn and go see several things we saw signs for along the way. I guess I am still reading those billboards."
Search attorney feature articles