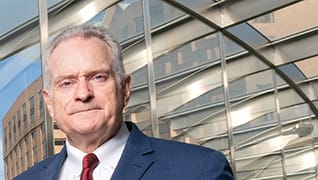 Photo by: Dan Ipock
Intensity Personified
Robert Haar doesn't talk for the sake of talking
Published in 2020 Missouri & Kansas Super Lawyers magazine
By Nancy Henderson on November 16, 2020
In 1985, third-year law student Steven Sullivan accepted an offer from St. Louis firm Kohn, Shands, Elbert, Gianoulakis & Giljum. Concurrently, the partners hired another young lawyer, Robert Haar, and they sent Sullivan a copy of his new colleague's resume. Scanning it, Sullivan's jaw dropped: Stanford University. Rhodes scholar. Yale Law School and editor of the Yale Law Journal. Law clerk for Supreme Court Justice William H. Rehnquist. 
Sullivan didn't get even to the part about Haar's tenure as assistant U.S. attorney for the Eastern District of Missouri. "After a moment or two of horror, I threw the resume in the wastebasket," he recalls. "I thought it was the firm's idea of some sick joke that they sent to all new associates."
Sullivan, now general counsel for the Urban League of Metropolitan St. Louis, knows Haar is the real thing. "[He is] intensity personified—not in a rude or overbearing way, but in a way that people generally know who the smartest guy in the room is," Sullivan says. "If there was one case I could not lose, Bob would be the person that I would hire."
At 70, Haar has every right to brag. Imposing in stature and demeanor, the co-founder of Haar & Woods has tried 20 felony jury trials at the U.S. Attorney's Office and argued even more before the U.S. Court of Appeals for the 8th Circuit. He has successfully prosecuted gang members for murder, defended the legality of one of the most extensive electronic surveillance processes in American history, and represented clients ranging from Fortune 500 CFOs to sports stars in civil and criminal trials and appeals.  
But, says Haar, "I'm not enamored of hearing myself talk. That doesn't mean I can't be assertive, but I don't talk for the sake of talking."
A native St. Louisan and the eldest of five, Haar loved watching his dad, a World War II combat pilot and electric company worker, tinker in the family basement, repairing neighbors' appliances. His mom, who as a girl attended classes in a one-room schoolhouse for just a short time, saved grocery store stamps to buy her children a set of encyclopedias, one volume at a time. "I don't recall ever seeing them read a book. It really wasn't part of their world," says Haar. "But they wanted it to be part of ours."
Mock court at Missouri Boys State, a weeklong youth program in Warrensburg, sparked his interest in law. "I enjoyed advocacy," he says. "I enjoyed the idea of taking a set of facts and marshaling arguments in terms of legal principles to persuade people. And, being a student of history, I was struck by the number of lawyers who've influenced the course of this country."
Like his dad, Haar had an interest in technology. So when he won a scholarship to Stanford University—California seemed "very exotic," he says—he majored in electrical engineering. In 1972, a Rhodes scholarship propelled him to England's University of Oxford, where he earned what is now called a master of philosophy in economics. 
Haar had known for some time that he wanted to be a litigator, and after he earned his J.D. from Yale in 1977, he set his sights on clerking at the U.S. Supreme Court. But first, he'd have to pay his dues in a lower court, with Judge Harold Leventhal of the U.S. Court of Appeals for the District of Columbia Circuit. A New Deal attorney with a penchant for technology, Leventhal was "probably as influential in the development of administrative law in the United States as any judge, and was an absolute master of oral argument," says Haar. "It seemed like more than once when the argument was over, he had both sides agreeing with each other as to how the case should come out, which was a real art."
After his clerkship, Haar applied with four Supreme Court judges. Rehnquist, an associate justice at the time, offered him a job on the spot, leading to the most memorable professional experience of Haar's life. "As a young lawyer, there is no greater opportunity than to clerk for a Supreme Court justice and see how the American legal system works at its highest level," he says.
Because of a back injury, the informal Rehnquist preferred to walk Capitol Hill as he talked with his clerks, rather than sit for long periods. "It was terrific training, because you couldn't take your briefs and notes along," Haar says. "You just kind of packed it in your head." The mentorship taught the young Haar how to home in on another's perspective—first, that of Rehnquist and, later, jurors and judges. To Haar's delight, the justice often peppered his conversations with history lessons.
On a shelf in his office, Haar keeps a Rehnquist bobblehead. The figure holds a volume of Supreme Court reports, and stands on a checkerboard map of numbered squares in Carbon County, Wyoming. The numerals represent land grants at issue in Leo Sheep Co. v. United States. In that matter, Rehnquist ruled that the government did not, as claimed, own an easement to build a road across the petitioners' land. Years later, the justice referred to the case as his favorite. "I have a soft spot for Leo Sheep," adds Haar, who helped Rehnquist draft the opinion.
No sooner had Haar finished his clerkship, in 1979, than the U.S. Department of Justice called, recruiting him to draft portions of briefs brought by Congressman Barry Goldwater in a challenge to President Jimmy Carter's termination of the mutual defense treaty with Taiwan. 
Haar agreed to the job on the condition he could transfer to St. Louis after six months. He still longed to be a prosecutor, he says, but, "being the oldest of five, there wasn't a lot of extra money, so I didn't get home much during the 12 years I was gone. I thought it was a chance to get to know my parents and the rest of my family as an adult."
In turn, the Justice Department sent him to St. Louis, designating him as a special assistant to the attorney general. And then, a more permanent position as assistant U.S. attorney for the Eastern District of Missouri soon opened; for nearly five years, Haar prosecuted cases involving organized crime, drug trafficking, bank robbery, bombing and public corruption. 
In his first trial, a drug case, the defendant repeatedly lied on the stand. "I guess I was naïve, but I was sort of shocked by the degree of falsehoods and fabrication of things that I knew were provably wrong," says Haar, who responded with an aggressive cross-examination. Although he won the case, he says, "I've learned the jury and judges don't have all the background you have. You can't get ahead of them emotionally. You need to bring them along by educating them about what you know. You've got to be patient. You don't want to come across as a screamer."
Over the years, he began investigating and prosecuting a series of gang murders in St. Louis. The Leisure bombings, as they came to be called, were fueled by a dangerous feud between the Leisure and Michaels families. After James Michaels' car exploded on Interstate 55, killing him, his kin retaliated in kind, crippling Paul Leisure. The bloodshed didn't stop there, and the FBI came in.
"I was involved in aspects of the investigation, including meeting with informants," Haar says. "I oversaw the FBI wiretap, which at that time was one of the longest electronic surveillances in U.S. history, and I defended the legality of the wiretap."
In 1984, Haar prosecuted his most challenging case, against the director of the St. Louis Convention Center for extorting kickbacks from promoters. Then he went after the promoters for bribery. "It was a rare case in the sense that none of the participants in the scheme would cooperate," he says. "So we went ahead and prosecuted them all. And they were all convicted."
Of his headline-grabbing prosecutorial work, he says, simply, "It was a fascinating time. I regard myself as having been fortunate to be there."
A fan of small law firms, Haar made the jump to private practice in 1985 at Kohn, Shands, Elbert, Gianoulakis & Giljum. There, he focused on complex commercial litigation and white-collar criminal defense. He points to U.S. Supreme Court case Hazelwood School District v. Kuhlmeier, where he was retained on the appeal, as one of his most important. In their ruling, the justices concluded that administrators at Hazelwood East High School had the authority, as Haar had asserted, to stop journalism students from publishing articles about student pregnancy, divorce and other personal issues.
"Because the newspaper was a classroom exercise, the teachers and administrators could exercise editorial control on certain subjects, and it wasn't a violation of the First Amendment—particularly since the district would be responsible for any invasion of privacy or other legal action," Haar says of the ruling.
"It turned out to be, to this day, one of the most significant First Amendment cases involving schools. And it's now been on the book for 30-odd years."
After serving as an adjunct law professor at two universities, Haar traded in his teaching hat in 1994 for an appointment to the St. Louis Board of Police Commissioners. He chaired a committee that reviewed various reforms, and many of his recommendations were adopted. "It had to do with a whole range of human resources issues, such as educational requirements, requirements for promotion, and the mechanisms for transferring to different units," he says.
In the wake of George Floyd's death and the protests that followed, Haar adds, "The issues of policing and race relations is not a new one. We had Rodney King in the early '90s, and we had the issues created by comments made by Mark Fuhrman in the O.J. Simpson case."
More than once, at the firm, colleagues would encounter conflicts of interest when different defendants would attempt to hire them on the same case. This, combined with an interest in starting his own firm, led Haar and Pete Woods to do just that in 1997.
Monica Allen, now general counsel for Washington University, joined them. "As much as he deserves them, he is not in the profession for the accolades or fancy cars," she says. "I recall him telling me how disappointed he was when, early in his career, a firm took him on a tour of the parking lot so he could see what type of car he might aspire to if he worked there. Bob was not impressed with this recruiting strategy."
She describes him as a "fierce advocate" with "an extraordinary intellect," who truly cares about his clients. "Discussing a case with Bob was always a master class in legal reasoning," she adds. "He is somebody who made you see things in a new or different way."
These days, Haar spends more than half his time defending other lawyers in malpractice issues. For one large firm, in the early 2010s, he secured a favorable judgment in a $25 million claim.
He has also gone to bat for numerous professional athletes and teams. One of the most bizarre cases involved hockey player Mike Danton of the St. Louis Blues, who pleaded guilty in a murder-for-hire scheme in 2004. Sidestepping the confidential details, Haar notes "the case was as strange as it seemed." 
Haar is currently working with Kirkland & Ellis, the firm representing the Rams in litigation stemming from the team's controversial move from St. Louis to Los Angeles. No matter the case or client, however, Haar always reaches back to his early desire to advocate for others.
"Things aren't always going to work out the way they hoped," he says. "The way I'm able to sleep at night is knowing that I did everything I could; I did my best." 
Search attorney feature articles