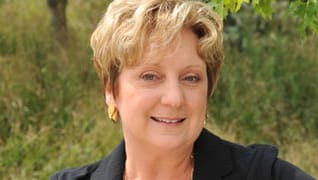 Photo by: Don Ipock
The Lawyer Who Levels the Playing Field
Teresa Woody advocates for small towns against corporations in toxic disasters
Published in 2012 Missouri & Kansas Super Lawyers magazine
By Nick DiUlio on October 15, 2012
Teresa Woody had heard the stories coming out of Hartford, Ill., in late 2004. She heard about the spontaneous fires. The factory explosions. The noxious vapors that seeped from the ground after each new rainfall and the overall sense of environmental dread permeating the sleepy town of 1,500. But it wasn't until the Kansas City, Mo., litigator saw the devastation firsthand that she understood how dire the situation had become.
"The sheer amount of contamination and the length of time it had been going on was shocking to me," says Woody, who was a partner at Stueve Siegel Hanson Woody (now Stueve Siegel Hanson) and served as co-counsel in a class action suit on behalf of Hartford residents against the town's myriad gasoline refineries. "When the water table rose, people could pull water out of the ground on their property and set it on fire. When I saw this, I knew it was time these people got the relief they deserved."
Hartford was sitting on top of a 4 million-gallon gasoline plume, a juggernaut of soil contamination caused by the refineries that had ringed the small town for decades. Residents had been filing individual lawsuits against the refineries for years. In 2003, they banded together to file a massive class action suit.
"The place was just incredibly contaminated from leaking that had been allowed to go on for years," says Woody, a celebrated trial lawyer who has built a great deal of her reputation on representing plaintiffs in complex environmental and toxic torts litigation. "The people who lived there were living on a sea of gasoline."
The lawsuit lasted nearly eight years. Woody worked alongside several other attorneys, including firm partner Norm Siegel. And while the case was never tried in front of a jury, Siegel and Woody were called upon to make presentations to a judge on multiple occasions. That's where Woody's skills as a litigator shined.
"Teresa is terrific at taking complex issues and distilling them down to easily understandable presentations," says Siegel. "This was an extremely complicated case with an extremely complicated factual history and she was just masterful at figuring out how to present all of that material in the best way possible. That was her strong suit then, and it still is to this day."
In the end the total recovery came in shy of $40 million for hundreds of Hartford residents. Many of those in the most affected areas received virtually the full value of their homes while still being allowed to keep them. Current and former residents also received payments for loss of enjoyment, the amount depending on how long they had lived in Hartford, regardless of whether they owned property there.
These days the town is doing much better following the judge-ordered $150 million remediation of the gasoline plume by Apex Oil Co. Inc., one of the companies responsible for the decades-long leak. The entire episode was a reminder to Woody of why she got into environmental law in the first place.
"Environmental work is really interesting. There are a lot of moving pieces, a lot of different interests, and it's usually a fairly complex thing to work through," says Woody, 52. "Besides, I like representing individuals from small municipalities like Hartford because I'm able to use my expertise to give some of those folks the same kind of advantage the bigger players have. I like knowing that I can use what I've learned over the years to help them."
It was political science that first excited Woody, and she majored in the subject during her undergraduate years at the University of California, Berkeley. During that time she considered becoming a journalist, but then, in 1982, she enrolled at the University of California Hastings College of the Law. "Basically, I took the LSATs before the GMATs and decided that's what I wanted to do. And people who know me would say being a lawyer definitely fit my personality."
After law school Woody spent a year clerking for Judge Ross T. Roberts, a formative experience for the young lawyer. Not only did Roberts instruct her on the finer points of legal theory, he helped her understand the law's actual real-world consequences.
"That was one of the most fantastic experiences of my life," recalls Woody. "Judge Roberts was a wonderful human being. He was a judge who understood his decisions affected people in practical ways, and being a part of that was a powerful experience."
Woody's clerkship also influenced her decision to become a litigator. In litigation Woody discovered not only the joy that came from representing the underrepresented, but also the thrill of the courtroom's many nuances and intellectual challenges.
"Litigation is a fantastic exercise in problem-solving, and it's all so varied," says Woody, who, in addition to her environmental and toxic torts litigation has represented plaintiffs and defendants in labor law, contract disputes and even software licensing. "You come upon all kinds of different problems, all kinds of different people, and you never know what's going to happen next."
Before her years with Stueve Siegel Hanson Woody, Woody practiced in Spencer Fane Britt & Browne's litigation department for 18 years. There she served as chair of the litigation and dispute resolution department, supervising 50 lawyers and paralegals.
Jerry Wolf was head of the litigation department at the time and served as Woody's mentor during her early years. He refers to her on more than one occasion as "one of the best lawyers in Kansas City."
"For one thing, she's very smart. Secondly, she writes extremely well. And thirdly, she's an incredibly strong advocate for her clients," says Wolf. "You can't back her down when she believes in a client. She's very zealous—but also reasonable—when it comes to her work."
That combination of zealousness and reasonableness has been useful in ways she never expected.
"In a lot of the litigation I do—whether business or environmental or pro bono—there tends to be a lot of competing interests, and the walls you can run up against are sometimes difficult to get over," she says. "Trying to understand those interests and work for your client is where it gets exciting."
For example, just one year after starting her own firm in 2007, Woody was hired to represent the city of Cherryvale, Kan. The issue concerned an old zinc smelter site, which a private company once owned and the city eventually purchased. In the late 1990s the city discovered that the site was contaminated with heavy metals and in need of remediation.
According to Woody, the Kansas Department of Health and Environment discovered that United States Steel Corp. and Citigroup Global Market Holdings Inc. were the successors of former owners of the property, and Woody was contacted by the Cherryvale City Council to make sure those two companies would be held responsible for cleanup and remediation.
However, the companies were reluctant to assume accountability. They tried placing most of the cost and responsibility for cleanup and future maintenance on the city and didn't offer to pay any of the costs in these efforts. It was one of the most interesting cases Woody's been a part of, largely, she says, because of its many moving parts.
"It takes a lot of thinking and creativity to craft a solution that's best for everyone involved, and you're doing it in an environment where the large corporate entity would much rather the town be stuck with the whole thing," says Woody. "So you're trying to work with many different psychologies while at the same time working for your client's interest. I find it fascinating to try and make those things work, and it's very gratifying in the end to help a small municipality with something that works for them."
Woody was able to negotiate a settlement that included the defendants bearing primary responsibility for remediating and maintaining the old smelter site. U.S. Steel and Citigroup also agreed to pay the city $55,000.
"This is the kind of work she does. She's truly the smartest person I know," says Michael Saunders, chairman at Spencer Fane Britt & Browne. Saunders has worked with Woody on several cases and is currently working with her on a complex suit where she is lead trial counsel for plaintiff homeowners in class actions arising from dioxin contamination in Michigan.
"She can analyze a situation very quickly. She is extraordinarily good at handling witnesses. And she can present facts in a clear, concise, convincing way," says Saunders. "She is an extraordinary lawyer all around with a remarkable social conscience. Frankly, if I personally needed a lawyer I would hire Teresa to represent me."
Given the decades of work she's done, one may be inclined to call Woody a crusader: an archetypal David to the Goliath of big, bad industry. Just don't tell her that.
"I don't know if I feel like a crusader. I get a lot of satisfaction from the work I do, for sure. And I like having my own small firm these days," says Woody. "I like to think I'm leveling the playing field."
Search attorney feature articles