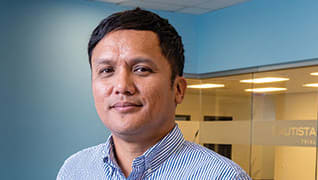 Photo by: Don Ipock
The New Kid on the Block
From the Philippines to LA to St. Louis to KC, and now into new digs in midtown, José Bautista brings it all back home
Published in 2018 Missouri & Kansas Super Lawyers magazine
By RJ Smith on November 14, 2018
José M. Bautista never figured he'd need safe passage across drug cartel-controlled parts of Mexico. The personal injury attorney has made a name for himself in railroad crossing litigation, and after his clients had been killed at a crossing outside Monterey, he did what the job required—boots-on-the-ground work. 
"You have to almost live in the area, and get to know the locals, and go find witnesses—the ones that'll talk to you," he says. "You have to trudge around. … It can't be in fancy shoes."
But this particular case required more than sensible shoes. 
Getting to the area to see if brush or other obstacles would have prohibited the family from seeing the train was an adventure—you couldn't just show up and start taking pictures. This was drug cartel country. One needed to tread lightly. Bautista met a guide in San Antonio who brought him into Mexico. Then they picked up a local lawyer on the other side of the border, and when they got to the railroad crossing, he was instructed to stay in the car until a third party arrived: a heavily armed off-duty police officer. 
"Here I was, this younger lawyer, going to do his job to take some pictures and investigate, and I'm being passed around by locals and needing three escorts," Bautista says. "In the moment, I didn't fully appreciate what was happening around me. But when I thought about it, I figured I probably shouldn't dawdle." 
It took him less than 15 minutes to shoot his photos, after which he was driven back to Juarez late at night and dropped off at a dive bar, where he would await the guide who would help get him safely back to the U.S. Bautista, who doesn't speak Spanish, was taught one sentence to say while he waited: "Una cerveza, por favor." He figures he asked for about seven beers. "I started wondering if they had left me there," Bautista says. (Bautista left the firm before this case concluded). 
"It's highly complex litigation, and the stakes are tremendous," Bautista says. "And when they are tremendous, it's going to be a bare-knuckled brawl."
James Bartolomei, attorney at the Duncan Firm in Little Rock, Arkansas, has teamed with Bautista on a number of cases, "working up through discovery in the trenches," he says. 
They often went up against Fortune 500s with abundant resources. "And, boy, did we have success: multiple seven-figure results," says Bartolomei. "It isn't just the disparity in numbers in terms of big firm versus little firm, unlimited resources versus limited resources. It really comes down to control. Oftentimes, when you have cases being developed, the companies had access to and control over evidence from early on and make it an uphill battle from day one." 
Bautista "embraces those challenges," says Bartolomei, "knowing that while we were dealing with clients that were fighting for life, [the opposition was] fighting for their rights to maximize profits." 
Another railroad case took him to Mingo County, West Virginia. "Look, I'm a brown-colored lawyer with a Hispanic name going into a small mining town's small court," Bautista says. "They were all very professional and all very good, but I was genuinely afraid of having the shirt being taken off my back, just getting fleeced." 
He wasn't. 
Bautista was born in Makati, Manila, the central business district in the Philippines. His father ran a printing press and his mother was an English teacher. Bautista went to a private school. It was a comfortable life. Yet he remembers open sewers where trash would be running. "I remember falling into one when I was playing," he says. "My mother hosed me down in front of the whole neighborhood." During typhoon season, those open sewers flooded the community.
He grew up in the brutal era of Ferdinand Marcos, the dictator who declared martial law and crushed political dissent. Those detained for political reasons might disappear forever. 
One day, when Bautista was 8, rumors circulated that people were threatening to kidnap him. 
"I remember very vividly for three weeks, I had two armed bodyguards with me at school. They would go and sit outside class and take me home," Bautista says. "There were some very heated phone calls between my parents and those on the other end."
It's still a mystery to Bautista what it was all about. "I can never get a straight story from my father," he says. "I'm not sure I want to know. It was very politically charged then, but whether or not that had any link to why we fled, I couldn't tell you." He wonders, however, if the threats were connected to a powerful fraternal organization both his father and Marcos belonged to.
"I don't know what happened. I just know my parents' whole principle in life was to beg, borrow or steal for their kids," he says. "And that led them to some hard decisions." 
After being told to pack a bag, Bautista and his parents left immediately. "They didn't even tell me where we were going," he says. "The next thing I knew, we were refueling in Tokyo, and then we landed in Los Angeles." 
The family arrived with the clothes on their backs and $5,000. Bautista's father started an office supply company, walking everywhere until he could afford a car. They spoke English in the home, and as the office supply company boomed, the family moved to Palos Verdes, an enclave on the Pacific coast. Bautista lost his Tagalog accent and gained a surfer's.
He took a trip to St. Louis and liked the area; years later, he enrolled at Washington University as an undergraduate, and then studied law at St. Louis University before ending up in Kansas City. He didn't have an easy go at first.
"The fact that I had a Spanish surname and speak no Spanish—and I'm actually from Asia—there are a lot of assumptions made. Not all of them are racist assumptions—sometimes I think people are just confused," Bautista says. "But I was concerned about getting a job."
Bautista breaks down a point crucial to understanding Missouri legal culture. "While folks in Kansas City and St. Louis are all friendly to each other and they are both collegial legal communities, there are limits," he says. 
He hadn't gone to Kansas University or an area law school. To those in Kansas City, St. Louis was "that other place." 
"They stick to their own when it comes to hiring, and I had to rely a lot on networking, sending out over 100 cover letters to firms without getting a single bite." It took the help of a former St. Louis law professor to land him in Kansas City via a clerkship with Circuit Court Judge Michael Manners. 
He soon landed at Franke Schultz & Mullen, taking on insurance cases, and then moved in 2002 to Davis Bethune & Jones, where he joined a small shop of seven lawyers and began laying the frame for his railroad work.
"He's someone who also cares about his clients," says Steve Groves of Groves Powers in St. Louis. "He puts the client first and that's one of the reasons he keeps getting referrals. One of the things that can be hard in this business is that there are cases where sometimes you take all the depositions, do all the discovery, and then find that all the facts may not be as favorable to your client as you may have thought they were before you did all the work." 
Another imperative is a different skill set, one that doesn't come off the rack. 
Groves thinks of a particular case he and Bautista worked on. "It was not a huge case, but the client was a really good guy and, unfortunately, because of some doctors' testimony, the case didn't pan out the way we wanted. But José was able to help the client understand and get his case resolved for a good amount of money. José made sure the client understood things. That was the key to a resolution everybody ended up feeling good about."
In 2009, Bautista decided to launch his own firm. "I think there's just a time when young pups have to roam, and I felt like I hit that stage after eight years," he says. At first he and his partners were shoestringing it—MacBooks, iPhones, letterhead and a P.O. box. 
Less than a decade later, Bautista is standing at the entrance to Bautista LeRoy's new digs, a two-story, 15,000-square-foot building in an up-and-coming part of midtown Kansas City. It's another significant crossroads for a guy who's no stranger to being the new kid on the block.
Today the building is a busy intersection of hard hats and lawyers. Bautista wanted the practice of law to continue even as construction went on. 
Now the burnt orange-accented walls in his office are finished. Despite the drywall dust in the air, a wide smile crosses his face as he assesses the surroundings. "We wanted to have one place with a lot of room for growth, in a neighborhood primed for growth," he says. "This is the next area to really boom in Kansas City."
Bautista hopes the firm will serve as HQ for a new area he feels called to: civil rights. For the last few years, Bautista has been working notable cases, including a number of police shootings and cases involving treatment of prisoners in custody. 
One involved James Young, a felon being processed after arrest in a Houston, Missouri, jail. Young took various medications for severe depression and a bipolar disorder. From the Houston jail, Young mailed his wife a nine-page suicide note and a document marked "Last Will and Testament." When his wife received the letter, she drove to the jail. 
"She dropped it off [at the jail], thinking they would put him on suicide watch and accommodations would be made to make sure he doesn't commit suicide," Bautista says. "But nothing was done with it; it went to the bottom of a pile, as far as I can tell."
A few days later, Young swallowed a supply of medication he had hoarded and was found unresponsive in his cell. A jail administrator delayed the call for emergency services, and when Young finally arrived at the hospital, he was dead. 
"We came to find out [the prison] didn't have any policies with respect to making sure people are on suicide watch, or policies to ensure the inmates receiving medications were actually taking them," says Bautista. The court ordered the defendants to pay Karen Young $751,537. 
In his new digs, Bautista will soon hold a small celebratory event, and a Catholic priest will bless the building—a request Bautista's dad has been after him about. 
"There is a certain amount of fright to all this," Bautista says. "I consulted with my dad—my friend and counselor. His point was, 'Hey, you're in your mid 40s.' It's frightening and wonderful at the same time. Kind of like getting on a roller coaster, and now we are riding up."
The father of two boys with wife, fellow lawyer Julie Oswald-Bautista, Bautista sometimes reflects on his journey. 
"Was it a certain amount of serendipity? Was it God—am I leading a blessed life?" he asks. "I couldn't say, because that would be an insult to my parents, who did everything to protect me. And that's my goal in life—to love and put my two boys first, because it was done for me."
Search attorney feature articles