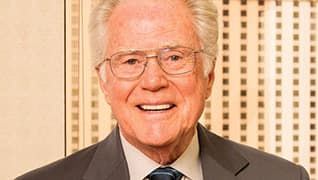 Photo by: Jeff Green
Grounded
Steve Morris is rooted in Las Vegas, and he knows the business infrastructure. He also knows what it's like to play trumpet until four in the morning
Published in 2014 Mountain States Super Lawyers magazine
By RJ Smith on June 11, 2014
It happened some years ago, when Steve Morris was counsel for a company suing the Las Vegas Sands Corp., a casino and resort operating company. The chairman and CEO of the Sands, Sheldon Adelson, made an imposing entrance. The mega-funder of Republican candidates and one of the richest men in the world arrived with a group of burly security people: "ex-Mossad agents, from what you hear," says Morris. He was there as an adverse party prepared to give Morris a deposition.
Every day Morris brings one of his seven border collies to the office. While the gruff mogul sat and answered questions, the dog wanted to be let in, and then out, of the room and was curious about Adelson's security team.
"I wouldn't say he was solicitous of them but he was more than tolerant; he was at ease with them," says Morris. Years later, Adelson hired him to represent his company on several occasions.
It's easy to get the feeling Morris likes Vegas a lot, but what he likes even more are his dogs. They ground him. They lighten a tense mood. Sometimes, they even find him clients. After a successful securities fraud jury verdict, the seven women he was representing came back unannounced with a gift basket to visit—the dogs. When he was taking a deposition from the singer Rod Stewart, a dog jumped into the lap of the rooster-coifed Brit. Stewart, a Jack Russell terrier man, didn't mind in the least.
Morris and the firm he started, Morris Law Group, have earned a strong reputation among the numerous casino owners and developers that populate Las Vegas. He's been there for 45 years, and remembers the colorful characters who once towered over the city. Morris has seen it in high times, and in recent times, when the city lags behind other cities in its efforts to crawl out of the wreckage the turmoil of 2008 created.
One thing that outsiders get wrong, he says, "is that we're all just cheerleaders for the casino industry and that the casinos and the big hotels run the state. That's not true, though they are a big business here." He's sitting in his office in a tower on a palm-dotted stretch of downtown Las Vegas. "We're not a great deal different than the folks we associate with from other places. Point of fact, most of us are from somewhere else."
Among Morris Law Groups clients are developers, power companies, medical device companies and aircraft manufacturers. Currently, Morris is representing Sanofi US, makers of the sleeping pill Ambien. The pharmaceutical firm is being sued by the family of Hard Rock Hotel executive Randy Kwasniewski, who allegedly committed suicide while under the influence of Ambien. His family is suing for wrongful death in federal court.
The 76-year-old Morris sounds relaxed and mildly bemused by some of what he sees. He's pink-faced, his silver hair receding. Like many who have long lived in Las Vegas, he is weary of the misperception folks have about what it's like to do business in this town.
"It still remains the belief of outsiders, and among so many people coming to raise money for schemes, that there's money lying on the streets and that all you have to do is just pick it up," he says. "It certainly isn't true these days, when many gaming companies are struggling to keep ahead of things and having a hard time of it."
Nevadans themselves are as streaked with a libertarian independence. Morris notes that the state court system is less likely to follow established models than some other states. One thing he particularly likes is the more freewheeling way Nevada allows counsel to interact with witnesses and juries.
"I like jury trials. I might say I prefer trying a jury case in state court to one in federal court," he says. "It's a much more interactive environment for lawyers in state court than in federal court."
Morris has spoken up in the past about another aspect of the state's legal system which he is less fond of: Nevada's tradition of giving judges, who run for office, broad leeway to raise funds from firms that also appear before their court. "If it's a close call, asking judges to treat lawyers who contribute money the same as lawyers who don't is asking for the superhuman," he told a Los Angeles Times reporter in 2006. Today he says the practice is still prevalent.
It's a matter with special relevance to Morris, because his wife, Kris Pickering, is a justice on the Supreme Court of Nevada. Before her election in 2008, Pickering was a partner in Morris Pickering & Peterson; that firm became Morris Law Group after Pickering departed for the bench and partner Bill Peterson left.
"I said, if you do get elected, along with not being able to have anything to do with what my firm is involved with, now we can't even talk business when we are home," says Morris. "We just have to keep our lives completely separate. But we have other interests."
There are the dogs, and the ranch he came across in a remote part of central Nevada while on a backcountry camping trip. They bought it, and today after 17 years, it has become a cherished getaway when their schedules allow.
Born in Sacramento, Morris was raised along U.S. Highway 50 by a waitress mother and a plumber dad. The family came to Reno in 1947, where his parents divorced. They went their separate ways, dad to Wake Island and mom to a distant part of Nevada, but Morris stayed in the Reno-Sparks metro area, working while in high school and living at boarding houses and motels. After graduating from high school, Morris worked in an auto parts shop. One day his parents showed up unexpectedly, told him they were remarrying, and asked Morris if he would be their best man. The boss gave him the day off, with pay.
He went to the University of Nevada, Reno, then studied law at the University of Texas.
The lawyer prefers Steve to Stephen, though he was named for the great American songwriter Stephen Foster, whom his father admired. "While I did too, I thought Stephen was a little archaic," he explains.
If he was a lawyer by the time he arrived in Las Vegas in 1968, Morris also was a trumpeter, one good enough to sit in on occasion with the late-night jam sessions that took place when hotel show band musicians were off the job and ready to play for themselves. Morris even took trumpet lessons from Cliff Juergens. "Those guys would get together at a local pub at 2 am," he recalls. "Gosh I found that so exciting. But it was incredibly difficult to play to 4 in the morning and then go to work the next morning."
Work was at the firm of Sam Lionel, where he met his wife Kris Pickering, a fellow lawyer. He left Lionel, taking several others from the firm, because he wanted to do more trial work. Morris came to Las Vegas not long after the Nevada Legislature passed the Corporate Gaming Act, the legislation that cleared the way for corporate ownership of casinos. It was twilight of the kind of colorful entrepreneurs that Martin Scorsese likes to make movies about. Morris got a flavor of the old ways.
"For a period of time I got acquainted with one of those older but notorious folks, Moe Dalitz," he says. An alleged mobster and former bootlegger, Dalitz was an owner of the Desert Inn and the Stardust Hotel-Casino.
"I have to say he was one of the nicest human beings I have ever encountered and an incredible civic booster," Morris says. "He was one of those who established public radio in Las Vegas." Morris should know: He was the first chairman of Nevada Public Radio. He got Dalitz and Del Webb Corp., the company of another Vegas founder Delbert "Del" Webb, to contribute to the birth of Nevada Public Radio. Morris recalls a conversation in which he asked Del Webb Corp. officers for a contribution. "Next thing I knew I had a courier delivery of mature bonds from Israel that Del Webb had purchased long before. That got us off and running to build the first public radio station in Nevada."
But the old guys were leaving, and sleeker CEOs were taking their place. One of the new breed of casino owners was Kirk Kerkorian. Morris knows him, too. One of the biggest cases of Morris' career involved Kerkorian's MGM Grand. The largest hotel in the world when it opened in 1973, the MGM Grand had become an established landmark when a fire spread through the casino in 1980. It was the second largest loss of life in a hotel fire in American history; 85 people died.
In the wake of the fire, Morris became chief local counsel for the MGM Grand as it fielded several huge lawsuits. First, he reached a settlement with survivors and relatives of those who died in the fire. Then Morris helped handle an equally complex suit between the hotel and its insurance companies over the payout. It took six years to dispose of both cases. The high-profile cases helped establish Morris as a methodical litigator who didn't lose concentration or drive over the course of years. In fact, an American Lawyer profile suggested his intensity was a major factor in shaping the insurance settlement.
Another memorable case involved a battle between two hotel owners, and two sides of Vegas, both of whom claimed the right to the name Plaza Hotel. Morris represented the El-Ad Group, which owns the Plaza Hotel in New York and wanted to build a $5 billion, 6,700 unit development on the Strip. El-Ad Group wanted the Vegas property to be under the Plaza name, but they were sued by the owners of an established, low-budget downtown hotel-casino that had billed itself under various Plaza-related names over the years, including Union Plaza and the Plaza Hotel & Casino. The trademark case got a lot of attention in 2007, including coverage in The New York Times.
El-Ad prevailed before a jury. Ironically, however, they changed directions after the economic downturn and never built their resort. Instead they ended up leasing rights to the Plaza name to the frowsy downtown hotel.
According to Sheara Arbit, general counsel for the El-Ad Group, "[Morris] is one of the most eloquent litigators I have ever heard in a courtroom." Regardless of the ambiguous outcome, "hearing him speak, it was like going to the theater.
"Sometimes when lawyers have a lot of success they become pompous. But he has maintained a gentleness to him that gives people the focus that is needed to make them understand what he's saying. He doesn't talk down to people."
He is markedly grounded. To understand how grounded he is, it's best perhaps to get outside the courtroom, put your knees onto the grass, and understand the world of flyball. That's not a legal term. The law has earned him many awards, but flyball presents rewards all its own.
Flyball is a sport for dogs, a relay race in which the animals line up, leap over hurdles, and when they get to the end of the track, press a pad on a box to release a tennis ball into the air. The pooch must catch the ball and race back to its owner, and the four fastest dogs win.
Kris Pickering has been a director of the North American Flyball Association, and together she and Morris have run the Flying Colors team. It's an activity remote from the world of Vegas courtrooms. In flyball, the prizes typically are chew toys, pieces of rawhide, tug toys and the like. 
Flyball, Morris says, "is a form of competitive relaxation in which the participants, particularly the dogs, exhaust themselves, but in doing so do not demand bullet-proof answers to unanswerable legal questions." Sometimes a tug toy is all the answer you need.
Search attorney feature articles