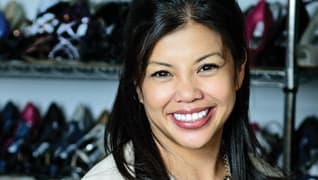 Photo by: Dustin Snipes
The Shoe Fits
Millie Chou keeps Zappos working hard and playing hard
Published in Super Lawyers Business Edition 2012 magazine
By David Surratt on August 15, 2012
Shortly after graduating from law school in 1999, Millie Chou met a man driven by a novel idea: selling shoes online. After initial introductions ("I think it was at a barbecue," she recalls), he learned of her interest in business law, and solicited her help in running the investment fund that would nurse his fledgling online enterprise. Despite having already accepted a position with the Los Angeles mega-firm Gibson, Dunn & Crutcher, Chou took Tony Hsieh up on his offer. She sent the firm her regrets, paid back the stipend and bar fees it had provided, had her possessions shipped back to the Bay Area and spent the next year co-managing the fund.
"I managed the outside counsel used by the fund," she explains. "But that was a smaller percentage of the work. Meeting with the startups, going to the board meetings of our existing investments, meeting new entrepreneurs seeking funding … that's what gave me a real taste of liking the business side of things."
Of the decision to join the startup instead of her sure thing with the firm, Chou says, "It's always hard to reconstruct exactly how decisions were made, but I think it was going with my gut reaction that Tony and Alfred [Lin, former chief financial officer] were doing something exciting, seeing the benefit of building something with a small team and being incredibly attracted to the entrepreneurial nature of their business."
After one year at Zappos—which, today, is a leader in online sales of footwear and apparel, and was acquired by Amazon.com Inc. in 2009—Chou left for private practice. But it wouldn't be long until she returned. In 2006, she joined Zappos as an in-house attorney, and in 2008, she took on the role of general counsel.
Chou felt a legal career tug at her while still a high school student.
"It was because of speech and debate [team]," she remembers. "I had this image that lawyers just argue all day. Obviously, that's not the case, but I knew then that I was going to apply to law school."
After graduating from University of California, Berkeley, Boalt Hall School of Law in 1999, and after Zappos was founded and funded, Chou left the nascent seven-employee company to spend six years working at the San Francisco-based law firm Shartsis Friese—a job closer to what she'd imagined for herself in the first place.
"Gibson [Dunn & Crutcher] in LA is a humongous office with hundreds of attorneys," she says of the firm she had nearly joined. "Shartsis is about 45. Working so closely [at Zappos] with Tony and Alfred, and the businesses themselves, made me realize I wanted a smaller environment. … You get to have more of an impact. I loved working with just a few partners at Shartsis and knowing the clients. It was an amazing experience. … You could say I started knowing what I really enjoyed in the legal practice."
If a more intimate workplace was her style, then Zappos was among the coziest to be found. All new employees at the Henderson, Nev., headquarters—even the in-house general counsel—quickly find themselves immersed in a kind of fun-loving corporate anti-culture, where whimsy is as revered as work itself. The office space is festooned with decorations and employee flair. When cubicle-dwellers feel a restless impulse, cowbell-accompanied office parades can and do result. On the company's website, a numbered list of 10 "Zappos Family Core Values" features "Create Fun and A Little Weirdness" six slots above the more safely worded corporate mandate to "Be Passionate and Determined." To make sure new hires are truly onboard with the colorful climate, Zappos routinely offers every trainee $2,000 to simply quit and walk away. More than 97 percent stay, and that's the kind of loyalty that earned Zappos a No. 6 spot on Fortune magazine's "100 Best Companies to Work For" list in 2011.
"What [Zappos' company culture] has done is create a greater awareness that your largest assets are your employees," says Chou. "A happy employee is a more productive employee. … We all know that to be the case."
How productive? The goal Hsieh set more than a decade ago of $1 billion in sales by 2010 was reached two years early, and that cozy little seven-employee company now boasts a workforce of more than 3,000.
Legal work related to contract review, marketing department concerns, sponsorships and new building leases account for the lion's share of Zappos' legal department's efforts, and Chou also manages litigation and assists with employee and human resources issues. At the same time, she finds that she is an increasingly bigger part of realizing another key item on the "Core Values" list: "Build Open and Honest Relationships with Communication." Making her general counsel role work in the Zappos environment means Chou can't approach things with a strictly business attitude. When executives come to her with radical ideas and questions of legal feasibility, she's less the naysayer than the translator.
"It's not a culture where I can write back and say, 'We're not doing this, period,'" Chou says. "It's the kind where I say, 'All right, I have some concerns. Can we meet and talk about what your objectives are?' Usually, there's some way of getting 90 percent of what they want, but just in a different way … and they're not going to come up with that alternate way of doing it, because they're not the attorney."
Of course, this is the 21st century. Earlier this year, Zappos found itself facing a crisis situation all-too-common to fast-growing online retailers: the dreaded security breach. In January 2012, hackers gained access to the personal information of 24 million customers, forcing the company into a period of damage control as it rushed to inform those affected, assure them that it was taking the most aggressive steps possible to guard against further attack and, most importantly, keep their business.
After navigating the legal side of an initial investigation into the breach, Chou had to deal with the 10 class action lawsuits that followed. At press time, those still-pending suits had been filed in several jurisdictions around the country, including Nevada, Florida, Massachusetts and Kentucky, and the idea was to rein them all into something more manageable.
"We filed a motion to consolidate them," she says. "That's a pretty standard practice, and we're still at the early stages of those litigation matters. We've never been involved in a class action lawsuit, and 10 is obviously unique. It's something we're incredibly focused on."
New legal challenges related to litigation also mean looking to outside counsel for solutions.
"We don't have a go-to," she explains. "We select [outside counsel] depending on the facts and circumstances of each case, where it's located, the history and experiences of available counsels, and their expertise in the particular subject area of litigation. We will evaluate that each time."
Along with an enormous customer base, Zappos now faces other challenges related to its speedy growth from startup to billion-dollar business. The company's 2009 acquisition by Amazon was huge, bringing with it a contingent of new overhead considerations that come with being part of a publicly traded corporation. Nonetheless, Chou says Zappos' treasured autonomy hasn't been affected too deeply by the deal.
"Amazon acquired us partly because we do think about things differently from them. … They were looking at us as a completely different way to approach the online retail business. We do still pay our own bills, have our own accounts payable department, our own finance team and accounting team; Amazon has allowed us to run all other operations as well. We're a subsidiary, so we end up having to be subject to a lot of those regulations. … There's a lot of coordination [with certain patent cases, intellectual property issues and lawsuits on which Zappos and Amazon are co-defendants, but] they've generally left us alone."
That's a fortunate thing for Chou and her colleagues, given the workplace unorthodoxy they've learned to love. But even without the outside micromanaging to contend with, the question remains: How do you keep fostering that prized feeling of "family" among a workforce that's grown vastly larger than what a typical employee lounge can contain? The answer: Find a bigger room.
Since 2010, Zappos has been throwing a party of sorts. Taking advantage of its proximity to Las Vegas, the company now, once per quarter, rents out one of myriad casino spaces on the Strip, such as the Pearl Concert Theater at the Palms or Paris Las Vegas' Le Théâtre des Arts, and, in the evening, all 3,000 employees are invited to let their hair down and, says Chou, "picnic for a few hours." The first to speak are Hsieh, "No Title" Fred Mossler ("No Title" being the designation Zappos has given him to enable his oversight of many different Zappos departments), Chief Technology Officer Arun Rajan, and Chief Operating Officer and Chief Financial Officer Chris Nielsen, who give everyone a kind of state-of-the-company address and pep talk. Floor time after that is reserved for imported speakers from "all walks of life," says Chou, mentioning Harvard University economist and author Ed Glaeser among the recent invitees. It's Chou who handles the contracts with these speakers. And although Hsieh chooses speaking guests according to what he thinks they can offer the Zappos team, Chou explains that all employees are free to throw out their own ideas about who should appear.
"You have to do different things to make sure people feel connected to the company," Chou says. "Whether you started a day ago at the call center, or you're the director of finance, you get a say and a voice. All suggestions are heard."
Soon, this quarterly mix of seminar and soirée will be happening closer to home. Zappos is headed to Vegas, in the older downtown area, where ongoing revitalization efforts and a vacant former City Hall building make the company a perfect addition to the increasingly progressive-minded corporate and cultural landscape. After a solid year of intensive real estate negotiation, everything seems to be in place for the 2013 move, and a $40 million construction budget should go a long way toward making the transition a smooth one. Chou has helped lay the foundation for a business event City Councilman Bob Coffin told the Las Vegas Sun rivals the importance of downtown investments made by Howard Hughes during a recession in 1967.
Despite some added complexity to the entire deal (negotiations have been a "third-party transaction," she says, involving both the city and the landlord of the old City Hall building), she supports her CEO's desire to eschew the creation of a corporate super-campus in favor of an integration into an existing community structure.
"It took forever," Chou says of the negotiations, "but we got the keys in April, and we've just kicked off the construction and planning process. It's been a lot of fun to dive into. [Hsieh] is really engaged in the urban revitalization of Las Vegas … so there's this added bonus of making a change perhaps at the city and community level. And not only are you working on a corporate campus project from a legal perspective, but really rethinking how that city facility can work for your Zappos campus, your Zappos culture."
Relocating to an address in the heart of Sin City goes a long way to further cement Zappos' "work hard, play hard" ethic that has been the mantra of Hsieh and his colleagues since Zappos' inception. Part of Chou's job is to keep "work hard" and "play hard" in balance.
"A large part of my day is saying 'no,'" she says. "Telling people why some things might not be the best move for the company. On paper, what you would actually assume [about the job] is correct … it can be a difficult function where you have a zany workplace, and legal is going to feel like they have to go in and be the grown-ups."
Hsieh helps.
"People see Tony as this entrepreneur whiz-kid kind of guy," she says. "But he's really this incredibly successful business person who understands that choices have to be made. You need the support of your CEO, your management team, and the management team is incredibly supportive of our function. You could have a really buttoned-up banking organization where everyone's thinking a certain way, but if everyone's not supportive on that executive level, it's still going to be just as hard to perform that legal function."
"Millie's role often comes with an additional layer of challenges because of our unique culture," confirms Pam Tidmore, vice president of customer loyalty in human resources. "Besides all the traits you'd expect a lawyer to possess … Millie has built excellent relationships across the company, so she intuitively understands challenges when people have requested or needed her guidance. She understands and appreciates the distinctive ingredients that have made Zappos so special."
As Chou describes her many roles at the company, one thing is clear: Flexibility is key—not just in the search for solutions, but on a level of basic human interactions and communications. "You can work in a, quote-unquote, zany environment or an incredibly regulated environment," she says, "and you're still going to need the same things. You still need support from the executives, and you need to build relationships. I don't care how regulated a business is; if people don't stop by your door and just keep going, then there's not enough eyes and ears for a legal department to see everything. You need to have a partnership where the business is coming to you with questions.
"You need a culture where people say, 'Did you run it by legal?'"
Search attorney feature articles
Helpful links
Other featured articles
Mark Prothero knows it's a label that will stick
Former Navy nuclear propulsion engineer Alfonso Chan is a 'workhorse'—and 'crazy smart'
Mike McMullen on life behind the lens
View more articles featuring lawyers
Find top lawyers with confidence
The Super Lawyers patented selection process is peer influenced and research driven, selecting the top 5% of attorneys to the Super Lawyers lists each year. We know lawyers and make it easy to connect with them.
Find a lawyer near you