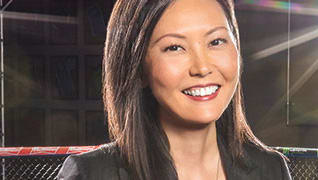 Photo by: Chris Tucker
Uncaged
IP specialist Jennifer Ko Craft thinks way outside the box—or any other many-sided shape you throw her way
Published in 2017 Mountain States Super Lawyers magazine
By RJ Smith on June 12, 2017
Although Jennifer Ko Craft won't say a single word about it, the Vegas intellectual property lawyer recently found herself at the center of two legal brouhahas within the Kardashian/Jenner clan. 
The first occurred when the fiancé of Rob Kardashian attempted to trademark her soon-to-be-name: Angela Renee Kardashian. Those who had already trademarked "Kardashian"—the Kardashian family—were less than thrilled. That's because, according to Forbes, the Kardashians control a brand worth $122.5 million. The newest addition to the family's decision to market products with her trademark might confuse consumers or devalue the established trademark, according to a legal objection the Kardashians filed. Shortly thereafter, the future Kardashian in question—hip-hop video star Blac Chyna—broke off her engagement to Rob, and that ended that. 
Then there was the Case of the Two Kylies. On one side of the ocean, Australian dance-music diva Kylie Minogue sought to trademark her name to place products and services on the market. On the other side was Caitlyn Jenner's daughter, Kylie Jenner, she of the plump lips, a mini-maven in training who now helms Kylie Cosmetics. Jenner filed for a trademark to sell branded items, and Minogue, in 2016, filed a formal objection with the U.S. Patent and Trademark Office. In 2017, the two parties reached an agreement: The Australian Kylie withdrew her objection to the SoCal Kylie's trademark in the U.S.
Prod Craft all you will—she won't budge on case talk or chat Kardashian/Jenner, period—which is the very reason she is the families' IP lawyer.
The one question she will answer, though: How did a Vegas lawyer land this hella-Hollywood business?
"How I landed them was by doing good work and being available. Always. I care and am invested. And I think potential clients recognize that in me. It comes down to chemistry: You either have it, or you don't, and I have it."
Craft has worked closely with athletes and sneaker companies, musicians and sports drink manufacturers. There is the world in which she works, and then there is the world in which she lives—and Craft insists there is a distinct difference between the two. She makes a point of not talking about her famous clients in detail, but some of them include Shaquille O'Neal, Ultimate Fighting Championship, Andre Agassi and the aforementioned Kardashians, among others.  
"I think some people mistakenly believe that what I am doing is glamorous. I'm not going to lie, it's pretty neat, but I'm not the one making the movies, shooting the commercials," she says. 
She describes emergency texting at the Thanksgiving dinner table, because someone she was working with was launching a clothing line with a major department store and needed consultation. As she was being wheeled to delivery for the birth of her first child, her phone similarly would not pipe down. Another client—one who knew she was in labor—had concerns that would not wait. "That's a day in the life of practicing law for me."
Her office is a museum of IP tchotchkes from clients: There's a small orchard of bobblehead dolls; a jersey signed by Shane Victorino, the outfielder known as "The Big Slippery Fish"; a book autographed by Kris Jenner; and a huge sneaker, a nod to an endorsement she helped O'Neal paper. 
But the space doesn't scream celebrity: it suggests small steps and small rewards. It looks like a place of work. Craft is a grinder in the glitz factory. 
Her family landed in East L.A. from South Korea in 1977 when she was 2, then they moved to Fullerton in Orange County nine years later. Her mother and father had $50 between them, and neither spoke English. They eventually built a janitorial business. Working days and nights to make ends meet, the family settled into a routine: Jennifer and her older brother, Mike, were picked up from school when her parents were on a break, then the family would head to work and park the kids in the family van, where they would eat and do homework. When mom and dad worked night shift, the kids slept in the van, too. At some point, they would go home to get new clothes and shower, and then they'd get dropped off for another day at school.
"I definitely know what a food stamp is," says Craft, who notes the most stable meal of the day was school lunch. "My parents worked hard, and there was food on the table, but there were times when it was a stretch." 
School was not taken lightly in her family, and failure was not an option. "In Korean culture, generally, there was a lot of pressure on children to become successful," Craft says. "They worked so hard for me that I didn't want it to be for naught."
The family business grew, and Craft's parents began hiring others to work for them. "It really was an American success story," Craft says. "I didn't feel deprived in any way. That's just how our life was."
Tim Bellamy, associate general counsel and senior vice president of Ultimate Fighting Championship (UFC)—whom Craft has represented since 2007—says, "[Craft] knows the law and stays on top of it. But equally important to us, she can balance that with the economics that we bring to the table. Though we've grown considerably in recent years, we still don't have unlimited [financial] resources." 
Craft's mentors taught her the importance of being a good negotiator. Her angle? She likes to plays the bad guy. "I think people look at me and don't expect it," she says. "Negotiations are always give and take, but it's hard to convince me my position isn't right."
Lawyers, she says, often run from conflict, but she's more the moth-to-the-flame type. 
"People get so emotional over things," she says. "I just don't." 
Case in point: She matter-of-factly notes her status as a cancer survivor. 
"At 29, I was diagnosed with breast cancer, and I'm also a thyroid cancer survivor," she says. "When you go through something like that, there's nothing much, aside from death, that makes me upset or feel that emotional. Confrontation over a business deal? That's easy."
"Jennifer is a good person," writes Todd Wilson, general counsel and personal attorney for the Kardashian/Jenner family, via email. "That matters to me because it is ultimately my responsibility to vet not only the caliber of advice [my clients get], but the nature of the source of the advice. In the high-profile celebrity world, it is not uncommon to run into people who are looking for ways to enhance their own profile by working with high-profile people. To some degree, that is natural. Often, however, it goes beyond what is natural and can become a problem. Motives and personality are important, and Jennifer's motives are driven by honesty, loyalty and professional excellence."
Craft points out that her clients have names that are world brands—their survival and success depends on people knowing who they are. So she understands the tears and fears she typically encounters. "I care for what they care for—it's an important issue to them, so it's important to me, too," she says. "But there's no need for me as their attorney to get overly emotional. You can empathize, appreciate and understand, but I take that and then provide solutions." 
When a law school internship at Agassi Enterprises went swimmingly in 2000, Craft was offered a gig. She drafted and negotiated endorsement sponsorship agreements for athletes and entertainers. Perry Rogers, president when Craft joined, remembers a particular arbitration. "There was a lot of homework that needed to be done on our side," Rogers says. "What impressed me about her was that she didn't just do the homework, but that she was so excited and committed to getting it done right. She had a real passion that was apparent early in her career, and I knew she was going to be something special." 
She left Agassi to focus more on intellectual property and moved to Lewis and Roca in 2007, then Gordon Silver, and, in 2015, Dickinson Wright. 
Save for a brief spell as a tutor, every job Craft's ever had has been within the law-firm grind: She was a runner-file clerk, receptionist, legal secretary and paralegal. Post-bar, she was an intern, an associate of counsel, income partner, equity partner and, finally, department chair. 
Quite often, she says, she looks around the room and sees that she is the only woman present. Quite often, the only Asian, too. 
"I think people look at me and think I'm young and perhaps inexperienced—I bump against that maybe more [than gender and race matters]," she says. "I believe that the moment I speak it becomes clear the authority I have on a topic."
Take the topic of octagons. Yes, the shape.
Now consider the typical UFC matchup: two people in a cage, using mixed martial arts to beat each other silly. Then think about the UFC's ultimate symbol, the very space in which they fight—the Octagon.
There is disagreement about who deserves credit for inventing the eight-sided chain link cage that the fighters inhabit. But there is little question regarding who owns the IP that is the Octagon. It belongs to the UFC. And it was Craft who helped the owners of the Las Vegas-based organization realize that they were under-valuing an important icon of their business, and that they should establish, and then defend, their trademark.
Several years after brothers Frank and Lorenzo Fertitta bought UFC in 2001, Craft was hired to help them protect and enforce their IP. She started by establishing their ownership of the acronym—the Universal Food Company was already using it in its internet domain. (Let's just say you'll never find Thai coconut water at UFC.com ever again.) 
The brothers talked up their interest in traditional trademarks—taglines, merchandise, the organization's name. The obvious stuff. Craft thought more deeply.
Then she got into the Octagon herself. 
"When you see the cage, the fighting arena, you instantly associate that with the UFC. Sometimes people fail to recognize the deeper aspects of a company," says Craft. "It became very clear to me early on that the Octagon was key intellectual property." 
She approached it as a textbook example of trade dress. "When I approached them about the [Octagon] project, they didn't understand it at first, and then they got it," she says. 
"It is extremely hard to fight off use of a geometric-shaped fighting structure, but we've been able to trademark the octagon-shaped fighting cage in the U.S., thanks to her," says Bellamy. He notes that in Europe and Asia, there are copycats and knockoffs—operators staging matches in seven- and nine-sided geometric spaces. "She works with local counsels or attorneys set up around the world to do filings according to [various] laws."
Craft has a network of foreign counsels across the world that she helps to register trademarks globally. But it's a complicated process, and can be hard to enforce. When it works, it can be big news. 
Recently, she gained the Octagon Australian recognition. "It made news," she says. "It was really so amazing."
But not as amazing as Craft's first class on her first day of law school. She remembers choosing a seat in the middle. And when her professor walked in and began talking, she got tears in her eyes. 
"They thought there was something wrong with me, that I was homesick," Craft says. "But I was just so happy to be there. It was the dream." 
Search attorney feature articles