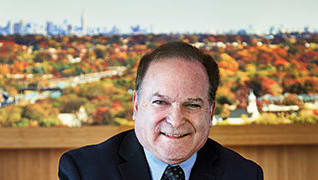 Photo by: Luigi Ciuffetelli
Alan Zegas Plays the Bridge
His greatest hits have one thing in common: a Chris Christie chorus
Published in 2017 New Jersey Super Lawyers magazine
By Timothy Harper on March 14, 2017
The new client brought in documents related to his case, including printouts of old emails. The lawyer spread everything out on his conference table. The client pointed out one email in particular. Dated August 13, 2013, it read: 
"Time for some traffic problems in Fort Lee."
The lawyer was Alan Zegas. The client was David Wildstein. And the email was the smoking gun in Bridgegate. 
"That was the bombshell," Zegas says. The email led to high-level firings, legislative hearings, criminal charges, stunning convictions and the deathblow to Gov. Chris Christie's presidential campaign. 
Behind the headlines, Zegas quietly orchestrated the case to get the best deal for Wildstein, who admitted he ordered the lane closures. 
Zegas says he's not political, but he followed reports of the lane closures on the approach to the George Washington Bridge for four days in September 2013. The closures caused horrible traffic jams in Fort Lee, including for emergency vehicles. The Port Authority of New York and New Jersey, which oversees the bridge, said the lanes were closed for a traffic study. It was reported—but denied by the governor's office—that the closures were Christie's revenge against Fort Lee Mayor Mark Sokolich for not supporting Christie's re-election. Christie denied advance knowledge.
The closures were traced to a Christie political functionary at the Port Authority—Wildstein. Zegas sent a note to Wildstein, whom he knew casually when their daughters were schoolmates. Zegas cautioned Wildstein not to say too much, and that he would be well-advised to have a lawyer.
The dominos began to fall in early December 2013. Wildstein was forced to resign from the Port Authority on Dec. 6. On Dec. 9, Wildstein was held in contempt for not answering questions.
Wildstein acknowledged that he had masterminded the lane closures as retribution against Sokolich. But he said he had been following orders from Christie. And then there was that email.
"It was critical," Zegas says. "It showed he was taking his orders from others, and that the governor's office was involved." 
Zegas sees Wildstein as yet another in a long line of little-guy clients. "Every person that is accused of a crime is small in comparison to the forces that are arraigned against him," Zegas says. "To have to defend yourself in the face of the state and federal government's power puts [you] at an enormous disadvantage. 
Zegas, 64, knows a thing about little guys. He was one. A small kid, he was often a target in the tough part of Newark where he grew up. He once won a playground game of bottle-cap and woke up in the school nurse's office; a big kid cold-cocked him. His family moved out to Millburn, and things turned around in high school, when the 5-foot-1, 110-pound Zegas was a cross-country star who could churn out two miles in under 10 minutes. 
He grew up in an extended Jewish family that was neither particularly religious nor civic-minded, and was mostly blue collar. The exception was an uncle who was a lawyer. That uncle, Malcolm Robbins, bought Zegas a dictionary and took him to court when he was 5. "I knew in kindergarten that I wanted to be a lawyer," Zegas says. 
Zegas' first case was for his father, Norman, who was denied unemployment after selling the family liquor store because the Newark neighborhood was getting too dangerous. Zegas won, and still counts it amongst his biggest victories—even if it was a mercy ruling. "I have a feeling we won because the hearing officer knew that I was my father's son and a new lawyer," Zegas says.
The firm of famed First Amendment lawyer Floyd Abrams—for whom Zegas worked as a summer associate—offered Zegas a job, but big Manhattan wasn't for him. Instead, he joined Robinson, Wayne, Levin, Riccio & La Sala in Newark, where he handled criminal defense and found a new goal: set up a solo shop specializing in criminal defense, civil rights and First Amendment cases. The best path was a federal clerkship, which he did with U.S. District Judge H. Lee Sarokin. He became a mentor, "almost like a second father," Zegas says. "He showed the greatest respect for his clerks. He would ask us to come into the courtroom if some lawyers were outstanding. If lawyers were doing things they ought not to, he would bring us in to learn from that, as well. He treated people fairly, and uniformly."
When his clerkship ended in 1983, Zegas found space for $160 a month in an old Victorian in West Orange. His landlord was prominent criminal defense attorney Harvey Weissbard. "Apart from his brains, I regard Alan's best criminal defense lawyer trait to be his bulldogedness," Weissbard says. "He will not let go until it is really over."
Zegas raised his hand for court appointments. He let other lawyers know he'd take cases they didn't want. "I was referred business, largely appellate work," he says. "That was because I enjoyed writing and research. There are many lawyers, particularly in criminal law, who don't like to write."
His practice grew as did Zegas' three daughters—Rachel is a teacher, Leah a social worker and Joelle is getting a Psy.D. in psychology.
He became active in the New Jersey Bar Association, including a stint as president of the Association of Criminal Defense Lawyers of New Jersey. So it made sense when reporters began calling him to ask about a little-known lawyer named Chris Christie, who was in the running for U.S. attorney under former President George W. Bush in 2001. 
"I said I did not know him, and from what I've read, he doesn't have any trial or criminal law experience," Zegas remembers, "and that a better candidate would be one that had that experience. That was my first round with him."
Round two began soon after Christie became U.S. attorney, when his office turned the arrest of Essex County Executive James Treffinger into the evening news. Treffinger was taken away in handcuffs in front of a reporter, even though he had offered to turn himself in. "I wrote an article saying it was grossly unfair to summon a news reporter to capture the arrest of somebody who would typically be allowed to report voluntarily," Zegas says. "And that [the images contaminated] his right to a fair trial." Christie called Zegas' office, but Zegas wasn't in. He called Christie back and left a message, but Christie didn't return his call. (Christie's office did not return calls to comment on Zegas for this article.)
The following year, the two men faced off again, this time in person, when Christie made a rare court appearance as U.S. attorney—getting valuable publicity, Zegas believes, to position himself for a run for governor. It was for a bail hearing for Zegas' client, a British businessman accused of illegal arms dealing—specifically, trying to sell shoulder-fired missiles to terrorists—who had been caught in an FBI sting. "Christie, sensing this is some big, enormous case, summons the national press pool," Zegas says. "Christie gets up and starts making proffers, about what the evidence would show … but there is no testimony." 
Zegas says he objected that if Christie wanted to make proffers at a bail hearing, he should call an FBI agent involved in the sting; the magistrate agreed, and asked if Christie was prepared to produce the agent. "Christie starts fumbling; he doesn't know how to respond to the judge; he is unfamiliar with the law," Zegas says. "At that point, he didn't know what to do, so he asked for an adjournment. He never shows up back in court." 
Outside the courtroom, Christie told reporters, "Alan Zegas has a long history in this court of saying things that, at times, puzzle me."
Zegas today shakes his head. "[The comment was] not only inappropriate, but utterly baseless."
Yet a few years later, when it was clear Christie was going to run for governor, Zegas told reporters that Christie had overcome his lack of experience as U.S. attorney, and his term had been "a success" because he had assembled a good staff and was an effective manager. However, Zegas added, "If I had one wish, it would be that he had not engaged in as many press conferences."
After Christie became governor, Zegas criticized his refusal to re-appoint Justice John Wallace Jr., the state Supreme Court's only black justice: "Since Christie refused to reappoint Wallace," Zegas said at the time, "he has done nothing but damage the image of the court in the eyes of the public." 
And when Christie proposed to trim pension payments to state employees, including judges, Zegas spoke out again: "Christie's comments undermine the integrity and impartiality of the judiciary and threaten the rule of law," Zegas told the press. "His ideological criticism of judges contemptuously suggests that judges are compromising their oaths, not deciding cases as the law requires." 
Ralph Lamparello, of Secaucus' Chasan Lamparello, led the opposition as New Jersey State Bar Association president. "Alan contacted me and brainstormed with me on how to stop the governor," Lamparello says. "Truly, the third branch of our government and its very survival were at risk here if we did not fight back against Christie." 
He still marvels that Zegas took so much time away from his practice and risked his career against a powerful governor who, at that time, had an approval rating above 70 percent. 
"This is a lawyer who cares about society," Lamparello says. "He showed he was willing to roll up his sleeves and work to protect the integrity of the judiciary."
(New Jersey Supreme Court Justice Barry Albin—who opposed Christie's judicial proposals—was asked to comment. He offers this artful reply: "Sorry to report that the Code of Judicial Conduct prohibits my giving character references for attorneys, even good friends.") 
It's not all bridges all the time. Zegas has represented teachers wrongly accused of sexual abuse by toddlers in "suggested memory" cases. He won freedom for an undocumented immigrant who reported a crime to police but was then jailed. As co-counsel, he couldn't keep former Newark Mayor Sharpe James from being convicted in a corruption case, but he did win a sentence of only 27 months, sharply reduced from the 20 years requested by the then-Christie helmed U.S. Attorney's office.
Neil Mullin, a Montclair employment lawyer, has co-counseled with Zegas. "Once, in a hotly contested, high-publicity criminal matter, Zegas was on his feet arguing with great passion before a Hudson County judge about egregious misconduct by a prosecutor," Mullin says. "The hostile, pro-prosecutor judge was clearly getting fed up with Alan and suggested that if he didn't sit down and shut up, she might hold him in contempt. Alan was so caught up in passionately arguing for his client's freedom that he kept going." 
Mullin noticed the judge signal for the bailiff to step toward Zegas, cuffs in hand. Zegas can thank Mullin for keeping him out of jail, due in part to a rough tug on his suit. 
Zegas and Roseland commercial litigator Stuart Kuritsky once went to the U.S. Attorney's Office in Philadelphia for a meeting about potential charges against a client. They were met not by federal prosecutors, but by two FBI agents who tried to grill them. "I confess that I was intimidated for about 10 seconds, which is about how long it took for Alan to stand up, grab his briefcase and announce that if those two agents didn't leave the room immediately and call in the U.S. attorneys, the meeting was over," Kuritsky says. "I looked at Alan with a mixture of surprise and delight. After a few grumbling words, the agents left." 
Zegas' biggest trial before the Bridge was the 1993 "Glen Ridge Four" case, in which four high school football players were accused of sexually assaulting a mentally handicapped girl. The 23-week trial was the subject of Bernard Lefkowitz's Our Guys, a book still used in sociology classes. Three of the four were convicted and served time.
The fourth defendant, Zegas' client, was convicted of one count of conspiracy and received probation. Zegas won widespread praise in the legal community for the way he set his client apart from the other defendants by focusing on what his client didn't know about the victim's handicap, his actions toward her and his remorse. 
"He surprised me with his preparedness," says Robert Laurino, then the assistant prosecutor director of the special victims unit. "He had good command of the law, but I was especially impressed with the way he prepared his client." 
Preparedness is a Zegas staple. When the Legislature subpoenaed Wildstein's documents, Zegas first checked with the governor's office to see if Christie was going to claim executive privilege. If the governor did, Zegas would have withheld the smoking-gun email—a decision that would have helped Christie by not linking his office to the lane closures, Zegas points out. But Christie did not exert executive privilege. 
Zegas nonetheless appealed the subpoena because the "traffic problems" memo implicated Wildstein. After the judge rejected his motion to quash the subpoena, Wildstein appeared before a senate committee, and Zegas pleaded the Fifth Amendment on his behalf—with the suggestion that Wildstein would cooperate if granted immunity. 
Zegas negotiated a deal with the U.S. Attorney's Office in 2015. Wildstein agreed to plead guilty to two counts of conspiracy, and to fully cooperate with the government's investigation into the lane closures and other matters involving members of the Christie administration. Christie was not charged, but he is widely assumed to be one of the "unindicted co-conspirators" the federal indictment mentions. 
Wildstein testified for eight days at the trial in September 2016, alleging a conspiracy with Baroni and Kelly. He confessed to dreaming up the lane closings, and expressed remorse for his mistake. Kelly and Baroni were convicted on all nine counts, and face up to 20 years in prison, with sentencing scheduled for February 2017. 
When Zegas got involved in the case, Christie was a favorite for the Republican nomination for president. As the case evolved, he became one of the earlier dropouts from the crowded Republican field. Christie initially headed President Donald Trump's transition team, but was demoted—and removed from Cabinet consideration—after Baroni and Kelly were convicted. Zegas says he takes no satisfaction from Christie's downfall, but bristles at the suggestion that Christie was never conclusively linked to the scandal. The testimony at the trial from Kelly and Wildstein is evidence that Christie knew, Zegas insists.
In the weeks after the verdict, Zegas deflected congratulations from lawyers and political partisans, and concentrated on rebuilding his law practice. The bridge case had been so all-consuming that he had to take on fewer cases, he says. He's also resumed his piano lessons. He started playing nearly 20 years ago, when he was in his mid-40s, and typically practiced several hours a week. 
Now you'll find Zegas back at the keys, making his way through the Great American Songbook. 
Ever the optimist, he likes songs about people getting along together. Right now he's mastering Cole Porter's "True Love": "I give to you, and you give to me," the lyrics go, "true love, true love."
---
The Span of Bridgegate: 
Aug. 13, 2013 Bridget Anne Kelly sends the "time for some traffic problems in Fort Lee" email
Sept. 9, 2013 Two access lanes to the George Washington Bridge are closed; traffic chaos ensues
Sept. 13th, 2013 Patrick Foye, the port's executive director, orders the lanes to be open; the port publicly states that the lanes are closed for a traffic study
Dec. 6, 2013 David Wildstein resigns
Dec. 31, 2013 The Assembly transportation committee subpoenas Wildstein 
Jan. 9, 2014 Wildstein asserts the Fifth in front of a state assembly committee
Jan. 16, 2014 The state assembly authorizes a special committee to investigate the lane closures; the Senate also forms a special panel
Jan. 17, 2014 Wildstein offers to talk in exchange for immunity 
Jan. 31, 2014 Zegas writes a letter to the port insisting that Gov. Chris Christie knew about the closings
Feb. 13th, 2015 A poll finds Christie's favorability numbers dropped to an all-time low
May 1, 2015 Wildstein admits in federal court that he, Kelly and Baroni engaged in a politically motivated plot to cause the traffic jam
May 4, 2015 Kelly and Baroni plead not guilty
Sept. 19, 2016 Bridgegate trial begins
Nov. 4, 2016 After six weeks of testimony and five days of deliberation, Kelly and Baroni are convicted on all counts
Search attorney feature articles